Microsoft just announced a slew of new features coming to its next Windows 11 updated colloquially referred to as Moments internally by Windows engineers.
As previously hinted by Microsoft's Chief Product Officer Panos Panay, the next version of Windows 11 will indeed be powered by artificial intelligence.
Windows 11 + Bing Search & Chat
Leading the list of new features coming to the next version of Windows 11 is perhaps the new AI-powered Bing Chat and Search preview that will come in the form of an update to the search box in the taskbar.
Microsoft is also baking in AI to help improve its native file search in the Start Menu as well as on devices powered by Windows 11 Pro or higher via Azure Active Directory (ADD).
The use of AI in this manner will help power recommendations for associated content that can include cloud files when in addition to bringing up the local files.
When Microsoft first announced the integration of OpenAI's chat bot into Bing, it released a preview that required early adopters to download an updater .exe file, as well as make several default settings changes that eventually resulted in a new Bing icon being visible and usable in the taskbar that leverage the new AI technologies. However, according to Panay, simply upgrading to the next version of Windows 11 will grant users a more simplistic experience that is tied to the current search box automatically.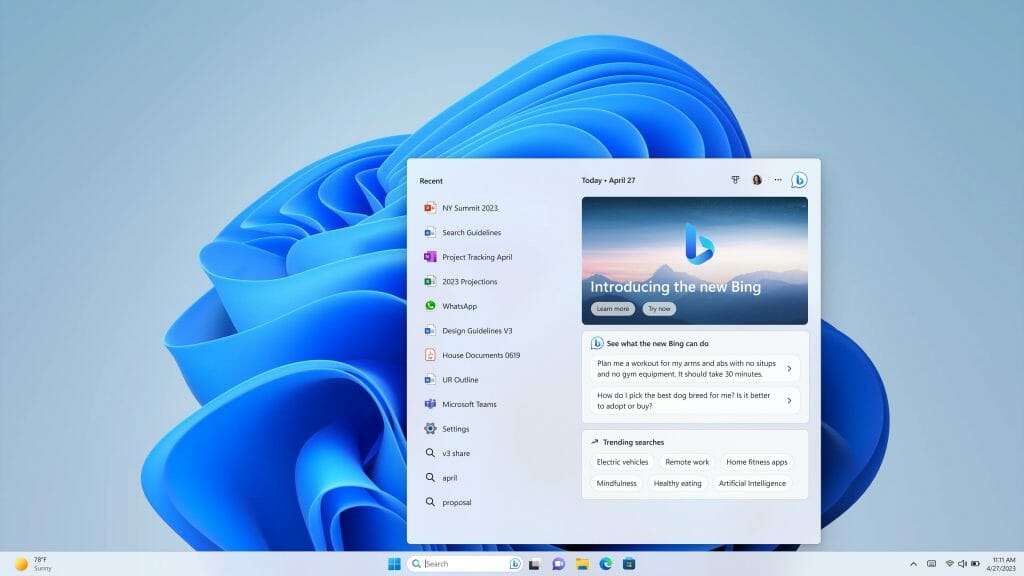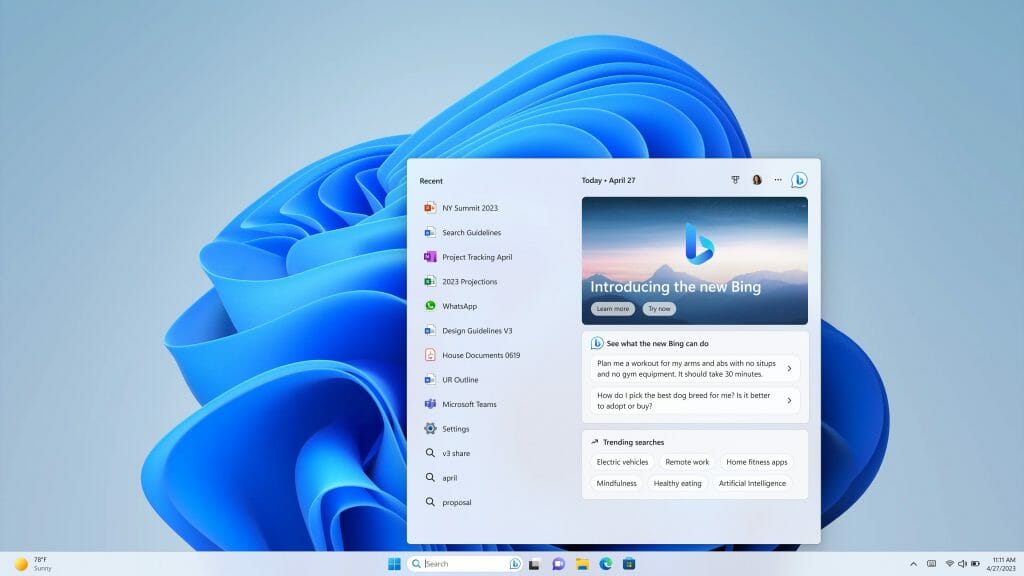 While waiting to download and install the latest Windows 11 version, enthusiasts can go and sign up for the waitlist to access the new Bing + ChatGPT AI features both for desktop and mobile phones.
Phone Link supports iOS in preview
Another notable feature coming to the latest version of Windows 11 will be support for iOS via a preview in the Windows Phone Link app. The addition of iOS support in Phone Link builds on current linkage between Windows and iPhoto and iCloud integration.
Panay goes into further details about what to expect and what will be supported out of the gate here.
Phone Link adds more Android features
Speaking of Phone Link, Android users will get denser integration that includes activating a devices hotspot from the desktop, transferring web browsing sessions from the phone to the PC, and initiating phone calls via the desktop.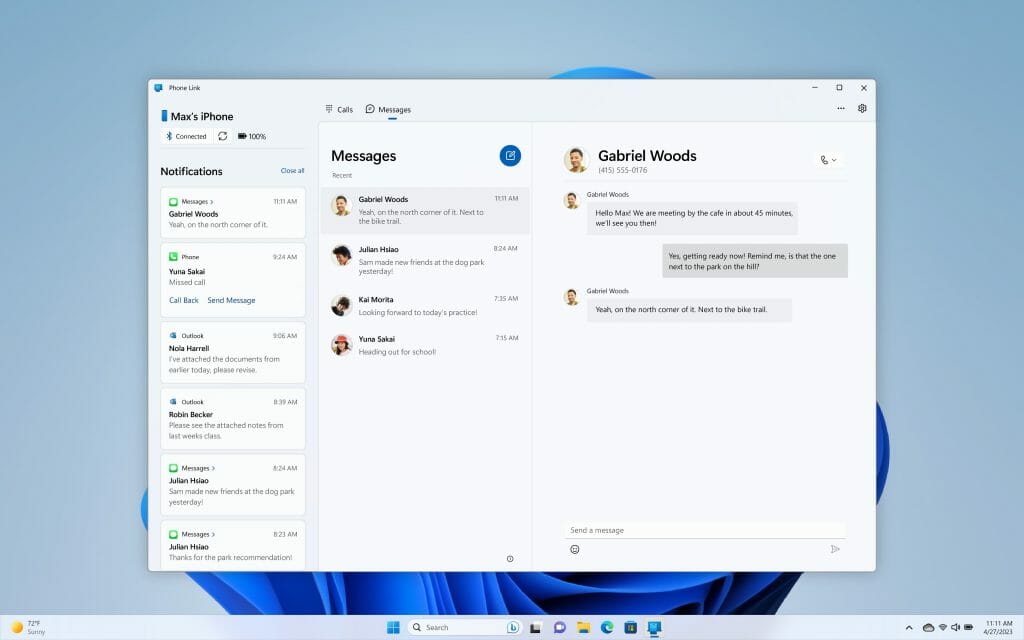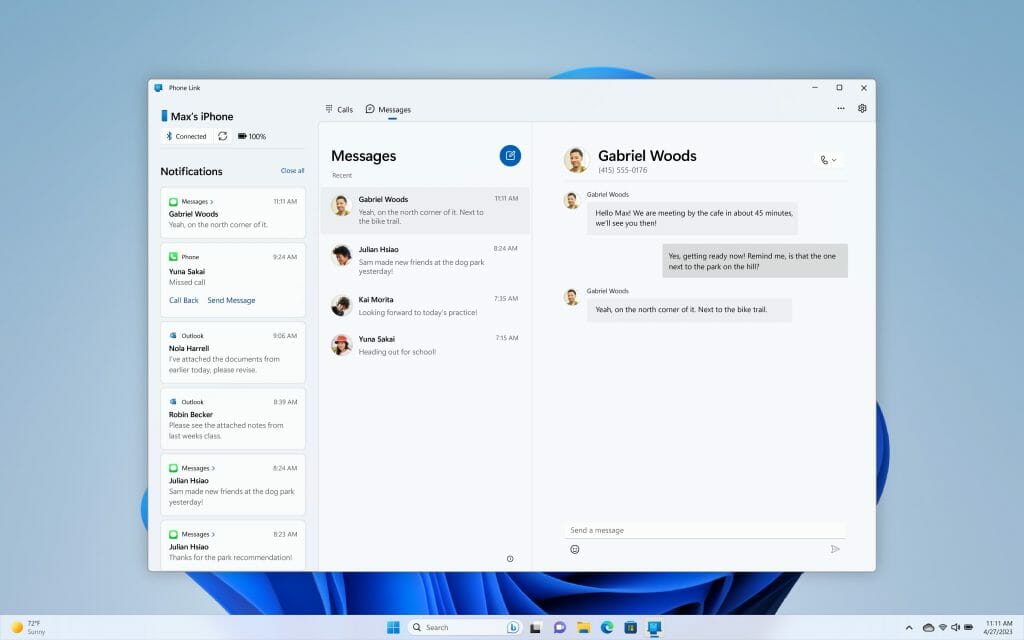 Windows Studio Effects more accessible
While Microsoft isn't expanding the coveted Windows Studio effects to its own Surface line up beyond the ARM-powered Surface Pro 9, it is making it more accessible to partner OEMs such as Samsung and its Galaxy Book Pro 2 360 and Lenovo's ThinkPad X13s.
As it works with Intel to bring the AI-enhancements onboard to its own Surface devices, Microsoft is already tweaking the latest version of Windows 11 to accommodate quick access to the features by building customizations options into Quick Settings along the taskbar.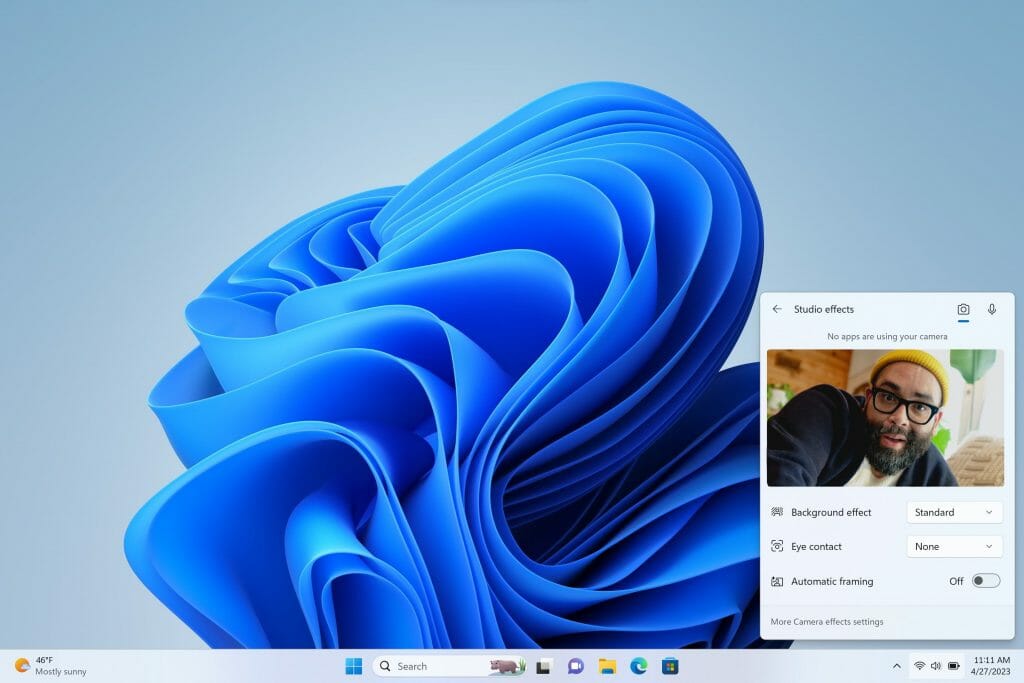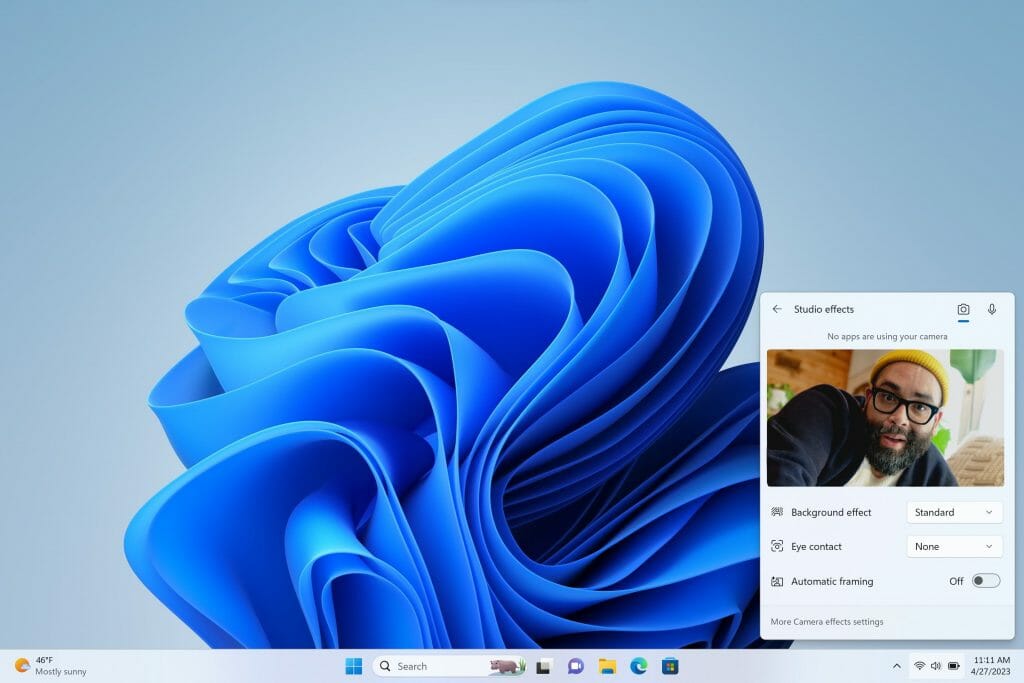 Soon, users will be able to quickly adjust their background blur, eye contact, framing, and noise cancellation straight from the taskbar before any video conference calls.
Enhancing Teams Chat in Windows
Microsoft is still looking to make Microsoft Teams the default chat service on Windows and is doing so by making some much needed improvements to the feature in the latest version of Windows 11.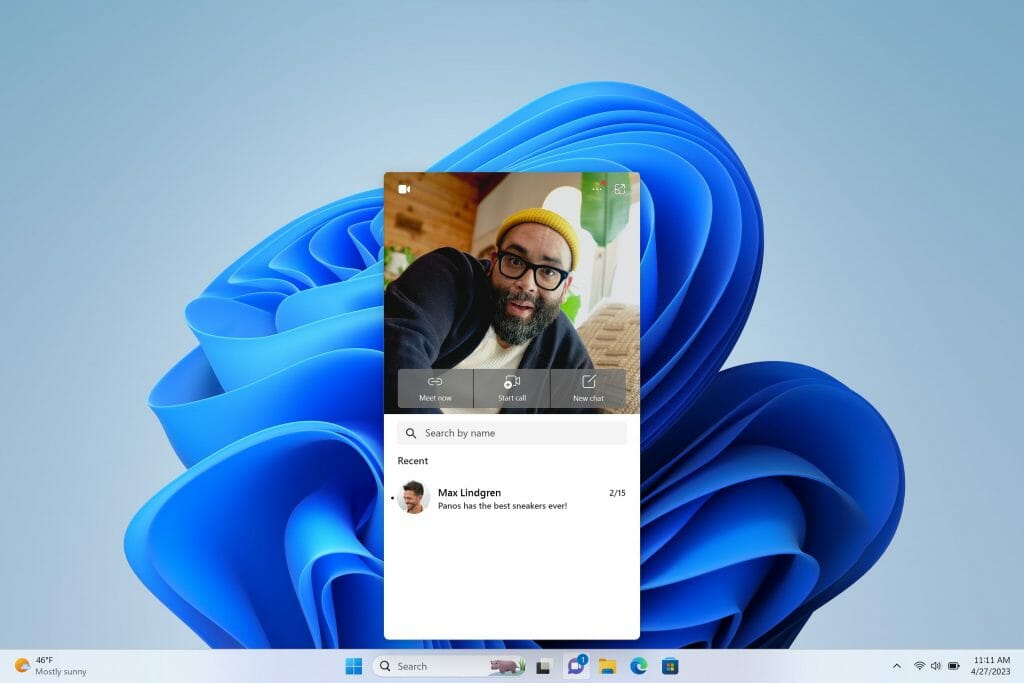 Similar to putting Windows Studio Effects in the taskbar for quick and convenient access, Teams chats will allow users to get a preview of their video set up prior to any Teams calls, directly from the taskbar, as well as a seamless way to navigate between conversations, all in one window.
Quick Access Troubleshooting
Microsoft is making it easier for corporate and family-oriented troubleshooting by embedding its Quick Access platform directly in the Start Menu.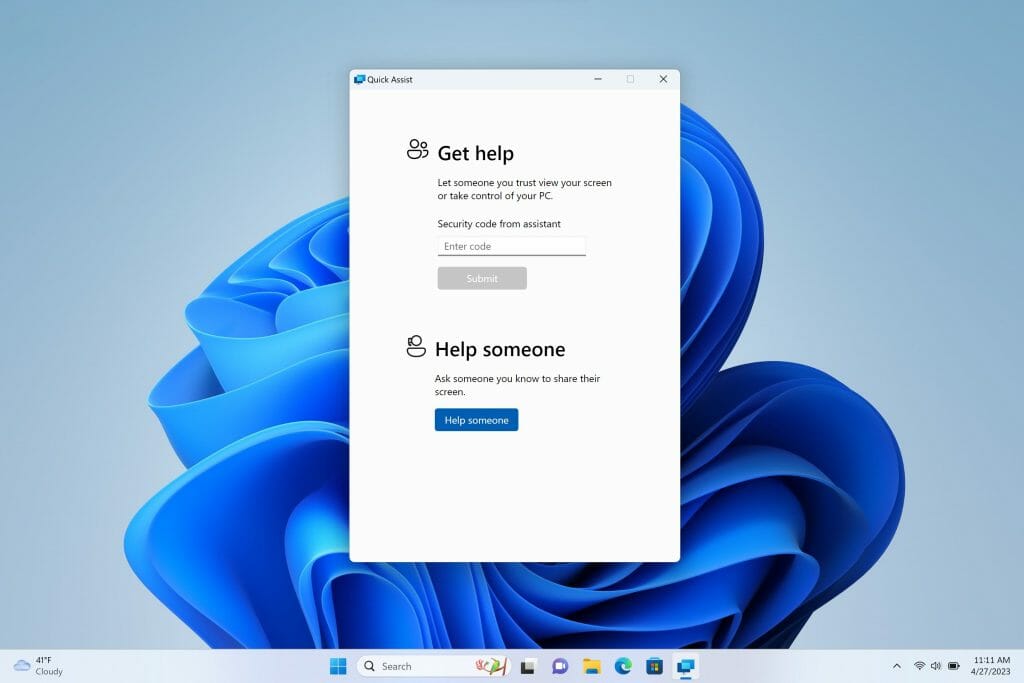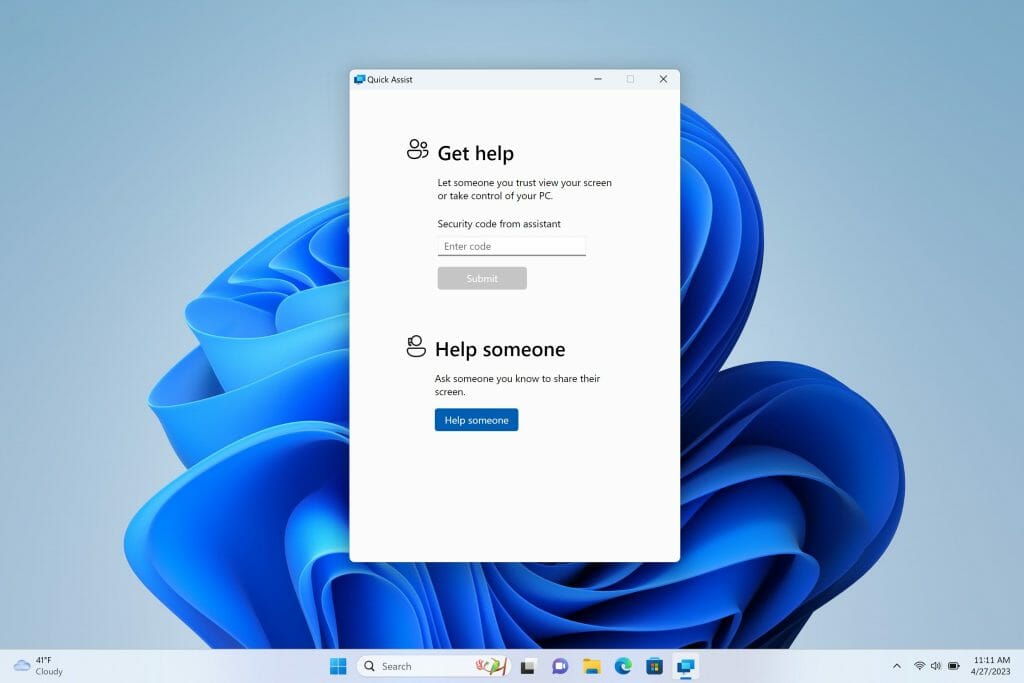 Users can now open the Start Menu and begin to type out Quick… and be presented with the Quick Access menu that will allow them to send out links for remote control of Windows desktops, screen shares, a new laser pointer highlight, and bug logs.
Expanding Windows 11 Widgets functionality
Microsoft continues to have a focus on making its Widget Pane a user destination and it may have gotten a bit closer with the addition of some actual useful widgets that include Phone Link, Xbox Game Pass, Facebook Messenger, and Spotify.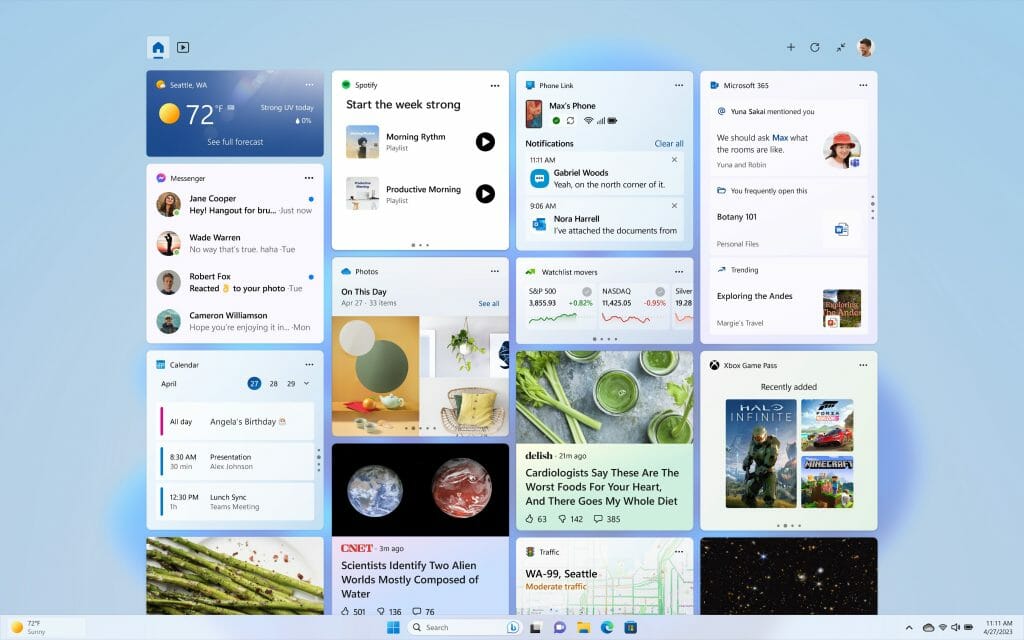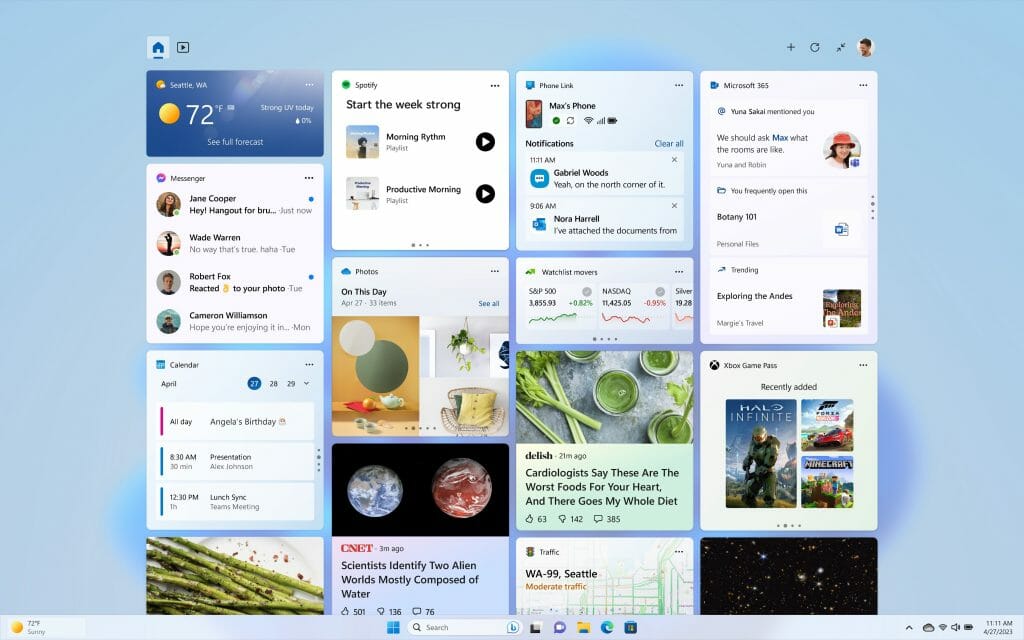 The look of Widgets has changed a bit as well with Microsoft opting for various elongated windows vs their larger wider predecessors. The Windows team also updated their Widget APIs for developers which will hopefully encourage them to start putting apps like Feedly, Twitter, Instagram, Audible and more into the Widgets Pane soon.
Improving Touch
As one of its touch-centric updates to Windows 11, Microsoft enabled the Widgets Pane to expand from a one third shade to a full screen experience and now the company is adding a few more tweaks for touch-first interactions.
Windows will now automatically hide the task bar from devices with detachable keyboards as well as expand the pixel count of the area for easier to manage touch targets. Windows 11 will return the swipe up gesture to bring up the taskbar as it's done in previous touch-oriented versions of Windows dating back to Windows 8.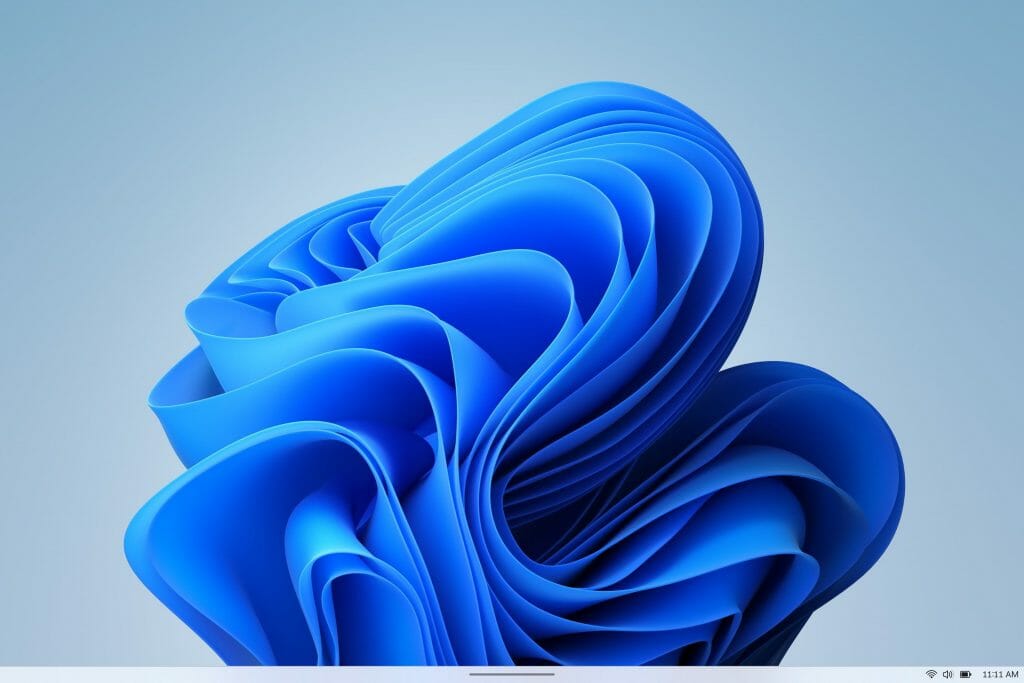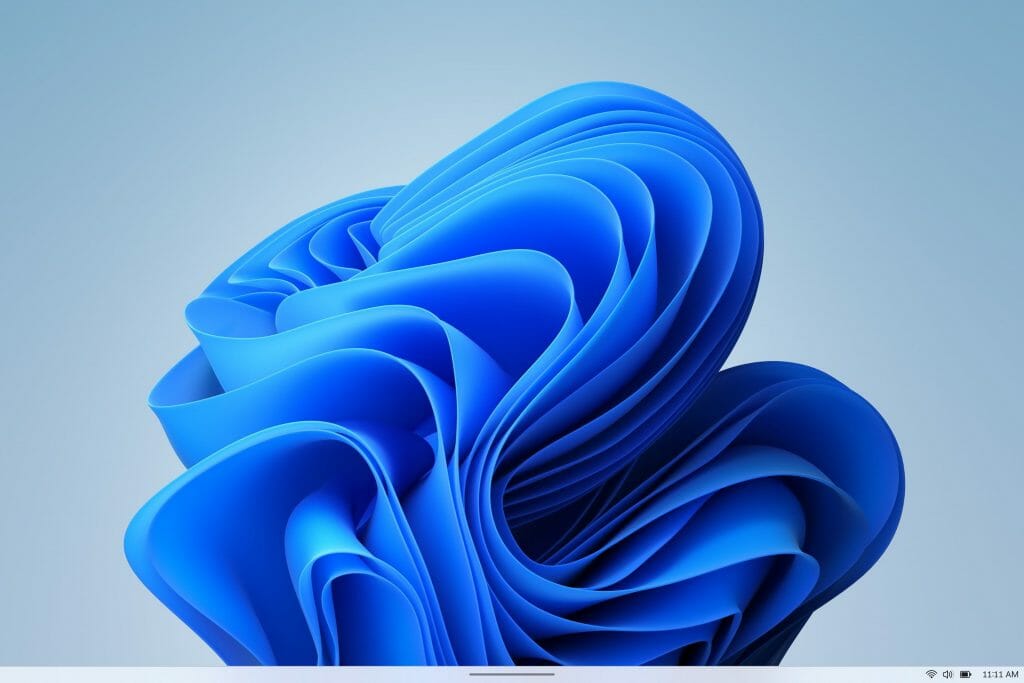 The last Windows 11 update saw the File Explorer receive some padding of elements for easier touch experiences and the same goes for elements in the Start Menu as well as Snap Assist.
Native Screen Recording in Windows
Until recently, Windows users have had to rely on third party solutions to achieve a decent screen recording within the operating system. The Xbox team baked in screen recording for gaming a couple of years back which presented an opportunity for Windows users to use the Xbox to create a makeshift screen recording after a bit of finagling.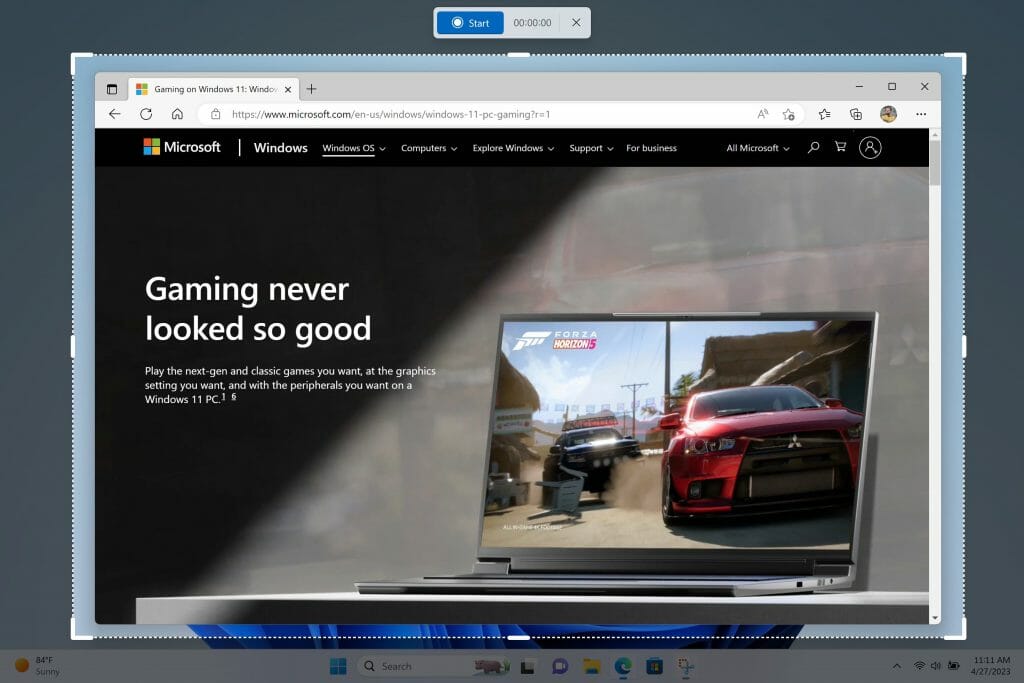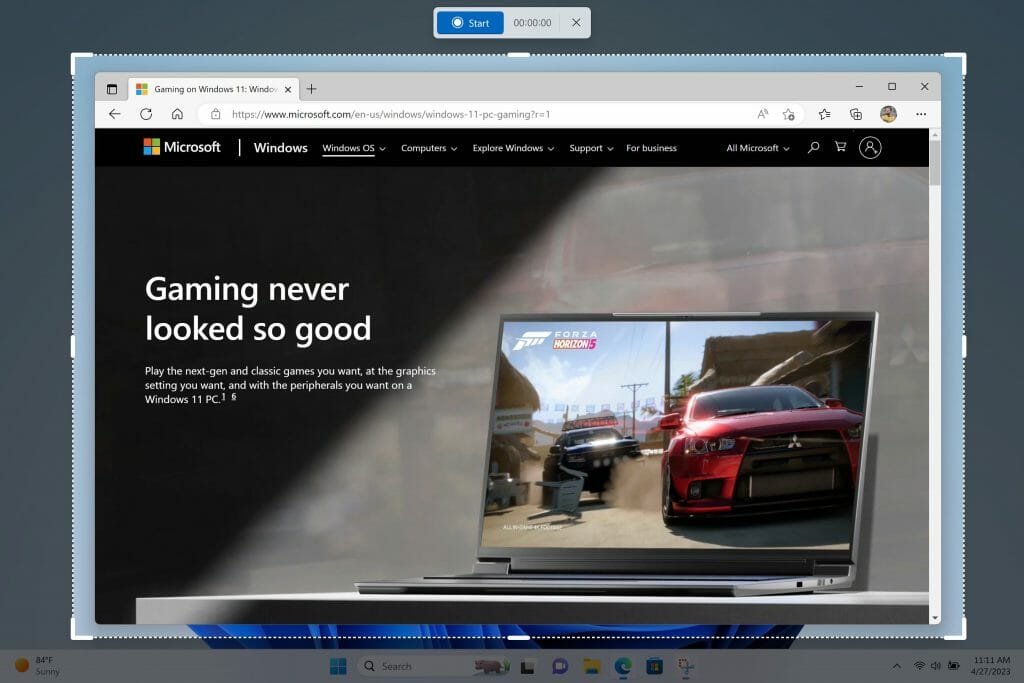 Fortunately, Microsoft is bringing a more streamlined way for Windows users to create their own screen records via the Snipping Tool. To launch the new Screen Record users simply need to search Snipping Tool, pin it to the taskbar or use the keyboard shortcut Windows key + Shift Key + S and launch it. Once opened, users will be greeted with a new video recorder icon next to the traditional image capture and then give a three second count down before a recording takes place.
Snipping Tool Screen recordings are automatically saved to a default folder that can be customized by users.
Notepad gains Tabs
Following the tabification of the Windows File Explorer, Microsoft is also bringing Tabs to the Notepad app that should help coders navigate pages of code a bit easier.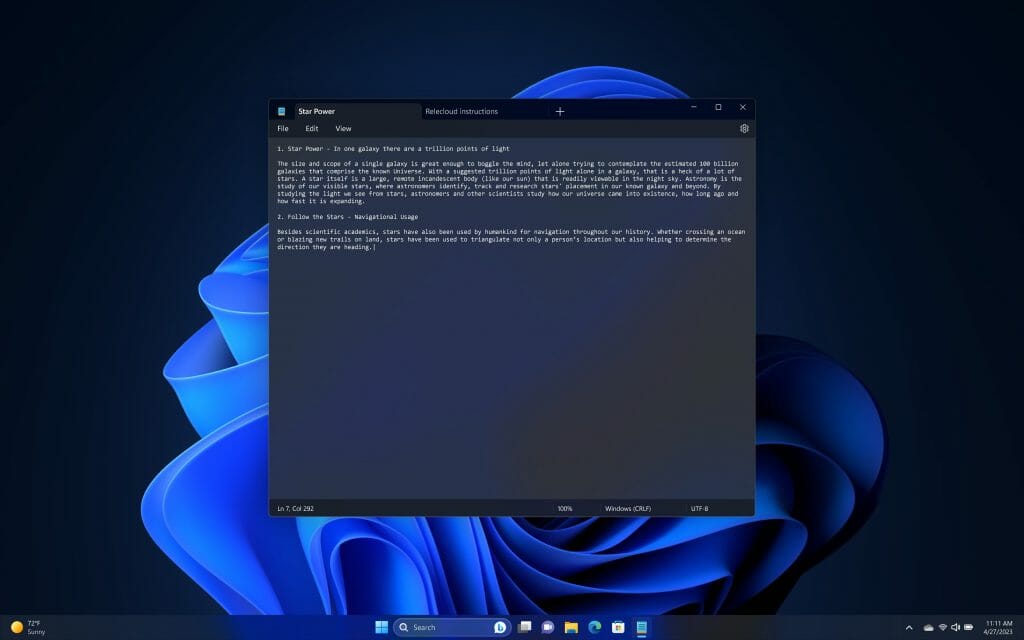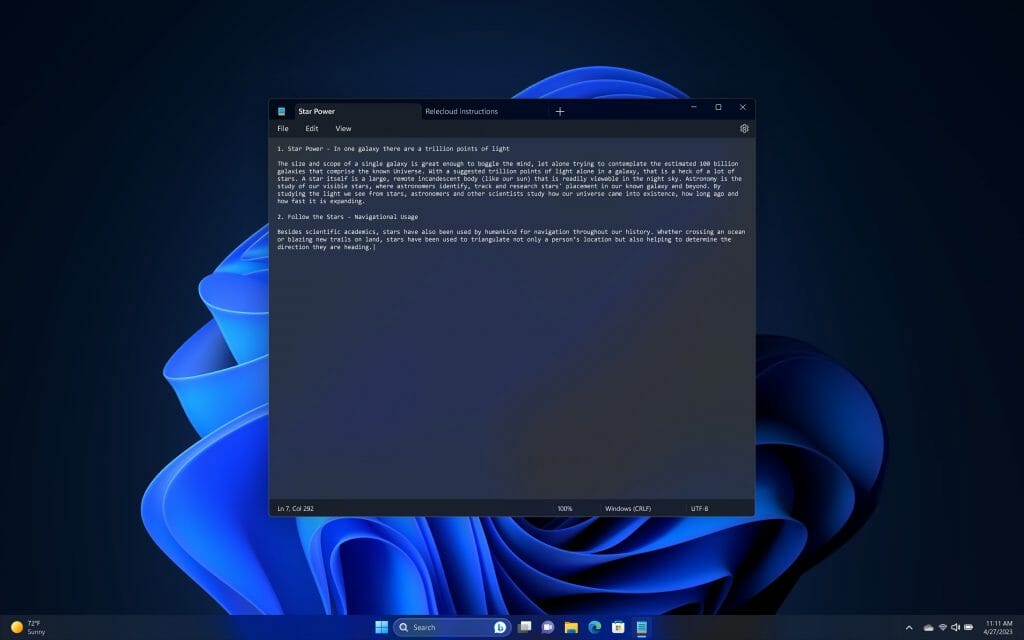 The UI is straightforward and like how tabs have been implemented in Windows File Explorer with a simple + aligned at the top of the boarder that adds additional tabs to the Notepad app.
Braille comes to Windows 11
Microsoft will be increasing its accessibility features list with the addition of braille displays for Narrator that include support for three new Designed for Surface displays via HumanWare.
With the added support, vision impaired Windows users can switch between braille experiences via the Narrator app automatically.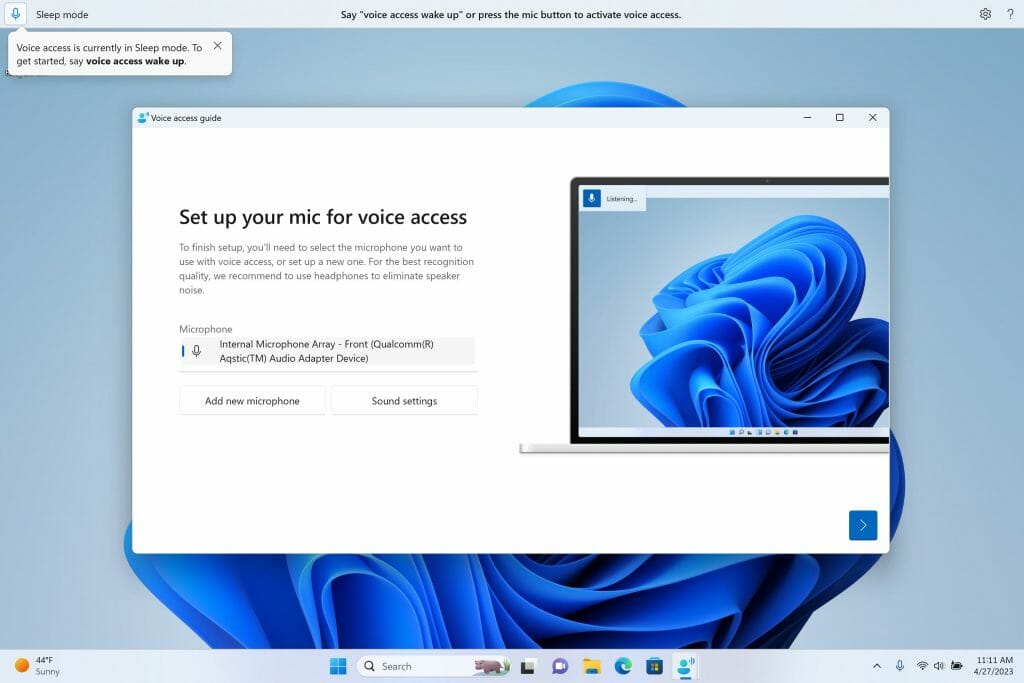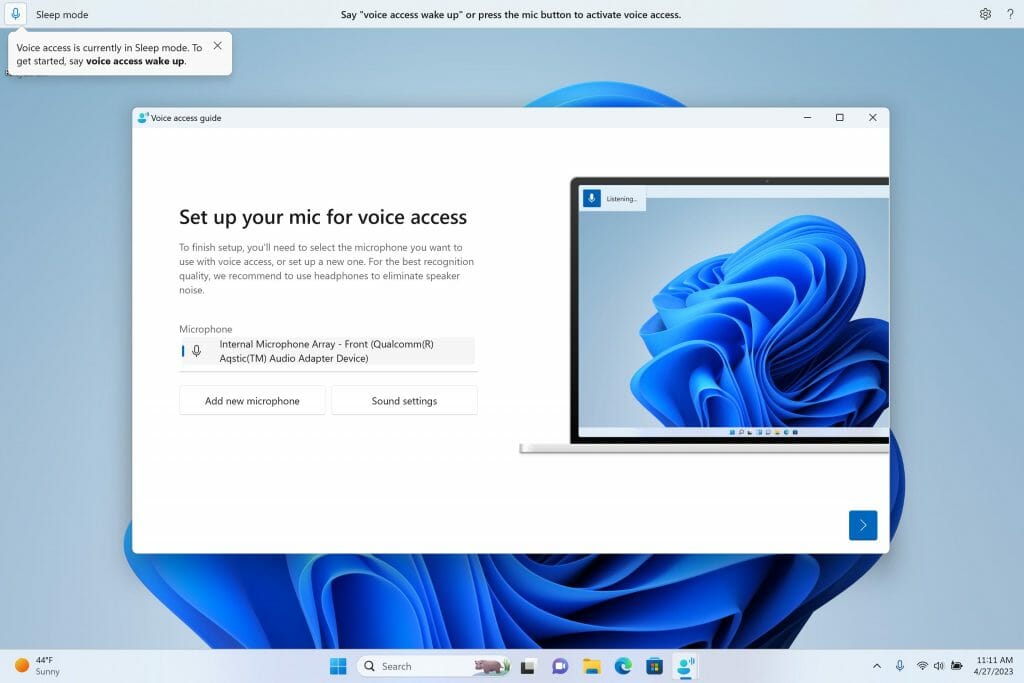 In addition, voice access functionality is coming out of preview and will be generally available for all Windows users and that brings support for activating and navigating native Windows 11 apps such as Word, File Explorer, the Microsoft Store, and more via voice controls.
New Windows 365 App for Cloud PCs
For Windows users that need to access their Cloud PC, Microsoft is updating its Windows 365 app and making it available via the Microsoft Store.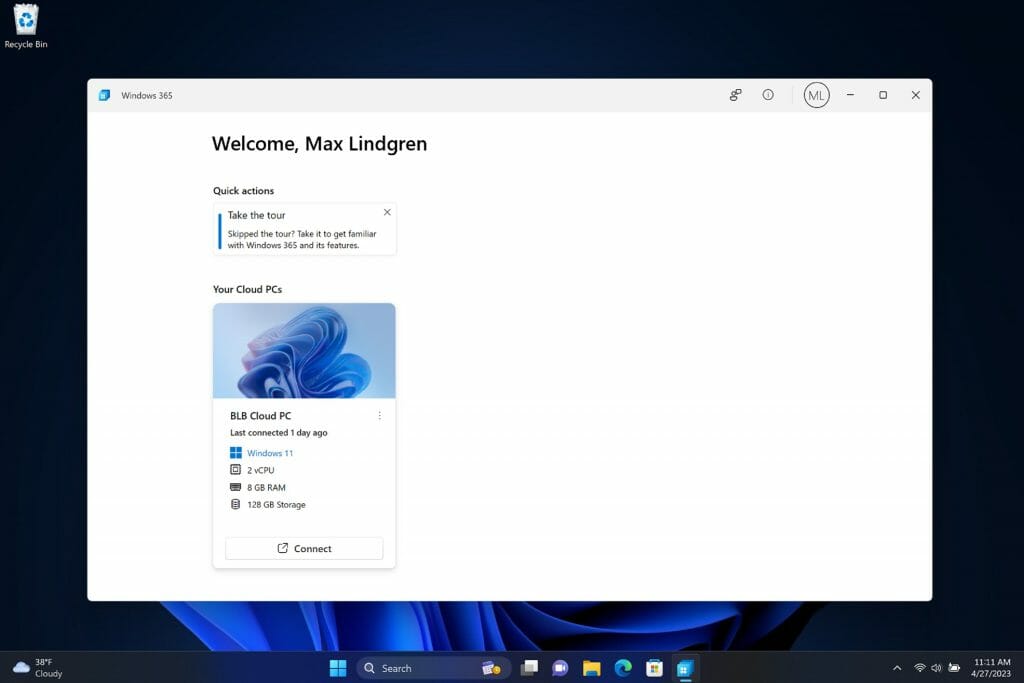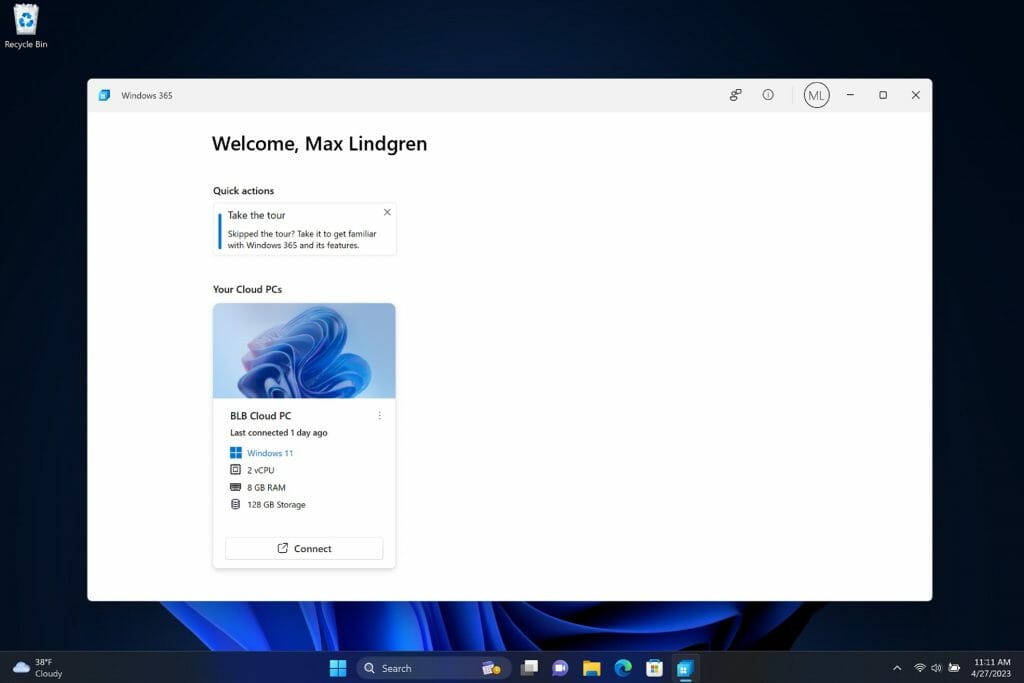 The new updated Windows 365 app can be launched straight from the desktop and directly into the Cloud PC with features that allow users to adjust settings, profiles, and work styles while seamlessly switching between local and Cloud PC saves.
Microsoft will be delivering all these new features via an update that is available starting today to eligible devices running Windows 11 versions 22H2 and above. For anyone not seeing the update, Microsoft plans to deliver the features via a Windows Update in March 2023 through its monthly security update release cycle.
Other features can be downloaded via their respective apps in the Microsoft Store such as Notepad, Snipping Tool, Windows 365, and others.