343 Industries published yesterday the second blog post of its new "Inside Infinite" series of monthly updates, and this time the developer has focused on the game's single player campaign set on Zeta Halo. 343 Industries previously revealed that the world of Halo Infinite would be several times bigger than Halo 4 and 5 combined, and players will also get to discover the different faces of Zeta Halo through a day and night cycle.
"One of my favorite features in the game is our Time-of-Day lighting system that is active while you are playing the game. This has been one of, if not THE largest graphical feature implemented into our engine over the past few years. It allows us to create artistic scenes and settings that have vastly different visual tones and moods depending on which time during the cycle you encounter something," said Justin Dinges Campaign Art Lead on Halo Infinite.
The long blog post includes plenty of 4K screenshots showing how the game currently looks on PC. Compared to what we saw in the first gameplay reveal trailer from last year, the visual improvements are clearly visible. "If you zoom into some of this month's screenshots, you'll catch glimpses of the wildlife that inhabits the ring," said Halo Infinite's Head of Creative Joseph Staten.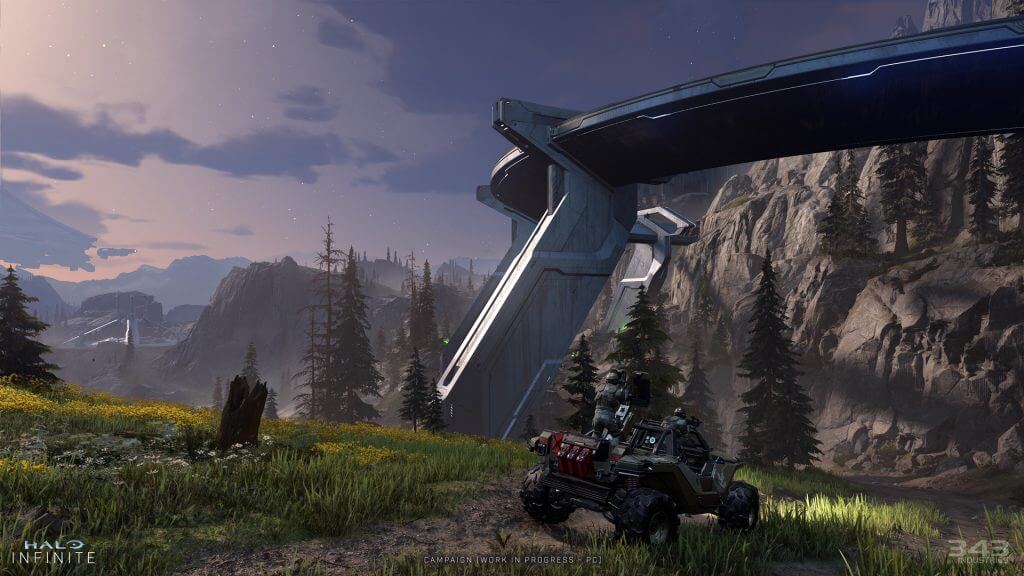 The team also explained in the blog post what are the main influences behind the world of Zeta Halo. If this new Halo ring is a nice throwback to the first ring saw in Halo: Combat Evolved twenty years ago, the design of Zeta Halo is actually a mix of the natural landscapes of the Pacific Northwest combined with the metallic forerunner infrastructures seen in previous Halo games. Here's what Justin Dinges had to say about the world of Zeta Halo:
You can see in many of our media pieces we have introduced the idea that just below Zeta Ring's organic surface is a forerunner framework of millions of vertical hexagons that make up the ring's structure. And, due to the extreme damage that Zeta has endured, these hexes are exposed and displaced creating a dynamic landscape that gives us a unique visual and allows for some really fun gameplay. This is our way of mixing a beautiful real-life biome (the PNW) with something fantastic and sci-fi (the hexagonal structure) as the experience aims to be the best of both worlds.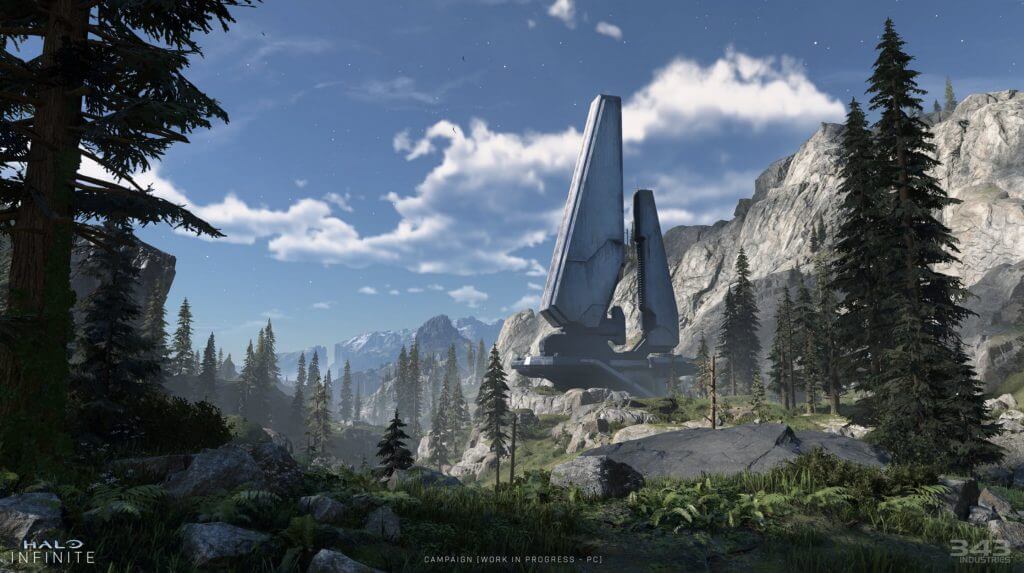 During the game's single player campaign, players will have to discover the many secrets of Zeta Halo, which will be occupied by Banished forces when Master Chief and his co-pilot sidekick land on it. 343 Industries promised an unprecedented level of freedom, with different ways to infiltrate enemy outposts and lots of optional missions to reward players taking the time to explore Zeta Halo.
"It's the most open and adventure-filled Halo game ever. It's the Halo game we could only dream about making 20 years ago", explained Joseph Staten. The Head of Creative also mentioned that Halo Infinite won't have a crafting system that so many open world games have been using in recent years. "You won't spend time hunting and skinning animals to make better gear for Master Chief. Spartans wear Mjolnir assault armor. They don't need leather boots," Staten emphasized.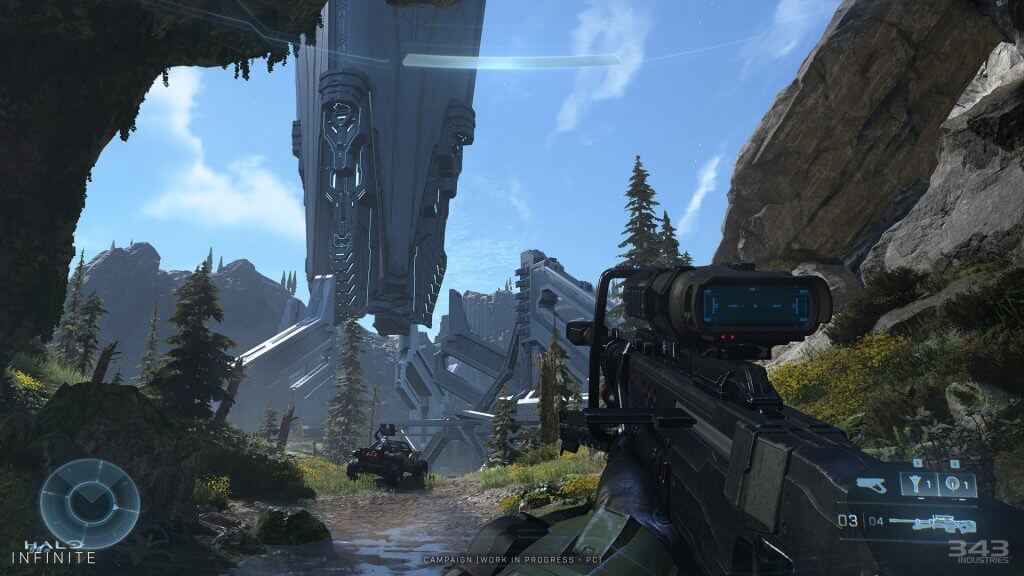 343 Industries plans to dedicate next month's "Inside Infinite" update to the work done by the Audio team, while the April update will have some interviews with the studio's PC team. Again, these latest "work in progress" screenshots are all from a PC build, and the gameplay demo we saw last in July was also recorded on a PC. We really invite you to check out the full 4K images on Halo Waypoint.
Halo Infinite is being developed for Xbox One, Xbox Series X|S consoles, and PC, and 343 Industries announced a Fall 2021 release date for the much-anticipated game. If the single player campaign looks more ambitious than ever, Halo Infinite's multiplayer mode will be entirely free-to-play and 343 Industries is also expected to kick off Insider flighting later this year.