Hot on the heels of Tip of the Week #5, which dealt with some aspects of managing time in Windows, our attention this week turns to time zones, and in particular the impact of Daylight Savings Time. If you deal with people who are based in other countries – especially if one of you is in the US or Europe and the other is not – then you might be about to hit a problem which still causes confusion even though it fairly reliably occurs twice a year.
Daylight Saving Time (or summer time as some parts of the world call it) was originally introduced to make the best of longer summer daylight hours to save energy, though some say (incorrectly) it's so farmers could quite literally make hay while the sun shines. Since summer in the northern and southern hemispheres happens in different months (festive turkey on Bondi Beach, eh?) that plays a part in when DST takes effect. Also, as you get nearer the equator, it's less relevant and much of the world does not change its clocks at all.
International jet-setters will be used to planning around when and where daylight is, but the shift to DST can catch people out since when it happens (if it happens) isn't the same across the map.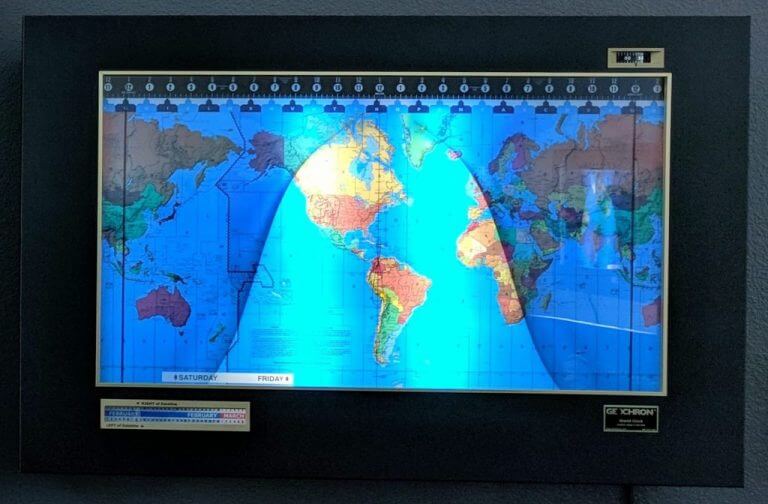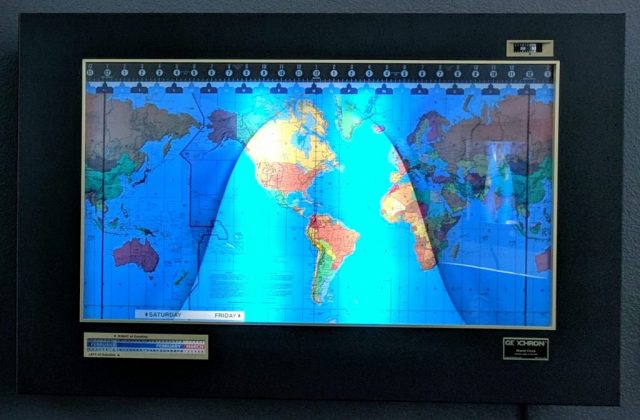 If we take an example of someone in Seattle setting up meetings with people in New York, London and Sydney, then the following changes might be relevant:
Sunday 1st October – some of Australia entered DST
Sunday 29th October – much of Europe leaves DST
Sunday 5th November – most of the US leaves DST
In practical terms, this means that pre-existing meetings can get all messed up, especially in the weeks between changes and before everything stabilizes for the next 6 months or so. Since the time zone (and therefore DST impact) of a meeting in Outlook is set by its organizer, if a Seattleite had a 9am meeting every Monday, that would work out at:
25th September – 9am Seattle, noon NYC, 5pm London, 2am Sydney (since the US and Europe are still in DST; Australia is not)
2nd October – same times for everyone else but it's now 3am in Sydney since NSW has moved forward one hour (but still 2am in Brisbane, as QLD doesn't bother with DST… are you following?)
30 October – what was 5pm for London is now 4pm as Europe has moved back one hour (ie US in DST, Europe is not)
6th November – As the US moves back one hour, it's still 9am Seattle and noon in New York, and now back to 5pm for London, but it's moved to 4am in Sydney (since the meeting is set to Pacific Time 9am, which is now one further hour away from New South Wales)
While it's easy enough to add more clocks to the system tray time display, and you can add multiple time zones in Outlook by right-clicking on the time-scale to the side of the calendar, there are limits – the system tray and regular Outlook only let you display 3 time zones in total.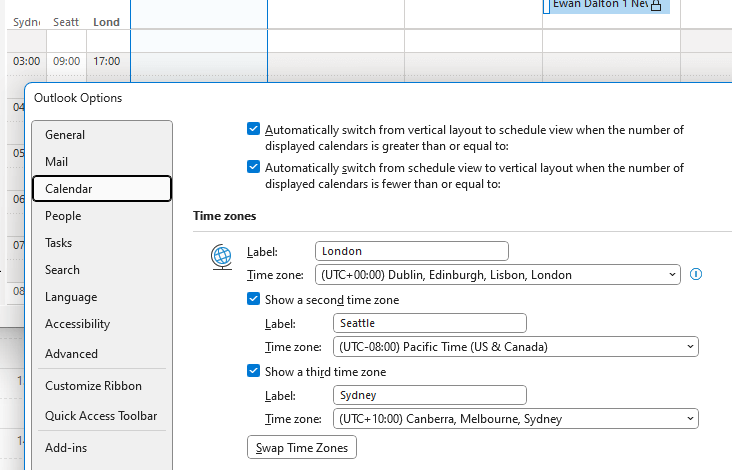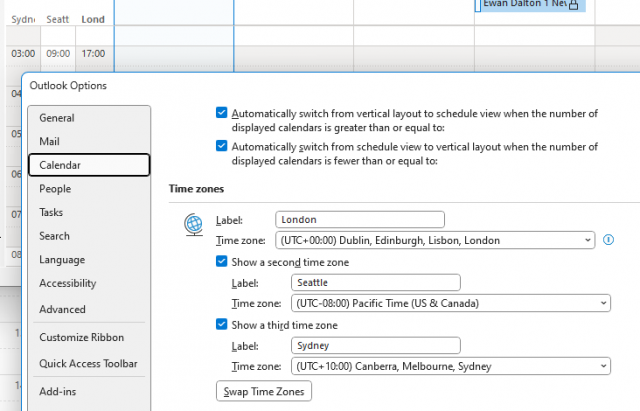 The New Outlook lets you add more – at the risk of overwhelming the everyday calendar UI, perhaps.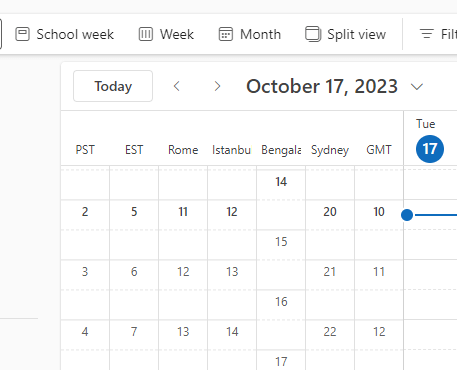 Clock App to the rescue
The Clock App in Windows 11 has a neat Geochron-style feature "World Clock", that shows a global map and lets you pin many cities to it, if you so desire.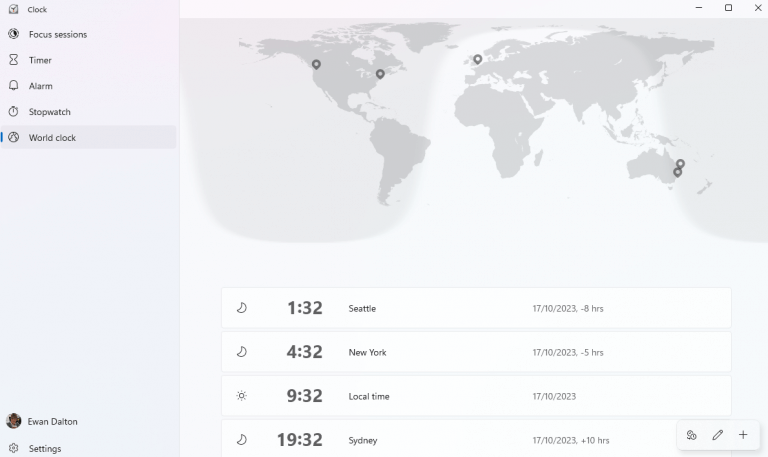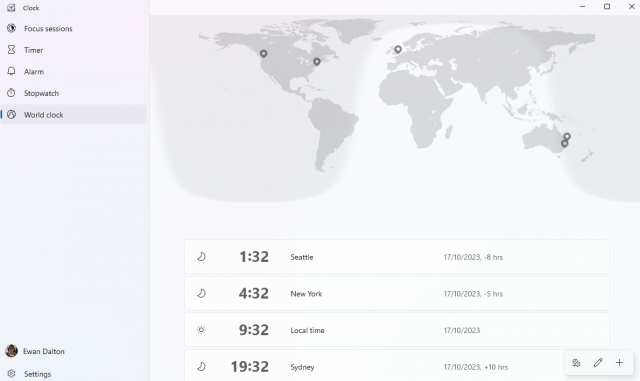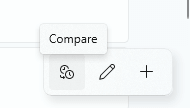 Hover over the name of the location and it'll display the current difference in time, which is handy for quickly checking where things are right now. But one of the neatest features is to compare all those places you have pinned, at any date and time in future… click the icon on the lower right and you'll see a tabular comparison which lets you select a date and scroll back and forth to look at different times.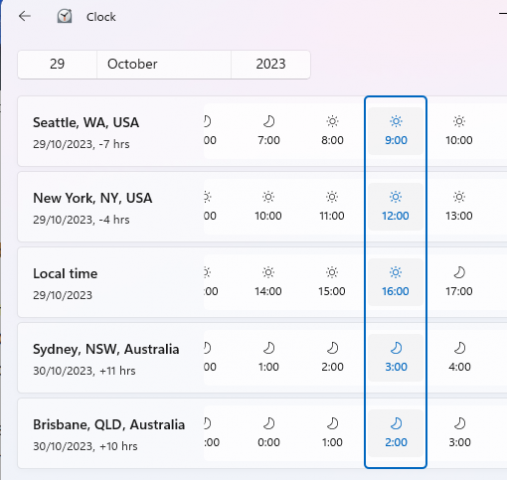 Of course, this won't stop meetings that were otherwise in order from suddenly clashing – that 9am Seattle meeting landing an hour earlier for Londoners could cause issues with other things they were committed to doing at 4pm local time, but at least it unwinds a week later. The compare function maybe helps to explain why everything's messed up, even if it can't do anything to avoid it.