Smart small businesses really know how they can use LinkedIn's features to their advantage. And having a simple recognised profile URL is one way you can use the platform to your advantage.
The business networking platform has long had the ability to customise your URL, but from the sheer numbers of its members who have used the platform for a long time and have not used the feature, I think that it is time to reiterate how easy it is to do.
Why create a custom URL in LinkedIn?
You can easily create a custom public profile URL on the platform. Having a custom public profile URL that is succinct and recognisable will enable you to use a quick way to let members and recruiters reach your profile to connect with you. You can use the streamlined profile URL on business cards and other printed media, or in Instagram images.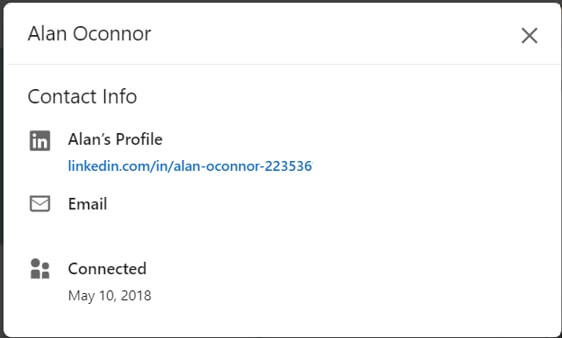 How do I choose a custom LinkedIn name?
By default, your LinkedIn profile URL is a combination of your name and a series of numbers that would be impossible to remember unless you – and the person you were connecting with – were number geeks. Fortunately, you can change the randomly generated URL to a more streamlined URL that better reflects your online brand.
You can choose a name that is not already in use across the business networking platform. Names for profiles are available on a first-come, first-served basis and are fixed to your profile. You can only have one custom URL per profile, although you can change the URL if you want to better reflect your business.
It is not advisable to change your public profile URL too often. You can change your customised profile URL up to five times within a six-month period. Once you have changed your URL for the fifth time, you will be prevented from changing it for a further six months.
How do I create a custom LinkedIn name?
Creating your new profile URL is easy. From the LinkedIn desktop or your mobile app, click on your profile roundel at the top of the LinkedIn page and select the view profile option. Click the 'edit public profile & URL' link on the right side of the page.
You'll be redirected to your public profile settings page.
Under Edit your custom URL on the right side, click the edit icon next to your public profile URL. Most of the URL addresses i.e. http://LinkedIn.com/in/ cannot be modified. Only the last part of the URL after the trailing slash can be changed. Type in your chosen name in the last part of your new custom public profile URL in the text box.
If the name you want is not available, you will receive a warning message and you will be prompted to try a different URL.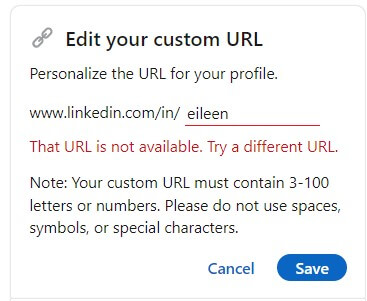 You can be as creative with your profile URL as you wish. The URL can be 3-100 characters long, so you can be verbose. However, you might prefer a short snappy URL instead of the mixed numbers and letters provided when you created your profile on the platform.
What else do I need to know about LinkedIn custom URLs?
LinkedIn recommends that you use a variation of your name or professional brand for your public profile URL so that people can find you. If you use pseudonyms or acronyms that are well known throughout your business connections and defines your persona or your brand, then consider adopting the same for your personal profile URL.

As the internet does not differentiate between upper and lower case letters, capitalising the first letter of your name https://LinkedIn.com/in/EileenBrown will make it more readable on printed materials. the final URL will point to the https://www.linkedin.com/in/eileenbrown/ profile.
Remember, profile names are allocated on a first come first served basis. If the custom URL you want has already been taken, you will have to select a different one. LinkedIn insists that it will not allocate special URLs to people who request them.
And yes, https://www.linkedin.com/in/apple/, https://www.linkedin.com/in/ibm/ and even https://www.linkedin.com/in/microsoft/ are custom URLs of people – not brands. The Microsoft URL is connected to someone who doesn't seem to have been connected to Microsoft at all. Perhaps other names are URL squatting hoping to get cash if they relinquish the profile URL.
The platform has a different naming format for company name URLs. Microsoft has its own unique URL https://www.linkedin.com/company/microsoft/
So, apart from the chance that the name you wish to use for your URL may have already been taken, it makes sense to create your unique URL for your profile. It will be far easier to remember than all those numbers you have now.
Other LinkedIn tips in this series:
6 reasons why LinkedIn is important for your business
Make your LinkedIn profile more dynamic with a cover story video
How to stop connection harvesting within LinkedIn
Using LinkedIn for successful video meetings with your network