Starting at $49.99
Gunnar Optiks has been a leading name in safety glasses designed to reduce the effects of Computer Vision Syndrome, and we were given a few pair to test out to see if their claims were true, and to see if they should be something more people should be looking into.
Computer Vision Syndrome (CVS), or Digital Eye Strain was recognized roughly 20 years ago as a group of eye and vision-related health issues stemming from the prolonged used of devices with screens such as PCs, tablets, phones, e-readers, and modern TVs.
While some electronics manufacturers are starting to include software solutions to help mitigate the effects of CVS that include eyestrain, headaches, blurred vision, dry eyes, and neck and shoulder pain, Gunnar is providing a hardware solution that spans multiple devices. Instead of going from screen to screen and rummaging through settings toggle on blue-light reducing effects, Gunnar offers a selection of stylish glasses at excellent price points that can become a one-and-done solution to protecting eyes from the harshness of digital screens.
Gunnar was started back in 2007 by cofounders Joe Croft and Jennifer Michelsen with the explicit intent to help those of us who spend hours looking at glowing screens, and over the past 16 years their inventory of glasses have gotten wider and more stylish.
Frames and Lens Options
5/5
Gunnar offers both prescription and non-prescription supported lenses with a variety of frames.
As a leading brand in the blue-light reduction space, Gunnar has collaborated with Marvel, EA Games, Activision Blizzard and more to produce frames such as the Stark Industries Edition based off the E.D.I.T.H. glasses worn in both Avengers End Game and Spider-Man Far From Home, the Intercept Assassin's Creed design, Call of Duty Covert Edition, and new Loki Asgard Editions.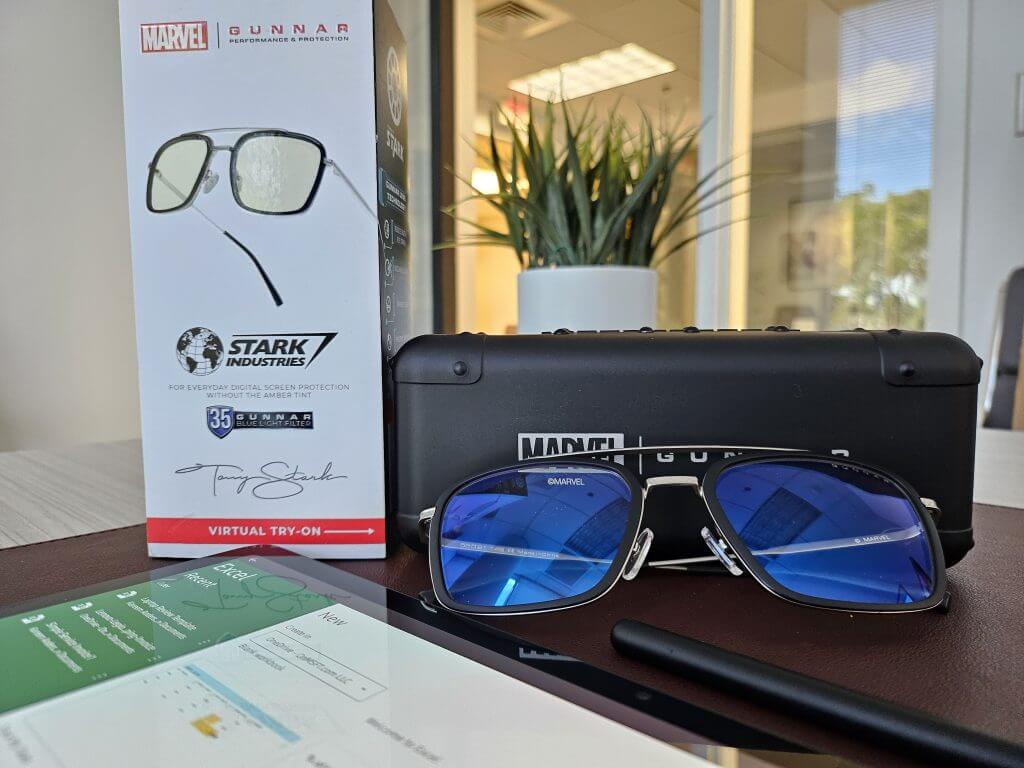 Beyond the flashy co-partnered specs, there are plethora of stylish non-descript options for a variety of faces and head shapes that range from rounded, square, oval, clip-ons, and aviator-ish frames.
Gunnar's expansive list of frames also come with a variety of finishes such as aluminum-magnesium alloy, acetate, steel, titanium, precision engineered polymer, and more.
As comic fan, I chose the $99.99 E.D.I.T.H. pair alongside the less flashy $74.99 INTERCEPT options to review.
Build Quality
5/5
After selecting the Stark Industries and INTERCPT frames to test, Gunnar also packaged sunglass versions of the same glasses to wear out and about and away from my glowing rectangles.
The Stark Industires come with the iconic oversized lens frames as seen in the movies, lens width: 55 mm | nose: 21 mm | temple: 147 mm | weight: 27.7 grams, but despite their size, are very lightweight. The frames are made with a durable stainless steel and multi-barrel hinges that sit nicely around the temple and ears with no pinching or pressure.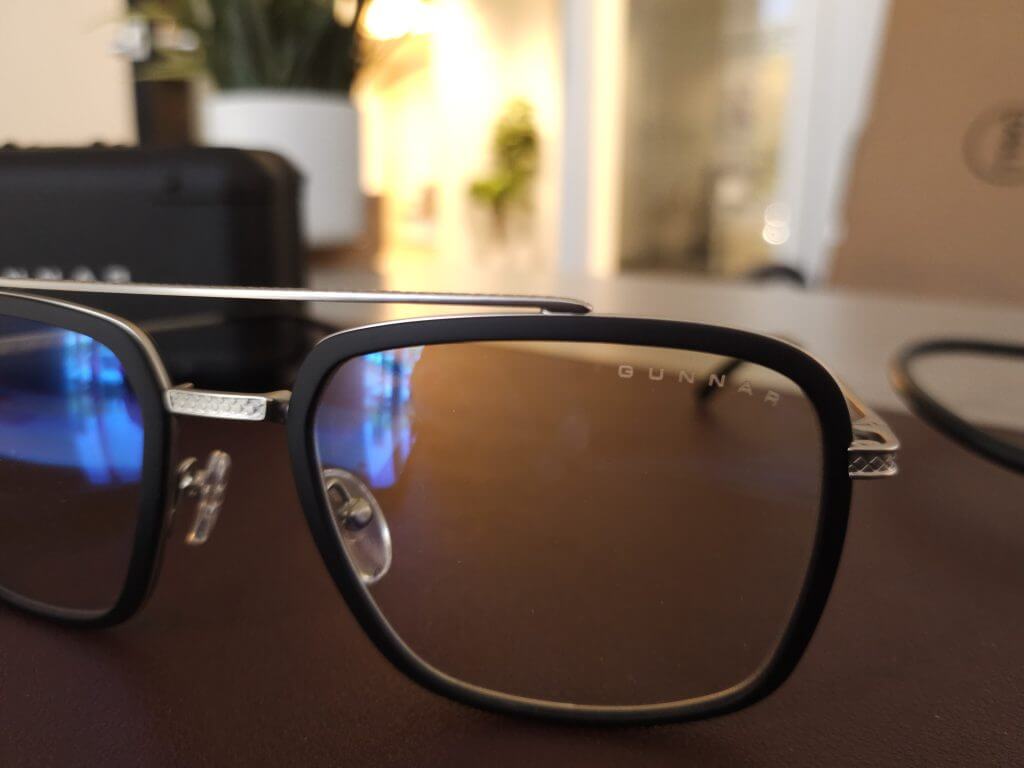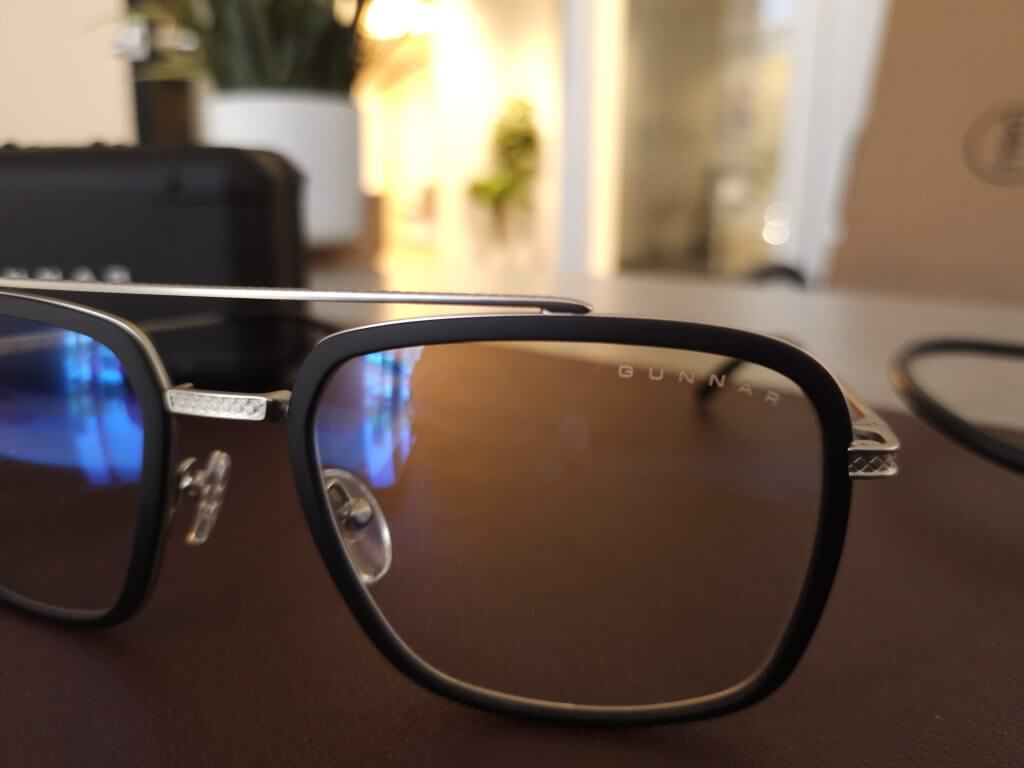 The lenses themselves come with Gunnar's patented blue-light lens coating paired with 100% UV protection and smudge resistant lens coating. Customers can choose between a clear tint which comes with a light yellow coating over the lens or the much more pronounced Amber tint that presents a much darker yellow filter.
The sunglasses version of the Stark Industires look and feel identical to the regular pair except for their Sun tint which is an almost navy blue filter coating applied to the lenses.
While I tested the $99.99 version of the Stark Industries glasses, the pair of frames can cost as much as $349.99 if paired with options such as Amber Max, Amber Transition, and Clear Transition lenses.
As for the INTERCEPT pair, they were made of a nylon frame material that effectively felt like smooth plastic and also came with similar sturdy multi-barrel hinges as my E.D.I.T.H. pair. The INTERCEPT pair were only slightly heavier feeling than the Stark Industries measuring lens width: 58 mm | nose: 17 mm | frame width: 133 mm | temple: 135 mm | weight: 33 grams.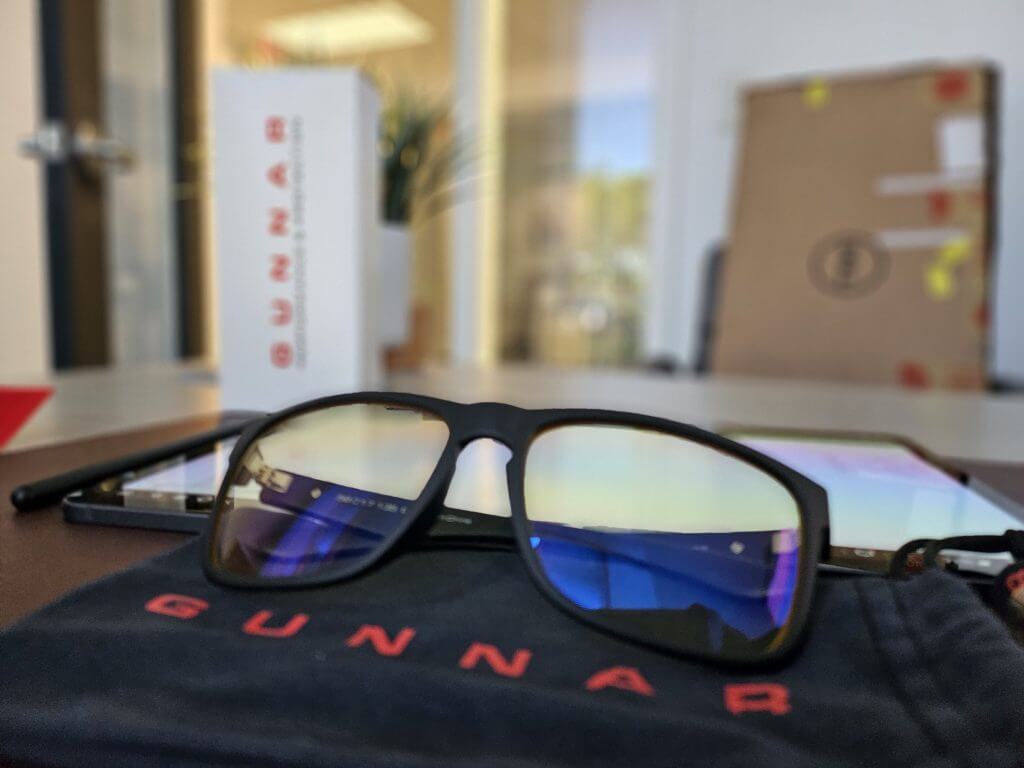 Unlike the Stark Industires that only come with one frame stainless steel frame color the INTERCEPT can be purchased in Onyx, Cobalt, Emerald, Crystal, Latte Fade, and Merlot Onyx, and the same goes for the sunglass version.
Blue-Light Reducing
4/5
For the most part, Gunnar stays true to its mission of blue-light blocking while providing a solution that doesn't significantly distort natural surrounding color profiles. While Gunnar's sunglasses are obviously intended to protect against UV, I have found myself wearing the blue-light filtering regular pair outside as matter convenience.
After several hours in front of my laptop, I tend to quickly pack up and head straight out the door at the end of a work day less concerned with putting away glasses and more concern with avoiding those annoying end of day request, and as such, I've worn my Stark Industires out and about.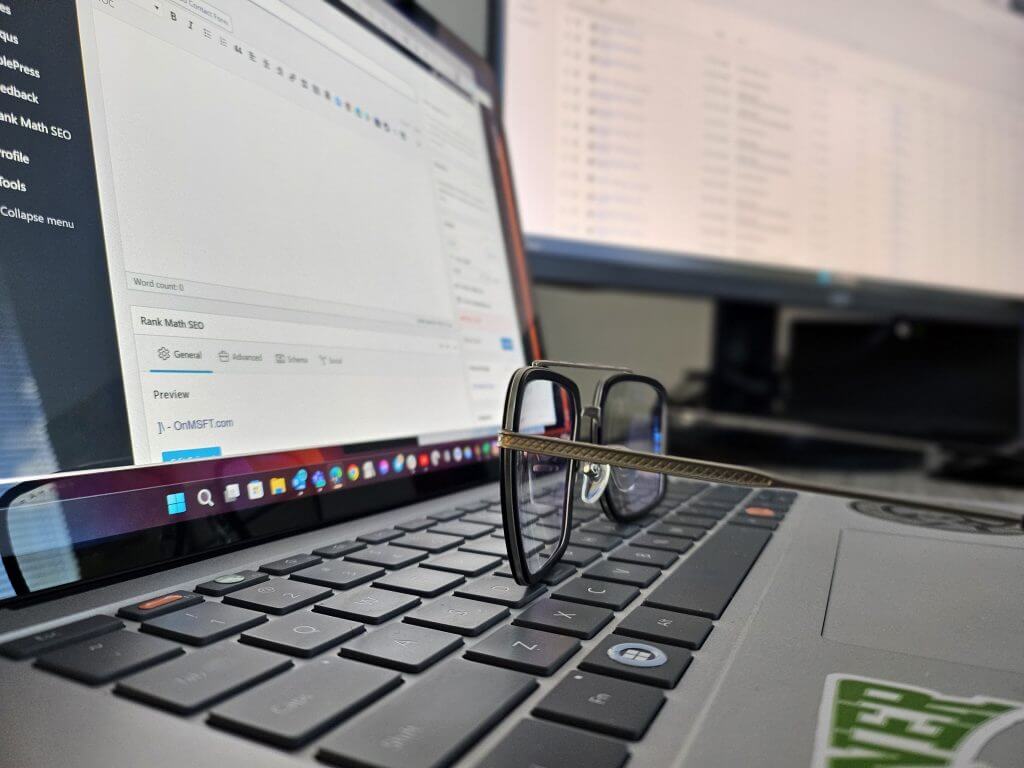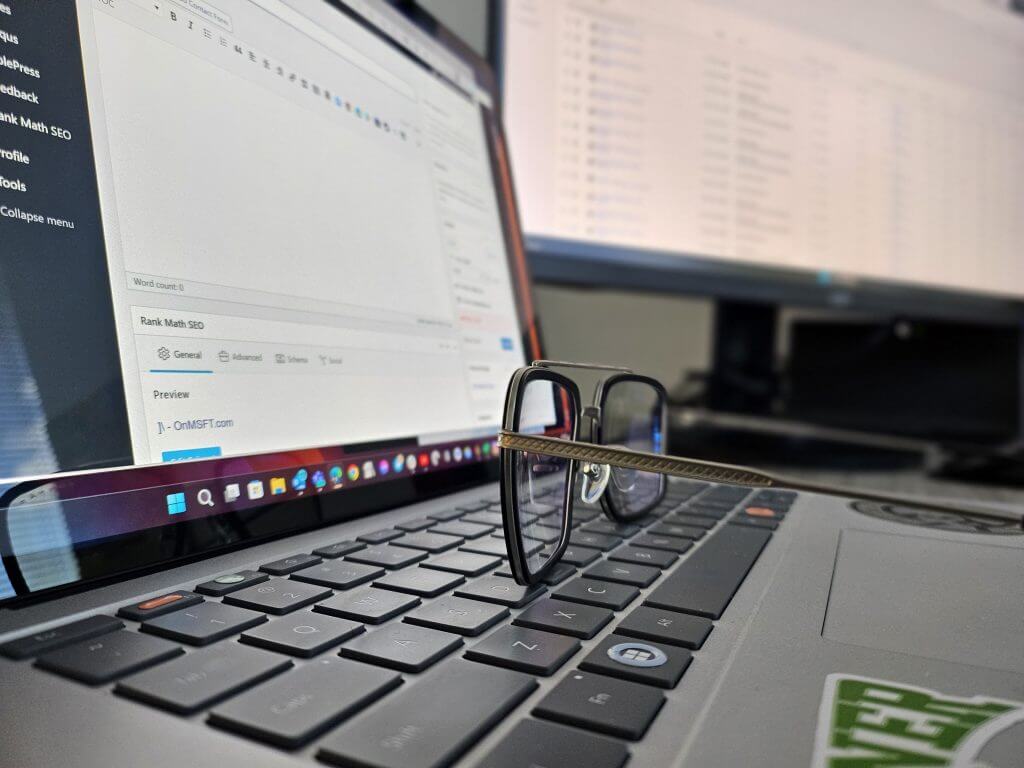 The filtering lens, under florescent light and the blaring starkness from my monitors is met with a warm bath of Amber that turns the harsh white of webpages and applications to less white. Cooler tones and color profiles are warmed and softened when wearing Gunnar's blue-light blocking frames.
There are two things to take into account when wearing a pair of blue-light blocking Gunnar's, and that's for tasks that need to be color accurate, the filter will distort that, and that can be some reflective glare despite its anti-reflective coating, there are instances where glossy screens produce enough reflection that's caught up the field of vision.
Summary
5/5
As technology use evolves, it's becoming clearer that there intended and unintended consequences to our consumption of digital media and Gunnar provides a very affordable way to address the health related ones. Yes, there other options such as Warby Parker, Eyebuydirect, Zenni, Liingo, Look Optic, and Amazon, I haven't had as much fun selecting and wearing a pair of blue-light blocking frames ever.
Between their premium build qualities, support for prescription lenes, fun brand partnerships and pricing, the Gunnar experience was top-notch and definitely a solution worth looking into if you spend more than four or five hours in front of various screens and are starting to feel eyestrain, headaches, blurred vision, dry eyes, or any of there other various CVS-related health issues creeping up.