Counterpoint Research's Market Monitor data shows that US smartphone shipments dropped 24% YoY in Q2 2023, the third consecutive quarterly decline. Samsung, Motorola, and TCL-Alcatel faced the sharpest shipment decreases. In contrast, Apple's shipments showed more resilience, leading to increased market share.
Research Analyst Matthew Orf attributed the decline to tepid consumer demand, despite a favorable job market and falling inflation. Consumers hesitated to upgrade due to market uncertainty. Expectations for the upcoming iPhone 15 remain positive.
However, certain segments saw life in the US smartphone market. The foldable market hit milestones, with Motorola and Google launching their foldable devices. Samsung's upcoming Galaxy Z Flip and Z Fold devices in Q3 2023 could boost foldable shipments.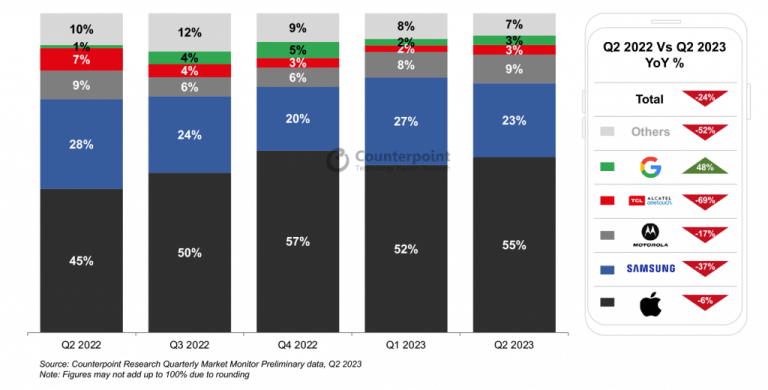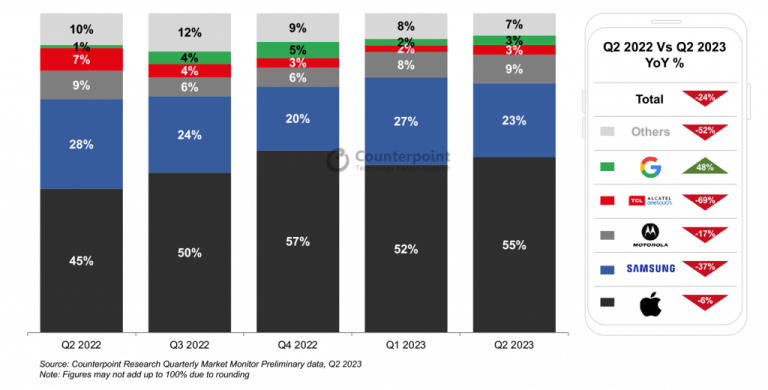 Apple's share of shipments still rose 10% YoY due to strong promotions by carriers like Verizon, AT&T, and T-Mobile. These carriers offered generous credits for the iPhone 14 and heavily discounted older iPhones in the prepaid segment. Google's Pixel also grew in the prepaid channel, competing with the iPhone 11.
AT&T and T-Mobile reported positive net additions, but Verizon experienced negative net additions in its consumer segment for two consecutive quarters. Lower upgrade rates and near-record low churn impacted new device demand. Weakness is expected to continue into Q3 2023. Still, the iPhone 15's strong demand could offset Android weakness, according to Director of North America Research Jeff Fieldhack.
via 9to5Mac