Microsoft has been named the top company in TIME's inaugural list of the World Best Companies. This recognition is based on a comprehensive analysis of factors, including Employee Satisfaction, Revenue Growth, and Sustainability (ESG).
Microsoft, Apple, Alphabet (Google's parent company), and Meta Platforms (formerly Facebook) have been ranked as the top four companies in a statistical ranking of 750 global companies.
It is particularly noteworthy that Microsoft ranked first in employee satisfaction. This suggests that Microsoft is a great workplace and that its employees are happy and engaged. This is important for any company, but it is especially important for tech companies facing increasing competition for talent.
Meanwhile, Accenture stood out for having the highest ESG ranking among the listed companies. It has committed to achieving net-zero emissions by 2025 and has significantly reduced emissions since 2019. Additionally, half of its board of directors are women.
Microsoft and Accenture have tried to improve diversity and inclusion in their workforce. This includes increasing the representation of women and ethnic minorities in leadership roles and improving pay equity.
Here are the top 10 on the list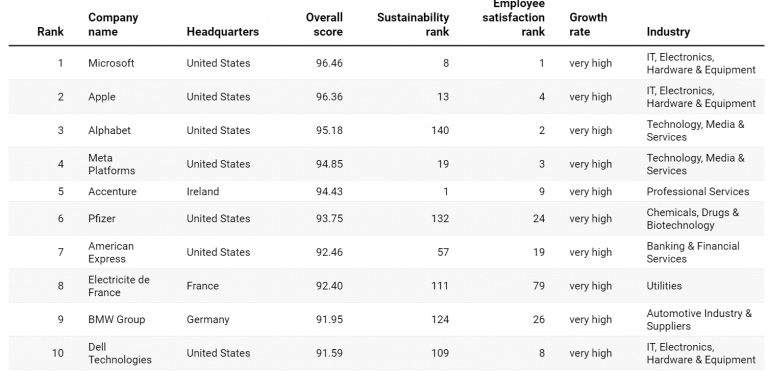 Other tech companies also performed well, indicating the tech industry's leadership in corporate responsibility and sustainability.