When thinking about Xbox gaming, the idea of partnering with nana and papa on a group recon mission in a first-person shooter tends to be the furthest thought from a gamers mind, but playing video games amongst families has seen an uptick in activity.
A new global Xbox survey conducted by YouGov highlights the growing trend of families who connect with one another through gaming during the holidays. The commissioned survey hosts several interesting metrics regarding generational gaming, types of connected game play, gaming as stress relief, the growth of holiday gaming, and more.
The YouGov report surveyed people who were typically online, 13 years and older, and across six key markets that include sample sizes of 1,256 in Australia, 1,254 in Brazil, 1,254 in Germany, 1,267 in Mexico, 1,336 in the United Kingdom, and 1,4044 in the United States.
The survey focused on understanding consumer behaviors and perceptions around video gaming as it relates to other activities and traditions around the holidays.
YouGov's research found the following data points:
Of the survey respondents who say they plan to play video games with family members during the holidays, 40% plan to game with their kids, 21% plan to game with their parents, 5% plan to game with their grandparents and 10% plan to game with their in-laws
56% of survey respondents agreed that the passing of video game enjoyment from older to younger generations is a great tradition
54% of survey respondents who play video games turn to video games to relieve stress, compared to other activities such as social media scrolling (46%), reading a book (45%) exercising (42%) and self-care activities (33%).
Family-friendly games like Minecraft and Forza Horizon 5 accounted for more than 50% of games played during the holidays in 2021, an increase over the last 2 years [Internal Xbox Live data from November 2020 – January 2022].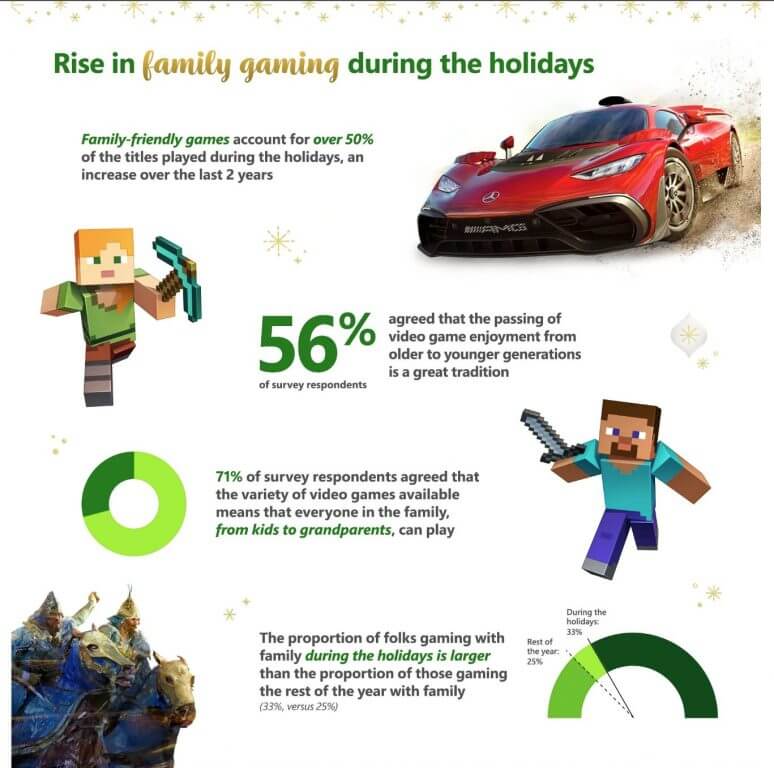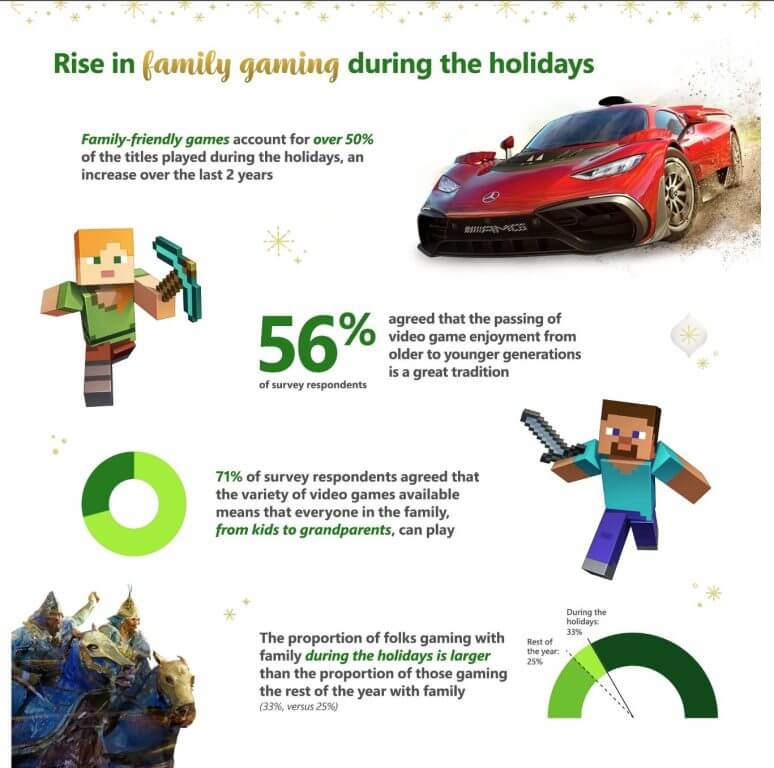 The YouGov research suggests that, while gamers may still be wary of dragging their nanas and papas into muck of Call of Duty over the holidays, family gaming is increasing.
YouGov does not make any corollary conclusions based on its survey but there is logic behind drawing a conclusion that as early gaming generations age into grandparents their aptitude for gaming would help facilitated an easier connection with younger generations and we'll see that bonding experience increase in the future.