Satya Nadella has taken LinkedIn to let everyone know that Microsoft is announcing an AI partnership with Meta, as they aim to bring the power of Bing to Meta AI's chat experiences.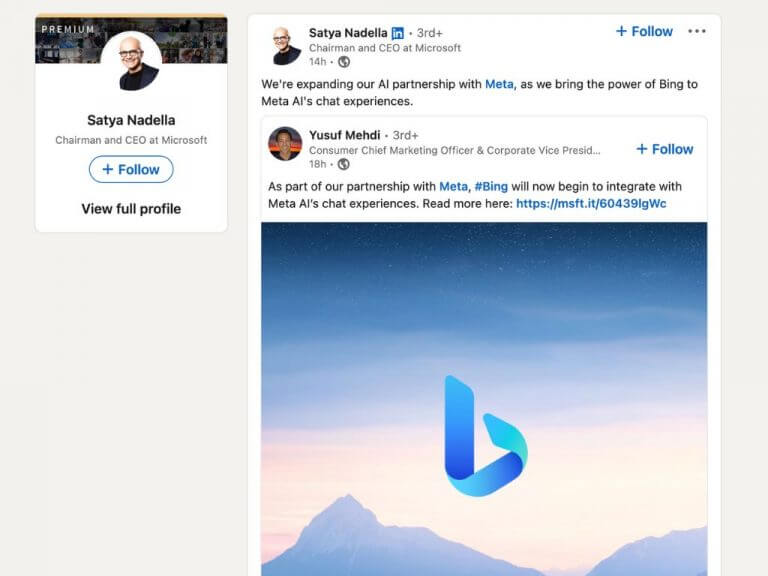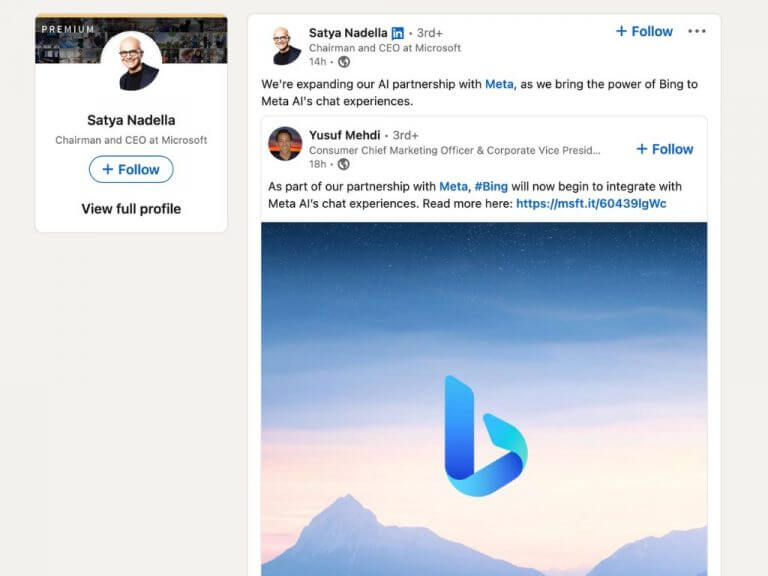 He shared Yusuf Mehdi's post, Microsoft's Corporate Vice President, Modern Life, Search, and Devices.
As part of our partnership with @Meta, @bing will now begin to integrate with Meta AI's chat experiences. Read more here: https://t.co/ioRNMD6wzM pic.twitter.com/5TdiCJYcxF

— Yusuf Mehdi (@yusuf_i_mehdi) September 27, 2023
Yusuf Mehdi posted this announcement via Microsoft Bing Blogs, highlighting Microsoft's continued efforts to integrate Bing into Meta's AI-powered chat experiences across various platforms, including WhatsApp, Messenger, and Instagram.
By integrating Bing's real-time search information, the goal is to provide users with more timely and up-to-date answers while using these chat applications. 
Yusuf posted this on September 27, the same day when Meta announced its "New AI Experiences Across Family of Apps and Devices" which includes:
AI Stickers

Image Editing With AI

Meta AI Assistant

Universe of Characters

Responsibility and Transparency

AI Studio and Third-Party AI

Sandbox for AI Experimentation
Microsoft and Meta expanding their partnership is great news for chatbot users. Enhancing chat experiences can make it easier for people to interact with computers in a more natural and human-like way.