Microsoft has been riding a rising tide of stock prices since, well basically since Satya Nadella took the company over three years ago. Today, the stock price, already at all time highs, topped $70 for the first time ever: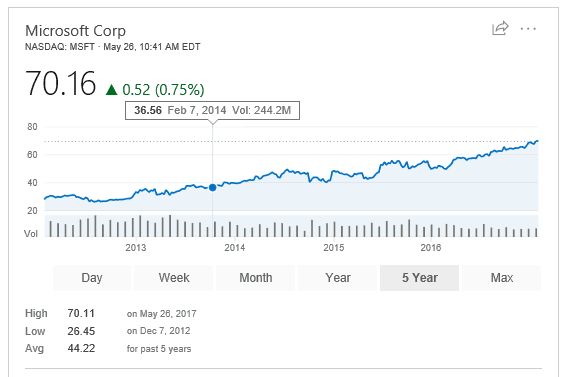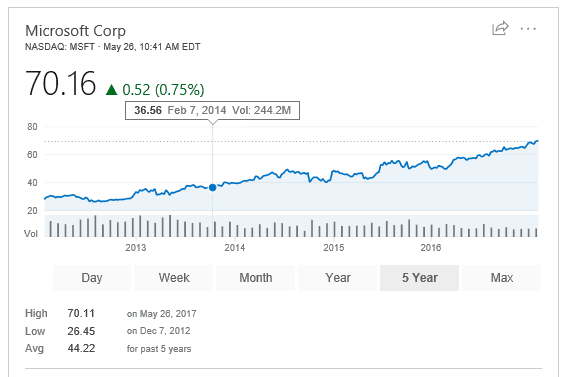 Nadella's CEO announcement was made on February 4th, 2014, and since then the stock price has almost doubled, not a bad investment.
While Microsoft has had its share of troubles in the consumer space, including the demise of Windows Phone, and the apparent miss on home assistants to compete with Amazon Echo and Google Home, the company is in good shape with Office, where it still holds a position of strength in the enterprise and is making good progress with Office 365, with Azure, which is in a strong second place position behind Amazon in a market that is only going to grow, and has been working to turn the image of the company around.
While Microsoft's Surface family, HoloLens, and Xbox have drawn probably more user attention than bottom line dollars, they've still contributed by making Microsoft fun again. Windows 10 has shed some of the negative light that Windows 8 brought on the company, and the promise of Windows running natively on ARM bodes well not only for next generation consumer facing devices, but for lower cost, lower power server applications as well.
What do you think is fueling Microsoft's steady stock rise? Will the company thrive with or without leading in the consumer space? Will Microsoft become the Office 365 and Azure company? What will drive Microsoft's stock price in the days to come? Let us know what you think in the comments below.