With the new Your Phone app for Windows 10, Microsoft showed that it's getting serious about offering deep synergies between your PC and your iOS or Android smartphones. This week at Build, we learned that Your Phone will be able to sync messages, notifications and recent photos from your phone to your PC and that it will ship with an upcoming version of Windows 10 (it may not be ready for Redstone 5 though).
During the Day 2 keynote, Microsoft's Shilpa Ranganathan didn't go through specifics details beyond the fact that Your Phone will leverage the Microsoft Graph to do its magic. Since then, the General Manager for cross-device product experiences at Microsoft shared more details about the app's inner workings in two separate interviews with Windows Central and The Verge.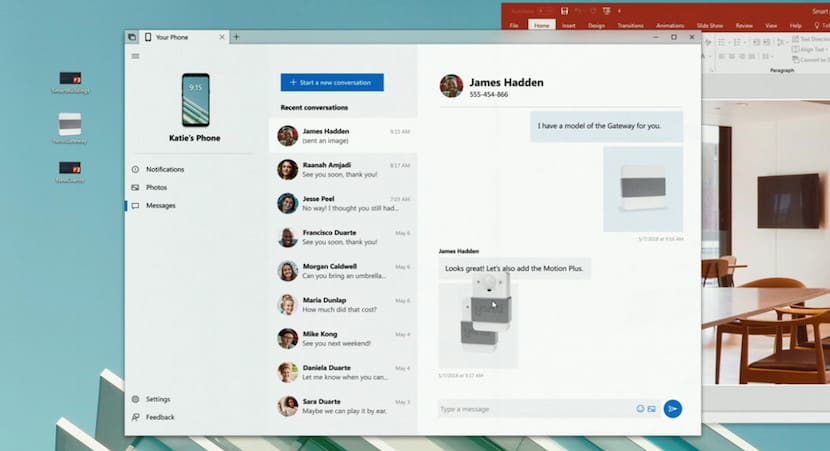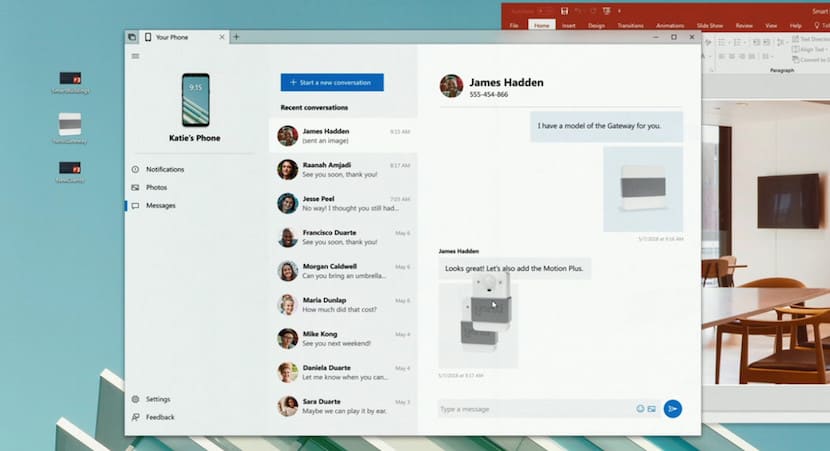 First of all, Your Phone won't require your Android and iOS smartphone to be connected to the same WiFi network as your PC, though the app may work better in that case. You should also know that only the last month of text messages and the most recent 25 pictures will be synced to a Windows 10 PC, and that information won't be synced to the cloud. However, a local cache of the synced information will remain on the user's PC after the smartphone is disconnected.
It wasn't clear until now if Your Phone would have limited support for iPhones, and Ranganathan clarified that if photos and notifications syncing will be supported on iOS, Apple won't allow it for text messages. "Apple does make it a tad harder for messages, but we're very willing to work with Apple," Ranganathan said, adding that Microsoft would eventually like to bring iMessage to Windows. There's a very low probability for that to happen though, as iMessage is a key asset in Apple's walled garden.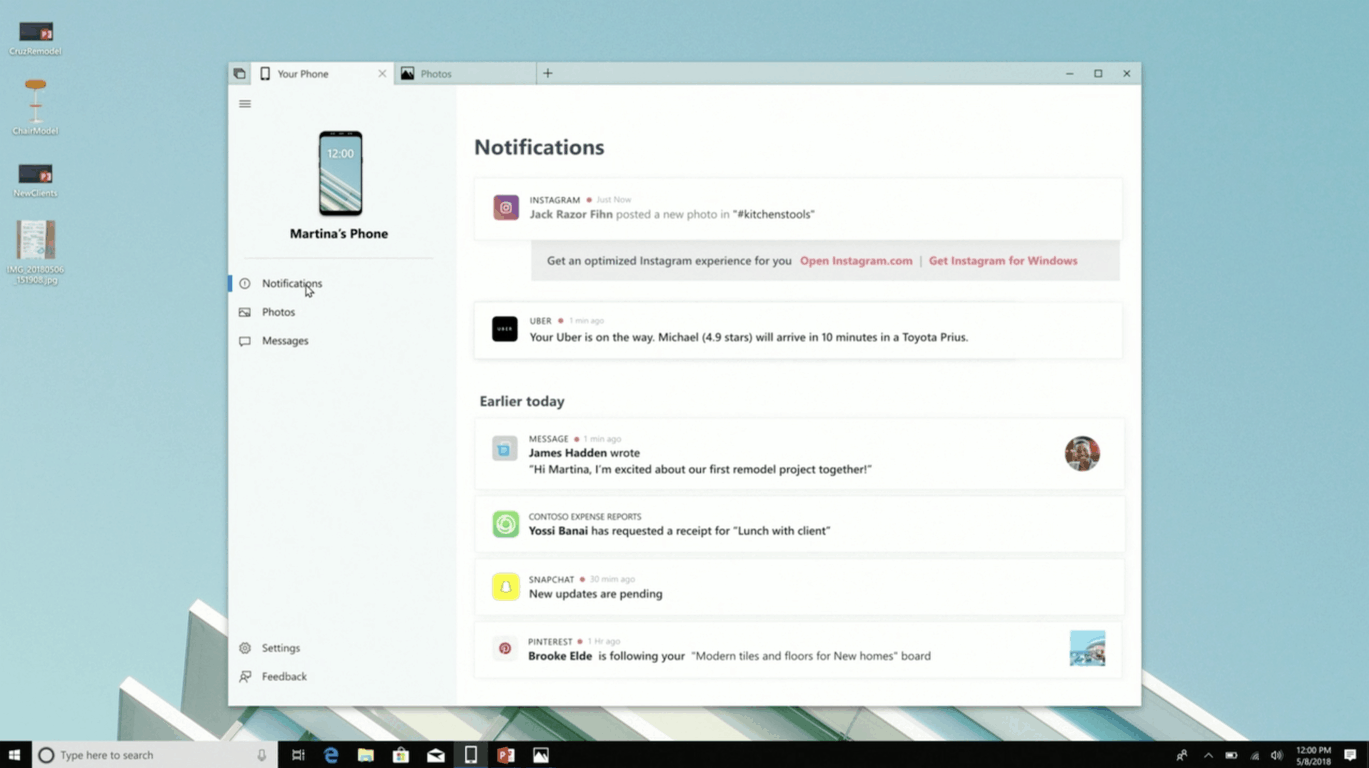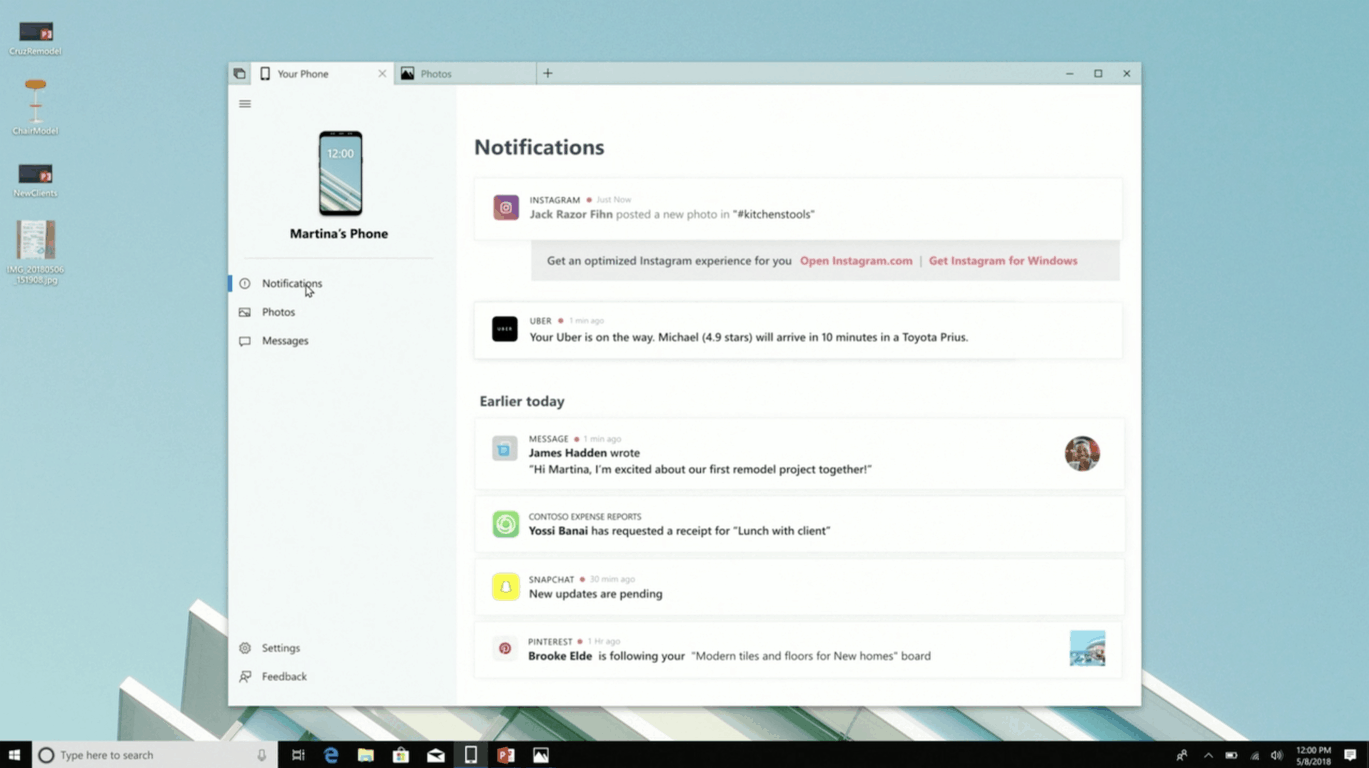 Since 2014, Apple also allows iPhone users to answer incoming phone calls from an iPad or a Mac, and this is something that Microsoft would like to bring to Your Phone in the future. "I know people have asked for calling and dialing as well, that's something that has been on our radar as well," said Ranganathan.
A working version of Your Phone is expected to ship to Fast Ring Insiders in the coming weeks, and we're looking forward to testing it. Your Phone could well become a core Windows 10 app in the future, one that may push the Windows 7/8 holdouts to update to the new OS. Apple managed to create great synergies between iOS and macOS and over the years, and it will be quite a challenge for Microsoft to do the same between Windows 10, iOS and Android. However, the failure of Windows Phone means that company can't afford to not embrace the most mobile platforms out there.
Update 05/10: We originally stated that the Your Phone app would require your Android and iOS smartphone to be connected to the same WiFi network as your PC, and this was inaccurate. Microsoft reached out to us to explain that Your Phone can work better when all devices are on the same network, but it's not required. We've edited our original post to reflect this.