Here we are with another 4-min review, this time our focus is on the Lenovo ThinkPad L13 Yoga. Lenovo shipped this SMB laptop to OnMSFT a few weeks ago and I've put it through its paces against other similar competing brands as well as what I feel is the baseline Windows computing experience in my own Surface Laptop 4, and the results are on average are, whelming.
The long and short of this review is that we're once again reviewing a business-grade laptop that mostly won't be showcased in your local Best Buy or Costco-like stores. The ThinkPad line is traditionally a business-consumer pursuit and sold in bulk orders, so please keep that in mind when comparing the price of a ThinkPad against its more consumer-focused competitors.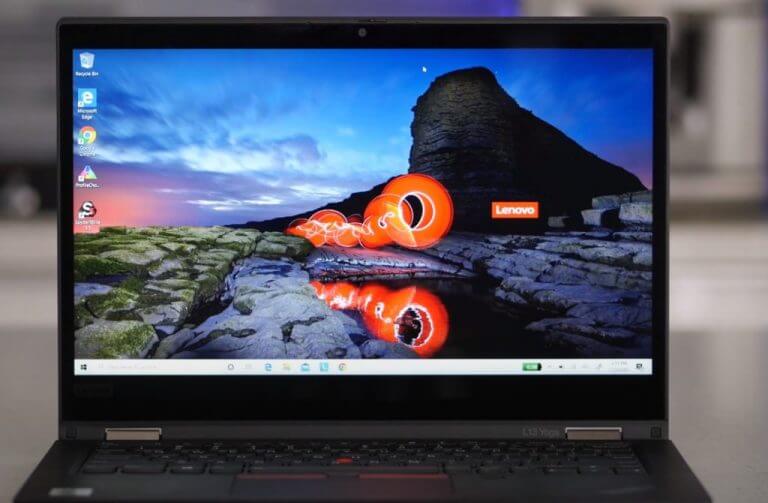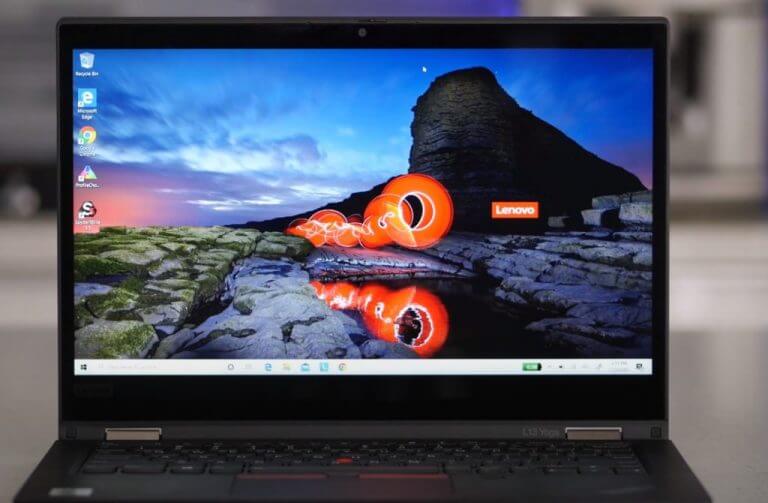 Fortunately, for anyone specifically seeking a ThinkPad device, Lenovo is right up there with Samsung in dropping prices pretty regularly on their devices months after they're introduced. Starting at $889.00, the ThinkPad L13 Yoga is a solid upgrade to any aging 2016-2017 laptop. Lenovo had been selling its traditional matte black variant of the L13 with coupon savings as low as $675.35 which is steal of a device at that price.
For sub $900 pricing, the Lenovo L13 packs similar specs as its L390 predecessor, but improves on the processor and a little on the heft.
Specs
ThinkPad L13 Yoga
ThinkPad L390 Yoga
Processor
Up to 10ᵗʰ Generation Intel® Core™ i7-10610U Processor with vPro™ (1.80 GHz, up to 4.90 GHz with Turbo Boost, 4 Cores, 8 Threads, 8 MB Cache)
8th Generation Intel® Core™ i5-8265U Processor (1.60 GHz, up to 3.90 GHz with Turbo Boost, 4 Cores, 8 Threads, 6 MB Cache)
Operating System
Windows 10 Pro
Windows 10 Pro (64-Bit)
Display
13.3″ HD (1366 x 768) anti-glare, 250 nits
13.3″ FHD (1920 x 1080) IPS, anti-glare, 250 nits
13.3″ FHD (1920 x 1080) IPS, anti-glare, touchscreen, 300 nits
13.3" FHD (1920 x 1080) IPS anti-glare touchscreen 250 nits
Storage
Up to 1 TB PCle SSD
256 GB PCIe SSD
Graphics
Integrated Intel® UHD Graphics
Integrated Intel® UHD Graphics
Camera
720p HD
IR & 720p HD
720 HD camera with microphone
Memory
Up to 16 GB DDR4 2667MHz (Soldered)
8 GB DDR4 2400MHz
Dimensions
12.26″ x 8.62″ x 0.69″ / 311.5mm x 219mm x 17.6mm
12.67″ x 8.82″ x 0.74″ / 322 x 224.2 x 18.8 (mm)
Weight
Starting at 3.06 lbs (1.38 kg)
Starting at 3.22 lbs (1.46 kg)
Keyboard & Touchpad
Backlit – US English
Backlit with white LED lighting (optional)
One-piece touchpad
Color
Black
Silver
Black
Ports/Slots
2 x USB-C Gen 1 (Power Delivery, DisplayPort, Data transfer)
2 x USB 3.1** Gen 1
microSD card reader
Optional: Smart card reader
1 x HDMI
Headphone / mic combo
Headphone / mic combo
2 x USB 3.1 Gen 1** (one Always On)
2 x USB 3.1 Gen 1 Type-C (Power Delivery, DisplayPort, Data transfer)
2 x USB 3.1 Gen 1 Type-C (Power Delivery, DisplayPort, Data transfer)
Headphone/mic combo
HDMI 1.4
4-in-1 Micro SD card reader (SD, MMC, SDHC, SDXC)
Mini RJ-45 Gigabit Ethernet (Full-sized adapter sold separately)
Kensington lock slot
Pen
Integrated Smart Pen

What's in the box

ThinkPad L13
65W AC adapter
4 cell 46Wh internal battery
Quick start guide

ThinkPad L390
65W Type-C Power Adapter
Quick Start Guide
1 Year Depot Base Warranty: Protects internal hardware only and requires mail-in repair
Look and Feel
When compared to more consumer-focused laptops, the L13 is a bit of bland matte black box. It's thinner than it's been, but only marginally, it hosts that large black screen chin it's always had and keeps the overall dimensions of its L390 predecessor. However, when compared to other ThinkPad lines, the L13 is a shadow of the X1 Yoga, in a good way. For roughly $200 cheaper (in some instances $400) you get a lot of the same look and feel of the X1 with enough change to spare to get a decent dedicated monitor.
Because not much has changed in the weight department, the heft is familiar and somewhat reassuring in a world of ultra-thin laptop attempts that result in some notable and often annoying flex as they use increasingly lighter materials. For those in data-processing heavy professions, the keyboards have the same familiar key travel and clicky responsiveness that the ThinkPad lineup is known for.
However, I'm not sure it its anecdotal occurrence or something I'm just not getting used to but the last few Lenovo laptops I've tested have heavily weighted the use of the right click to their dedicated track modifier left/right click buttons that rest just above the touchpad. The touchpad on the L13 is responsive and smooth across the entire surface.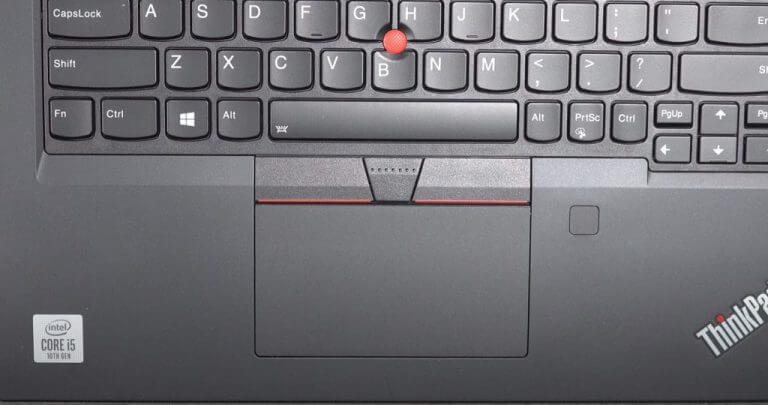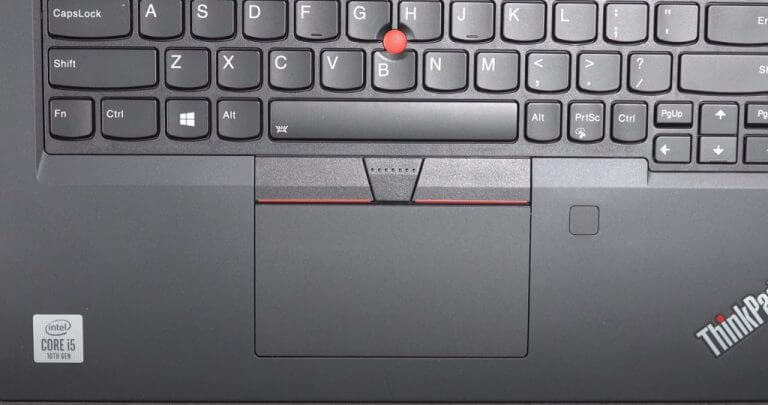 I tend to adjust the scrolling speed and touch responsiveness on my devices but out of the box the trackpad is an admirable experience. Where I get lost is that I'm having to put considerably more effort into right clicking on the touchpad than I had before and as a result I find myself choosing to use the dedicated click button above. Incorporating the dedicated right/left click buttons does add an extra step to my process and may be something buyers used to a more seamlessly integrated mouse/click function, find difficult to adjust to.
Being a ThinkPad branded laptop, Lenovo incorporated its standard bevy of port selections to include two USB-C ports with one being Thunderbolt 4, two USB-A 3.2 ports, HDMI, microSD card slot, and headphone jack and mic combo. There is also a privacy shutter for the webcam that Lenovo is starting to make a standard feature for all its laptops these days.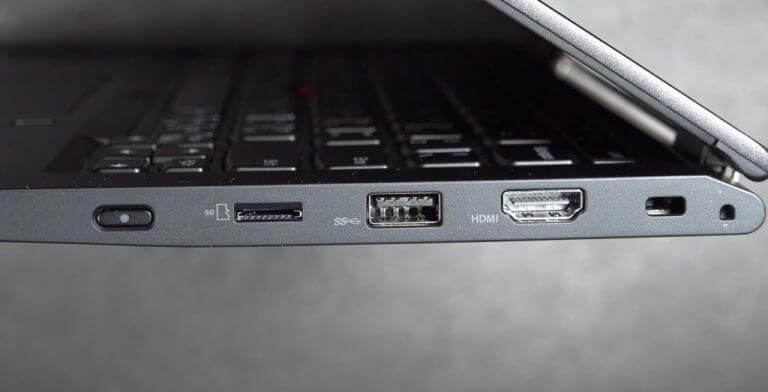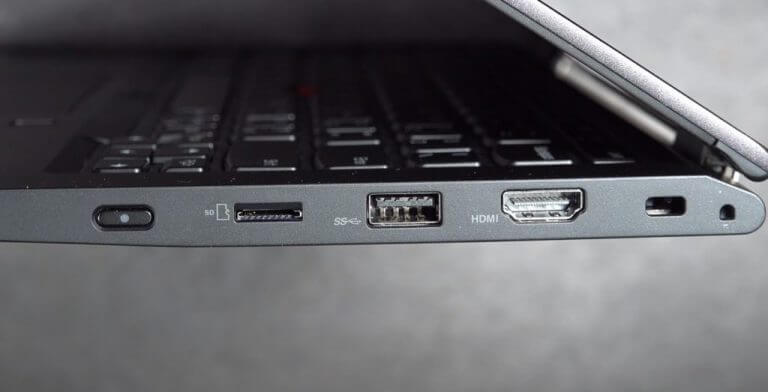 Last, but most importantly, Lenovo opted for a glossy finished screen versus its more often used matte display technology. Going with the glossy finish means the color reproduction, clarity and blacks are impressively crisp but reflection and outdoor glare will be concerns in most situations, especially if angled in an office with florescent lighting.
Performance and Productivity
As with most Lenovo 2021 offerings, the L13 comes with Intel's 11th gen with configurations up to an i7-10610U and integrated UHD graphics. Ram configurations start as low as 4B (for some asinine reason) but buyers can equip it with 16GB DDR4, unfortunately, its soldered on, so when DDR5 comes out in the next year or so, Lenovo might find itself refunding or returning purchases this year.
There is also a siloed Lenovo digitized pen that adds additional flexibility for a wider range of processes. The L13 may not be the as responsive as a Wacom tablet, it can fit the bill in a pinch where meeting assignments grow past simple note taking. The pen came in handy during calls for quick marketing edits that include changes to images, copy, website designs, and other odd mark ups.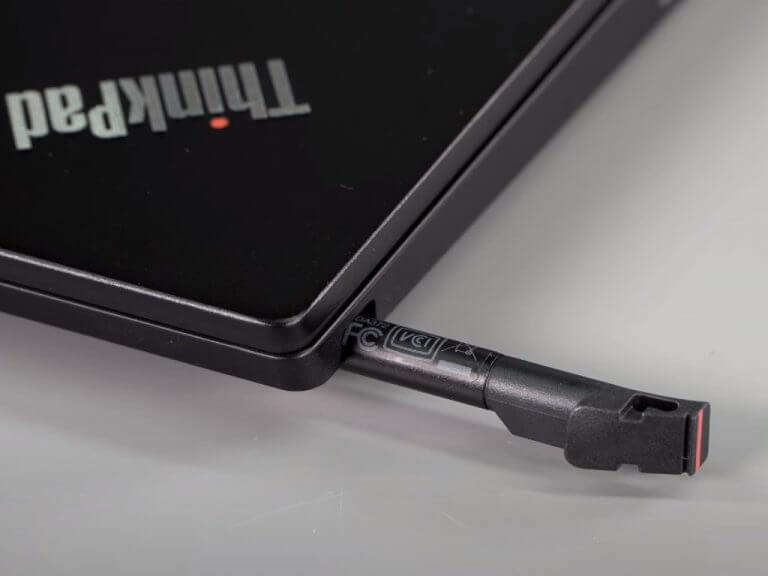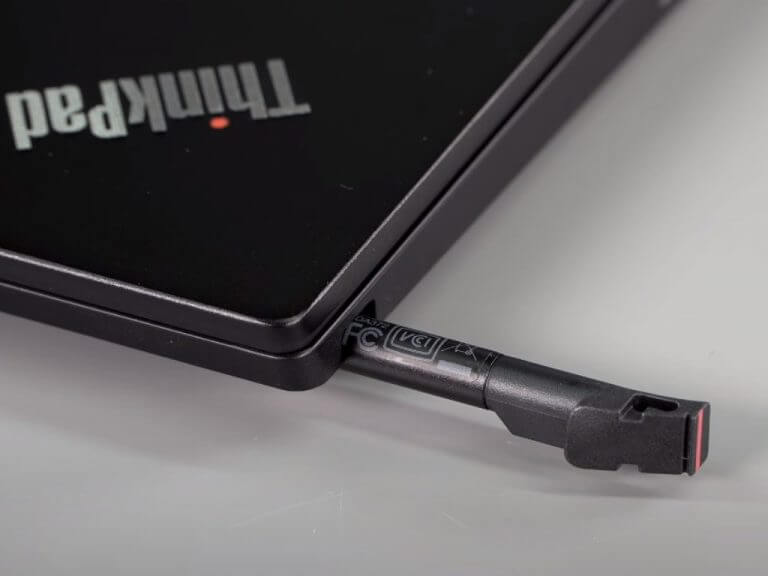 Aside from its specs, the L13 performed as most other 2021 laptops, that is to say well. The battery life was a little lacking in my opinion but is serviceable for long meetings and select out-of-office activities and/or hours of traditional computing workflows. At just over 7 hours, it's clear Lenovo is intending the L13 to be more of a stationary workstation that can be occasionally undocked.
When running test or even executing my daily workflow, the fans on the L13 would whirl and wine pretty regularly. I attempted to vary my work processes during this review to include the use of PowerBI to visualize all of my data, Filmora for video editing, OBS for screen records, Affinity Photo and Adobe Photoshop for image editing, in doing so, I found that the L13 excelled at half the tasks, but chugged when doing the more creative aspects from the list.
After applying several layers, color corrections, additional video media and transitions, Filmora would have the laptop stuttering and eventually sending all open apps into reduced electric. The same molasses-like performance would happen when using OBS, but to a lesser extent on the L13 as well.
Fortunately, we can go with some more standardized testing to see how the L13 compares to its clones in the market as well as Microsoft's baseline features and specs in its Surface Laptop 4.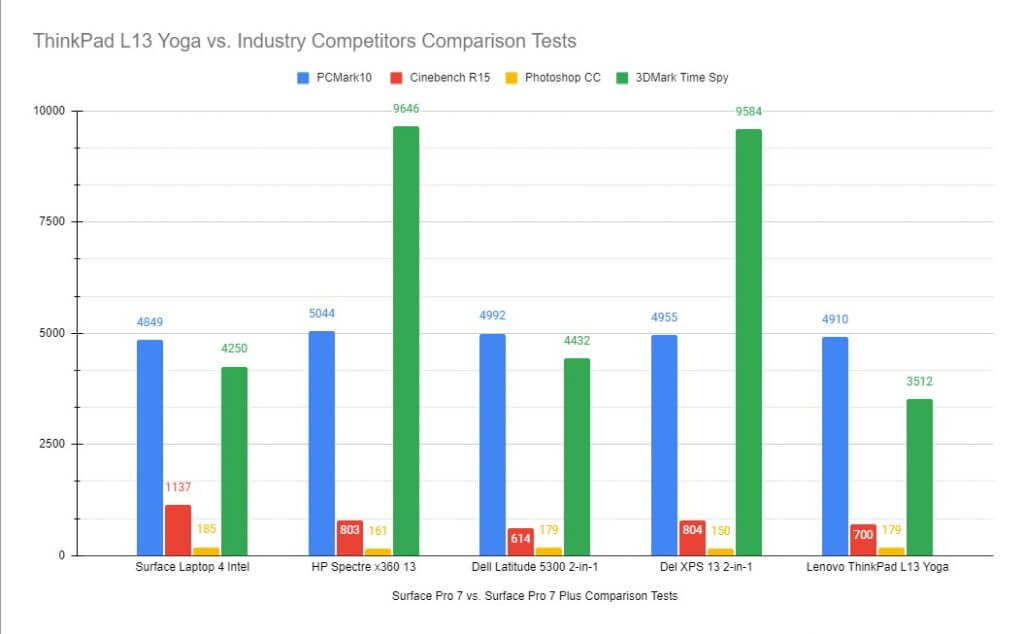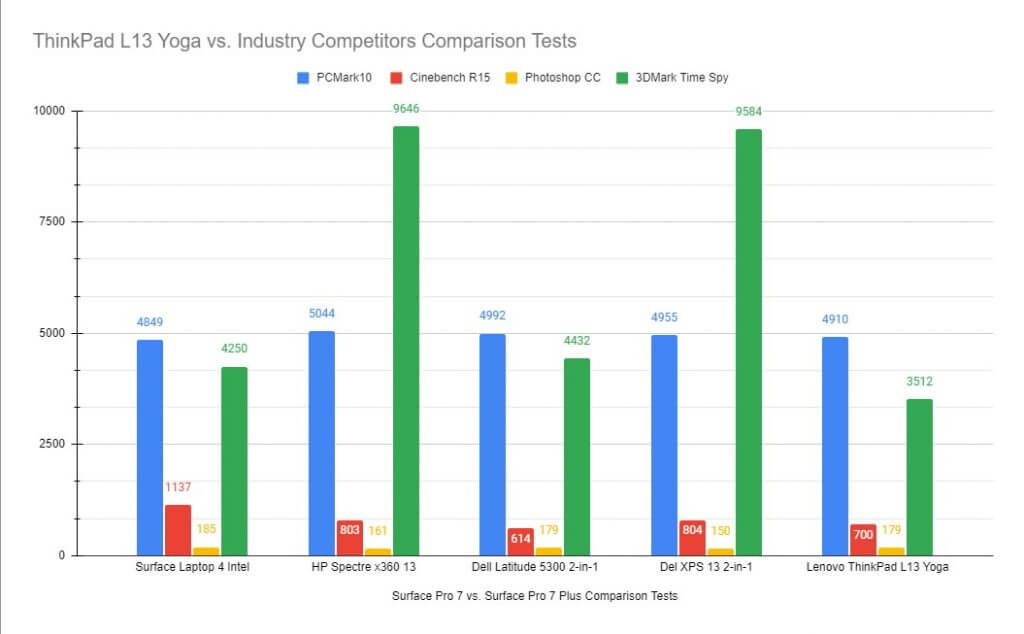 Summary
The ThinkPad L13 Yoga is decently priced high performing mid-ranger. There aren't any marketing gimmicks built into the sales price or pitch for this device unlike others on the market that highlight things like 4K OLED panels, ultra-lightweight build materials, dedicated GPUs or more. What the L13 represents is the processor refinements of Intel in its 11the gen chips. Intel's 11 gen chips are raising the bar of performance for all devices they power and the L13 is no different. Lenovo played it safe with this year's design and delivered a reliable device that, if bought in bulk with business discounts, may actually save companies a few thousand on the yearly hardware budget while providing employees a flexible upgrade.