Starting at $915.85
Welcome to another "4-minute review", where the Lenovo ThinkPad E14 Gen 2 is up on the review-chopping block. Thanks to its iterative nature, the ThinkPad E14 Gen 2 review might clock in at even shorter than 4 minutes.
Let's get started.
Lenovo sent over the ThinkPad E14 Gen 2 a few months back and I've struggled to review it considering newer, lighter, sleeker offerings also poured into the review bay before and after receiving it.
Nevertheless, I did review it and found the ThinkPad E14 to being very whelming.
ThinkPad E14 Gen 2 14″ Intel
Processor
11th Generation Intel® Core™ i3-1115G4 Processor (3.00 GHz, up to 4.10 GHz Max Turbo, 2 Cores, 4 Threads, 6 MB Cache)
11th Generation Intel® Core™ i5-1135G7 Processor (2.40 GHz, up to 4.20 GHz with Turbo Boost, 4 Cores, 8 Threads, 8 MB Cache)
11th Generation Intel® Core™ i7-1165G7 Processor (2.80 GHz, up to 4.70 GHz with Turbo Boost, 4 Cores, 8 Threads, 12 MB Cache)
Operating System
Windows 10 Home
Windows 10 Pro – Lenovo recommends Win 10 Pro for business
Display
14″ FHD (1920 x 1080) IPS, anti-glare, 250 nits
14″ FHD (1920 x 1080) IPS, anti-glare, touchscreen, 300 nits
Storage
Up to 1 TB PCle SSD
Graphics
Integrated Intel® UHD Graphics
Integrated Intel® Iris® Xe Graphics
Camera
720p HD with webcam privacy cover
Optional: Hybrid HD with infrared (IR) with webcam privacy cover
Memory
Up to 16 GB DDR4 3200MHz
Dimensions
Anodized aluminum on top / bottom covers
17.9mm x 324mm x 220mm / 0.70″ x 12.75″ x 8.66″
Weight
Starting at 3.51 lbs (1.59 kg)
Keyboard & Touchpad
Spill-resistant
Optional: Backlit with white LED lighting
Call-control keys (F9-F11)
Color
Black
Ports/Slots
USB 3.2 Gen 1 Type-A (always on)
USB 4 / Thunderbolt™ 4
USB 2.0 Gen 1 Type A
Headphone / mic combo
HDMI 1.4
RJ45
Pen

What's in the box

ThinkPad E14 Gen 2 (Intel)
65W AC adapter
3 Cell 45Wh Internal Battery
Quick Start Guide
Look and feel
We've reviewed plenty of ThinkPad's over the years and the E14 looks and feels very much like its predecessors. From the matte black exterior, red TrackPoint nub, U-shaped chicklet keys, customary full-HDMI port support and Kensington lock, the E14 is leveraging what's becoming a timeless design from Lenovo.
The only real noticeable change coming to the hardware of the E14 is fingerprint bio authentication supported power button. The dime sized power button located at the top left of the keyboard is surrounded by its own LED light to indicate operation.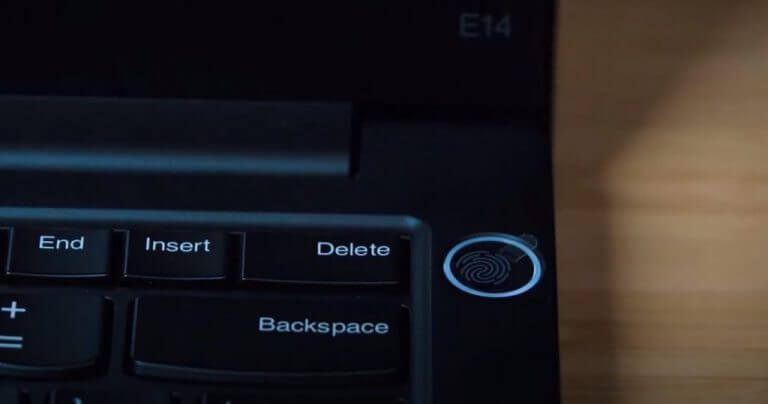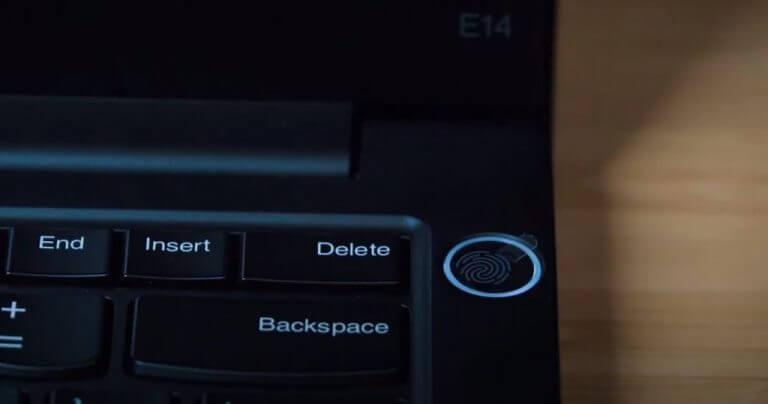 In the hand, the E14 feels every bit of its 14-inch frame with a relatively spacious heat sink built into the bottom of the laptop for greater ventilation. The additional space between the keyboard deck and bottom of the laptop allows for also allows for greater key travel from the keyboard.
Moving on to the rest of the E14, as stated, full-HDMI support is embedded within the hardware as well as USB-A, USB-C, 3mm headphone jack and full-sized ethernet port as well as a manual webcam shutter.
As usual, the ThinkPad E14 is listed as having the same Mil-Spec design as all other ThinkPad's making it resistant to sand, dust, dirt, drops and some amounts of liquids.
Performance and Productivity
Moving away from the hardware, the E14 Gen 2 model I was sent was of the Intel variety. Lenovo did provide an AMD model for a while but based on the website, which doesn't appear to be case anymore.
In addition to the new fingerprint reading power button the E14 also supports Windows Hello marking it as one of a handful of Lenovo products to do so, out of the box to support both finger and IR bio authentication methods.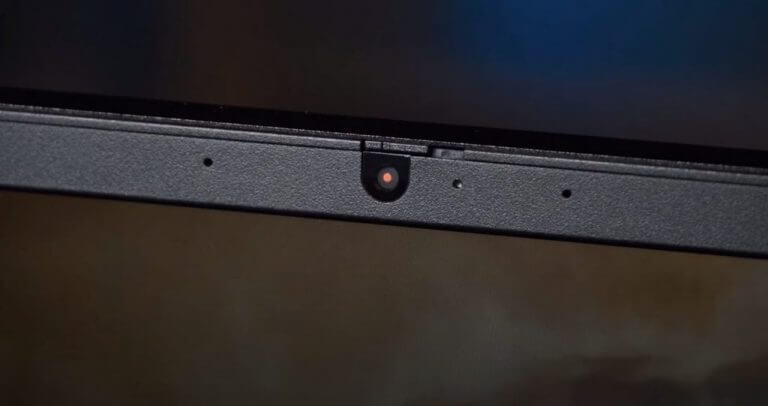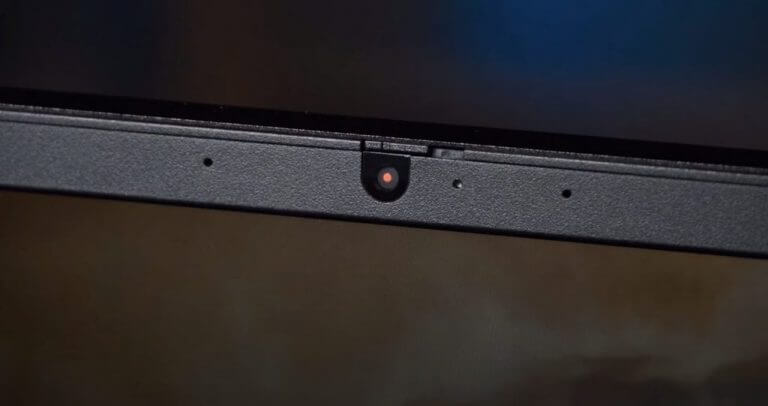 As for the productivity that comes with the Intel Core i5, the E14 put up an admirable showing but buckled under moderately intensive workloads. While benchmarks might paint a decent picture for the E14, anecdotal experience expresses a different story.
Using video conferencing software, regardless of service will normally trigger the fans on the device. While the whirling was noticeable, it was never overbearing, however, using Blender (3D design suite) or even Filmora (video editing software) caused the machine to also get hot on the lap. Renders and exports took much longer on the E14 than on other competitively spec'd and price alternatives such as the Surface Laptop and the Dell XPS line.
Other productivity tasks such as zipping around in Office 365 or browser-based cloud powered PWAs was handled fairly well with the only hiccups coming from a few macros-enabled Excel docs.
Starting at roughly $900 for the base model, users will quickly see where some corners were taken in the beautifully craft design of the E14's display panel as well. The color accuracy is good on the E14 but overall, photographers, videographers or content creators will notice the muted color profile and dim output that hits under three hundred nits of brightness at 100% lighting conditions.
As for using the E14 outdoors, don't.
The matte display helps reduce glare, but the low brightness makes using the E14 a bit laborious on the eyes.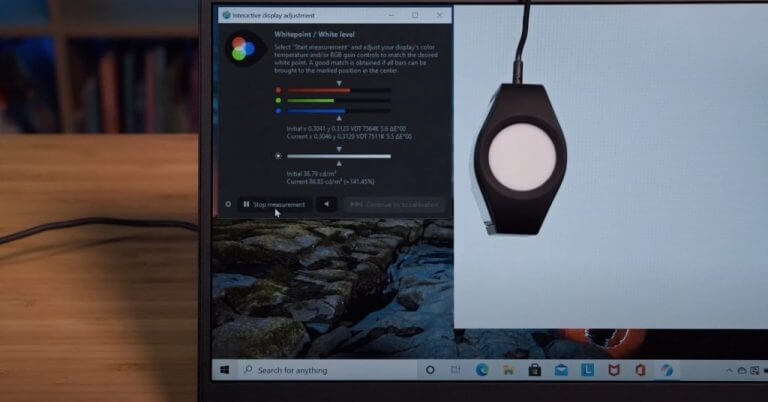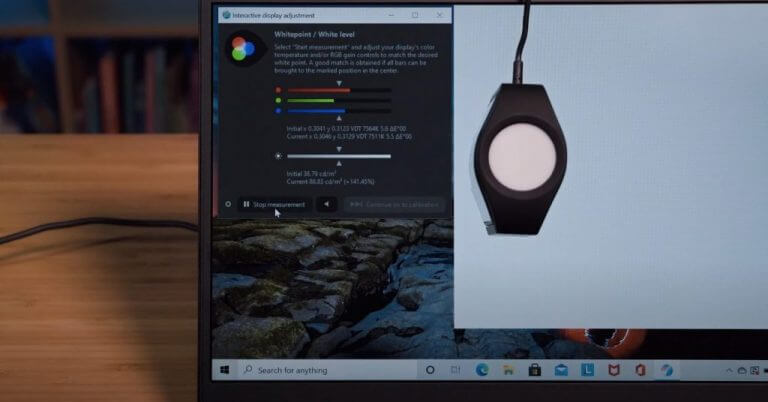 The last knock on the E14 is its battery life.
Despite its relatively heavy chassis, it doesn't appear Lenovo used the space to pack in more battery efficiencies. Instead, the E14 gets a modest five hours of continuous use under moderately intensive workloads that range from video conferencing, 3D designs, graphics, and audio editing.
Summary
The ThinkPad E14 Gen 2 was released earlier this year but could do with a refresh already. Between the display tech, battery life and performance scores, the E14 presents a dilemma for SMB's looking to upgrade the office with mid-level workstations. For similar prices, options such as the Dell XPS13, HP Envy x360, M1 MacBook Air and even the ThinkPad T14 offer better performance and battery life.
Fortunately, the ThinkPad E14 Gen 2 can be picked up for a reduced price these days at several 3rd party outlets and still maintains the coveted Mil-Spec design with modern day specs. From the Windows Hello support to the latest Intel chip with updated GPUs the ThinkPad E14 could offer moderate modern-day value, but at close to $1,000 it's tough to recommend.
Seems as though Lenovo may feel the same way as the E14 Gen 2 in both AMD and Intel models are no longer listed on their sites.