So, this is a great question: if you cancel your Office 365 subscription, what happens to all of the data that's stored there? In fact, that's a great question for any cloud service, where your priceless data is in someone else's ultimate control. Fortunately, Microsoft provides a solid overview of what happens to data after an Office 365 subscription ends.
First, note that the rules are different for Office 365 for business as compared to Office 365 for home and school. For the latter, things are relatively straightforward: if you cancel your Office 365 for home and school subscription, your data remains in place but can't be edited. Put more officially:
After your subscription expires, Office will run in reduced functionality mode and will show Unlicensed Product notifications. You'll still be able to open and print your documents, but you won't be able to edit them or to create new ones. You'll also lose access to the services that are included with your subscription, such as extra OneDrive storage and Skype minutes.
For Office 365 for business, however, things are a bit more complicated. Here's Microsoft's chart: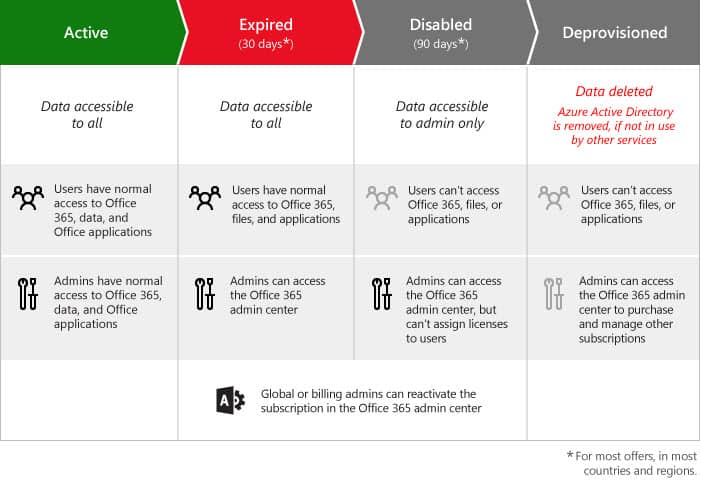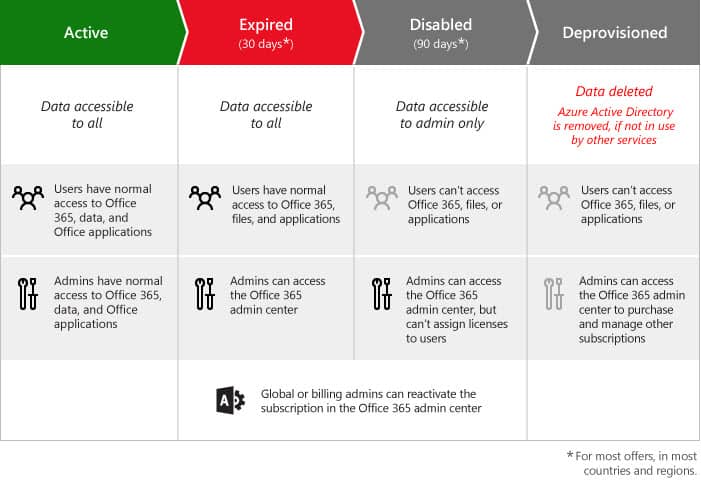 Just what does Microsoft mean by "customer data"? Here's the answer:
What is "customer data"? Customer data, as defined in the Microsoft Online Service Terms, refers to all data, including all text, sound, or image files that are provided to Microsoft by, or on behalf of, the customer through the customer's use of Office 365 services. To learn more about the Office 365 protection of customer data, see the Microsoft Online Services Trust Center.
Clearly, keeping your subscription current is Microsoft's preferred method of keeping your data safe, but if you're switching platforms, you'll want to plan a safe migration process. Backing up and downloading your data would be a very important first step in a plan to move to another cloud productivity solution. To check the status of your subscription, go to the Subscriptions page in the Office 365 admin center, where you'll see the details:



Microsoft provides significantly more detail on all things related to Office 365 for business subscriptions, and so be sure to check them out if you're responsible for administering such a plan for your organization. You can get support for all things Office 365 for business here. For Office 365 home and school, the FAQ is a good place to start.