The Microsoft Surface lineup has come a long way since it was introduced in October of 2012. In all these years, we've seen four generations of the Surface Pro, a Surface RT model, the introduction of Surface Book, a Surface Studio all in one PC, and more recently a new Surface device dubbed the Surface Pro. Unfortunately, despite promoting good reviews and Microsoft heavily advertising their newest devices, Consumer Reports is no longer recommending Surface products due to high breakage rate (via ZDNet)
The reason for the drop in the recommendation comes after Consumer Reports found that of a total of 90,000 surveyed laptop and tablet owners, 25% of those with Surface devices believe they will experience issues by the end of their second year of ownership. More specifically, consumers who were surveyed mentioned issues with the Surface devices freezing, touch screens not working, and unexpected shutdowns. As a result, Consumer Reports has removed the recommendation for the 128GB, 256GB Surface Laptop, and the 128GB and 512 GB Surface Book.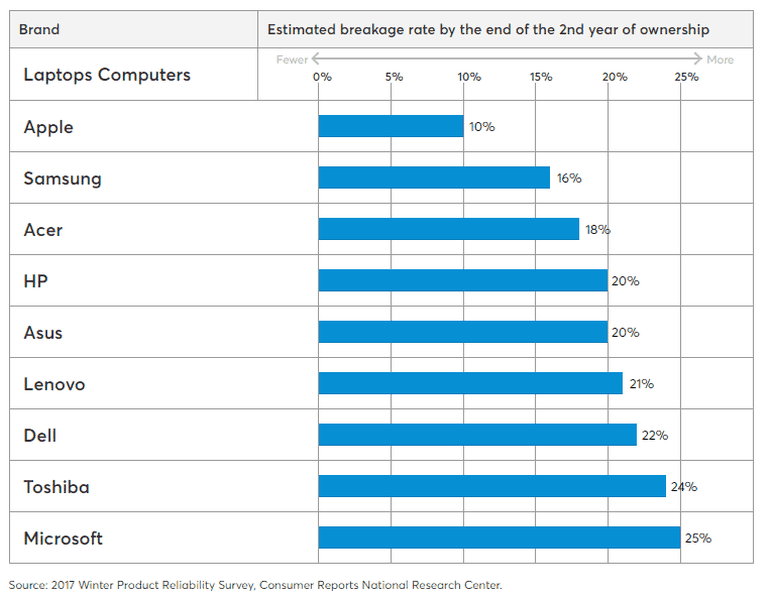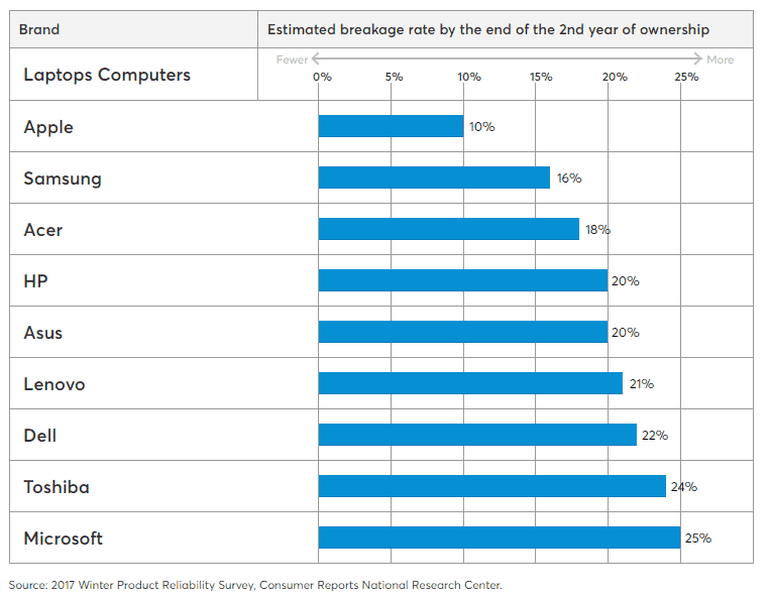 In a recap post, Consumer Reports compares Microsoft's product reliability and estimated breakage rate to Apple and other tech companies. Based off initial testing, and then surveys from Consumer Reports subscribers Apple received a 10% estimated breakage rate, and Samsung 16%. Seen in the graphic above, the difference was significant, and Dell, Toshiba, and Microsft fell to the bottom with 22%, 24%, and 25% rates.
Apple stands out as being the most reliable laptop brand. Microsoft, on the other hand, is less reliable than most other brands. Due to its comparatively higher breakage rate, Microsoft laptops cannot be recommended by Consumer Reports at this time.

These conclusions are based on our breakage rate estimates for laptops by the end of the 2nd year of ownership, gathered from subscribers' experiences with 41,304 laptops purchased new between 2014 and the first quarter of 2017
A statement from a Microsoft spokesperson published in Reuters dismisses the study. It's relatively short, and to the point, and defensive:
"We don't believe these findings accurately reflect Surface owners' true experiences or capture the performance and reliability improvements made with every Surface generation."
To be fair, there has indeed been a fair share of issues with Microsoft Surface devices. The company recently released a fix for issues consumers reported with the Windows Hello webcam. And, before that, earlier in the month some Surface Pro owners experienced hibernation issues with the brand new Surface Pro. While a fix was issued for this, there is also an ongoing issue where some users are experiencing backlight bleed on the new Surface Pro devices.
In most of these instances, issues consumers have reported are linked to software issues, and not hardware issues. The Surface still remains one solid device, and firmware fixes for reported issues have been relatively timely.
Have you ever had any issues with your Surface device? Let us know by voting in our poll:

We'd love to hear about your Surface device problems, or the lack of them, and how Microsoft has responded if you've tried to get them fixed. Let us know in the comments below, thanks!