Lenovo is experimenting while simultaneously playing it safe as it courts the Surface Neo while targeting the iPad Pro with its new Yoga line up.
Lenovo's crazy 2023 designs continue with the new Yoga Book 9i as the first full size dual screen OLED laptop from the company.
With the Yoga Book 9i's two 13.3-inch 2.8K OLED PureSight displays with 100% DCI-P3 color accuracy and Dolby Vision® HDR, users will be impressed by the ultra-vivid colors, sharper contrast, and richer detail of the visuals. Together with Dolby Atmos® spatial audio and a 360-degree rotating sound bar featuring Bowers & Wilkins® speakers, consumers can enjoy an outstanding entertainment experience. An additional poignant design feature of the Yoga Book 9i is its modern and sophisticated Tidal Teal color. It also comes in eco-conscious packaging with the cushion materials, gift box, and outer box all containing 100% recycled paper.
Similar to Microsoft's Surface Neo concept, the Yoga Book 9i pairs to full screens as a new laptop design with an additional Bluetooth enabled keyboard for expanded computing experience.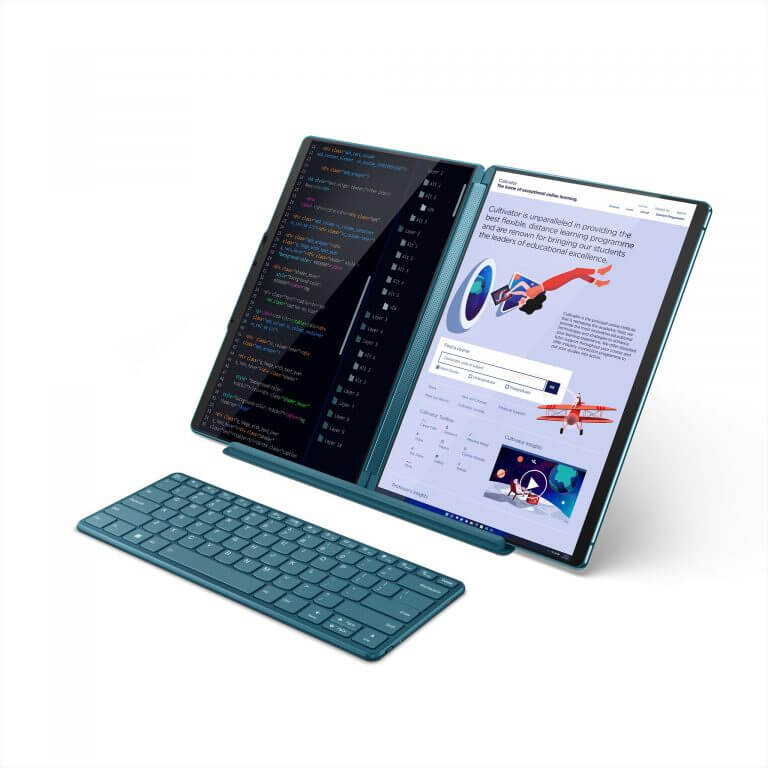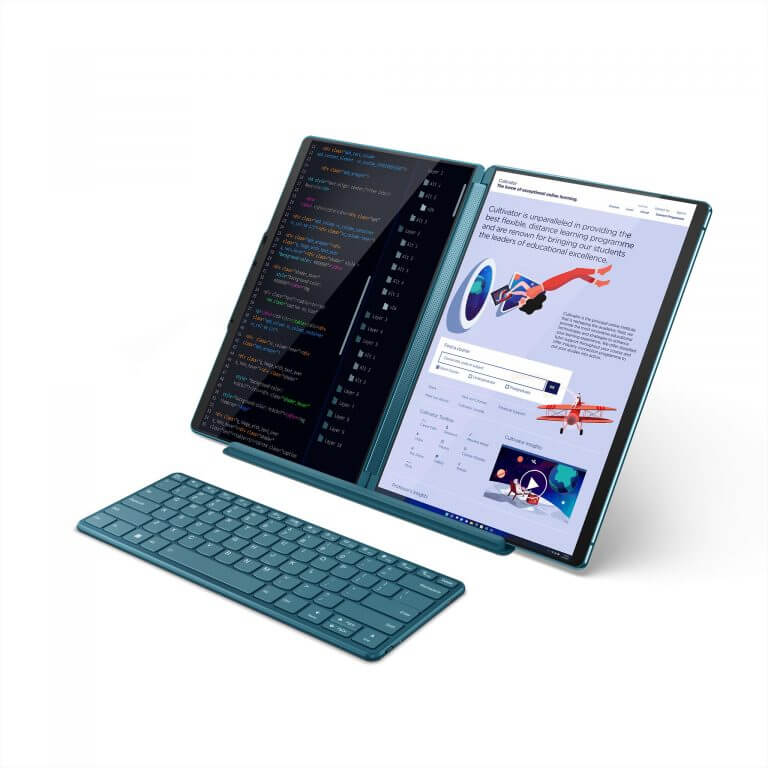 While I personally prefer the aspect ratios of the Neo, there may be something here for a full screen approach.
The Yoga Book 9i will start high at $2,099.99 and is expected to be released in June 2023.
Lenovo redesigns its All-in-One Yoga workstation with the new Yoga AIO 9i desktop. AIO 9i desktop leverages a new safety-pin-like back design that links the monitor to the ultra-thin desktop computer that's housing the latest 13th gen Intel core i9 processor paired with a possible NVIDIA GeForce Next Gen GPU, and built-in wireless smartphone charger.
The monitor to the AIO 9i is a 31.5-inch nearly borderless 4K panel with 100% sRGB support and integrated 5MP infrared (IR) webcam and four Harman Kardon tuned speakers with support for Dolby Atmos spatial audio.
The Yoga AIO 9i will be available for $1,799.99 sometime in Q3 2023.
If you're looking for something a bit more mobile, Lenovo is bringing its Apple iPad competitor to the market with the Lenovo Tab Extreme. While Lenovo has made several tablets that could be put up against the iPad, the new Tab Extreme is perhaps the most indicative of their efforts to compete against the industry leader.
Starting with its 3K OLED display with DCI-P3 color gamut and up to 120Hz refresh rate, this tablet can serve as a private home theater in practically any room of the house. Boasting an incredible 1M:1 contrast ratio, it offers the extreme brightness range that closely replicates what one would see in real life. As for audio, Dolby Atmos and an impressive set of eight high-performance JBL® 4-channel speakers evenly split between woofers and tweeters create a dynamic, spatial audio experience. A powerful MediaTek® Dimensity 9000 Octa-core processor and all-day battery life of up to 12 hours4 round out the key hardware components of this behemoth of a tablet. However, where the awe truly lies is in the purposeful design behind it.
The 14.5-inch Lenovo Tab Extreme offers all the top end bells and whistles while also pairing a newly familiar keyboard experience for people comfortable using the Apple Magic Keyboard as well the third revision of the company's Precision Pen technology support.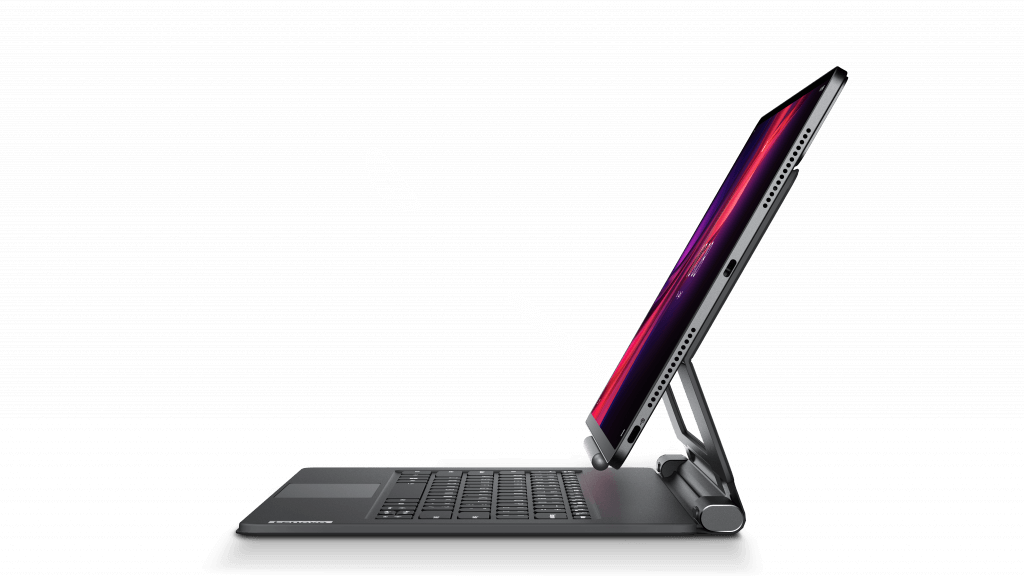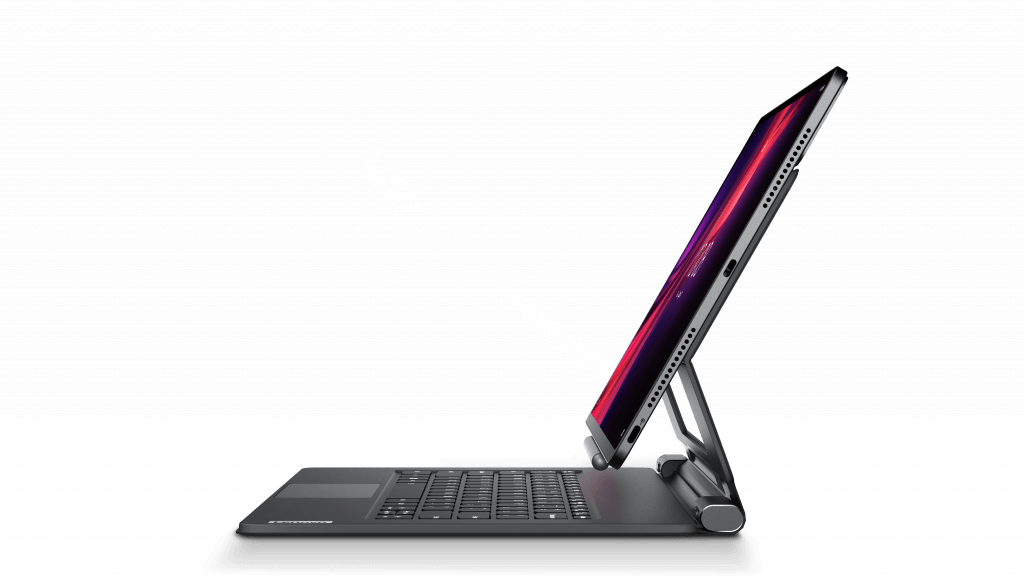 The Tab Extreme starts at $1,199.99 and should be available at some later date in 2023.
Lenovo continues its e-Ink push with its new Lenovo Smart Paper which will go head-to-head against the Kindle Scribe, Onyx Nova3, and the Remarkable 2.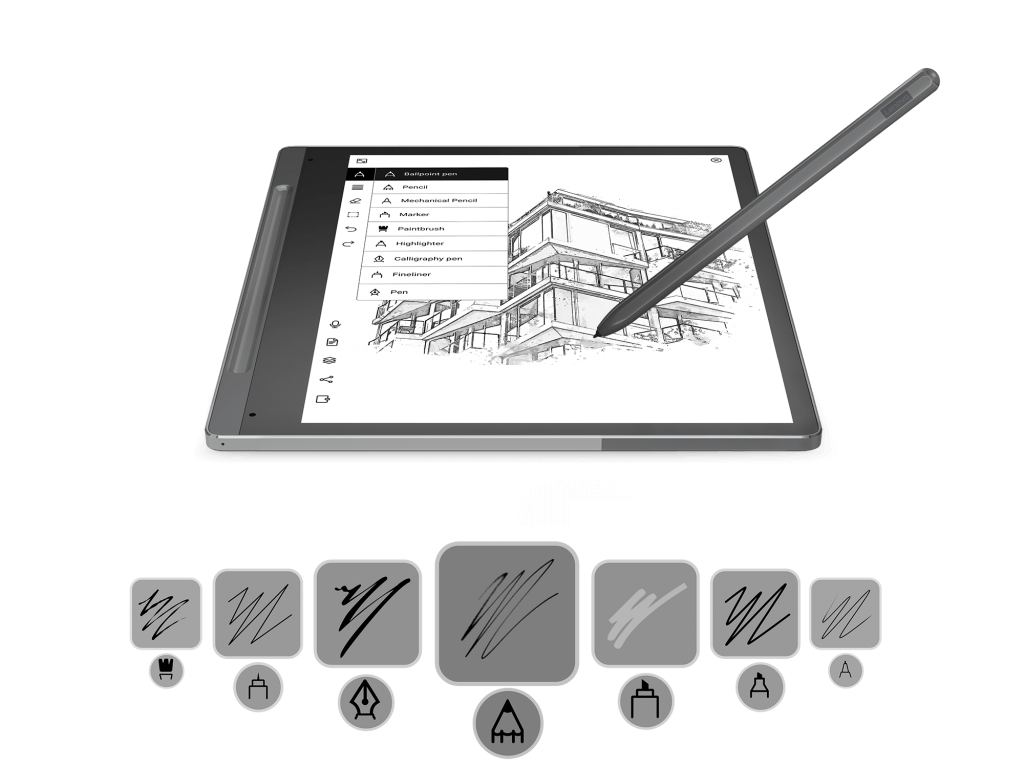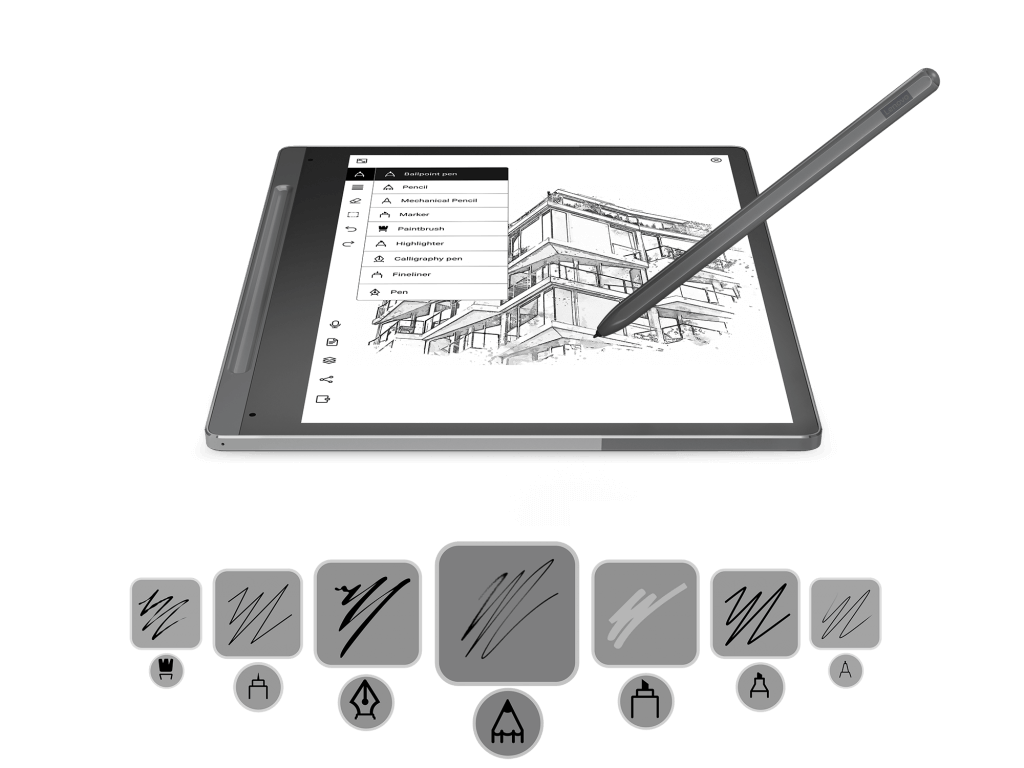 The Lenovo Smart Paper is a 10.3-inch, anti-glare E-ink touch display with support for Lenovo's Smart Paper Pen that features up to 23-milisecond latency and 4,096 levels of pressure sensitivity as well as tilt detection. Lenovo is loading its Smart Paper device with 74 notepad templates that include graph, blank, and even music manuscript paper forms, which can help it get an edge over its competitors.
The ultra-thin and lightweight e-Ink notepad can store up to 500GB of data which equates to 50,000 note pages.
The Lenovo Smart Paper will be available for $399.99 and on the shelves later in 2023.
Lenovo also updated its more traditional PC fare with the Yoga Slim 6i, refreshed 14-inch Yoga 9i, Yoga Slim 7i Carbon, and Yoga 6 with 16:10 displays, AMD Ryzen 7000 and Intel 13th Gen processors, Dolby Vision support and enhanced video conferencing features such as noise cancelling and background blur settings.
The Yoga Slim 6i (14", 8), known as Lenovo Slim 7 (14", 8) in the U.S., will start at $729.99 and is expected to be
available starting April 2023.18
The refreshed Yoga 9i (14", 8) will start at $1,499.99 and is expected to be available starting April 2023.18
The refreshed Yoga 6 (13", 8) will start at $729.99 and is expected to be available starting April 2023.18
The refreshed Yoga Slim 7i Carbon (13", 8) is not available in North America.