Intel was amongst a crowd of chip manufacturers who released the specs of their CPU offerings for the year at CES 2023, and users can look forward to better performing IoT devices, more graphics performance, and dedicated processing units.
According to Intel's press release, the company will be rolling out a flagship 24-Core processor Intel i9-13980HX chip designed for laptops, an updated to its H-Series processor with gamers and content creators in mind as well as its traditional mobile Core P-series and U-series chips with up to 14 cores broken in to 6 performance an 8 efficiency cores.
Intel is tweaking its integrated Iris Xe GPU to now include endurance gaming, XeSS Super Sampling and Intel Arc Control.
Speaking of improved graphics performance, Intel is introducing a new entry-level Core i3 processor under its N-series chip line. Intel claims the new N-series chips are designed for educators and students, entry level computing tasks, and to take advantage of IoT edge native applications. With that being said, Intel claims that its 7-cores will produce up to 28% greater application performance as well as 64% netter GPU performance over previous N-series chips.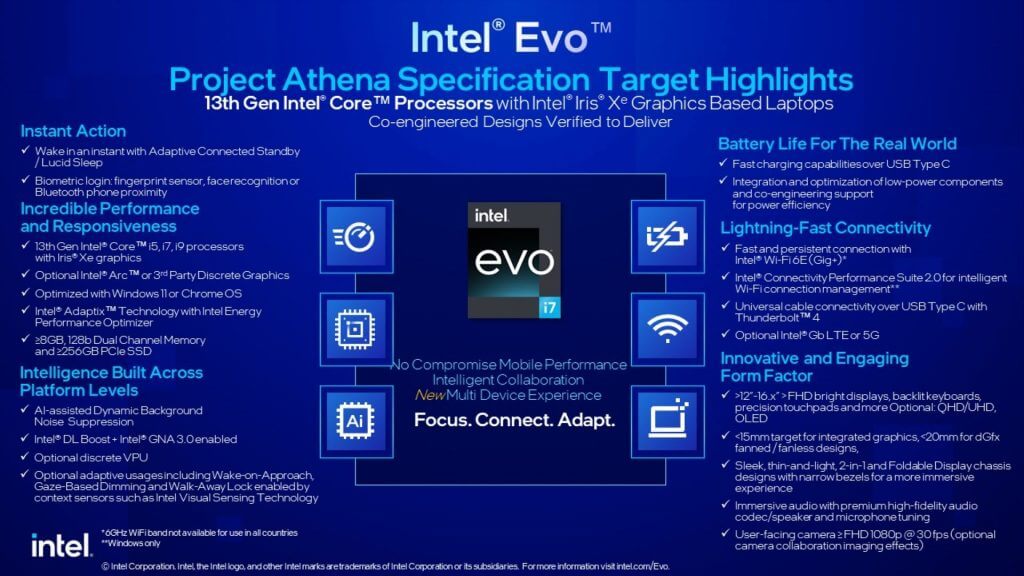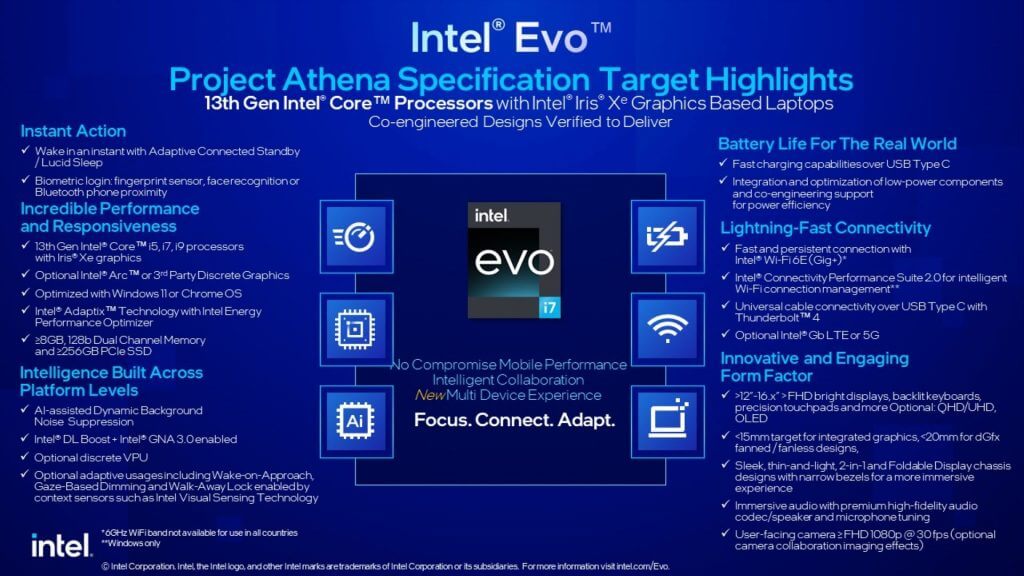 Intel is also introducing a new Intel Modivius vision processing unit VPU nestled within select CPU designs. Similar to the partnership with Qualcomm for the Surface Pro 9, Microsoft also worked closely with Intel to offer this new offramp solution for AI heavy tasks to a dedicated processing unit which should hopefully free up CPU and GPU resources for a better overall multitasking computing experience.
Some other listed specs of Intel's 13 Gen chips include:
Up to 5.6 gigahertz (GHz) turbo frequency – the highest clock speed available for the laptop market – delivering up to 11% faster single-thread performance3 and 49% faster multitask performance over the previous generation.4
Up to 24 cores (8 Performance-cores, 16 Efficient-cores), 32 threads and enhanced Intel® Thread Director.
Full memory support of up to 128 gigabyte (GB) total for DDR5 (up to 5,600 megahertz) and DDR4 (up to 3,200 MHz).
Intel® Killer™ Wi-Fi 6E (Gig+) for up to 6x faster internet speeds with no legacy Wi-Fi channel interference.5
The latest in Bluetooth connectivity with Intel® Bluetooth LE Audio and Bluetooth 5.2 supporting up to 2x faster speeds and multiple device connections with lower power consumption.
Thunderbolt™ 4 support, delivering transfer speeds up to 40 gigabits per second (Gbps) and PC connectivity to multiple 4K monitors and accessories.
Improved integrated graphics experience based on improved driver stack and key learnings from Intel's work with discrete graphics.
Overclocking capabilities on all HX and HK SKUs.
Intel didn't confirm any hard dates for its 32 new 13 Gen Intel Core mobile processor releases, but if history holds, we should see the flagship i9 hit some concepts devices by the end of the month with consumer-focused P and U-series chips landing in devices right before the Fall.