This year's CES is turning into a robust showcase for PC manufacturers who are looking to once again, spice up the mix of devices released in 2020. Some OEMs have unveiled ultra-slim gaming devices that blur the line between dedicated gaming and commercial use, portable devices that flip and transform in various ways, as well as some co-branding opportunities with heavyweights in audio/visual, software and design sectors.
Lenovo has been no different and is additionally lining up some smart home devices with Google support, a limited co-branded Ducati laptop and updated ThinkPad foldable based on their premiere X1 notebook design among other things this year at CES.
Lenovo ThinkBook Plus Available: March 2020
Starting at $1,199
Starting from the flashiest to the more palatable is Lenovo's unveiling of its ThinkBook Plus that brings the arguably failed YotaPhone 2 concept to laptops. While I'm personally unsure of the usefulness of an e-ink display for practical use, Nook users stand by them and Lenovo seems to see a market there with its new ThinkBook Plus stating,
Nearly 60% of today's workforce are millennials and Gen Z, and these digital native generations frequently multitask across multiple devices. However, established research1 suggests that we are often inefficient at multitasking, with the average worker losing 2.1 hours per day due to time taken to re-focus on tasks. We know that in today's work environment multitasking is inevitable, but that doesn't mean that organizations should have to suffer from the ill-effects of multitasking like the loss of productivity and decreased employee experience. We believe smarter technology should be designed to enhance focus and productivity, whatever your role, whatever the task.
More specifically, ThinkBook Plus brings a 13.3-inch FHD and 10.8-inch e-ink display on the opposite cover of the display lid. Lenovo is providing the additional screen to help promote its Lenovo Precision Pen and e-ink technology. ThinkBook Plus will be powered by a 10th Gen Intel Core Processor with Windows 10, several SSD options and Optane memory. Aside from the arguably gimmicky e-ink display, the ThinkBook Plus appears to have all the makings of contending ultrabook for 2020 with relative battery longevity, I/O ports, and Lenovo's legendary chicklet style keyboard.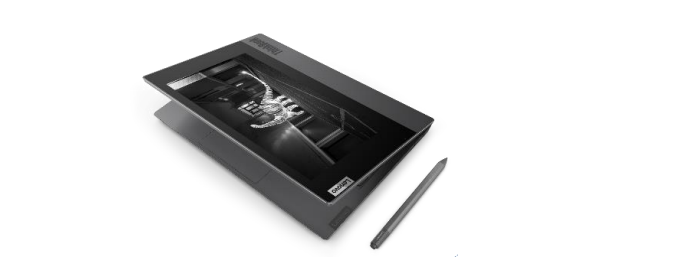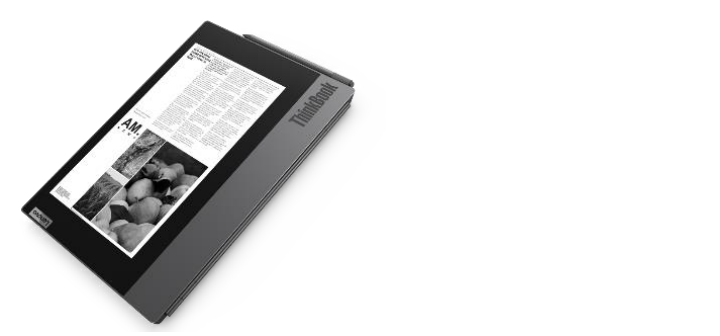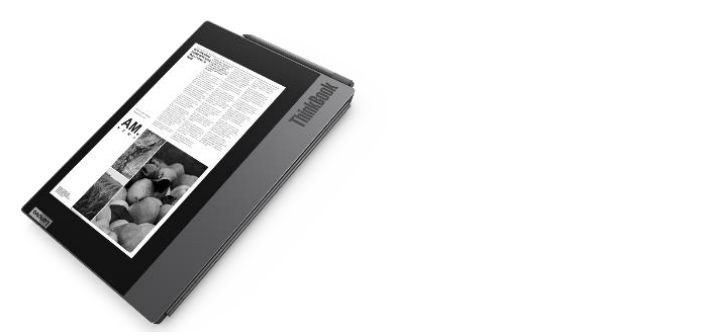 Lenovo ThinkPad X1 Fold Available: Mid 2020
Starting at $2,499
Last year Lenovo showcased its take on a foldable laptop (it's a thing apparently) with its ThinkPad X1 concept device, and this year, it seems the company is ready to sell this concept to actual paying customers this year as more concrete details have been announced.
The ThinkPad X1 Fold will host a flexible 13.3 pOLED display with a 4:3 aspect ratio for images using presumably a multi-layered construction of panels, metal framing and carbon fiber plates.  In addition, customers can configure the Fold with 8GB of LPDDR4X memory, up to 1TB PCIe-NVMe storage, an integrated UHD Gen 11 Graphics chip and 50Wh battery for what Lenovo believes is up to 11 hours of usage with Rapid Charge enabled.
Similar to other 'foldable' manufacturers, Lenovo seems to have put a lot of thought into the construction of the foldable area of its X1 fold, documenting four-link torque hinges for friction-free folding, custom switch software to rejigger the way Windows 10 is presented on the screen, as well as other lightweight, allows to retain the device's portability.
Arguably, the X1 foldable sits somewhere between a dedicated laptop and foldable tablet, to which both Lenovo and Microsoft plan to enable and ship other future devices with Windows 10 X to accommodate. As a fully realized product, the X1 Fold, for all intents and purposes, seems to be a device in search of a question, to which CES seems to be the best place to find one.


Since it's more of a dedicated foldable screen than a laptop, Lenovo is ready to ship a dedicated Bluetooth Mini Fold keyboard, X1 Fold Stand, and New Active Pen sometime later this year.
Lenovo Smart Frame, Tab M10 FHD Plus 2 Gen Available: 2020
Starting at $189
Lenovo is also making a concerted effort to enter the home outside the occasional home office with its Smart Home initiative that includes a Lenovo Smart Frame, Smart Tab M10 FHD and Connected Home Security.
The Smart Tab M10 follows up Lenovo's previous efforts in its M8 and M10 from last year by consolidating on the 10.3-inch Full HD screen with narrower screen bezels, Dolby Atmos supported speakers and updated charging station. Last year, there was clear attention paid to the sounds pushed through the M8 and M10 with the dedicated docking stations and this year, it seems Lenovo has put a focus on visuals and actual functionality of the Smart Tab outside of docking.
The tablet is also designed for households with multiple user accounts and face unlock that's customized for each user. Families can also access an upgraded Kid's Mode for children which features dedicated kids content as well as parental controls and specialized eye protection features. This includes a Posture Alert, which detects the posture of the user – reminding them to sit up straight with a message prompt accompanied by vibration. When the tablet is being viewed in a car or van, the Bumpy Environment Alert can detect a bumpy ride and remind the user to stop using the device.
Expanding on that utility of a smart display, Lenovo is also pitching a larger 21.5-inch picture frame in its Smart-Frame expected to ship in August of this year. The $399 smart frame is pretty much what the title describes, a matte finished picture frame with built-in AI, color tone sensor that adjusts the picture brightness in accordance with the ambient light in the room, hand gesture recognition support, and can be set up like a traditional canvas and easel.
Lenovo is also expanding the utility of its Lenovo Vantage software to help protect users against malicious actors attempting to hack all of the new shiny devices that have just been plugged into the house with its Connected Home Security system.
Lenovo has made Connected Home Security exclusively available to users through its Lenovo Vantage software update (3.1.1) and is designed to reduce the risk of unauthorized access to connected devices. The system monitors your home networks for malicious security behavior and alerts you if an unknown user has logged into your network. Lenovo Connected Home Security alerts free and paid users in almost real-time to potential security vulnerabilities, such as online hacking and phishing attacks and offers Lenovo Vantage users instructions on how to help stay protected.

Powered by security partner Coronet, Lenovo Connected Home Security is free for Lenovo PC users who have Lenovo Vantage to choose which compatible devices connected on their home network to monitor, including Lenovo smart devices such as Lenovo Smart Tab, Lenovo Smart Clock, Lenovo Smart Display, and the Lenovo Smart Home Essentials. You can also choose to make an Android tablet the master hub of Connected Home Security, instead of a computer.
Lenovo plans to make its Connected Home Security service available for 30-day trials in the US where users can engage with it via the Lenovo Vantage hub that comes preinstalled on most company-branded devices running Windows 10. Beyond the trial offer, users can expect to pay $29.99 a year for a full license for a family coverage of devices.
Special Limited Edition Lenovo Ducati Available: April 2020 (selected markets)
Starting at €899.00
While not coming to many in the US, Lenovo is refreshing its co-built project with Ducati dubbed the Lenovo Ducati 5 at CES 2020.
The updated Ducati 5 will sport a 14-inch 300 nit display with integrated graphics, upward boosting Dolby Audio enabled speakers, 12-hour battery life, bio-authentication fingerprint reader and 10th Gen Intel Core i5 processors.


Lenovo plans to make and ship 12,000 units of this exclusive thin and light laptop designed primarily for consumption with its stylistic racing stripe design, honeycomb exhaust vent ports and meager 8GB memory coupled with its modest FHD IPS (16:9) screen.
Lenovo Yoga 5G, Yoga Slim 7 and IdeaPad Duet & IdeaPad Flex Chromebook Available: April 2020
Starting at $279.99 and up
On the more mundane side of things, Lenovo is pitching its 5G PCs with a plethora of options that include a refinement of the Yoga series, detachable and standard Chromebook devices.
Lenovo Yoga 5G Available: Spring 2020
Starting at $1,499
Lenovo claims that it will be "the world's first 5G PC" (based on research conducted by Lenovo, in November 2019). Refinements of the Yoga series comes with the shedding of ounces bringing the new device to a weight of 2.86lbs as well as an increase in battery life claims, upping it to 24 hours (full day) battery life. The display of the Yoga 5G will push out 400 nits of brightness on a panel that has had its bezels slightly reduced.
The question of viability sprout up when talking about the processor of the device which has been saddled with a Qualcomm Adreno 680 attempting to run full Windows 10.
Lenovo Yoga Slim Available: April 2020
Starting at $849.99
For anyone worried about the Qualcomm chipset in the Yoga 5G Lenovo will also push an AMD Ryzen 4000 Series Mobile Processor for its Yoga Slim 7. The AMD chipset enables engineers to keep the device quiet and ultrathin while delivering a bit more power for the price.
Make a statement with a textured Slate Grey fabric cover on the sleek 14-inch model, measuring 0.60 inches (15.4mm) thin and 3.41lbs (1.55kg). On this model, you'll enjoy up to 4K HDR clarity, with an optional glass display. Or go Full HD touch display on the all-metal 14-inch model, measuring 0.58 inches (14.9mm) thin and 3.30lbs (1.5kg). Choose between three sophisticated colors: Slate Grey, Orchid (purple), and Dark Moss.

You can also go bigger with the 15-inch Full HD optional glass display for a sleek all-metal look in Slate Grey, with an expansive 90 percent screen area. Battery life gets a significant 30 percent boost from the previous generation 15-inch size, for up to 13 hours.10 Thanks to Rapid Charge11 technology that speeds charging, you won't be spending all your time searching for an open outlet instead of enjoying your favorite web series. The 15-inch model also offers up to the latest NVIDIA GeForce GTX graphics for faster, smoother performance whether you're editing content or gaming.
Lenovo also plans to sell a 15-inch version of the same model with NVIDIA GeForce GTX graphics with premium Dolby Atmos speaker systems and 100 percent sRGB color gamut for gamers and creators. The Slim 7 will also prioritize Amazon's Alexa cloud-based digital assistant over Cortana out of the box and couple it with Smart Light as a notification indicator when the laptop lid is closed.
Lenovo IdeaPad Duet Chromebook Available: May 2020
Starting at $279.99
On comes the Chromebooks, and Lenovo is pitching some stellar looking alternatives to Windows with its Ideapad Flex 5 Chromebook that looks very familiar to its Yoga series powered by Windows 10. Customers can outfit the latest Chromebook offering up to 10th Gen Intel Core i5 processors, 128GB PCIe SS storage, 8GB DDR4 of memory all wrapped up in a 13-inch body. The new Chromebook offering also comes with a digital pen for artists and contractors, out of the box, and Lenovo claims up to 10 hours of battery life while supporting WiFi 6.
Last up is the IdeaPad Duet Chromebook, a detachable ChromeOS powered device that isn't coming from Google itself. Lenovo sees an avenue with the utility of a detachable ChromeOS experience. While I personally question the move, Lenovo is packing the device with a minimalist design, Google Assitant support and a free trial of Microsoft Office.
Switch from work to fun by snapping on and off the detachable plug-and-play keyboard with full trackpad to create an ultraportable 10.1-inch display, ideal for online browsing and catching up on the latest entertainment. Built with smart Design in mind, it can stand by itself when converted into a tablet, with an adjustable stand that features a 135-degree free-stop through hidden hinge – making it great for movie-watching wherever you are. With one of the world's brightest and highest definition Chromebook displays, the Lenovo IdeaPad Duet Chromebook is made for touch-first entertainment, with 10.1-inch (1920×1200) IPS Full HD display at up to 400 nits of brightness and 70 percent color gamut, sporting narrow bezels on all sides. So, sit back, relax and get access to tons of creativity apps in the Google PlayTM store to fuel your imagination or watch your favorite movies offline from NetflixTM or YouTubeTM.
We expect to see more details regarding Lenovo's CES lineup and will adjust information when necessary.,