Sometimes you might end up in a situation where you could get an email sent to you in a different language from the one you speak. That can be for a variety of reasons, but did you know that you don't need to visit Google or Bing translate to bring the email over into your own native language? With Translator for Outlook, you can translate emails in a rush, right from the Outlook app in Windows 10. Here's how to get started.
Install the add-in from the Office Store
The first step in translating emails in the Outlook app in Windows 10 is to install the Translator for Outlook add-in from the Office Store. You'll need to visit this page and sign in with your work account or the email address you're using with the Outlook app.  You can also log in with your personal Microsoft Account if you please so you can also add the add-in to your secondary account in the Outlook app in Windows 10.
Once done, you can then check to see if the add-in has been enabled by going to the Outlook app in Windows 10. When the app is open, head up to the main bar along the top. Click the Home tab and then click Get Add-Ins. You can then click My add-ins to check and see if Translator for Outlook has been enabled.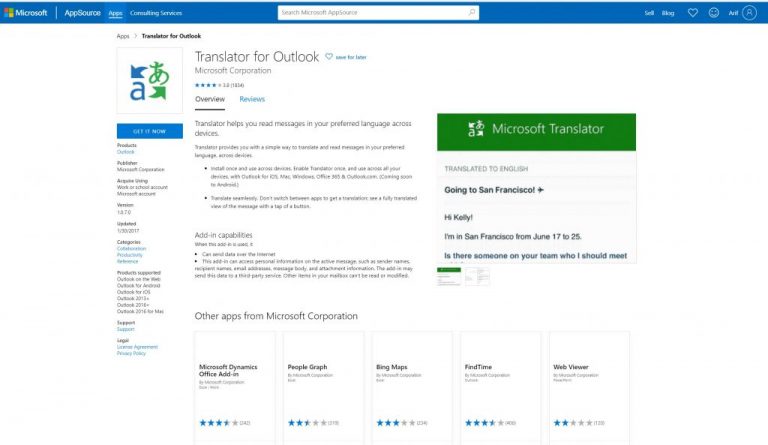 Launch the add-in
Now that you've installed the add-in from the Office Store, you can open an email in a foreign language. You should notice a Translate Message option in the Home tab. When you click this, the message will be auto-translated, but you also can switch things up and pick another language by choosing the dropdown menu next to Translated to.
If you like, you can also copy and paste the translated message, just like a normal email. You can then close the translated message by clicking the X at the top of the Translator window.
Other notes
Now that you're enjoying the Translator for Outlook add-in, there are a few points to note. These translations are all powered by the online Microsoft Translator service. Essentially, this means that your data is secure and no samples are stored. You can learn more about the process here, and you can also check out the Translator app for Outlook on iOS and Android via the links below.