Lenovo is packaging a new dedicated personal business communications array for 2020 with its ThinkSmart portfolio which now includes ThinkSmart View, ThinkPad X1 ANC Bluetooth Headset, ThinkSmart Tiny kits, and the ThinkSmart Manager software service tieing it all together.
The Individual Space

Open spaces enhance social collaboration and foster strong teamwork principles; however, they do open up new challenges for business communications. Privacy and confidentiality are the most obvious, along with office "noise pollution" and legacy meeting technology. The new ThinkSmart View, powered by Qualcomm® APQ8053 system-on-chip (SoC), can help users unlock their full potential by providing a dedicated device screen for Teams audio and video conferencing. One-touch meeting starts through the built-in display also means you join meetings in seconds rather than minutes, and by pairing a Bluetooth headset, users can virtually eliminate background noise and improve confidentiality. A physical camera shutter and device lock by PIN provides welcome security.

ThinkSmart View is also designed to work beyond the office. The user-friendly design means it can function in hot-desking environments just as well as it can live happily in a home office. Its flexibility could even introduce a new wave of smartphone rooms for public spaces.

The Group Space

Zoom Rooms bundle kits for small, medium and large meeting spaces featuring our ThinkSmart Edition Tiny for Zoom (based on ThinkCentre M920q) are now available. Including the Lenovo Tab M10 controller and Heckler stand and featuring Logitech audio and video peripherals, the kits can be purchased through Maverick AV Solutions in the US, Canada and select countries in Europe and Asia.

We will further expand ThinkSmart Edition Tiny kits with our partner Logitech to include Microsoft Teams Rooms. We look forward to sharing more information soon on this solution.
Lenovo is going beyond just providing niftily personalized hardware and is currently providing a software layer to help IT personnel navigate and manage multiple seats utilizing its new conference solutions.
The new ThinkSmart Manager software enables IT, managers, to remotely deploy, manage, update, configure and resolve conflicts that arise with ThinkSmart enabled devices by making use of Lenovo Secure Authentication, BIOS-level password encryption and enhanced port protections.

For work in a less conventional office space or diametrically different content, Lenovo will also produce its latest five Digital Creator devices that include, "two super-portable laptops, a powerful desktop tower, and two high definition 27-inch monitors."
For developers wanting a new AutoCAD machine, Lenovo has a new 15.6-inch Yoga Creator 7 laptop that also comes with a new Lenovo Q-Control machine learning performance manager that helps to throttle processing power.
Other features include a "15.6-inch Full HD optional glass display with a 100 percent sRGB color gamut that offers the full range of Pantone Matching System® colors. Powered by the latest NVIDIA® GPUs and Studio Drivers and boosted by Dolby Atmos® Speaker System for rich, moving audio available over headphones or through PC speakers custom-designed and tuned by Dolby, the Yoga Creator 7 is Independent Software Vendor-certified to run apps, including any creativity apps bookmarked to the user's Digital Content Creators4 dashboard at optimal performance."
True to form, Lenovo is also offering a more reasonable price variant of its Creator laptop in the Ideapad Creator 5 which can come equipped with up to a 10th Intel Core i7 processor, 15.6-inch Full HD display with 100 percent Adobe RGB calibration and latest NVIDIA GPUs.
Similar to the Creator 7, the C5 also comes equipped with Lenovo's patented Intelligent Cooling technology which helps to optimize battery life up to 20 percent by making use of AI.
The C5 is hefty device at 4.85lbs but houses integrated Alexa software as well as up to 16GB DDR4 RAM and a 1TB PCIe SSD and offered in a new Dark Moss color Lenovo is trying out in 2020.
For creators chained to a desk for other reasons, Lenovo's pitching its IdeaCentre Creator 5, a "family-use" desktop tower powered by Intel Core i9, 32GB DDR4 RAM, NVIDIA GeForce RTX 2060 GPU and 2TB PCIe SSD when maxed out for $1,099.99 this October.
Paired with either the Lenovo Qreator 27  or Q27h Monitor, creators now have some hyper-stylized creative workspaces.
The Lenovo Qreator 27 Monitor for Extreme Sight and Sound
Designed for content and media creators, expect an incredible audio-visual experience with the new Lenovo Qreator 27 Monitor with 27-inch 4K UHD (3840 x 2160) IPS Smart Crystal Sound display and a four-sided near-edgeless infinity screen design.

The sound from the Smart Crystal Sound Display ebbs and flows in-sync with on-screen motions while the integrated screen panel vibrates like a speaker membrane—immersing the content creator in audio and enabling the sound effects in videos to really come to life.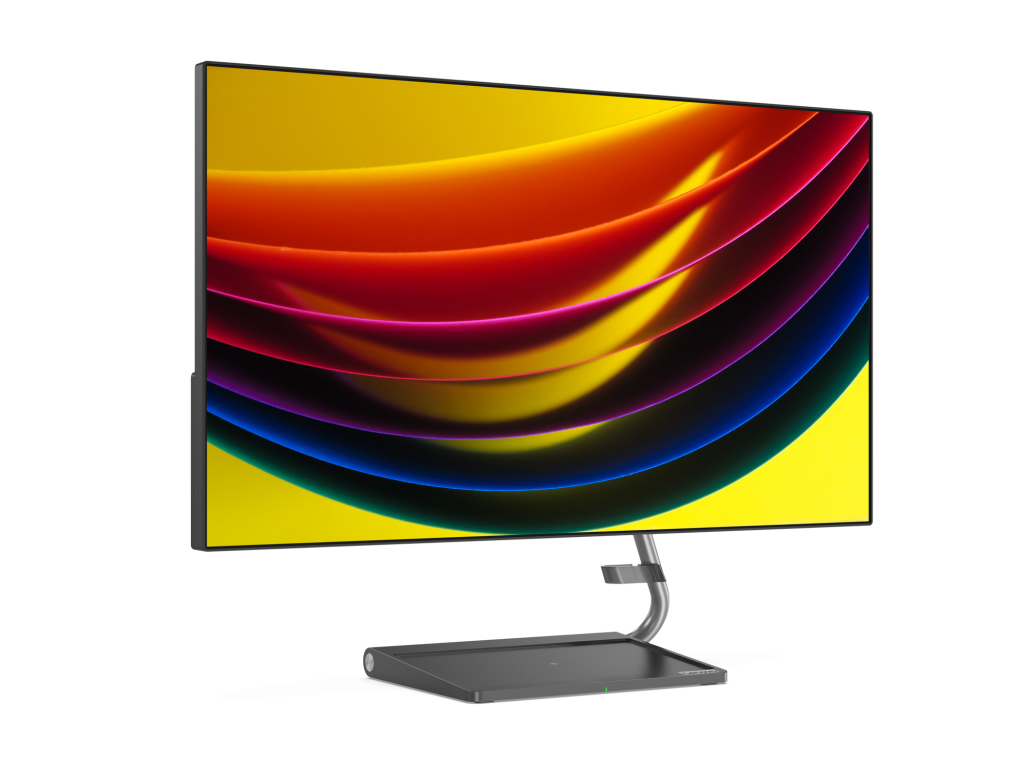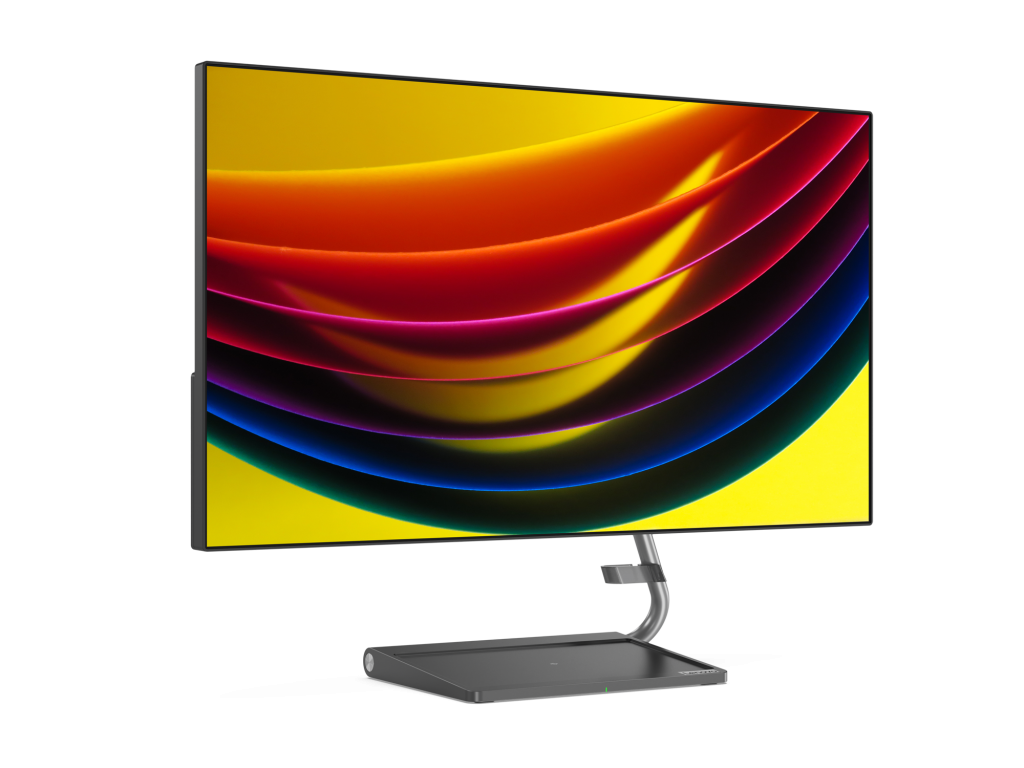 Create with Total Clarity with the Lenovo Q27h Monitor
When building up your online portfolio, work smarter not harder with the new premium Lenovo Q27h Monitor that allows
users to seamlessly switch between entertainment and their latest creative project without compromising on
quality, aesthetics, or functionality.

See the difference that a 27-inch QHD (2560 x 1440) IPS high-resolution display with 350 nits of brightness makes. When the monitor is connected to your compatible laptop, mobile device, or favorite studio equipment via the USB Type-C one-cable solution, it enables the right distribution of power10 to each device for fast audio signal, data, and video transfers—all simultaneously.

Equipped with integrated speakers for superb audio, the four-sided near-edgeless bezel brings a noticeably wider viewing experience when playing the hottest gaming titles in your spare time with super-fast 4ms response time, a smooth 75Hz refresh rate to reduce motion blur in the game, all supported with AMD® Radeon FreeSyncTM technology.

It's also virtually flicker-free and TÜV Rheinland Eye Comfort Certified helping to make it easier on the eyes while providing
amazing video picture quality.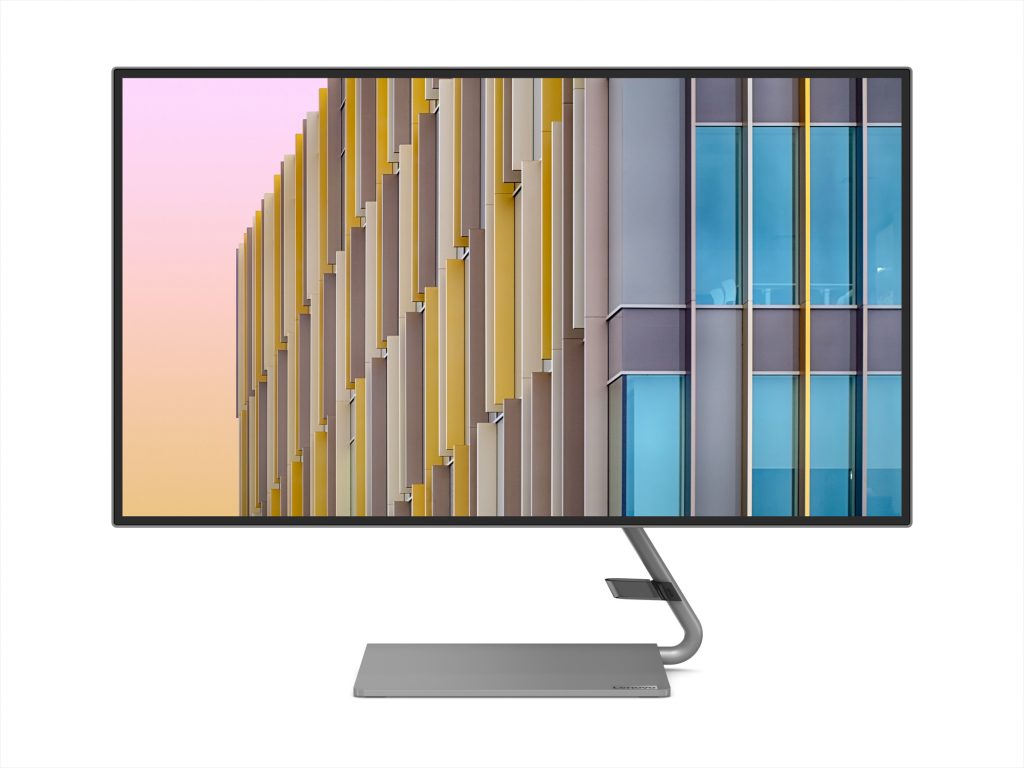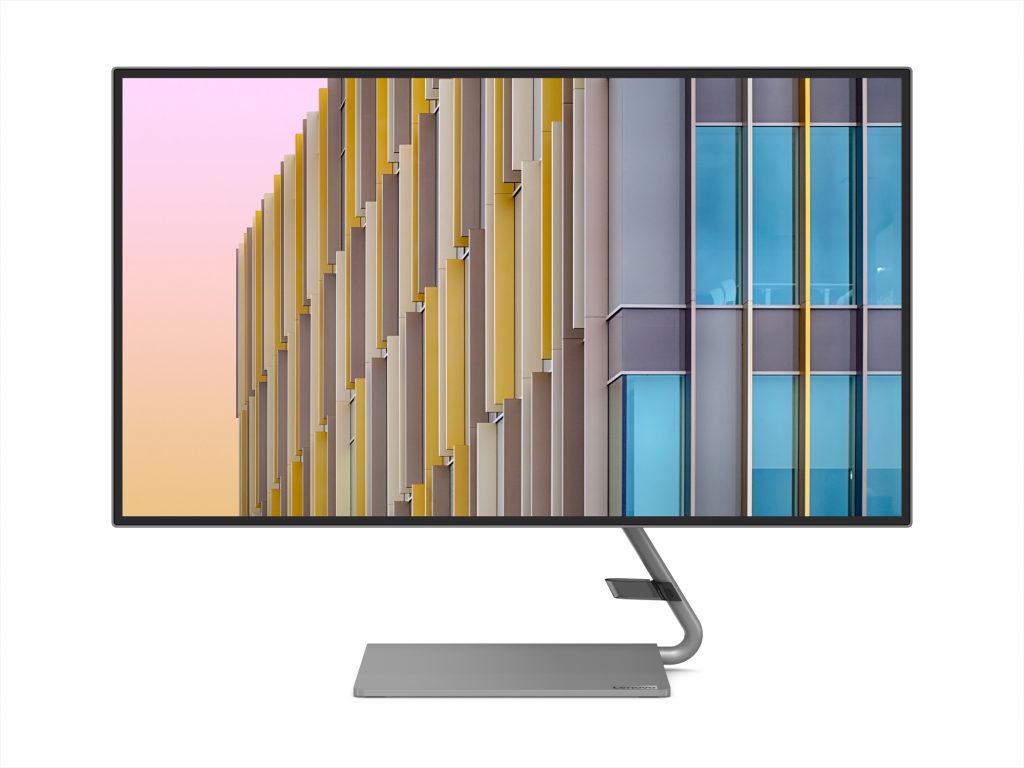 It is only three days into the new year but Lenovo and others seem ready to make 2020 a hardware heavy focus of theirs. We'll update as more news comes from CES 2020.