In recent months, Microsoft has pivoted from speaking about Windows as the company's driving product to the coalition of Microsoft 365 and Azure as the company's future.
In advance of this year's Inspire conference, Microsoft execs are taking the time to once again talking up its Azure investments and improvements coming to customers as they described new Azure Experts MSP's, new performance benchmarks with SQL Data warehouse and incredible partner-driven revenue growth.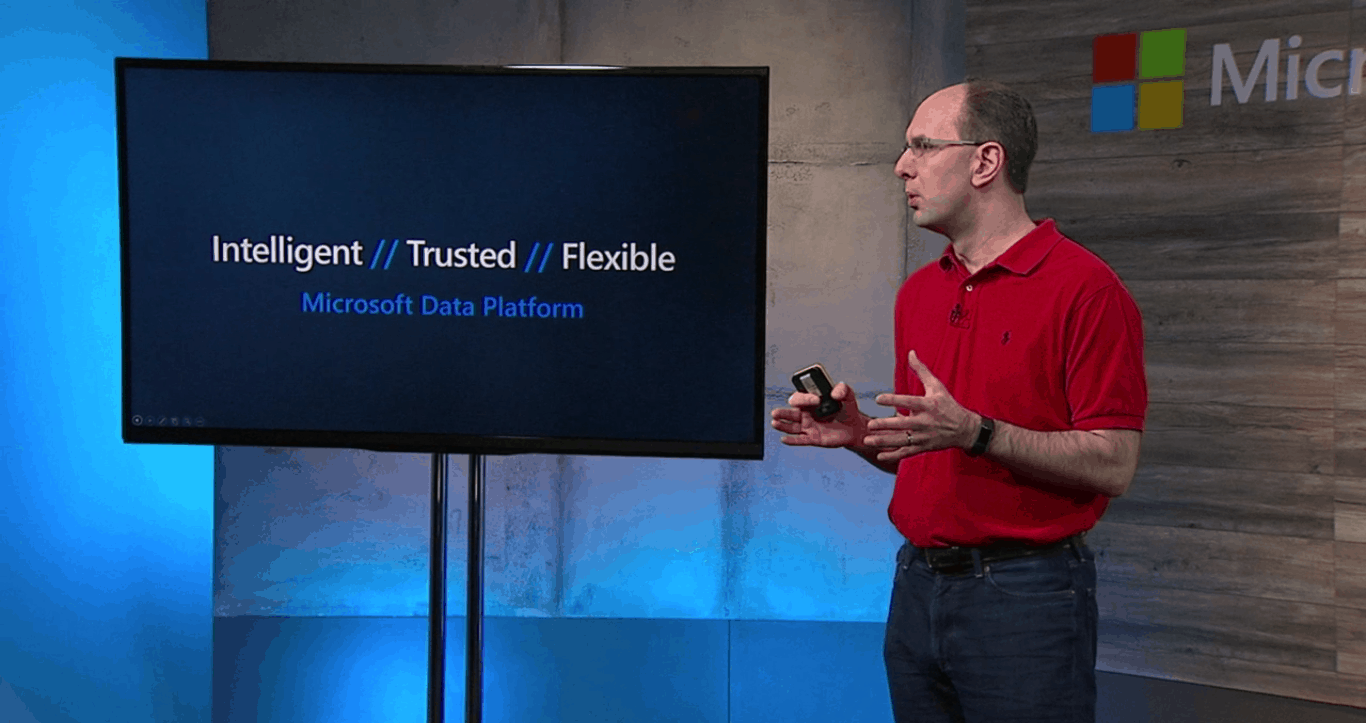 Microsoft's One Commercial Partner just announced the new Azure Expert Managed Service Provider program while also unveiling its first set of Azure Expert MSPs at the same time. Not only will this new program make it easier for Azure customers to find "highly-capable" MSPs for their cloud projects, but according to Azure Corporate VP Corey Sanders, MSPs in the program must completed a rigorous audit by an independent third party thus validating their reliability. While audit process is strenuous enough, MSPs need to also maintain a certain level of reliability each year by meeting pre-requisites and completed other progress audits.
This framework is built so that you can trust that the MSPs who've earned the badge are continuously working to remain true Azure experts.
Next up, was Azure Data CTO, Raghu Ramakrishnan who spoke to the new performance benchmarks being set by Azure SQL Data Warehouse. Raghu quotes the new benchmark as providing 2x faster query performance than previous iterations, enabling for much more efficient movement between data warehouse compute nodes. Thanks to the combination of improved query search performance and a trusted partner of Microsoft's Azure program, a company such United Airlines was able to implement a $20,000 a month cost saving measure.
"By moving our on-premises data platform to Azure SQL Data Warehouse, we improved data loading by as much as 200x, which allowed us to provide faster access to data to our internal teams," says Dan Black, director for sales infrastructure at United Airlines. "Thanks to the benefits of the fully-managed Data Warehouse solution, we were able to get better performance on delivery of data, as we eliminated the burden and the cost of managing the environment. We can save over $20,000 a month."
In a direct shot slung across the bow, Raghu compares Azure's cloud data warehouse performance to Amazon's Redshift using a workload derived from industry stallworth TPC Benchmark which shows that Azure SQL Data Warehouse is at least 67% faster than Amazon's offering.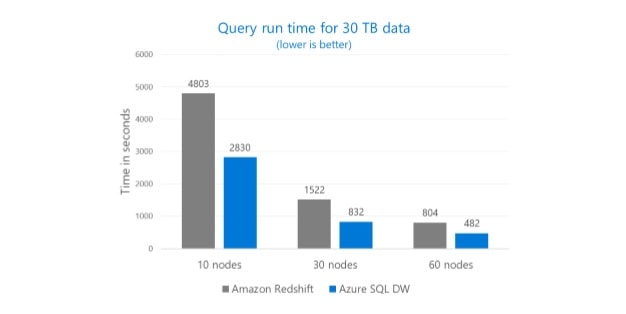 In addition to speed, Azure also boosted it support of concurrent queries to 128 which is 78 more than Amazon's Redshifts current limit of 50.
Microsoft's executive vice president of Azure Jason Zander added, that not only is his team constantly expanding Azure's global reach but that he's tasked them with coming up with new innovations to help customers succeed. One of the new innovations he brought up was the expansion of Azure's Data Box offering, which now involves a new preview of the program in regions such as Europe and the United Kingdom.
The specific family of Azure Data Box products have now included a new member called Data Box Disk which is an SSD-disk based option to move data to help the migration of larger one-time data loads up to 35TB.  Zander also announced that there is a free sign up to test these new preview features as early as today.
Other Zander announcements include Azure Virtual WAN which allows customers to connect their network to Azure allowing it to most of the heavy lifting rather than the other way around. Azure Firewall was another mention, which, as described, would provide "optimized and automated branch to branch connectivity" through Azure. Zander also made mention of new IoT improvements coming to Azure such as Azure IoT Central which supports Cloud Solution Provider (CSP) subscriptions and enables partners to provision and manage AIC applications.
For the mobile Azure users, there were also news of easier ways to distribute apps by making use of Azure security groups in Visual Studio to create visualizations metrics based on crafting a centralized test and distribution process.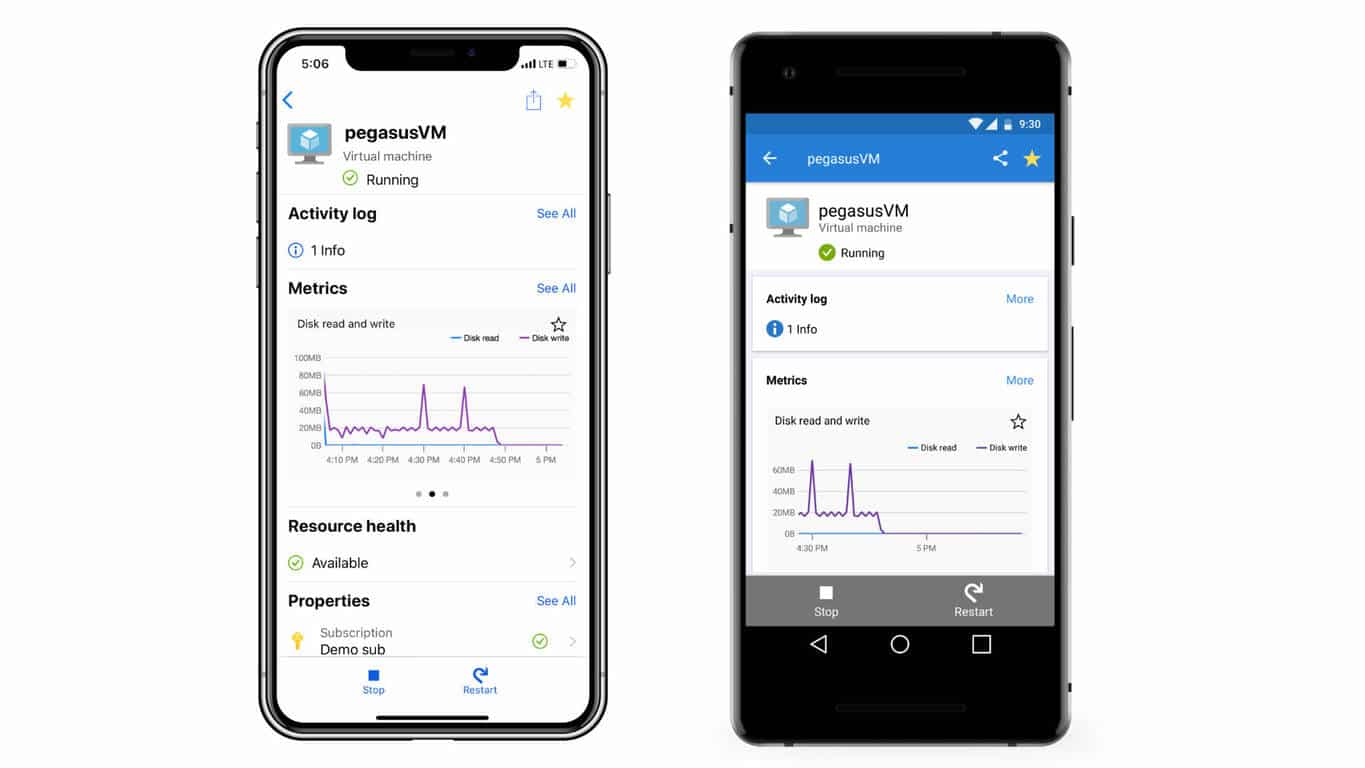 Last but not least were the pats on the back Microsoft gave it self as it announced to partners that Azure's revenue growth saw a 93% increase in its third quarter. On the heels of that figurative victory lap, it seems Microsoft is going to try two new things to further spur partner growth on the platform that include enhancing AppSource as the entry point for selling with Microsoft and enhancing its go-to market benefits for partners. Both seem like an evolutionary no-brainer but are still nice strategies to highlight at a partner conference to boost confidence in the platform. The new Azure marketplace capabilities are available to partners as of today.
For more on all things Azure, make sure to visit Microsoft Azure blogs and Inspire coverage here at OnMSFT.com