Since the rollout of Windows 8, Window users have enjoyed a dedicated platform app for listening to and purchasing audio books from Amazon's Audible service, but in a few months that ends.
Earlier today, Audible began sending out emails to users alerting them to some changes the platform is making with regards to its dedicated Windows 10 app, in that, Audible discontinued the app as of January 13, 2022 and will no longer be available for download from the Windows App Store.
Fortunately, Audible stores users' libraries in the cloud and is now suggesting that listeners continue to use the iOS and Android apps for mobile or "by logging on to Audible.com to listen with the desktop cloud player, or on your Echo devices."
There are other instructions listed in the email that include instructions to transfer titles to support MP3 players via AudibleSync, as well as a carve out that states that the Windows 10 app, while no longer available in the app store, will still work until July 31, 2022.
However, after the July deadline, users will no longer be able to use the app to access their library or the Audible storefront.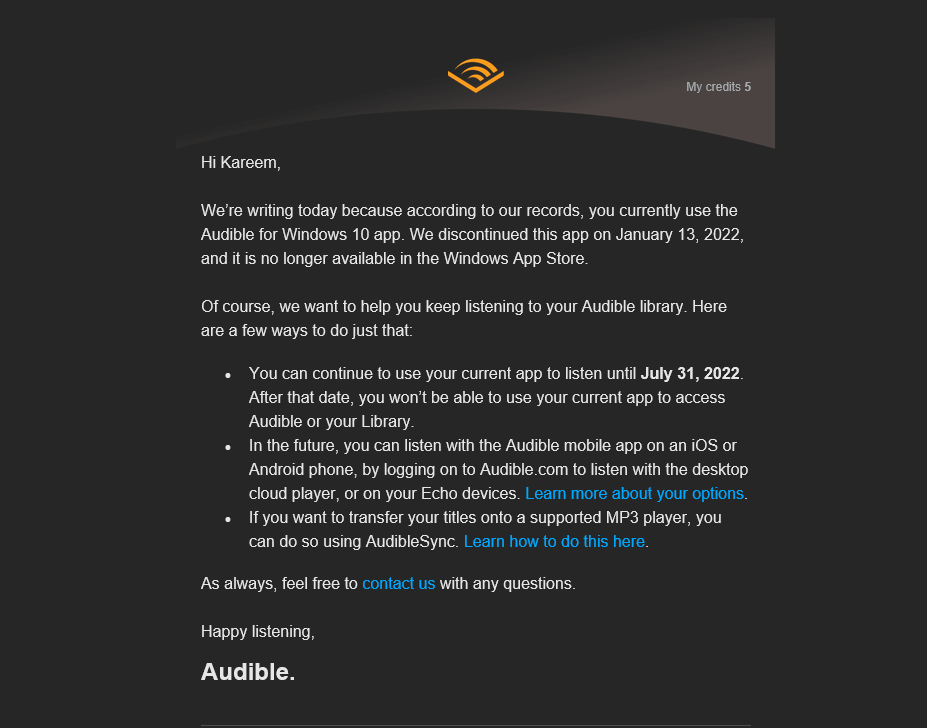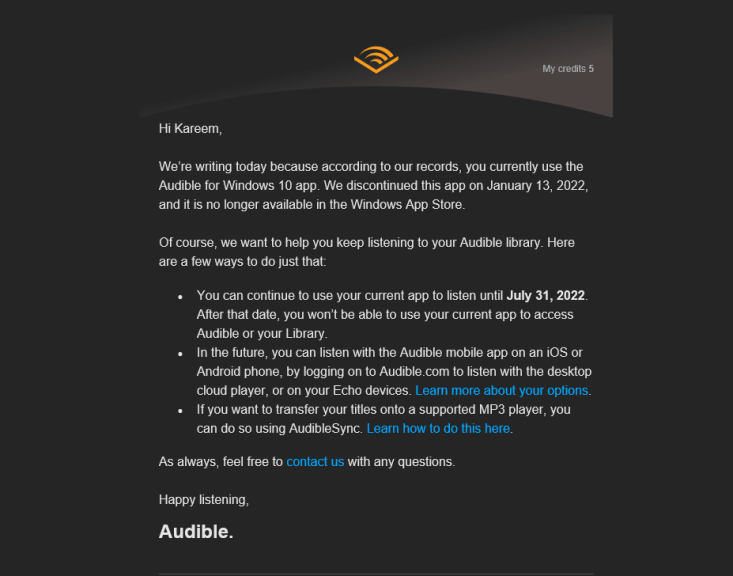 In a neurotic panic, I went to the Audible.com site immediately to see what the new experience would be like, and surprisingly, it's not too dissimilar from the dedicated Windows app. Using Microsoft Edge to install the Audible.com website as an app gave me a chrome less app-like experience and because of its PWA nature, the mini player can be opened in several instances so listeners can hop back and forth between books, unlike the dedicated Windows 8 & 10 app.
Microsoft is working with Amazon to fill out its Amazon on Windows 11 app Store and users have gotten a taste of its partnership with Amazon with the Kindle app being among the first to leverage Microsoft's new app developer revenue model. Perhaps, the removal of old Audible app maybe a precursor to a new app coming to Windows soon, or maybe we'll have to get more acquainted with PWA's in 2022.