Dell clearly has their fingers on the pulse of the computer hardware business, as demonstrated by the company's decision to drop pure tablets in lieu of focusing on Windows 10 hybrids. That's a great decision, as IDC's latest report shows that the tablet market continues to shrink, particularly pure tablets as opposed to devices with detachable keyboards. While Android and iOS continue to dominate in tablets, they're grabbing a larger share of a market that's going nowhere.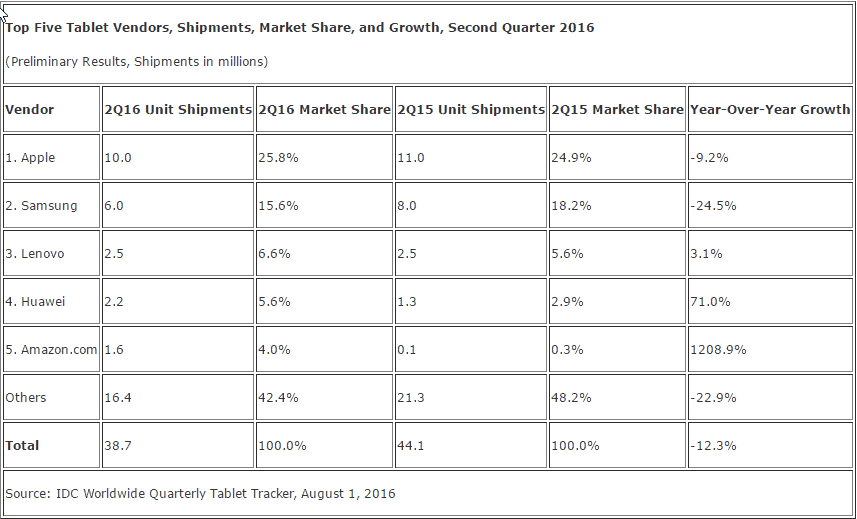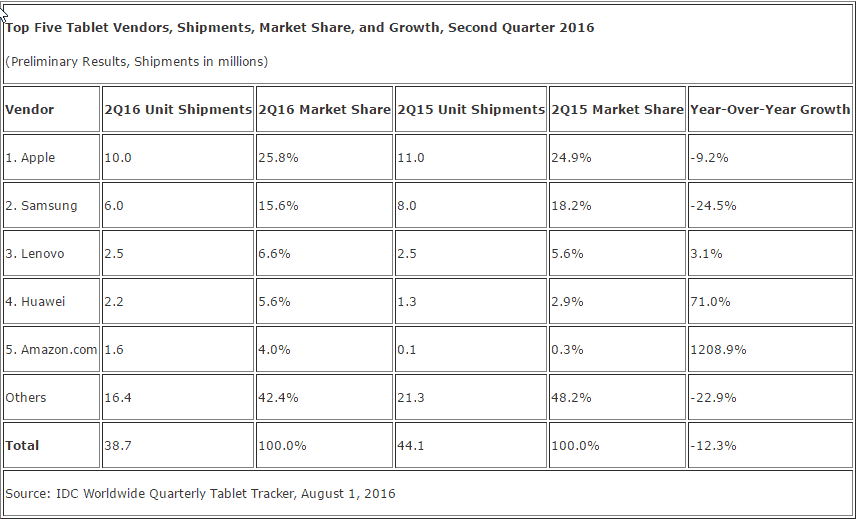 According to IDC, the tablet market overall has declined 12.3% so far in 2016 compared to the same period in 2015. Total tablet shipments were at 38.7 million in Q2 2016, compared to 44.1 in Q2 2015.
As IDC summarizes:
An overwhelming majority of tablets shipped this past quarter were Android-based systems (65%) followed by iOS, which captured 26%, and Windows for the remaining share. Though this trend has been constant for years there are early signs of change as the Android vendor list has contracted and champions of the OS have begun to offer Windows-based products, hedging against the decline of Android slates.

"The market has spoken as consumers and enterprises seek more productive form factors and operating systems – it's the reason we're seeing continued growth in detachables," said Jitesh Ubrani, senior research analyst with IDC's Worldwide Quarterly Mobile Device Trackers. "At present, it's difficult for Android to compete with iOS or Windows detachable products. However, the next 12 to 18 months will be very interesting as Google launches the next version of Android with better multi-tasking support and as they begin to bring together their two operating systems."
It's important to note that IDC includes both pure tablets (slates) in these numbers, as well as tablets with detachable keyboards (hybrids) such as the iPad Pro and Surface Pro line. Microsoft didn't quite hit the top five and so isn't listed specifically. Note also that Apple's unit sales haven't been saved by the iPad Pro, although the more expensive device has managed to recover some of the revenues lost to fewer iPads being sold.
We'll be interested to see how well the PC market continues to perform given that some industry pundits were once claiming that tablets would replace PCs. That's' apparently not happening, and as the smartphone market also starts to stagnate, it'll be interesting to see if Windows 10 PCs can pick up the slack.