It's been two months since AdDuplex last released some numbers about the Windows 10 userbase, but their July 2021 report is out today with interesting new data about 60,000 surveyed PCs. According to the analysis, 26.6% of these PCs are already running Windows 10 version 21H1 in July, which isn't bad for an update that started rolling out in May.
Windows 10 version 20H2 follows at 36.3%, down from 40.1% in April. The version 2004 remains in the second position with a 26.6% usage share, but it should be long before it passes the baton to the newer version 21H1.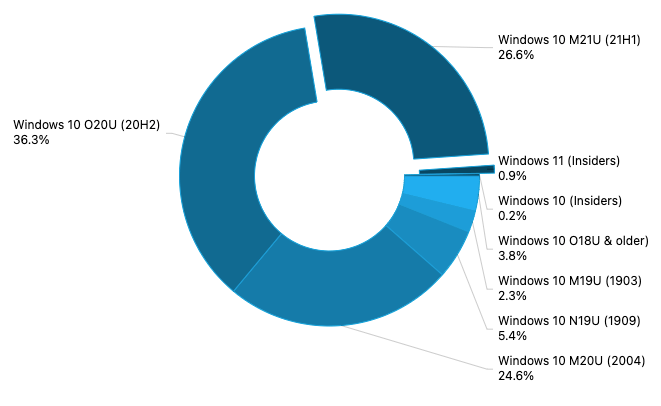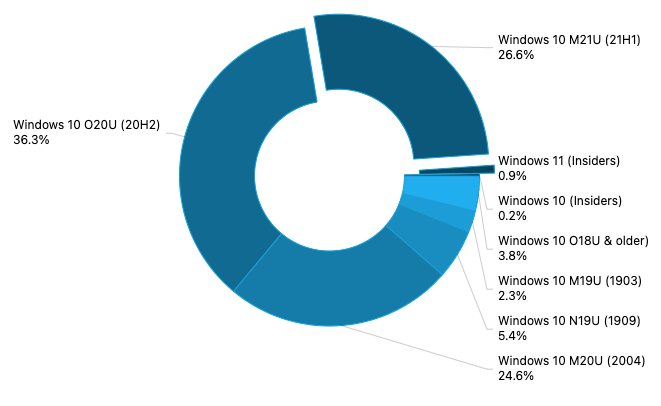 Overall, AdDuplex noted that "2020-21 versions of Windows 10 are now on more than 88% of Windows 10 PCs surveyed. Last month, Microsoft announced that it had increased the number of PCs that are approaching end of servicing that will automatically update to Windows 10 version 21H1.
Interestingly, AdDuplex also saw 0.9% of its surveyed PCs already running Windows 11 Insider builds, which is a bigger number than the 0.2% of users running Windows 10 Insider builds. Microsoft recently released the first 21H2 builds for Insiders in the Release Preview channel, and the minor update will be released alongside Windows 11 later this year.