The tablet market has been a bit gloomy lately: as phone size grows bigger and bigger, and laptops going touchy-feely, the need for what is essential a humongous phone with a mobile OS seems to be dwindling down comparatively. A new report, however, is suggesting strong growth in the most interesting of places: tablets running Microsoft's Windows.
Specifically, the latest 'Tablet Operating System Forecast" by Strategy Analytics looks at tablet shipments and installed base during Q1-Q3 2015, and found out that Windows tablets are up 58% this year over 2014, with predict total shipments for 2015 reaching 22 million devices. This means 10% of the tablet market for Windows, compare to 22% for iOS and 68% for Android. Strategy Analysis also projected market share of Windows in 2019 to reach 18%, taking meals away from the two other operating systems, as they continue to dwindle.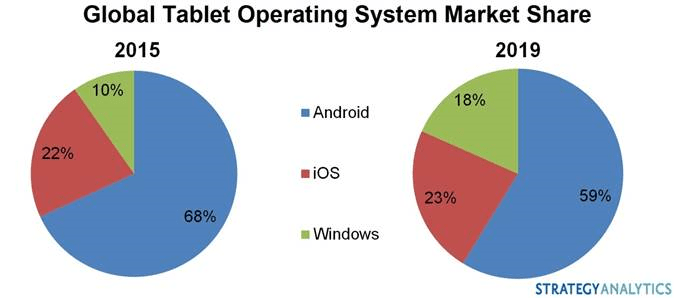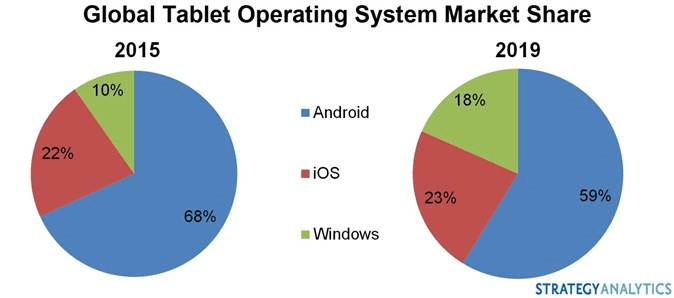 The last few years have been a long and hard fight for Microsoft regarding Windows perception as a viable OS for touch devices. Windows 8 and 8.1 was met with customer resistance, forcing the company to go back on their radical changes to a more familiar, albeit less touch-friendly interface in Windows 10.
"Microsoft has a key advantage in that its operating systems are found on the vast majority of PC and servers within the enterprise, potentially providing a smoother integration of Tablets using the Windows OS into the enterprise." Peter King, Research Director, Tablet & Touchscreen Strategies at Strategy Analytics.
Nevertheless, there have been some success stories for Windows on the tablet side, namely the ASUS T100, and Microsoft's own Surface hybrid line, which grew to be a billion-dollar business this year. The growth is no doubt splurged by Intel's advancement in mobile chip making from the 4th-generation Atom onwards, providing a satisfying x86 Windows experience in ever thinner and lighter tablet package. Seeing how well the Surface 3 works with the latest Cherry Trail Atom chip under the hood, and the corporate world getting used to touch devices, Microsoft's great potential for growth in the tablet space in the near future is understandable.
"Power, graphics, and functionality aside, Windows 10 provides a stable base from which the ecosystem can grow and we are entering a world where Windows Tablets take significant market share from Android Tablets on the low end and compete head-to-head with iPad in the high and premium segments." Eric Smith, Senior Analyst, Tablet & Touchscreen Strategies at Strategy Analytics.
While the numbers and projections paint a rosy picture of how well Windows on tablets are doing, what felt the most interesting to me was where the news came from. While it was originally reported by TechRadar, we, however, found out about the report through an article on Cult of Mac, an Apple-dedicated news site (if the name is still not clear enough). The author, undoubtedly an Apple faithful, surprisingly seems to agree with Strategy Analytics' predictions.
He explained his attitude is due to "lukewarm reviews the iPad Pro received", and "the impressive work Microsoft has done with devices like the Surface." It seems that by making beautiful devices that far exceeds the competitor's functional limits, Microsoft is now seeing it efforts paid off in both sales and mindshare, and in turn changing the perceptions about Windows tablets in general. If the company can keep up the momentum, its future will be bright indeed.