Microsoft has been rolling out event locations for its Lumia Windows Insider events, beginning with London, and just now adding events at the Microsoft Stores in New York and Bellevue, Washington (just 7 miles from Microsoft's headquarters in Redmond) to the list.  Here's the email that was just sent out:
Hello Windows Insider,
You've helped us shape the Windows experience for millions of people. As a way of thanking you, we want to invite you to be one of the first to experience the new Microsoft Lumia 950 and 950 XL with Windows 10 first-hand.
Be one of the first to get a hands-on look at these new devices, discover new Windows 10 features and chat with Microsoft experts about all the exciting details. Enjoy a live demo of Continuum for Phones and watch the Lumia 950 and 950 XL turn an external screen into a PC-like experience.
And that's not all! Buy a Lumia 950 or 950 XL at the event and the sales package will include a Microsoft Display Dock.*
Windows 10 Insider event
 December 1st
 7 pm
 New York and Bellevue
As you can see, Windows Insiders attending the events will be able to pick up either a Lumia 950 or a Lumia 950 XL, and both will be bundled with a free Display Dock in order to make use of Windows 10 Mobile's latest feature, Continuum.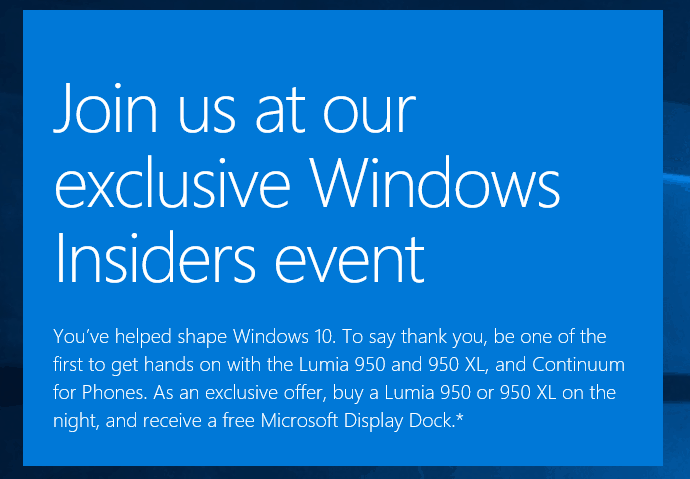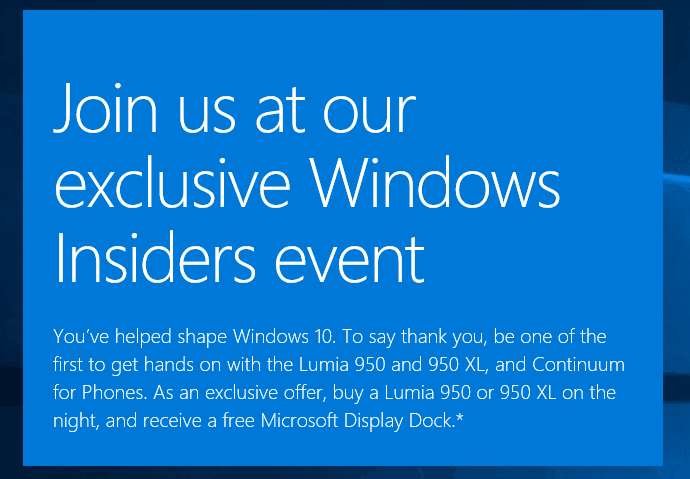 And if you're too far away or too busy to attend, Microsoft has you covered with a sweepstakes you can enter to win some cool prizes:
Can't attend the Windows Insider event in person?

Share in the excitement anyway by sharing your "Windows Love" via Twitter and you could win a Microsoft prize package.***  Use the hashtag #Win10LoveSweepstakes to tell us why you love Windows 10 and Lumia phones.  We'll randomly draw from the posts one lucky Windows Insider winner who'll receive a Microsoft Lumia 950 XL (unlocked), a Microsoft Display Dock for experiencing Continuum for Phones, an All-In-One Media Keyboard, a Surface 3 (4G LTE) and an Xbox One Assassin's Creed Unity Bundle!
Will you be attending a Windows Insiders event?  Maybe we'll see you there!