The SHIFT+WindowsKey+S shortcut key is one of the most useful for anyone who has to write end-user documentation or even just has to explain in email to a friend or relative, how to do stuff in Windows. That combination used to belong to a companion app for OneNote, but later was picked up as a way of invoking Windows' built-in screenshots capture function.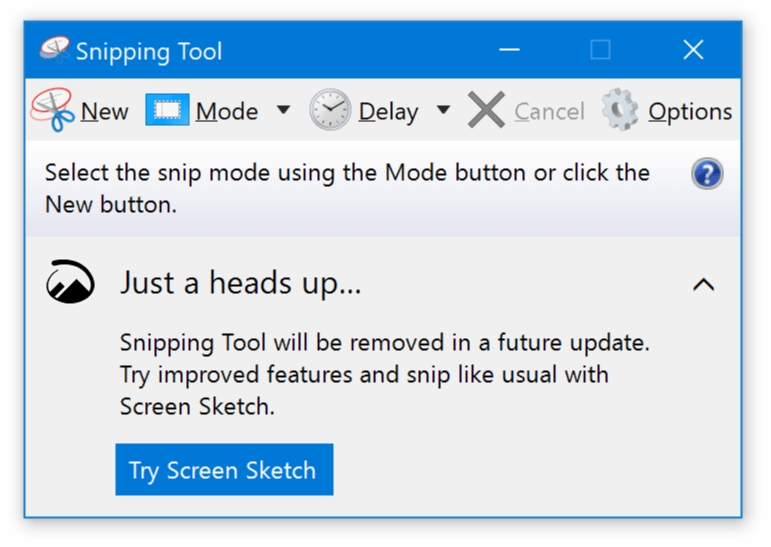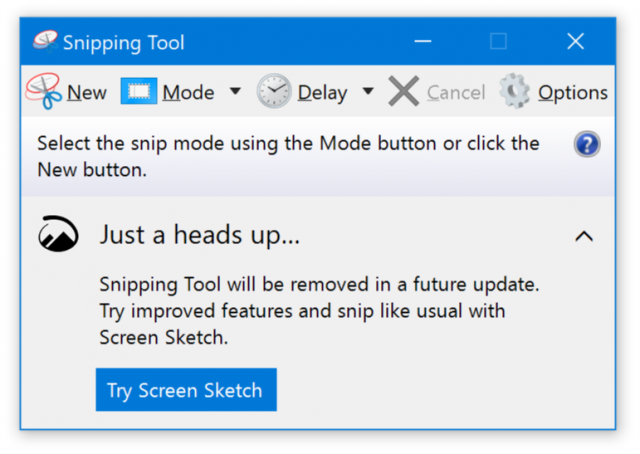 When Microsoft announced years ago that the Snipping Tool was being removed, there was much gnashing of teeth from some commentators. It was due to be replaced by a tool that took elements of the Screen Sketch feature in the pen toolbox for Windows 10, and blended them with a refreshed-looking Snipping Tool, renaming it Snip & Sketch.
Later, Snip and Sketch was further renamed to… Snipping Tool. It has gained additional functionality since, including taking over the venerable PrtScn key and is being improved further still. See Dave Shanahan's comprehensive guide on using the Snipping Tool, on Windows 11 unleashes effortless screen capturing magic and preview some of the upcoming changes on their way from Windows 11 Insiders get updates for Photos, Snipping Tool, and Phone Link in Canary and Dev Channels.
One minor annoyance with the old Snipping Tool was that it worked differently depending on how it was invoked; if you liked to open the tool interactively from Start menu then you'd have a full app to control the initial snipping, then further cropping, annotating and saving the resulting screen grab as you saw fit.
If, however, you just hit SHIFT+WIN+S then you'd get a reduced UI with the default being that you'd grab a screen area drawn by your mouse right then. This is often the most useful way to capture a screen area as you're then just going to plop it into a Word doc or an email.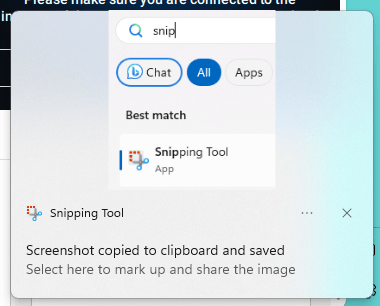 You'd get a "toast" popping up to say that you'd just completed that grab, and if you wanted to do some simple editing of the capture then save it, you'd click on that notification to open it in the full blown Snipping Tool.
The problem was, you only had a few seconds to click on that toast to launch it in the tool, or your efforts were themselves toast; even though the capture was still in the clipboard, there was no way of launching the Snipping Tool app and pasting the grab back in, and it wasn't saved to disk so you couldn't even open up a file. The only option was to paste it into MSPAINT or similar, then edit/save from there.
Bonus tip: if you do ever have to paste from clipboard to Paint, set the canvas size (File | Image Properties) to 1px x 1px before you hit paste, and the resulting image will be the size of whatever was in the clipboard before…
Fortunately, this was resolved by subsequent updates to the Snipping Tool, as it now saves the screengrab to your computer by default, so even if you don't click the toast in time, you can always open up the Snipping Tool app and use the … menu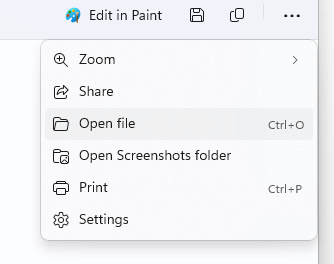 to get to the newly added Open file dialog, and other options or Settings. 
If you have something open in the Snipping Tool already, you could click the toolbar to edit in Paint, or the same … menu also has a shortcut to jump to the folder where Screenshots are saved – by default it's a subfolder of your main Pictures folder.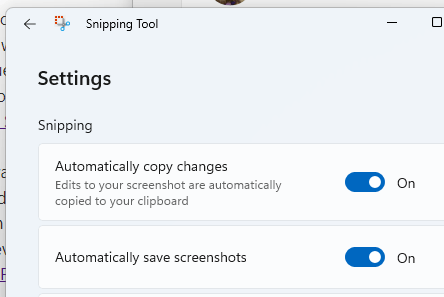 If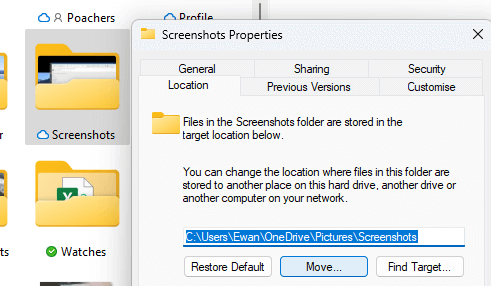 you don't like where Screenshots are being saved, open your Pictures folder in Windows Explorer, locate the Screenshots subfolder, right-click on it and choose Move.
Should you find yourself using the Screenshots folder a lot, then it's worth pinning that folder to Quick Access too (just right-click it and choose Pin to Quick Access), and if you go into the Sort menu in Explorer while looking at Screenshots, choose Group by > Date and you'll always see the most recent ones at the top, thereby making it easier to locate screen grabs you've just taken when you now want to further manipulate or manage them.
Whatever, if you use Snipping Tool a lot, it's worth keeping an eye on that folder as it could easily pile up with thousands of files and run into GBs of contents…