Last month, Parallels launched the latest version of its virtualization software for Mac computers, Parallels Desktop 13, with many improvements for Mac users looking for an easy way to use Windows 10 on their Mac. While it's possible to install Microsoft's desktop operating system on your Mac hard drive using Apple's Boot Camp tool, running Windows 10 in a virtual machine has many advantages: you won't have to reboot your Mac every time you want to switch to Windows 10, and you have access to the best of both worlds right from macOS.
If you never used Parallels Desktop before, the latest version is really easy to use. When you install it, the assistant will download a copy of Windows 10 on your Mac, which you can use right away (no need to look for drivers, etc.). You will still need to activate it with a guenine Windows 10 license, but other than that, the installation process is seamless. And if you already used Bootcamp to install Windows 10 on your Mac, Parallels Desktop 13 can use this partition to create your virtual machine.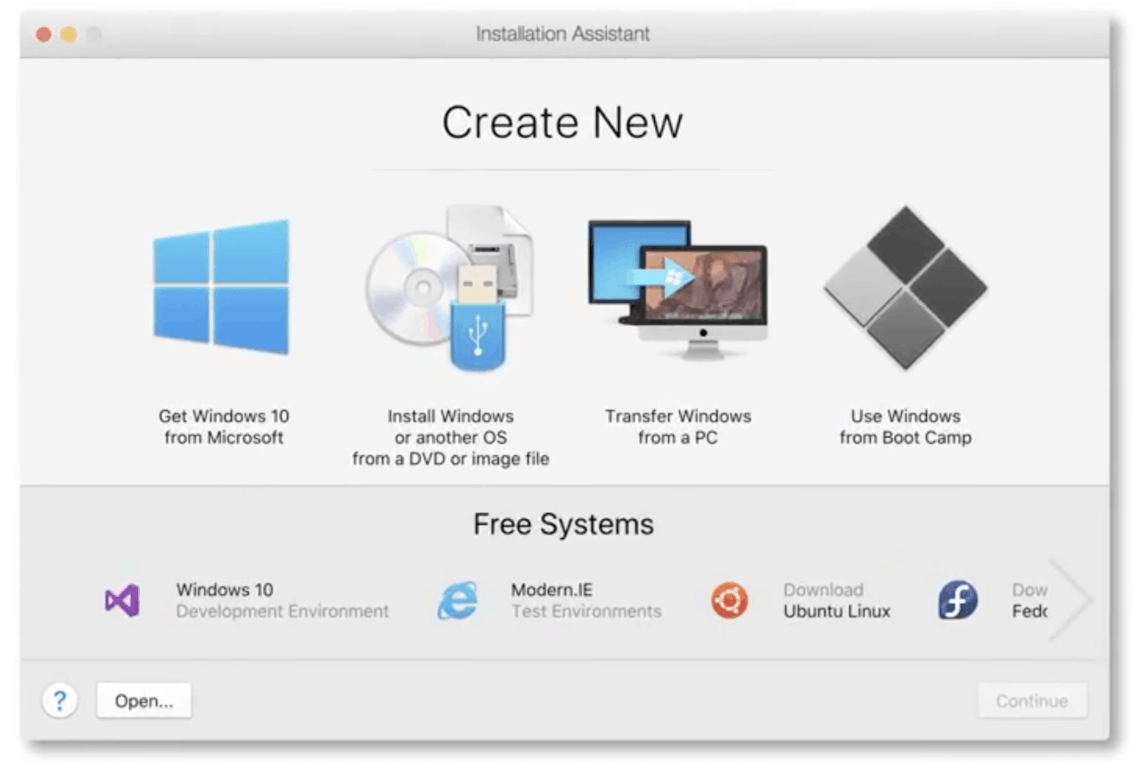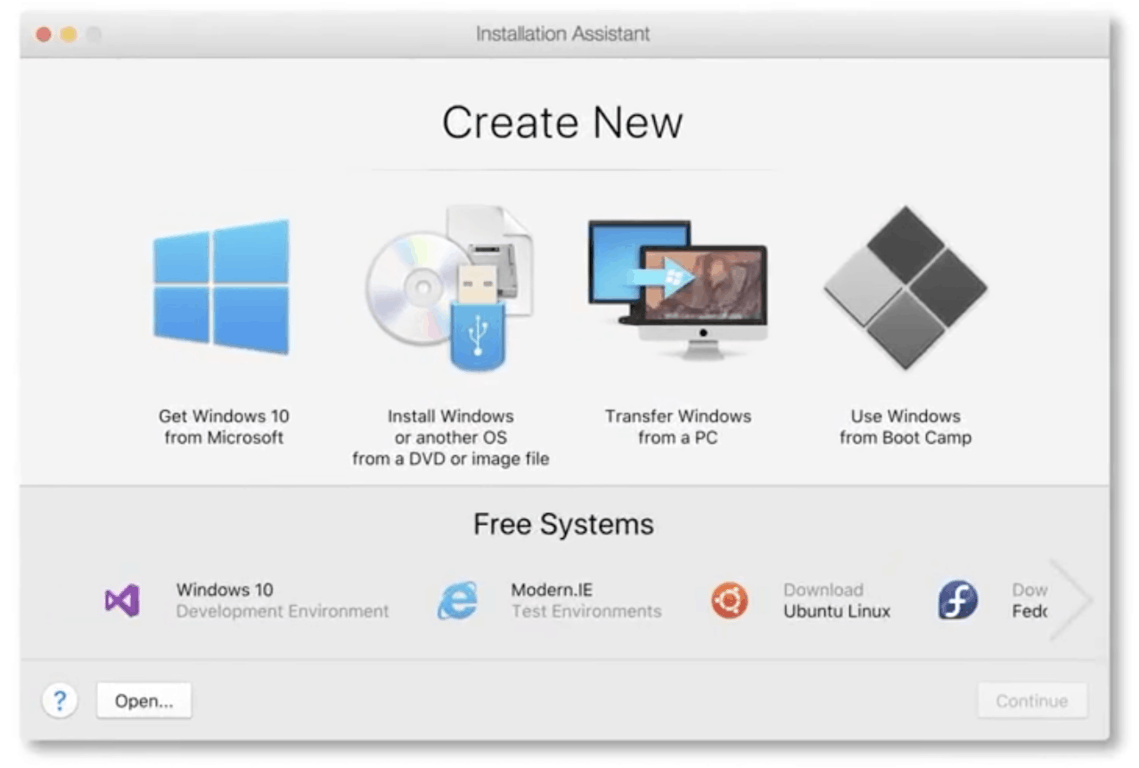 It's worth noting that you can also use Parallels Desktop 13 to install previous versions of Windows, as well as Linux and even Android virtual machines. And you can run all of them at the same time on your Mac, which is really great for developers.
What's new with Parallels Desktop 13
In addition to several new features that we'll detail below, Parallels Desktop 13 brings welcome performance improvements. The company claims that you can now access Windows files up to 47% faster, and the virtualization software now supports OpenGL 3, offering similar performances to a native Windows 10 installation for games and other apps that use it.
If you have a recent Mac, Parallels Desktop 13 brings enhanced Retina Display support for Windows applications running in scaled mode. For those of you who bought the latest MacBook Pros with Touch Bar, Parallels Desktop 13 also introduces Touch Bar support for popular apps such as Microsoft Outlook, Excel and Powerpoint, Google Chrome and more. Power users can even customize Touch Bar actions for their favorite Windows app by using the new Touch Bar Wizard.
Interestingly, Parallels Desktop is ready for the Windows 10 Fall Creators Update: you can install the latest Insider builds without any issues, and there is a nice integration between macOS with the Windows 10 People Bar. Indeed, you can pin People Bar contacts right on your macOS dock, and you can actually pin more than three contacts, unlike Windows 10. Clicking on a pinned contact will open the contact card with shortcuts for Outlook Mail and Skype UWP, just like how it works on Windows 10.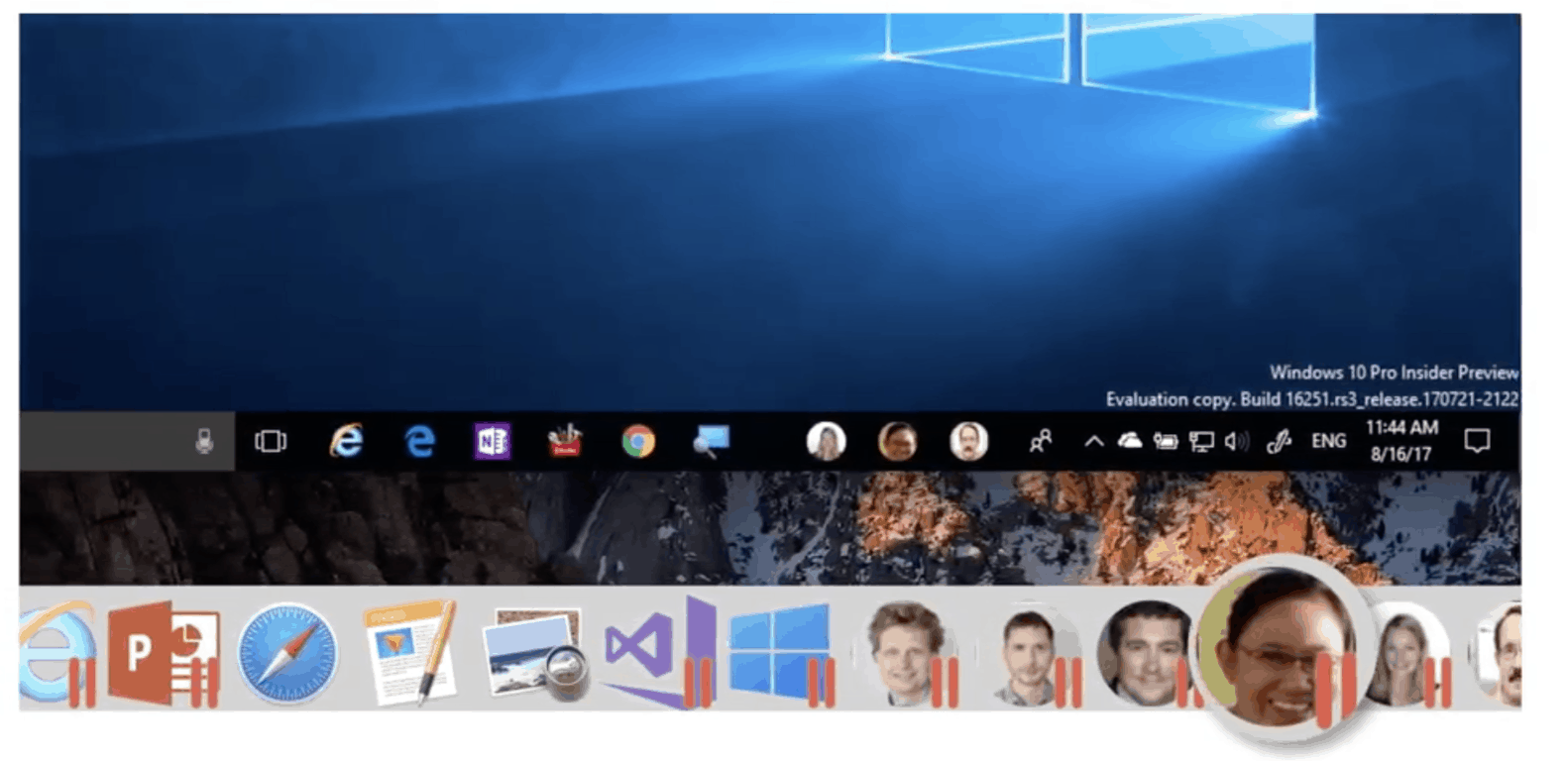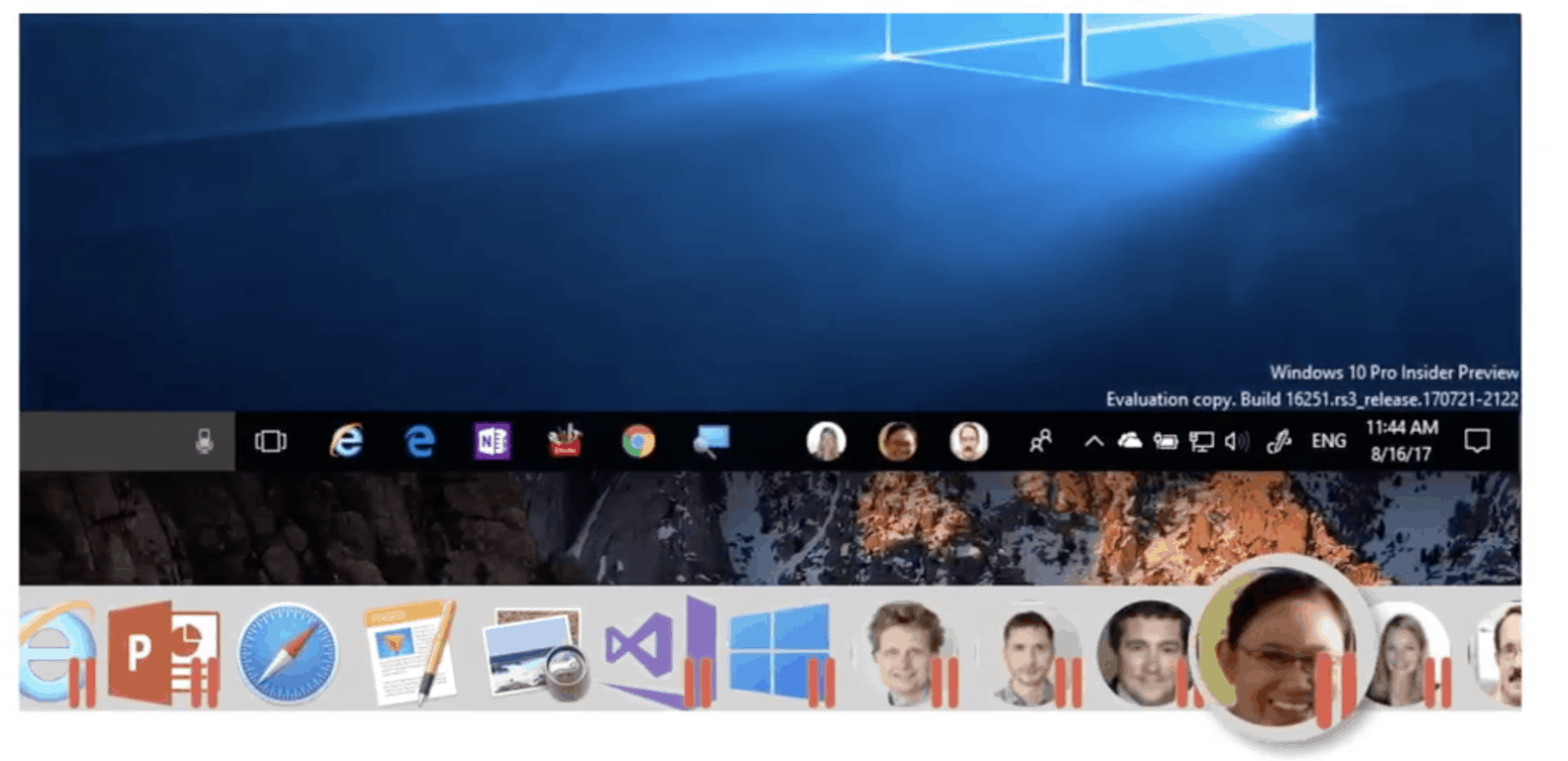 The most interesting additions are probably the new Picture in Picture mode and the Coherence. With Picture in Picture mode, you can monitor all your virtual machines from your main macOS desktop. The small windows are actually active, which means that you can click in any app in your VMs and drag windows, type text and more.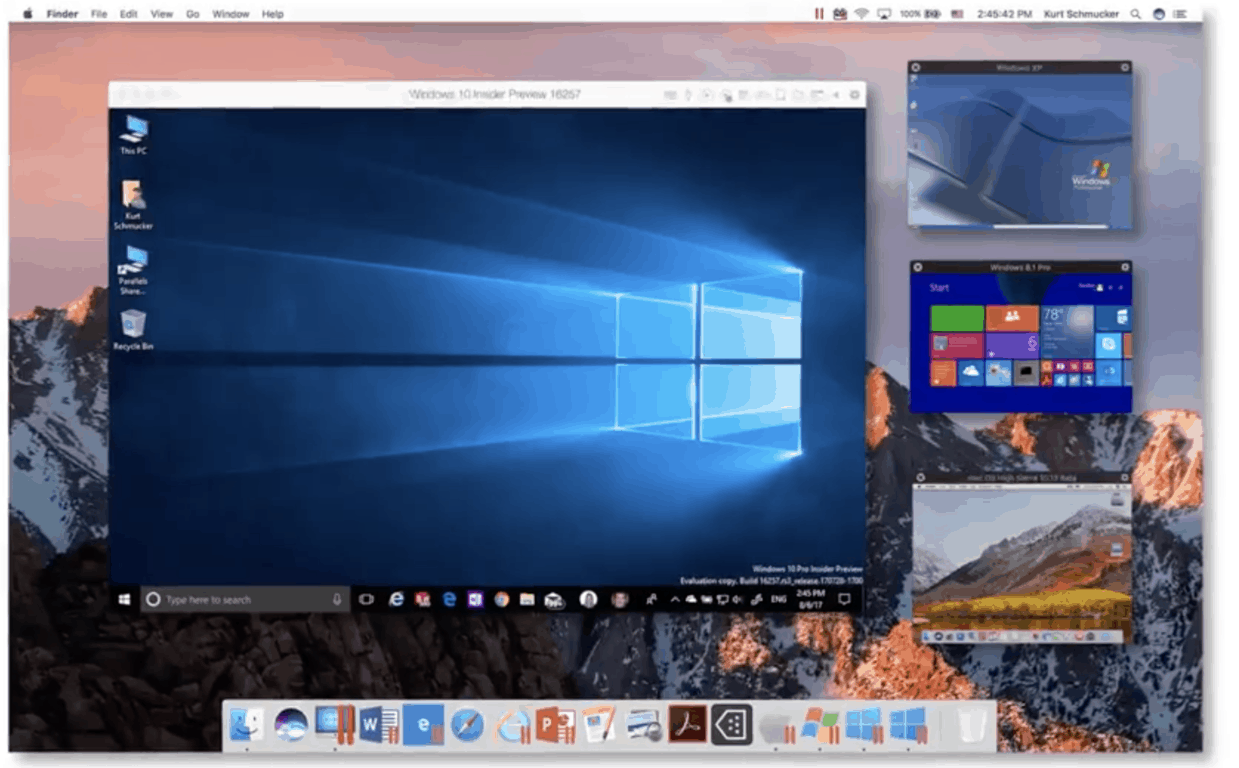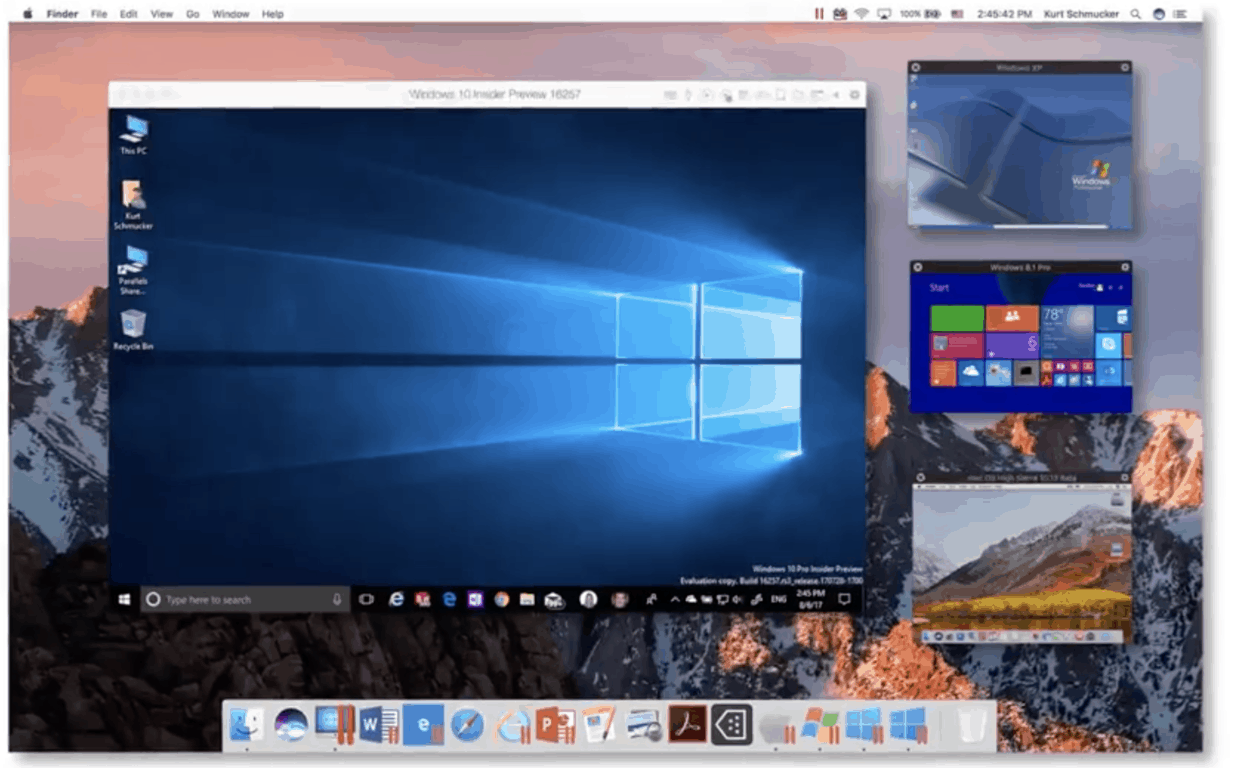 You can also run your Windows 10 VM in Full Screen mode, which means that macOS will consider it as a virtual desktop. With the VM running in that mode, you can use four-finger swipes to easily switch between your main macOS desktop and your Windows 10 desktop. If you'd like to completely hide the Virtual Machine though, there is the new Coherence mode, which is probably the most interesting addition in this new release.
Coherence mode will make the Windows 10 VM completely disappear (it still runs in the background), but you can still use any Windows 10 app you want, including UWP apps and Cortana right on your macOS desktop. This is truly the best of both worlds, especially if you miss Windows 10 apps such as Groove Music or Photos on your Mac.
Parallels Desktop 13 also supports Windows Ink, which is a surprising addition considering that Apple still refuses to make Mac computers with touch screens. Actually, Parallels wants you to use Windows Ink on your iPad: while we couldn't test it on our own, there is a separate Parallels Access app for iOS that lets you run Windows 10 on your iPad Pro, and you can use digital inking on it with Apple's Pencil. That's probably a pretty niche use case, but it's still nice to have in case you're looking to put your iPad Pro to good use.
Last but not least, Parallels Desktop 13 brings interesting features for enterprise users. On Parallels Desktop for Mac Business Edition, IT Admins can use the Single Application mode to only let users work with selected Windows applications. This will completely hide the Parallels Desktop interface, Windows installations, and virtualization, and this is probably best for users who are not really technical.
What we really like about PD13
If you never tried running Windows 10 on a VM on your Mac before, there is really a lot to like about Parallels Desktop 13. The most fascinating part is probably the new Coherence mode, turning macOS into a hybrid OS with full access to Windows 10 apps. Here are some of the most cool things you can do with Parallels Desktop 13:
You can use Cortana (including voice commands) to launch Windows 10 or Mac apps,
You can add shortcuts to your favorite Windows 10 apps right on your macOS dock.
You can drag and drop, copy and paste seamlessly between macOS and Windows.
In Coherence mode, you still get notifications for Windows 10 apps, and the Windows 10 action Center is still available
Parallels Desktop 13 also comes with Parallels Toolbox for Mac, which includes various tools for cleaning your drive, create GIFs, download web videos, etc.
Parallels Desktop 13 is not the only virtualization software for macOS on the market, but this latest major version really pushes it to the next level. If you're interested,  Parallels Desktop 13 for Mac is $79.99 for a new license, but you can try it for free for 14 days or upgrade from version 11 or 12 for just $49.99. For more advanced users, Parallels Desktop for Mac Pro Edition and Parallels Desktop for Mac Business Edition are are both available to new customers for $99.99 per year. You can learn more about the different editions on the company's website.