Editor's note: We will be exploring Microsoft services on iOS. Why? This is a Microsoft-focused website and has been for the past few years. Microsoft is more than Windows nowadays. If you missed our "Microsoft on Android" series, you can catch up here. If this is not your cup of tea, just skip the story.
Over the last two years, Microsoft has made enormous efforts to make all of its cloud and platform services first class citizens not just on Windows Phone, but also on iOS and Android. The goal is simple: users of Microsoft services, such as Office 365, Outlook, and OneDrive, no longer have to confine themselves to select ecosystems to enjoy the benefits of the Microsoft experience.
Truth be told, "all-new" may not be the most appropriate prefix for the iPhone SE, as Apple, with its ocean of talented employees and dripping with innovative yuppie DNA have basically taken most of the iPhone 6S's internals, and wrapped them in the shell of an iPhone 5S. In most cases, this game of musical chairs would be laughable, but I and many others adored the previous generation chassis, preferring them over the current curvy, bendy shells. In my opinion, I'd call it a classic, and I'm glad I now get the chance to experience it for myself even this late in the game.
Inside the SE is the same A9/M9 chip combination as found in the 6S, and, to the relief of many, 2GB of RAM. The rear camera is the same as the 6S, but weirdly, the front-facing camera is still the old 1.2 megapixel variant. It also disappointingly comes with the older generation of Apple's TouchID, and no 3D touch.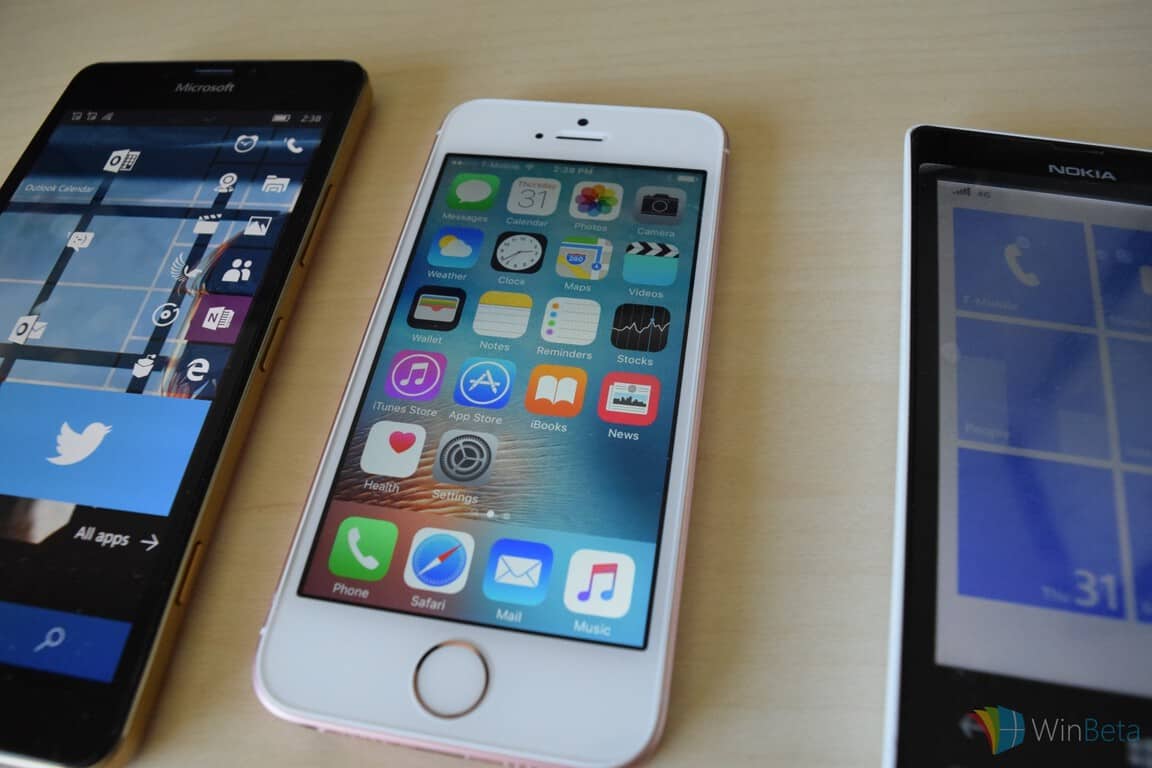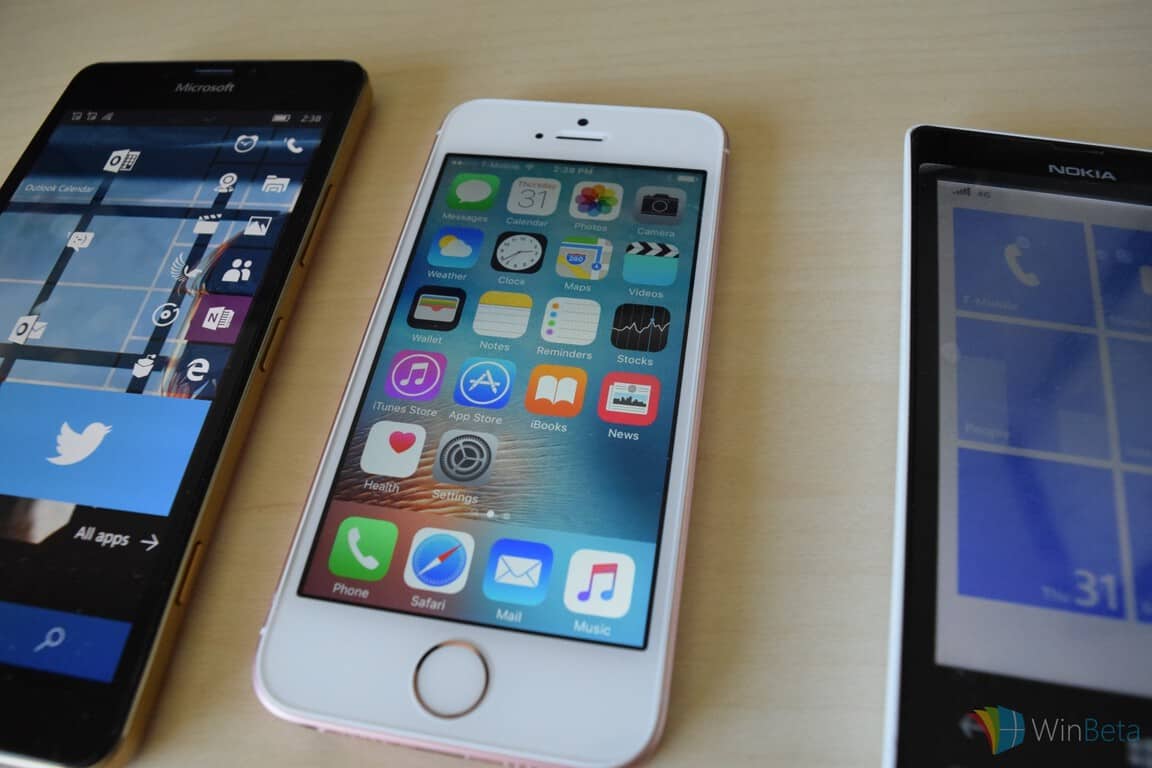 Us long-time Lumia users may be disgusted to find that the iPhone, in keeping with its illustrious heritage, does not have expandable storage, nor a removable battery. Which is quite shameful.
It's a bit hard to compare the iPhone SE with modern day Windows Phones simply because there are no Microsoft-made Windows Phones being sold today with a screen size that small. Even the median Lumia 950 is overwhelmingly larger than the iPhone SE. The closest thing I have is an old, beat up Lumia 521, which is still a bit larger than this phone.
While the iPhone SE's 7.6mm depth was for its time profoundly thin, today it betrays the typical Apple cadence of releasing successively thinner products, though some may argue that this is a good thing. Though technically it's thinner than the more modern Lumia 950 chassis, the 950's tapered edges make it look and feel thinner than the iPhone SE.
When setting up an iPhone with Microsoft's services, the first order of business is to get the authenticator up and running, so you can fight your way past Microsoft's two-step verification, which you should have enabled. You'll need this for every single major Microsoft app you download so it can have permission to access your cloud-backed data.
Interestingly, Microsoft doesn't have a dedicated authenticator app. Instead, it instructs you to use, of all things, Google's authenticator app. In the App Store, you're pretty much going to have two options, the Google Authenticator, and a highly-rated third-party app, both of which work fine.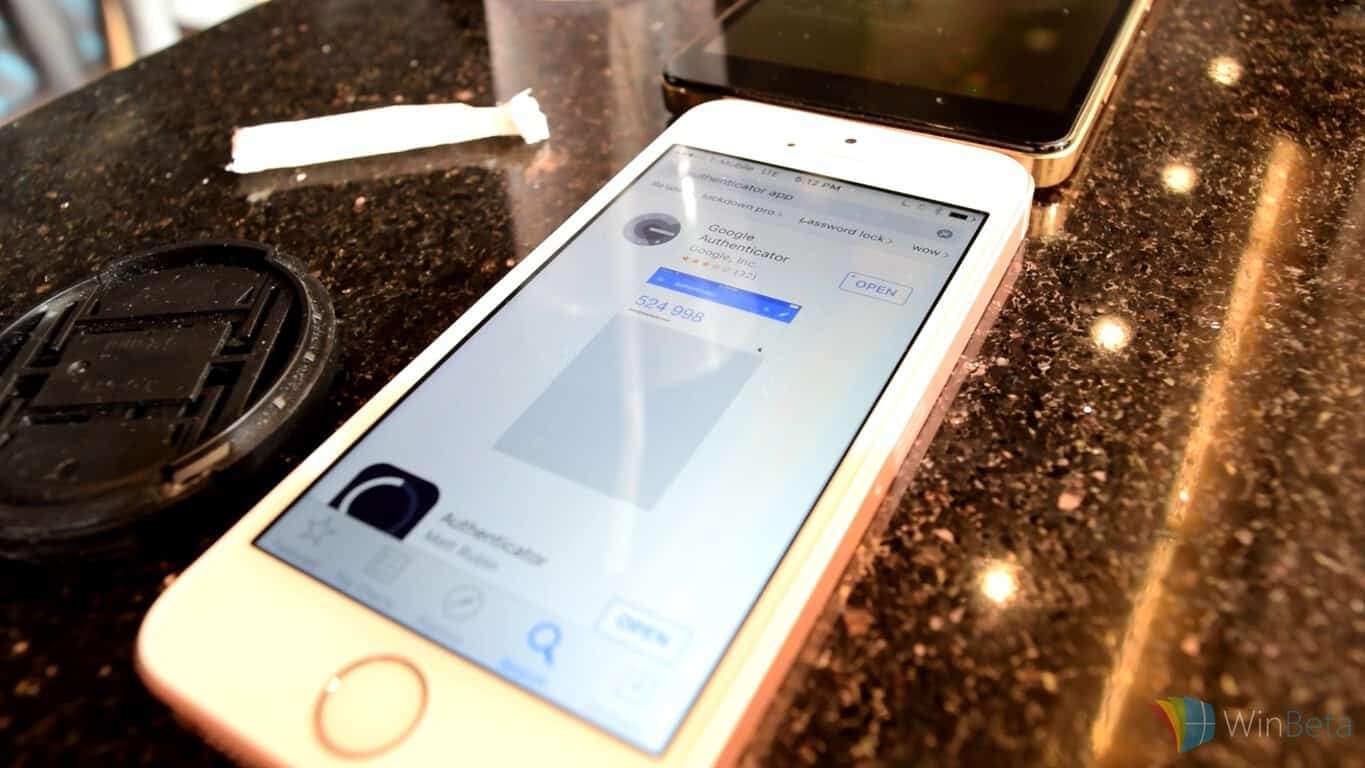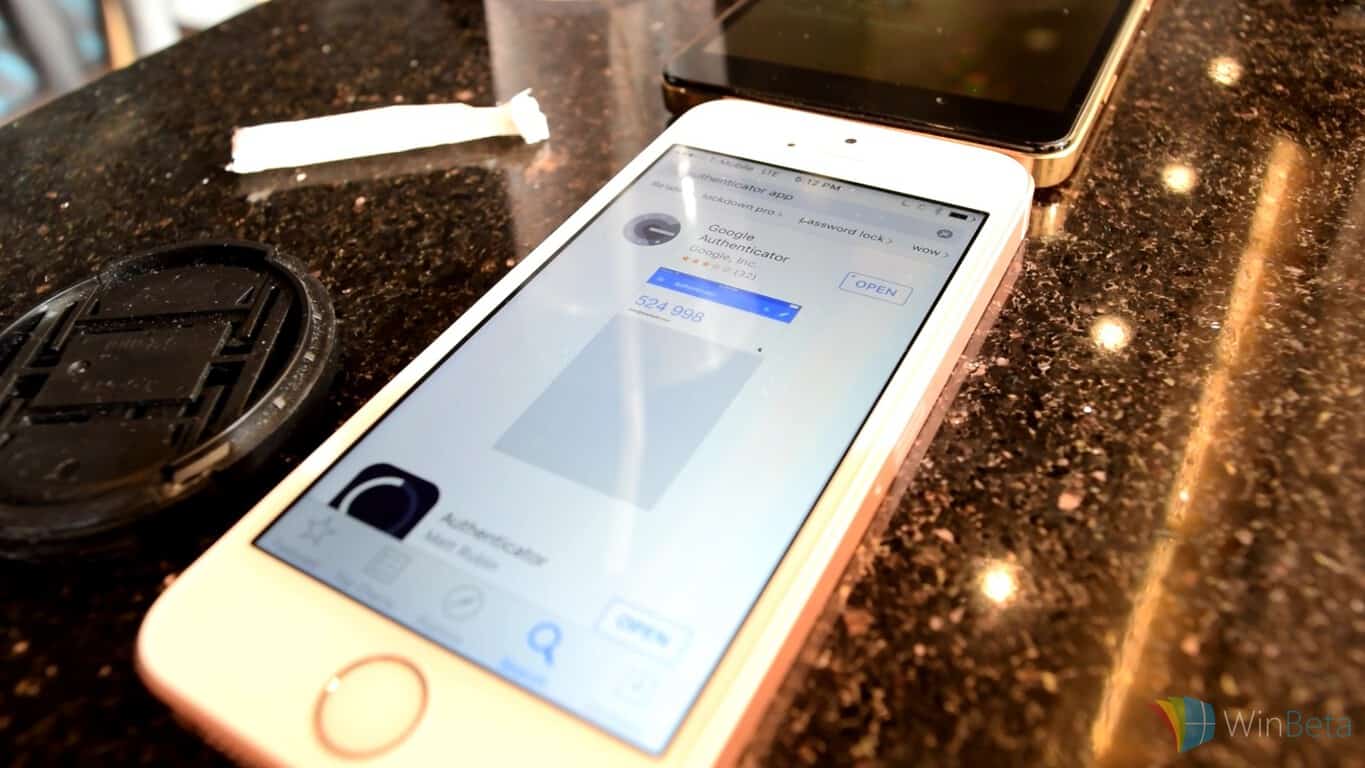 Once you have that setup, go ahead and download every Microsoft app you want to use, logging in with your Microsoft account and the authenticator-generated codes as needed. You will be welcome with open arms as Microsoft has done a great job of making sure every iOS app either matches or exceeds its Windows 10 Mobile counterparts. The UIs of the iOS versions will be virtually identical to their Microsoft counterparts, only with much more attention to detail and cooler designs.
After many years of fighting the good fight, I've thrown in the towel and decided I to try something new. I look forward to my journey of becoming one with Big Brother and seeing how well iOS meshes with the Microsoft platform.