Did you hear? There's a new flagship Windows on ARM laptop in town, and I now have one in my house! It's the new ThinkPad X13s, which is powered by Qualcomm's Snapdragon 8cx Gen 3 SoC.
This is the first ThinkPad to be powered by an ARM-based processor, and Lenovo is also promising it has big performance differences over the last generation 8cx Gen 2 found on devices like the Lenovo Flex 5G. We've been excited to receive this laptop, so we're doing an unboxing. Enjoy!
Specs & price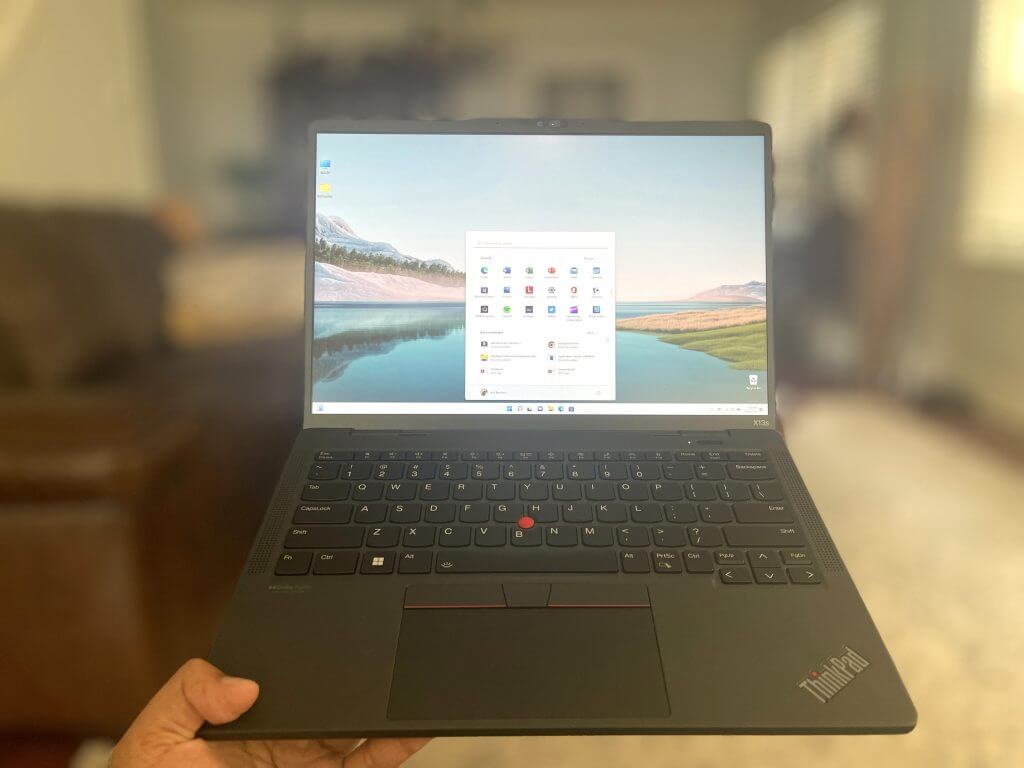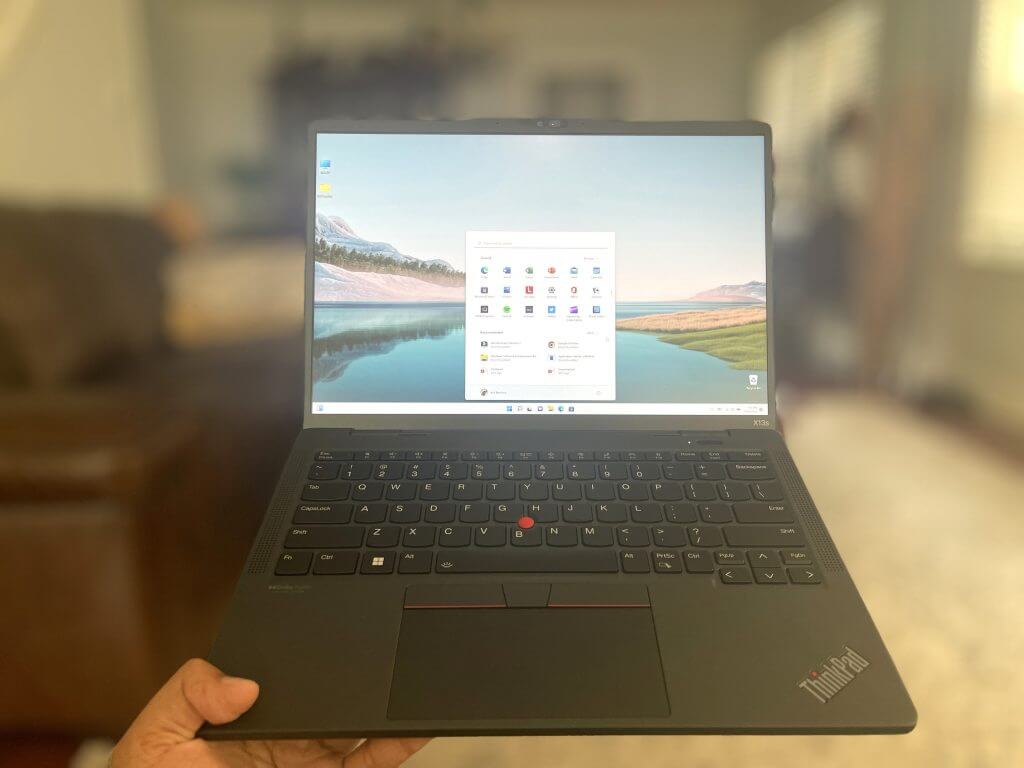 The unit I have here cost me about $1,500 after taxes and shipping. Lenovo has it listed for $1,439. It comes configured with 32GB of LPDDR4 RAM, as well as a 512GB PCIe SSD. The screen is touch-enabled and comes in at 1920 x 1200 resolution, rated for 300 nits of brightness. There's also a 5MP Windows Hello IR webcam and a fingerprint reader on the power button. Note I did not buy a model with the 5G connectivity, options for this are available if you need it. The SSD can also be upgraded if you need to, but RAM is soldered down. Oh, and this is all powered by Windows 11 Pro.
Early performance impressions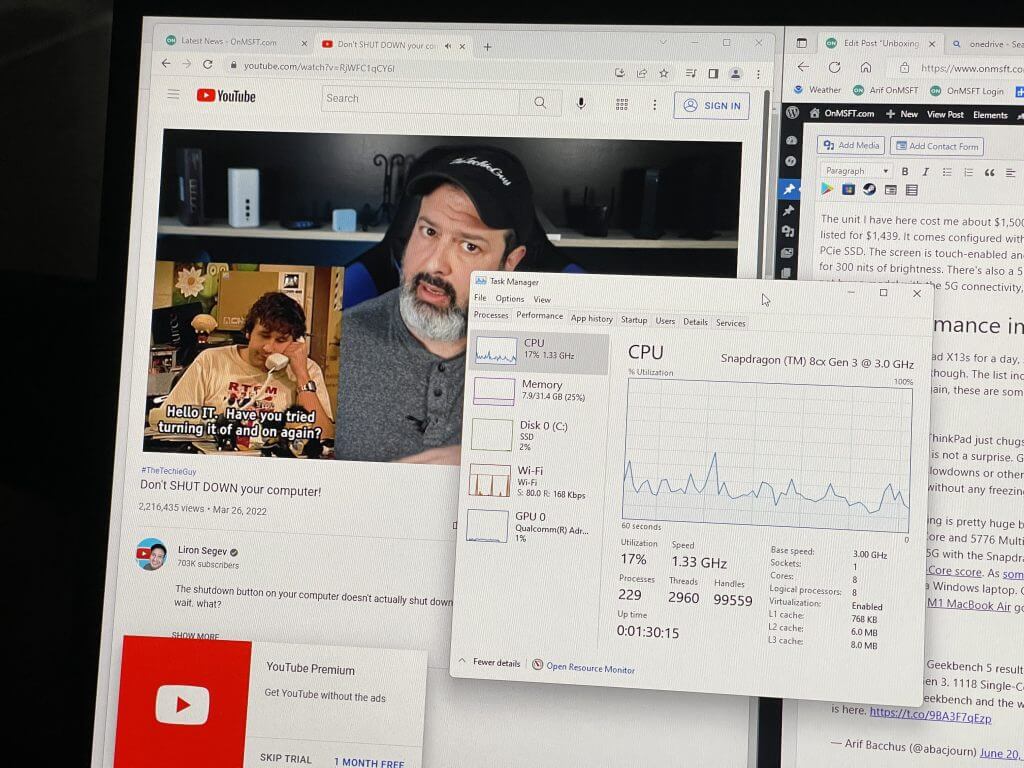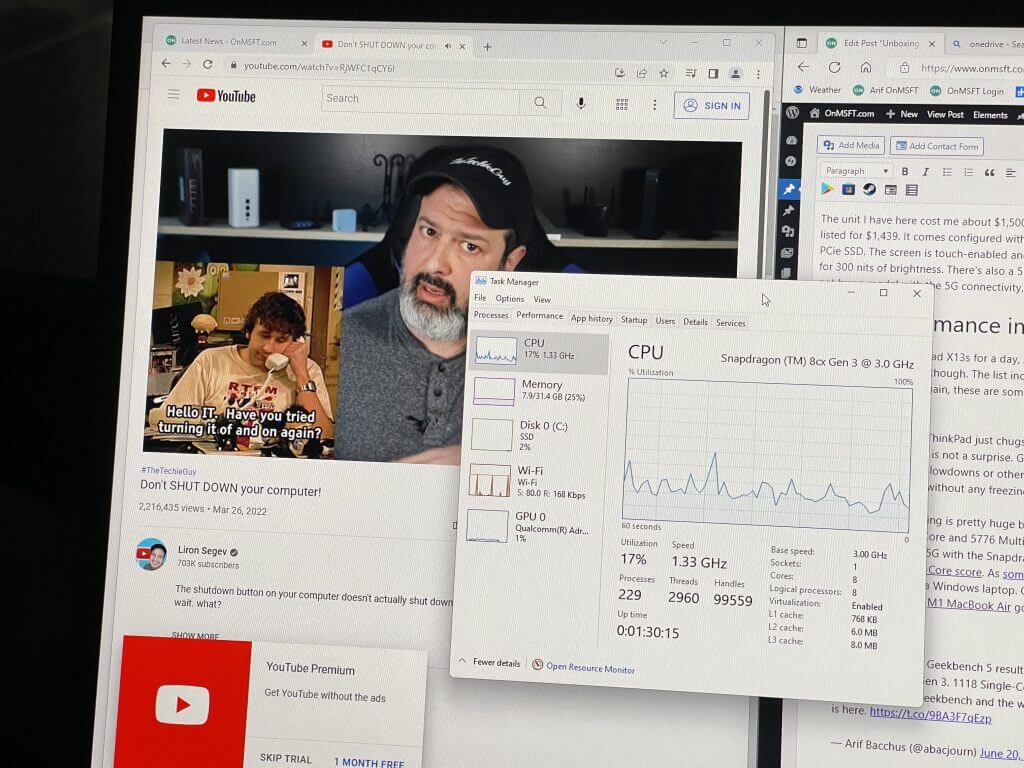 I've only had my ThinkPad X13s for about a day, so impressions will be a bit limited. I did test a couple of things, though. The list includes Geekench 5, Visual Studio 2022 (ARM version,) and web browsing in Chrome. Again, these are some early tests. In two weeks, I should have a full-on review.
For web browsing, this ThinkPad just chugs along nicely. With Microsoft Edge being optimized for ARM, this is not a surprise. Google Chrome also performed efficiently too, and I didn't notice any slowdowns or other issues. Both Microsoft Edge and Chrome ran side by side like they would on my Intel-based system and did not freeze up.
With Geekbench 5, scoring is pretty huge between generations. The ThinkPad X13s netted1118 Single-Core and 5776 Multi-Core results. It's a big difference between generations as the Flex 5G with the Snapdragon 8cX Gen 2 gets a 698 Single-Core score, and a 2551 Multi-Core score. As someone on my Twitter points out, that's a modest score, even for a Windows laptop. Compared to the M1 MacBook Air though, it does lag behind. That M1 MacBook Air got a 1706 Single-Core score and a 7420 Multi-Core score. You can be the judge of the numbers, though, as performance means more than any of these things.
And here's the full Geekbench 5 result on the ThinkPad X13s with the Snapdragon 8cX Gen 3. 1118 Single-Core and 5776 Multi-Core. You know how I feel about Geekbench and the whole vs M1 / M2 thing. But my result is here. https://t.co/9BA3F7qEzp

— Arif Bacchus (@abacjourn) June 20, 2022
Coming down to Visual Studio 2022, I was able to install the preview of the ARM-optimized version of the app and all three developer workloads were downloaded and installed in around 18 minutes. I'm not a developer and don't plan to use this device for coding, but if anyone has suggestions on how I can run sample code or create a sample app, I'd gladly test it for you! The app will work fine, as it's been optimized in preview! In other developer areas, this device runs the Windows Subsystem for Linux and has support for Hyper-V, too.
Well to answer this. From start to finish it takes about 18 minutes. That's with my slow and busy network on Wi-Fi lol. I took away two minute for looking for the download and clicking prompts. But deff 15-18 mins I'd say. It gets through the install pretty quickly. pic.twitter.com/pOFnwO63zq

— Arif Bacchus (@abacjourn) June 20, 2022
I think that the general performance for web browsing on this machine will be great. With just a couple of Edge tabs open, as well as several other system apps, the 8cx Gen 3 barely pegs above 6% utilization. I can also say that emulation works well, too in my early tests. An app like Chrome (which isn't yet ARM optimized) doesn't take up that much CPU usage. It will peg, and then level out. I didn't notice any lag when playing high-resolution videos in Chrome, either, though the SoC pegs a bit to 30% utilization during that task with Edge also open in the background.
Heat management and thermals do seem to be great, too. The device is never too hot and doesn't heat up under heavy loads. Of course, more testing is needed, but for now, I'd say it is great!
Other closing thoughts
I have to save a lot (like battery life, etc) for my final review, but so far, I'm very impressed with my new ThinkPad X13s. Overall, the magnesium build quality is great, as it feels like a ThinkPad would, though a little bit more like "plastic" to keep that lightweight and slim profile. The Trackpad and keyboard are up to snuff as well, just as you'd expect from a ThinkPad. Even the display is bright and vibrant!
Overall, this is definitely a premium and not a cheap laptop like the Galaxy Book Go 5G! I'm hoping to play a lot more with this device soon, so keep tuned for a full review! But for now, this definitely seems like it has everything it takes to be a new ARM flagship.
If you have anything you'd like me to try please let me know! I"ll do my best to aid in your buying decision.