In 2017, Mojang announced they had been working on a major graphical update for the Minecraft Bedrock editions called the "Super Duper Graphics Pack". For many years until that point, the only way to enjoy such shading and lighting upgrades in Minecraft was to install third-party modifications to the Java Edition of the game. To the great disappointment of many Bedrock Edition players, Mojang never released the Super Duper Graphics Pack. It wasn't until 2019 that the developers finally announced that they had partnered with Nvidia to release this feature exclusively for Windows 10 PCs with Nvidia RTX graphics cards. Now, we're finally able to take a look at what Mojang and Nvidia have been working on.
System Requirements
Before attempting to install Minecraft RTX, you should make sure your PC meets the following criteria:
Your PC must have an Nvidia GeForce RTX 2060 or better GPU updated with the latest drivers from Nvidia.

An Intel Core i5 or equivalent CPU

You must have at least 8GB of available RAM

You must already own Minecraft for Windows 10 in the Microsoft Store

Your PC has an up-to-date version of Windows 10 installed. 
CAUTION: Back-Up your Worlds!
World saves created or opened in Beta versions of Minecraft may not be compatible with release versions of the game. Attempting to open worlds created in Beta Versions of the game may lead to lost data or destroyed worlds. Make sure you export backups of all your Minecraft worlds BEFORE you attempt to install a Beta. You can learn how to back up your worlds here.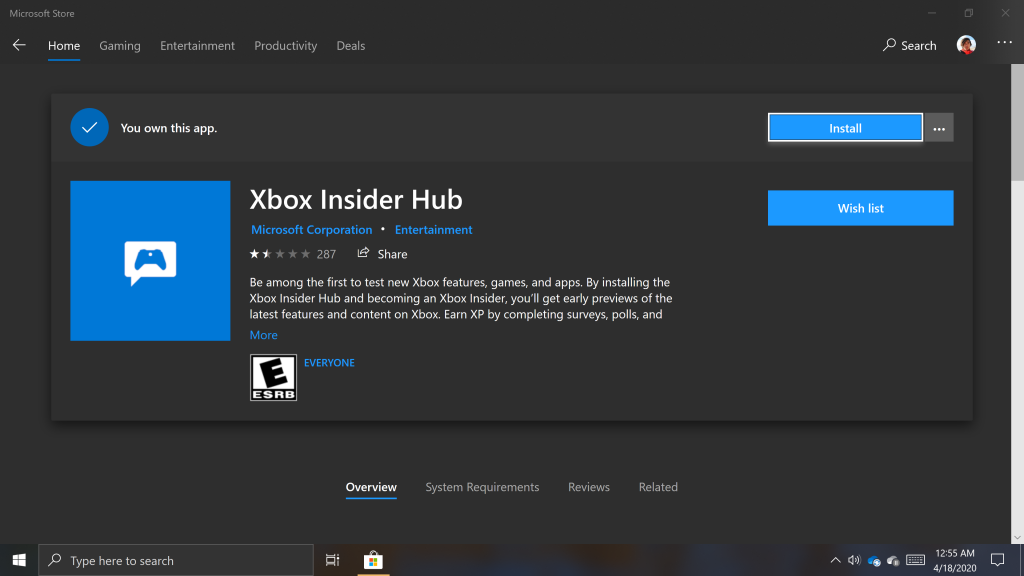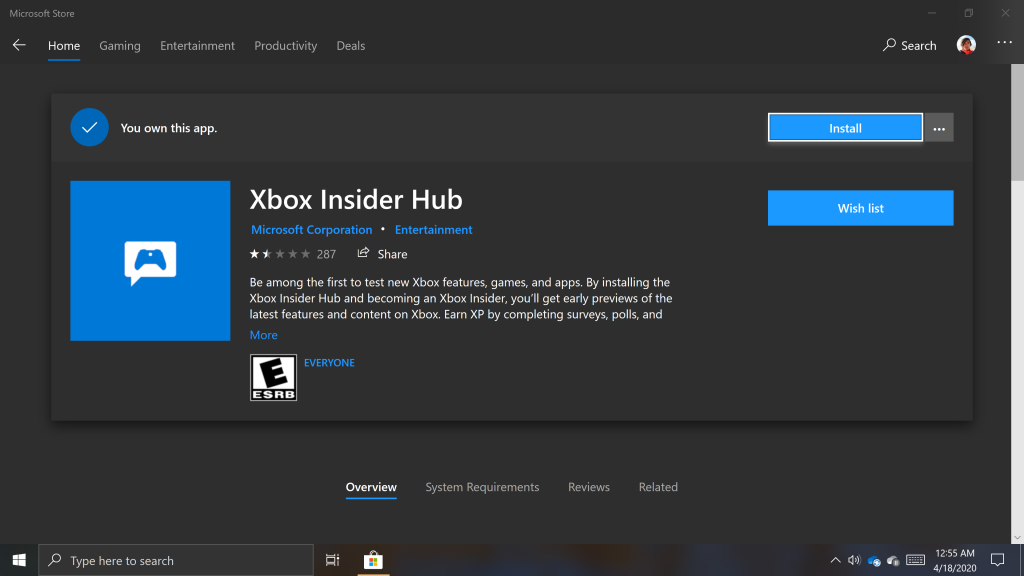 1: Install the Xbox Insider App
Once you're sure you meet all of these requirements, you can begin by installing the Xbox Insider Hub app from the Microsoft Store.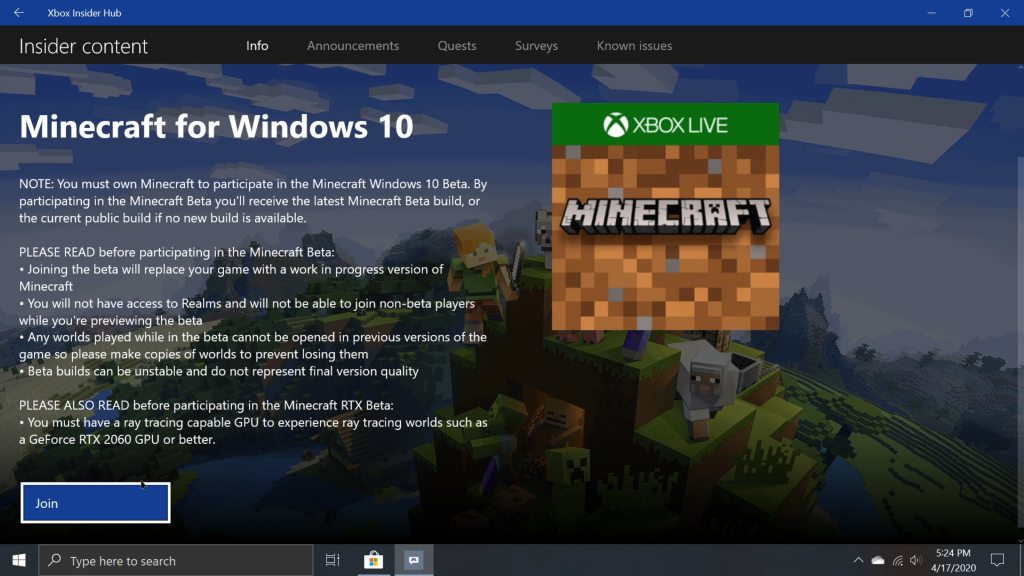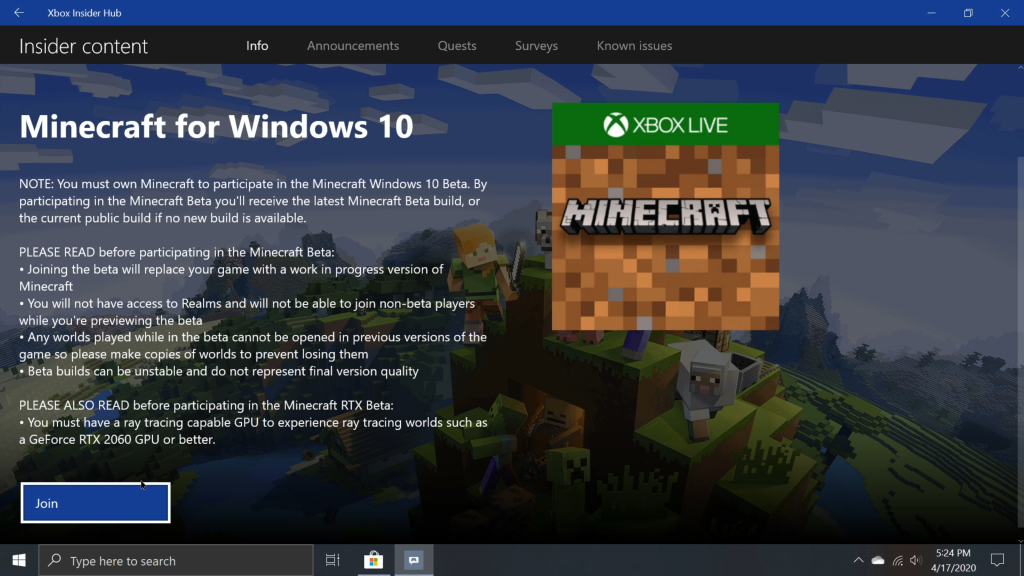 2: Join the Minecraft for Windows 10 Beta Program
Once the app installs, launch it and select "Insider Content" from the menu on the left. Now, select "Minecraft for Windows 10" from the list of available insider downloads. From this page, click "Join", select the available Beta version of Minecraft, click "Done", then accept the Terms of Service. It may take a few minutes for your account to update with access to beta versions of Minecraft. Once you've enrolled in the Beta Program, an update for Minecraft will become available in the Microsoft Store.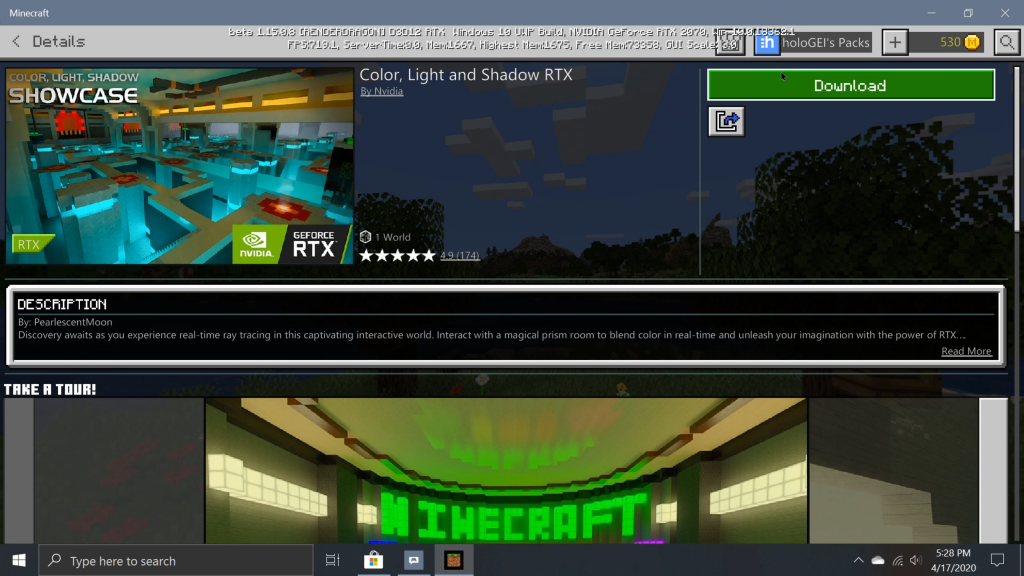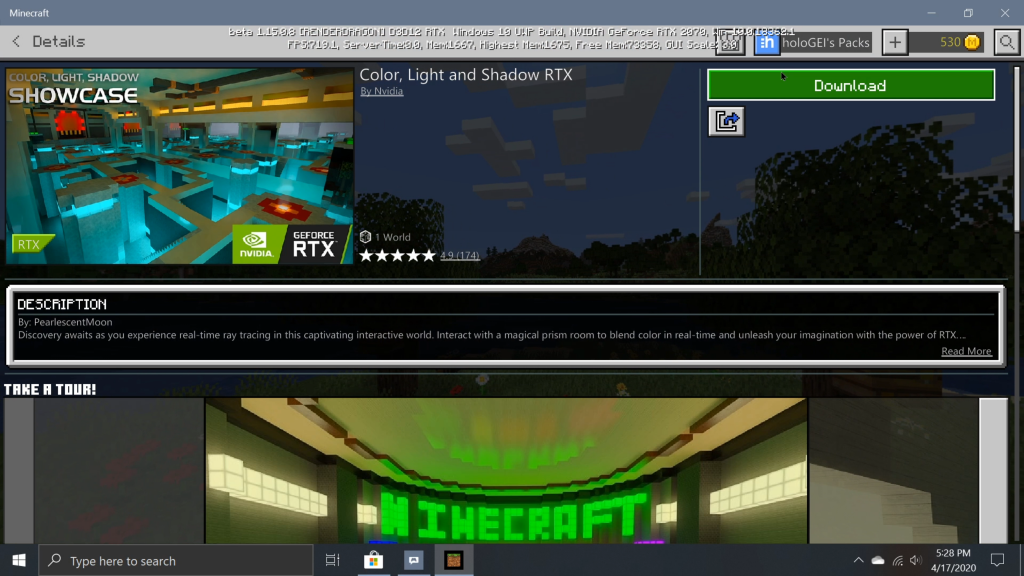 3: Enjoy RTX content from the Minecraft Marketplace
After the update for Minecraft finishes downloading, you should see debug information displayed near the top of the Minecraft Window. To experience RTX, you must download RTX optimized content from the Minecraft Marketplace. There are several downloads available in the Minecraft Marketplace with RTX enabled content for free. 
Leaving the Beta Program
In case you decide you no longer want to continue experimenting with pre-release features in Minecraft, you can leave the beta program using the Xbox Insiders Hub. You will have to wait up to an hour for Microsoft's servers to remove insider status from your account. Afterward, you will need to uninstall and re-install Minecraft to get back on a release version of the game.
Be careful when using pre-release software. As you would expect, this release comes with it's own long list of known issues from the developers at Mojang. It probably won't cause your PC to explode, but you may encounter bugs and software instability.