After quite a ramp up, the Harman Kardon Invoke with Cortana is finally here. The $199 device, available initially in the US only at Microsoft Stores, Best Buy (physical and online stores), and the Harman Kardon website, will be available for sale beginning October 22nd. Harman Kardon was good enough to let us try it out, and while it is expensive compared to an Amazon Echo Dot, for example, the sound quality is far superior. This device probably isn't for everyone, but if you want a full featured smart media player with great sound, say for a small office or a dorm room, the Invoke is probably all you need.
Of course you'll be able to do lots more than just play music on the Invoke, for one thing you get the full effects of Cortana, with note taking, reminders, web search and lookup, etc., but you'll also have control of a number of smart devices through the Invoke's Bluetooth interface:
Cortana works with lights, switches, outlets, and thermostats from major providers including:
SmartThings, Philips Hue, Nest, Wink, and Insteon. We are also working with additional providers such as Honeywell, Ecobee, TP-Link, Johnson Controls, IFTT, Geeni, Iris by Lowe's, iDevices and others to integrate their products with Cortana.
You can also use the Invoke to make and receive phone calls via Skype, and you will receive credit for free calling from the US to mobile phones and landlines in the US. Once you enable Skype, you'll be able to call your Skype contacts, your phone contacts, and any phone number or local business (with Skype credit).
Setting up the Invoke is easy, and you can do it from a Windows 10 PC with at least the Creators Update, a Windows Phone, or an iPhone or Android with the Cortana app installed. Just plug a micro-USB cable into the Invoke and then into your device, and Cortana will walk you through the setup.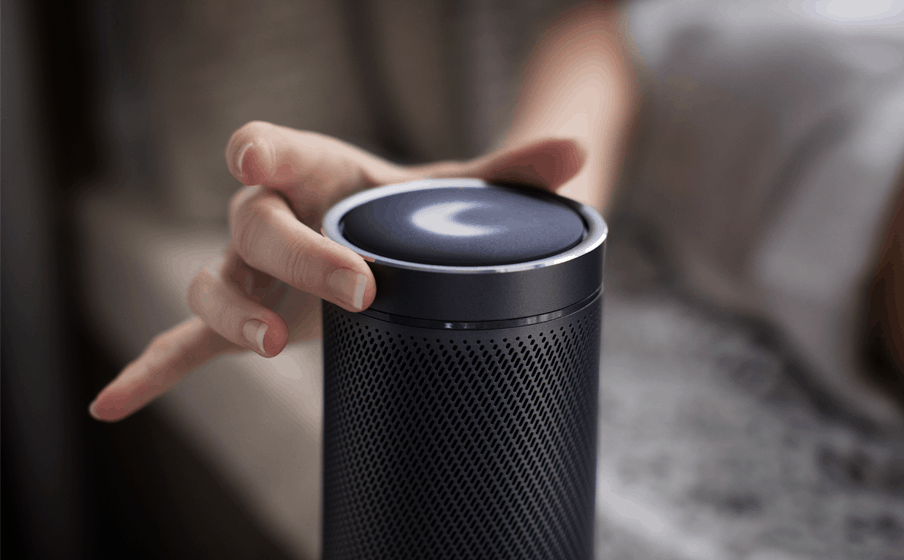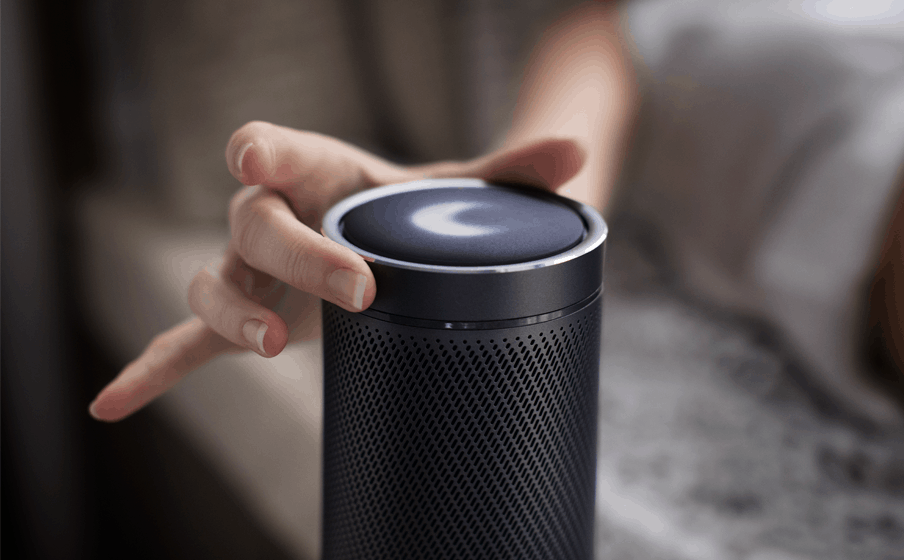 We're just getting our hands on the Harman Kardon Invoke, but first impressions are quite good, once you get past the rather steep price, well that is compared to the heavily subsidized Amazon Echo series of products (Amazon is trying to get you to buy, buy, buy, after all). It's quite heavy, weighing in at 2.3lbs, but that probably helps to add to the rich bass. Here are the full specs:
•Rated power: 40W

•Frequency response: 60-20kHz (-6dB)

•Woofer: 1.75" (45mm) x 3

•Tweeter: 0.5" (13mm) x 3

•Bluetooth version: 4.1

•Power supply: 19V/2A

•Power cable length: 47" (1.2m)

•Wireless network: 802.11b/g/n/ac (2.4GHz/5Ghz)

•Dimensions (DxH): 4.2 x 9.5" (107 x 242mm)

•Product weight: 2.3lbs (1kg)

•Supported audio formats: AAC, MP3, Vorbis, FLAC, WMA, WAV
The Invoke runs a variant of Linux from Harman Kardon, and features the company's special Sonique far-field voice recognition technology with 7 microphones. The Sonique technology works in conjunction with Cortana to learn different voices and acoustic environments, continually improving as it goes.
Harman Kardon is confident that with Cortana's help, the Invoke will succeed. As to where it fits in an already somewhat crowded landscape, Microsoft and Harman Kardon took to a FAQ to answer some questions:
Will Invoke be the only Cortana enabled smart home speaker?

The Cortana Devices SDK reflects our strategy that Cortana needs to be available across all kinds of devices to really deliver on the promise of a personal assistant for everyone. The Devices SDK will allow OEMs and ODMs to make smart devices with Cortana that are highly personalized and helpful.

Will Microsoft develop its own smart home speaker?

We have nothing to share on first party devices at this time

Why did Microsoft and Harman Kardon partner together?

We wanted to create a speaker that not only looks and sounds incredible, but that also brings Cortana's intelligence into the home, making it easy for busy people to manage their daily lives.

Who is Invoke for? Who do you see buying this device?

Invoke will appeal to people with an appreciation for high-quality audio and who are looking for help in managing their busy lives. Busy professionals, families, students, and others will all benefit from Invoke.

How is Invoke different from other home speakers?

Invoke is geared for busy people. Invoke delivers incredible 360-degree sound with 3 woofers, 3tweeters, and 2 passive radiators, all wrapped in premium Harman design. Music and design lovers will appreciate the high-quality audio and craftsmanship of Invoke. For busy people, Cortana's intelligence will help them stay on top of the important things in their lives.
So would you buy a Harman Kardon Invoke with Cortana? If you're invested in Cortana already, and looking for a smart home controller with great sound in a small form factor, then the Invoke might just be for you. As we said, we could see it fitting well into a college dorm setting, or a small office, or in your kitchen. Having Cortana on your phone, on your PC, and now on a smart device like the Invoke has some intriguing possibilities, and controlling other smart devices with Cortana expands those possibilities.
What do you think, are you impressed by the Harman Kardon Invoke? Let us know in the comments below.