The Creators Update focuses on features that enhance the experience of people who love to create with Windows 10. You can update your device as soon as you see it appear in the settings, or you could just wait until your device downloads it itself, either way you can be confident that it will not cause your device to explode.
EASIER TO GET STARTED WITH
If you're updating your PC from a previous version of Windows 10, you'll be greeted with some notifications here and there as you begin to use your PC. These have been placed to help you discover some of the many new features that are being introduced with the Creators Update.
Or, if you're installing Windows 10 for the first time, Cortana will now be there to help in a setup process guided by voice dictation.
MORE CONFIGURABLE
Settings
Windows settings is the center of configuration on your PC. That experience is even more complete, with many changes and additions throughout.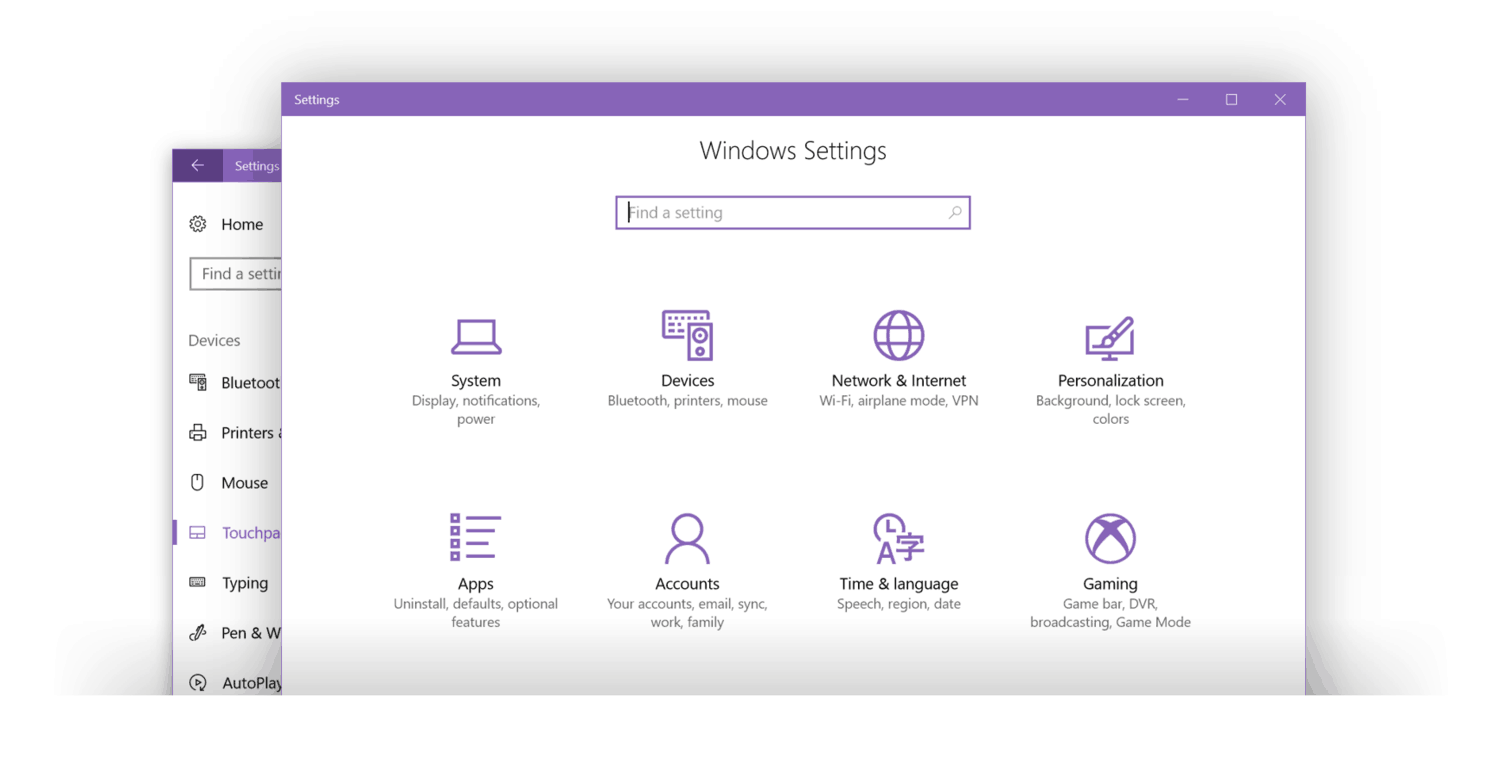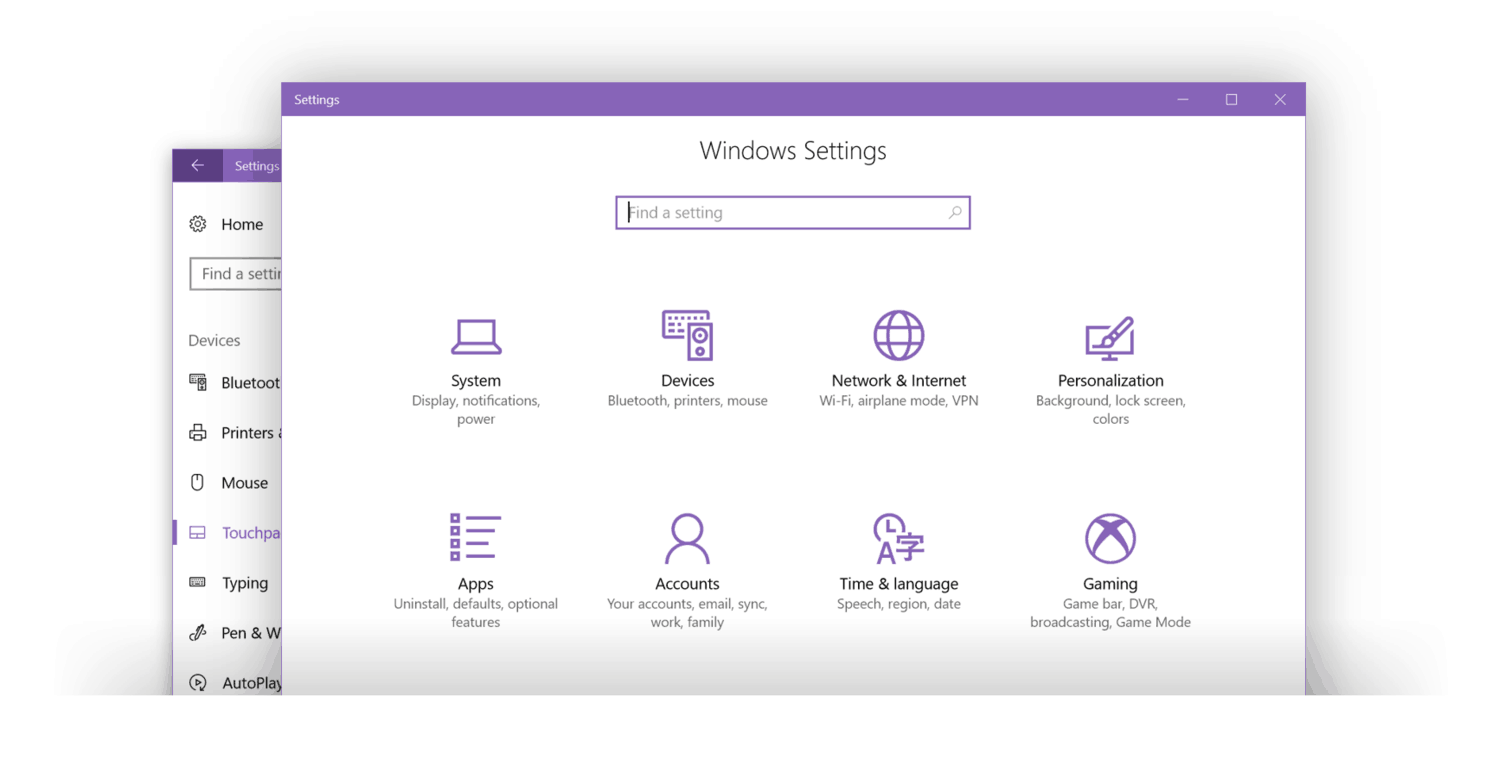 Immediately on the settings home page, you'll see that two additional sections have been added to the settings app; Apps, and Gaming. The point of a lot of these changes are to make the settings app more complete and more organized.
The Apps section is a great place to manage apps installed on your device, and pulls all the app related settings that were previously found scattered throughout the settings app. This section also includes several new settings that were not previously present in Windows 10. One of these is a setting to change what kinds of apps are allowed to install on your PC. You can configure your device so that only apps from the Windows store are allowed to install, or, if you wish, to just warn you before installing non windows store apps.
There's also a new feature you can enable in the settings called 'Storage Sense'. Like the description describes, storage sense automatically frees up space by getting rid of files you don't need, like temporary files and content in your recycle bin.
Precision Touchpad
I love laptops. Being able to bring my PC with me wherever I go throughout my day (or house) is just more comfortable to me than being tied to the same corner of my desk whenever I have to get some work done. I'm sure many of you can agree that everything about the laptops sleek and portable design allows for the most comfortable computing experience you can get…. With just one exception: that blasted trackpad.
Microsoft continues to push their precision trackpad standards to device manufacturers to ensure that new Windows devices have the hardware capable of providing a comfortable, reliable, and ultimately more enjoyable experience to their customers. With these better trackpads becoming more widespread, the trackpad settings have been promoted to their own dedicated section within the settings. You can, for instance, can change the direction of two finger scrolling gesture, apply four finger gestures, and more. You can even set a gesture to a custom keyboard hotkey.
Registry Editor
Power users will definitely appreciate the new registry editor.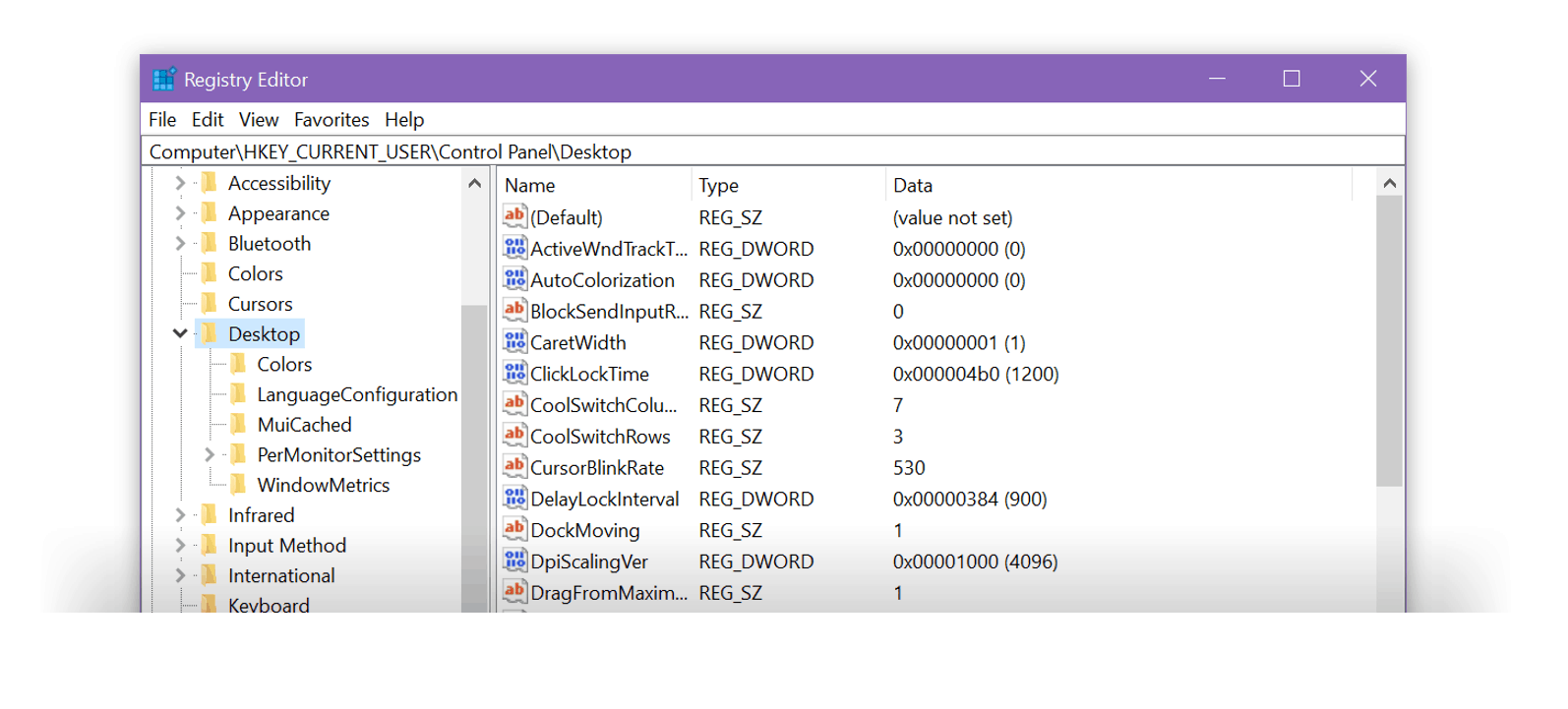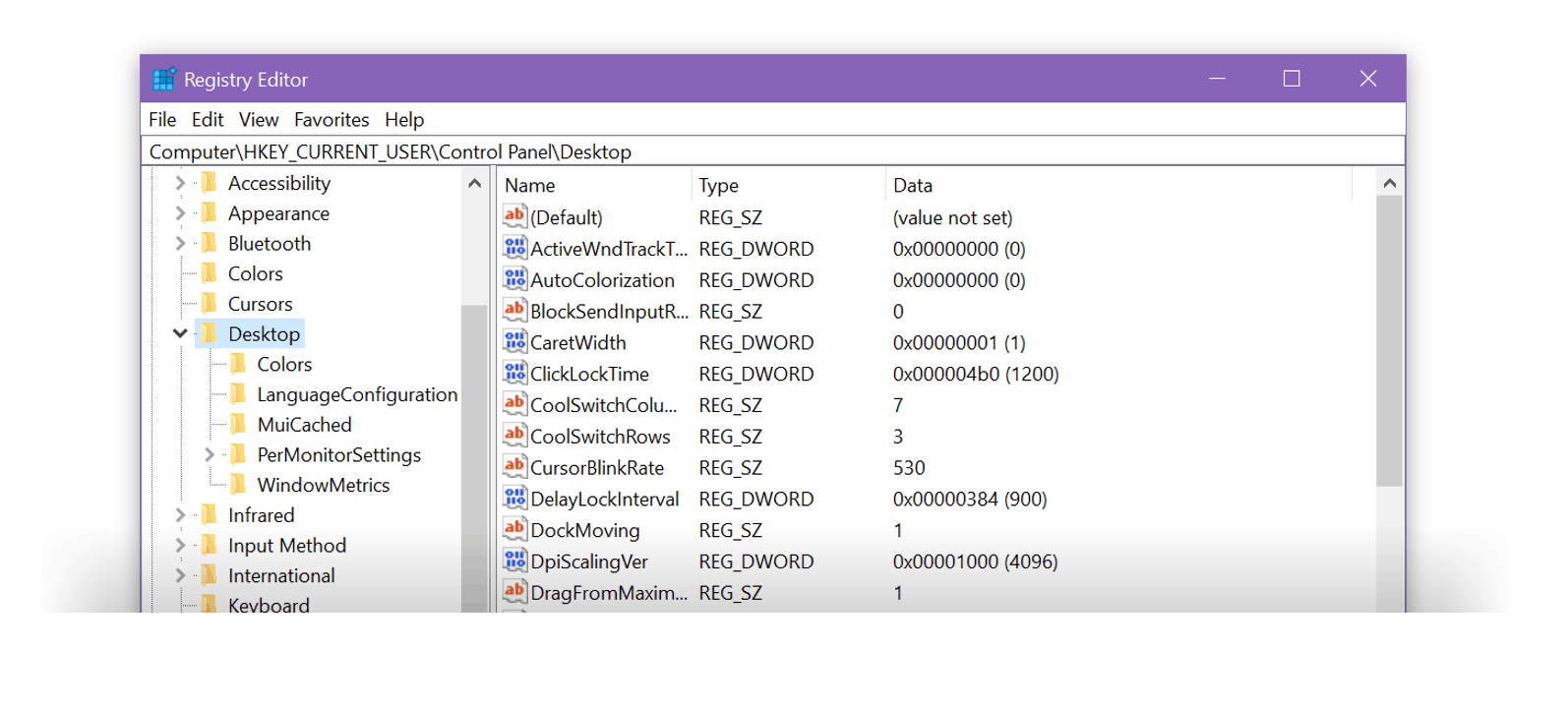 Navigating the registry is less of an annoying scavenger hunt with an address bar finally making an appearance at the top of the window. Not only does this make it easy to tell where you are within the registry, but it also allows you to copy and paste paths as needed.
DPI scaling
Windows 10 and the Universal Windows Platform brought superb support for PC's with high DPI displays. The Creators Update is bringing much of this attention to DPI scaling to desktop apps with new compatibility toggles and High DPI support for more built in Windows applications.
Night Light
In the display settings, you will find a new feature being rolled out called night light. Night light is like the night shift toggle in iOS, and has the same purpose. Toggling it on and off, it will give your display a warmer tone, with the intent of easing eye strain and sleep cycle damage when using your device at night or in the dark.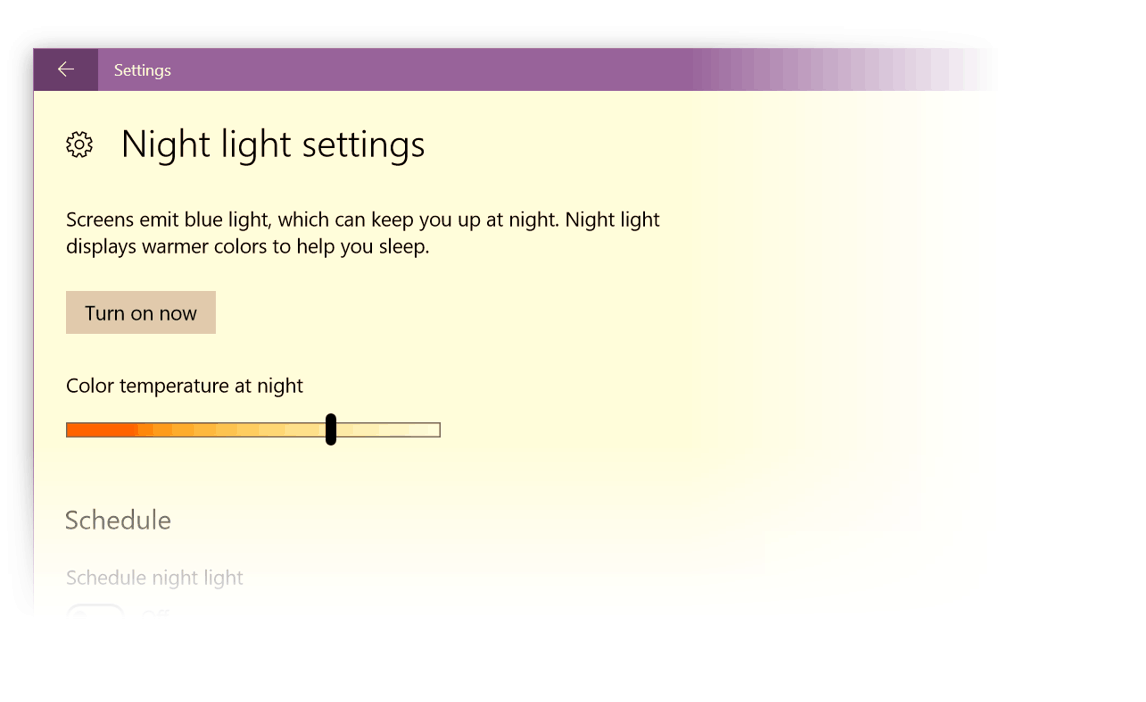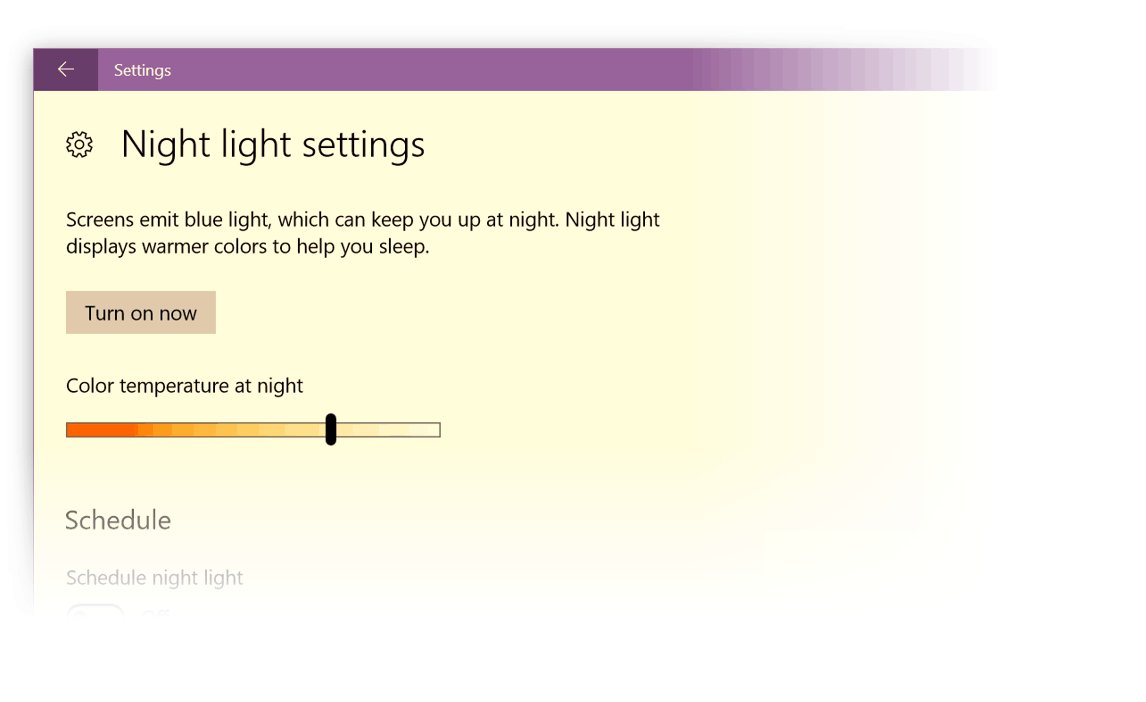 You can either configure the night light to activate automatically within certain time frames, or you can manually switch it on and off in action center with a new toggle.
MORE PERSONAL
Start
The Start menu is often referred to as the center of the Windows experience. With each update of Windows 10, new personalization settings have been added to allow users to make the start menu appear as they want it, reflecting their interests, personality, and workflow. With the Windows 10 Anniversary Update, the all apps list was promoted to the whole left pane of the Start menu, however, with the Creators Update, users can choose to hide this list completely if they wish. This mini Start menu puts more focus on the apps that you as a user care about most.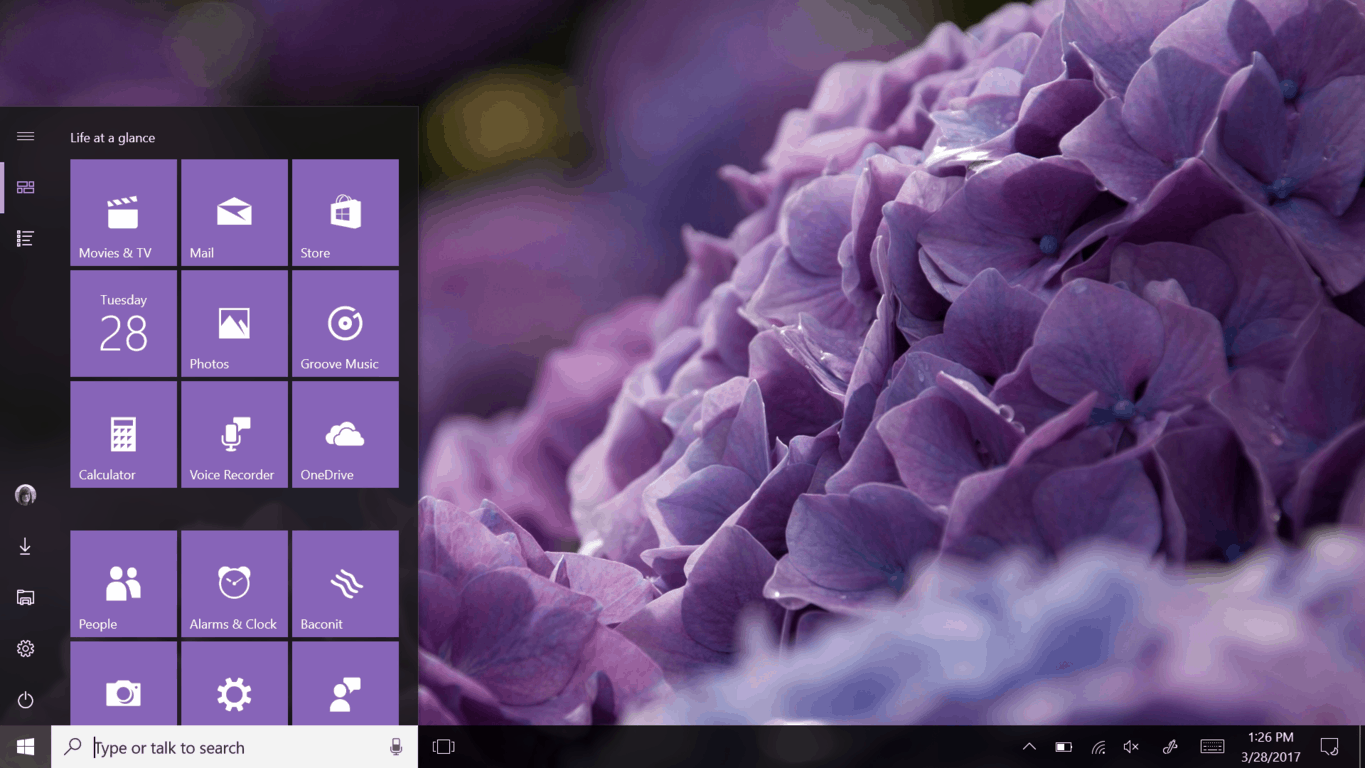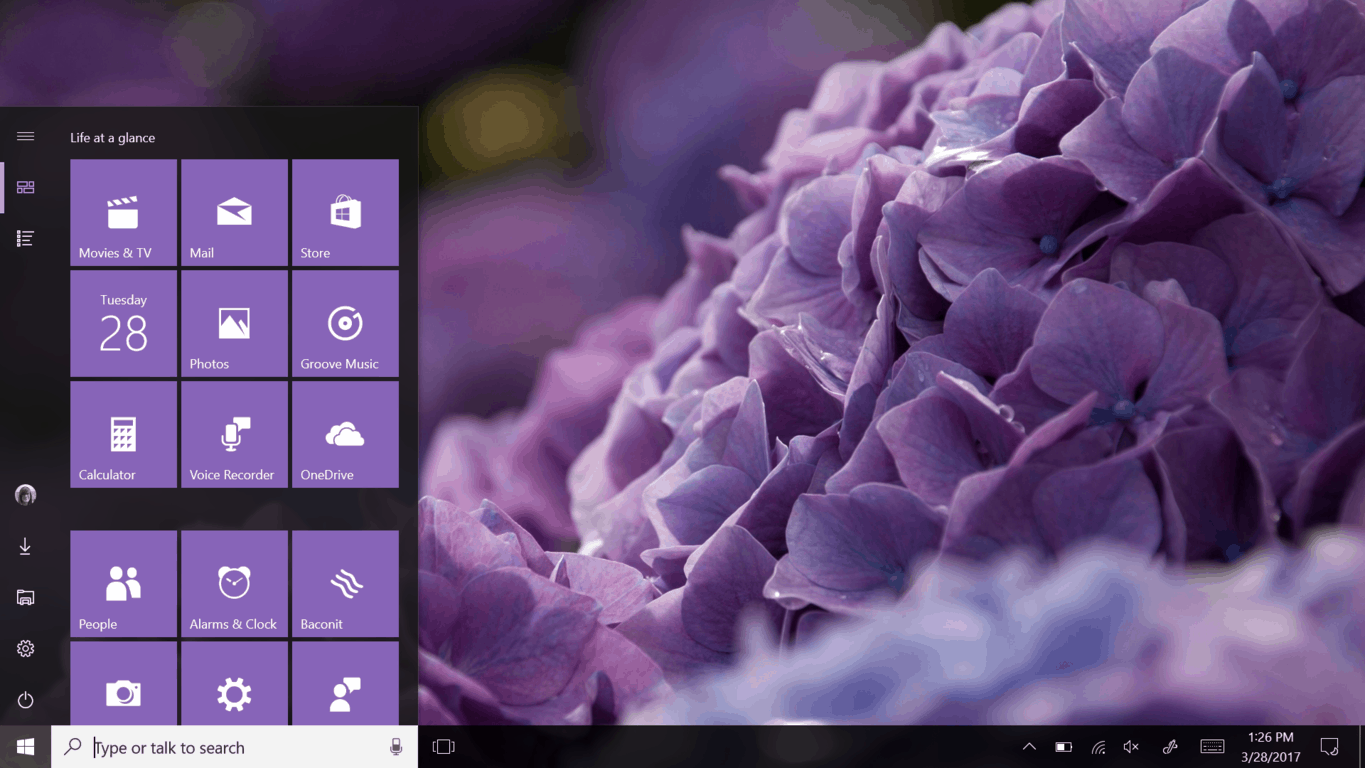 In line with Windows 10 mobile, you can also create folders on the start screen by dragging an app onto another app.
Cortana
Cortana is your very own personal assistant. There are many new voice commands, such as support for media playback controls in more apps, and enhanced support on the lock screen.
Operating cortana hands free with 'Hey Cortana' will fill the entire screen with a more readable interface, so that it's easier to operate, say, from across the room. This could be useful for voice commands like 'Hey Cortana, Lock my PC'.
Windows Ink
The Windows Ink workspace that was introduced as part of the Anniversary Update continues it's evolution quite well fittingly into the Creators Update. One of the most important changes we have here is the ability to resume sketches from a previous session, say if you were to close the workspace accidentally. You'll be able to toggle between your current sketch and your previous sketch with a button up in the toolbar. You might also notice that the entire toolbar has received a facelift, with some new icons and shading that will make it easier to navigate through the controls.
Color
When Windows 10 was released, it had the most restricted choice of color options since Windows XP. However, the full spectrum of personalization is now being unleashed with a new color picker panel that allows you to choose from a much broader range of colors to personalize your PC.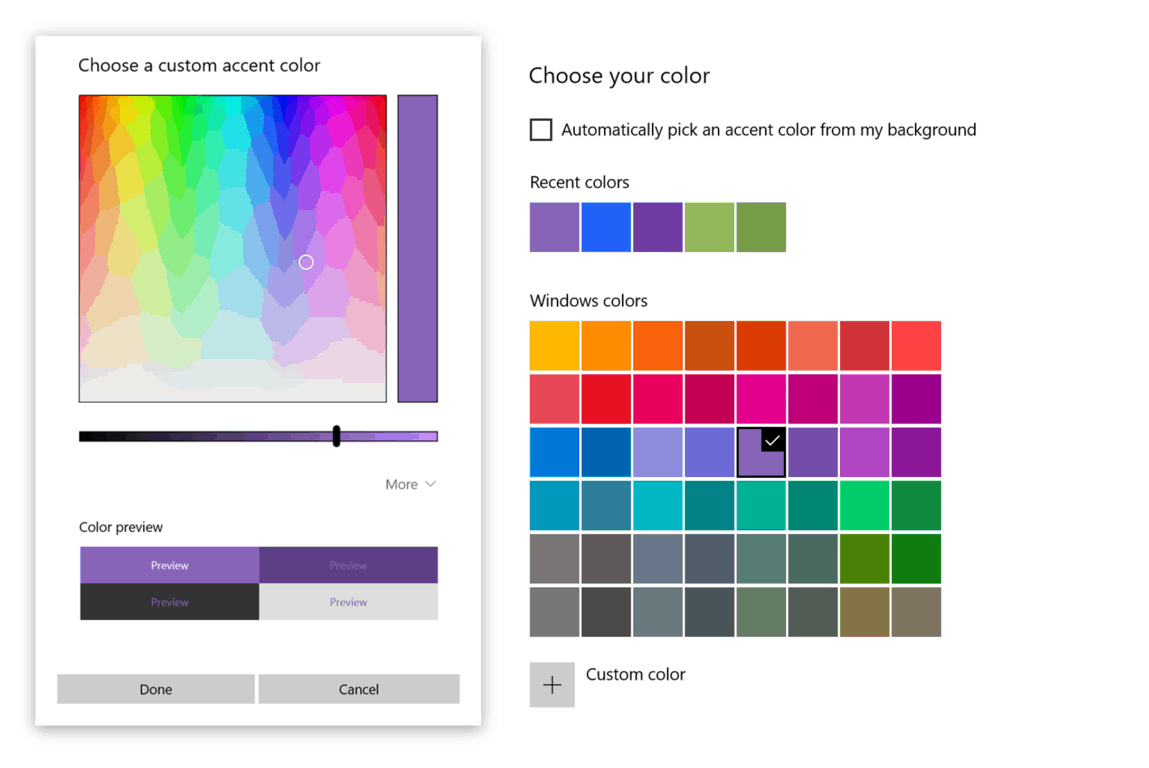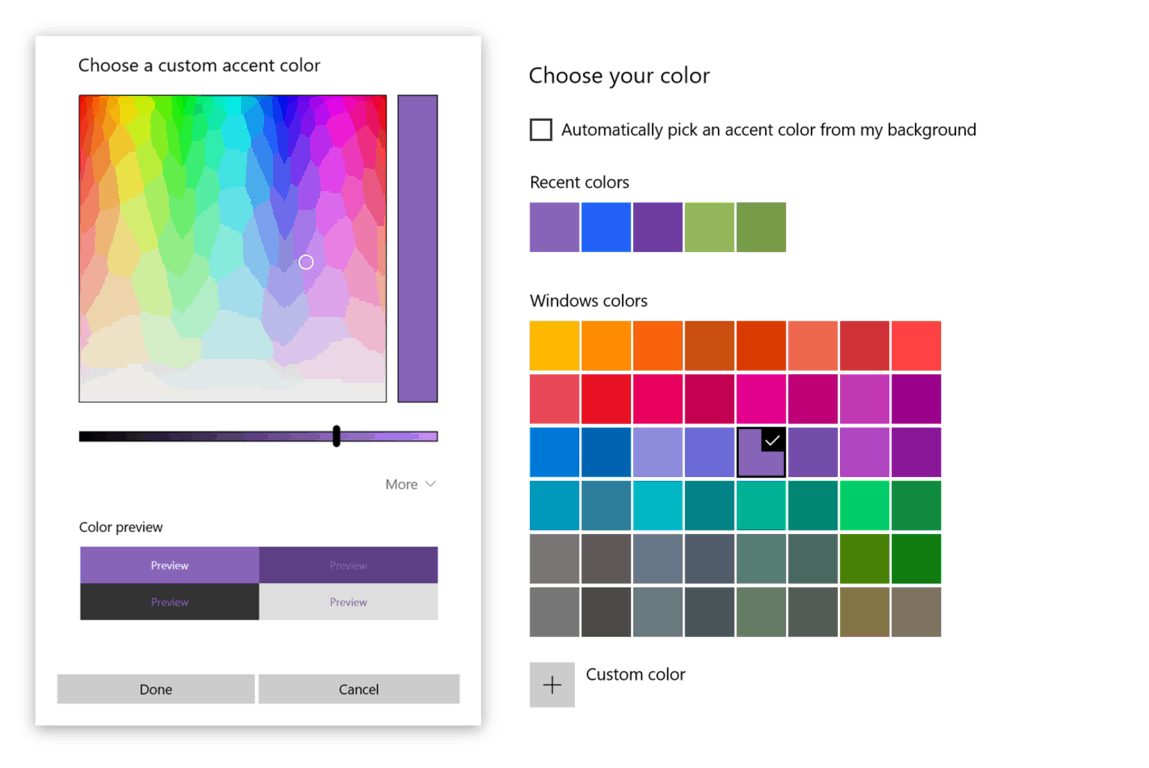 New share UI
There's a new share icon for Windows. This new glyph more closely resembles the iconography on other platforms, so it should be more discoverable for users. Clicking on this button also brings up a completely redone share panel. This panel comes up centered in the window with all the apps you can share with.
Windows Themes
You'll find the themes page in the personalization settings. On this page you can save your current theme, switch between saved themes, or download new themes from the Windows store. Theme packs can save customized wallpapers, colors, sounds, and mouse cursors.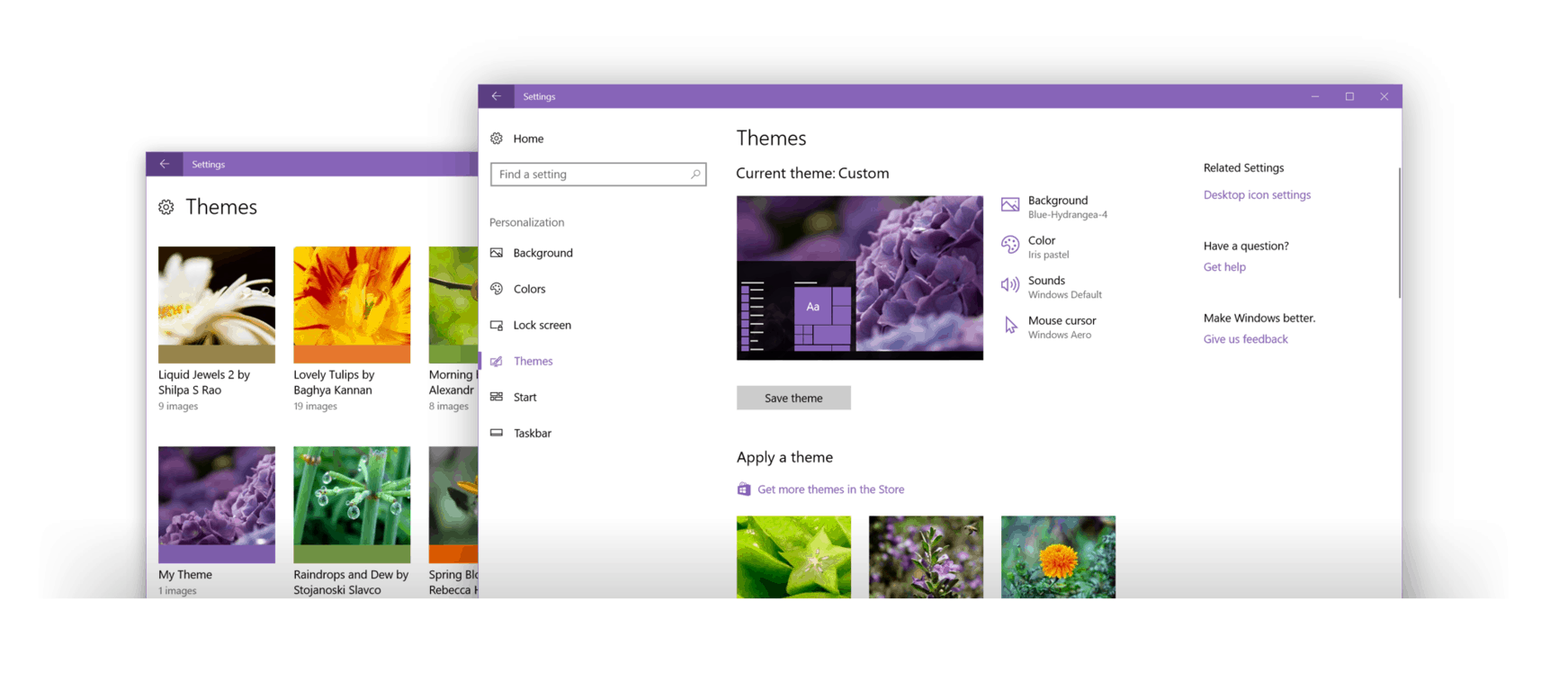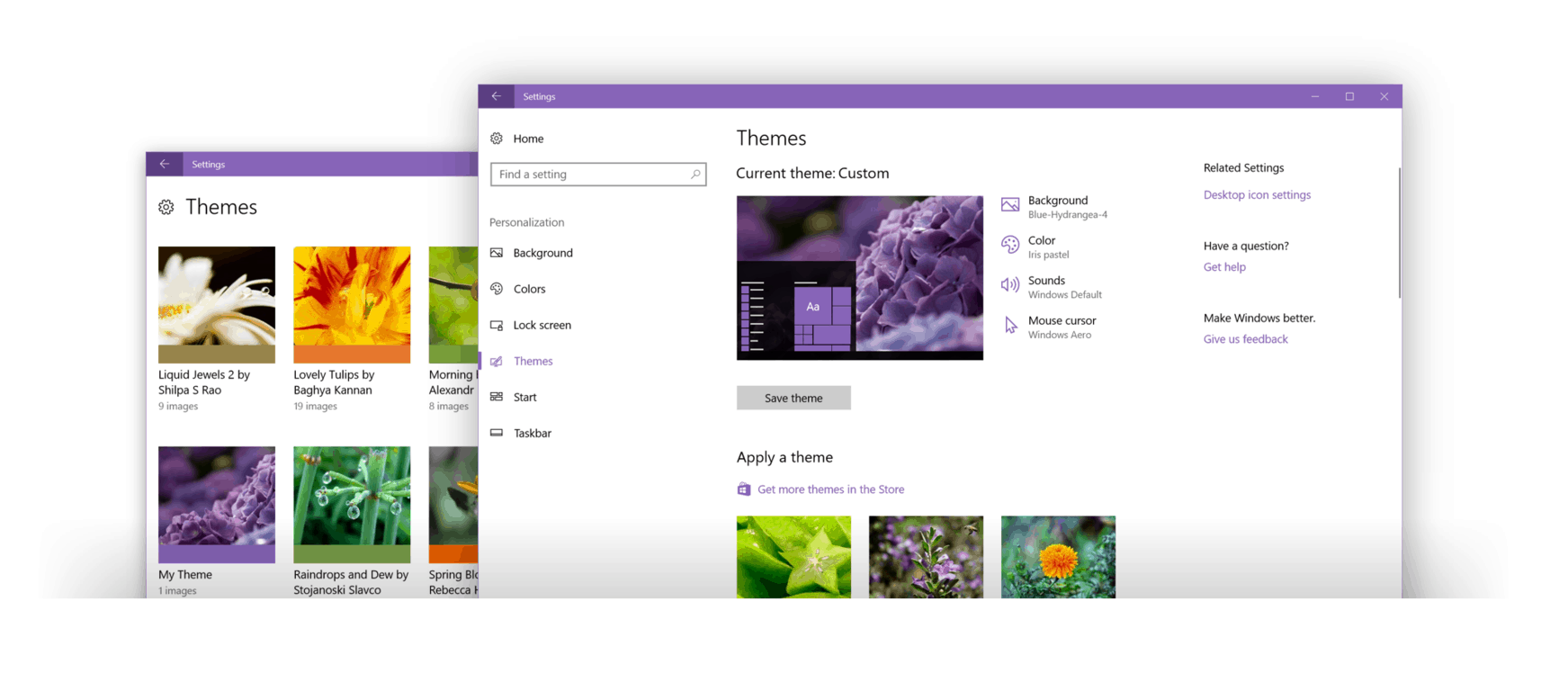 MORE ACCESSIBLE AND INCLUSIVE
With the ultimate goal of making Windows as easy to use for anyone despite their physical or linguistic differences, inclusivity continues to be a point of focus with Microsoft and Windows 10.
Narrator
The Windows Narrator has grown it's own accessibility within Windows, bridging the gap between it's users and the features Windows 10 has to offer. Also, The Narrator now supports braille, a feature that can be downloaded in the ease of access section of the settings under narrator.
Language
Windows 10 supports over 111 different languages, all of which are specially optimized to convey the Windows 10 UI properly to their respective speakers. Many non-English users of Windows 10 may notice many of the translations found throughout the OS have been updated.
OPTIMIZED FOR GAMING
Game Bar
With features like the Windows Game Bar, it's been easy to take screenshots and video recordings of your favorite games. Many games are best played in full screen mode, which is why the Game bar has extended it's full screen support to an impressive list of titles.
Settings
With all these new features being brought to gaming in Windows 10, a whole new section in the settings app is being dedicated to it. With the iconic Xbox branding, this section contains all the settings relevant to gaming, including all the settings that were previously only accessible through the Xbox app.
Game mode
Down here in the gaming settings you'll see something called 'game mode'. Game mode is a feature that when enabled, will prioritize your games performance over all other apps and system processes, to help you get the smoothest gaming experience possible. You can activate game mode in games by opening the Windows game bar.
Beam Streaming
With the game bar open here, you might also notice that there's a new button just to the right or record. This button opens up the Beam streaming panel, a game streaming service purchased by Microsoft a short while back that will allow you to broadcast live streams to your beam account, which can be watched online at Beam.pro. This also explains why the game bar is now a dark blue color, which matches Beam's branding.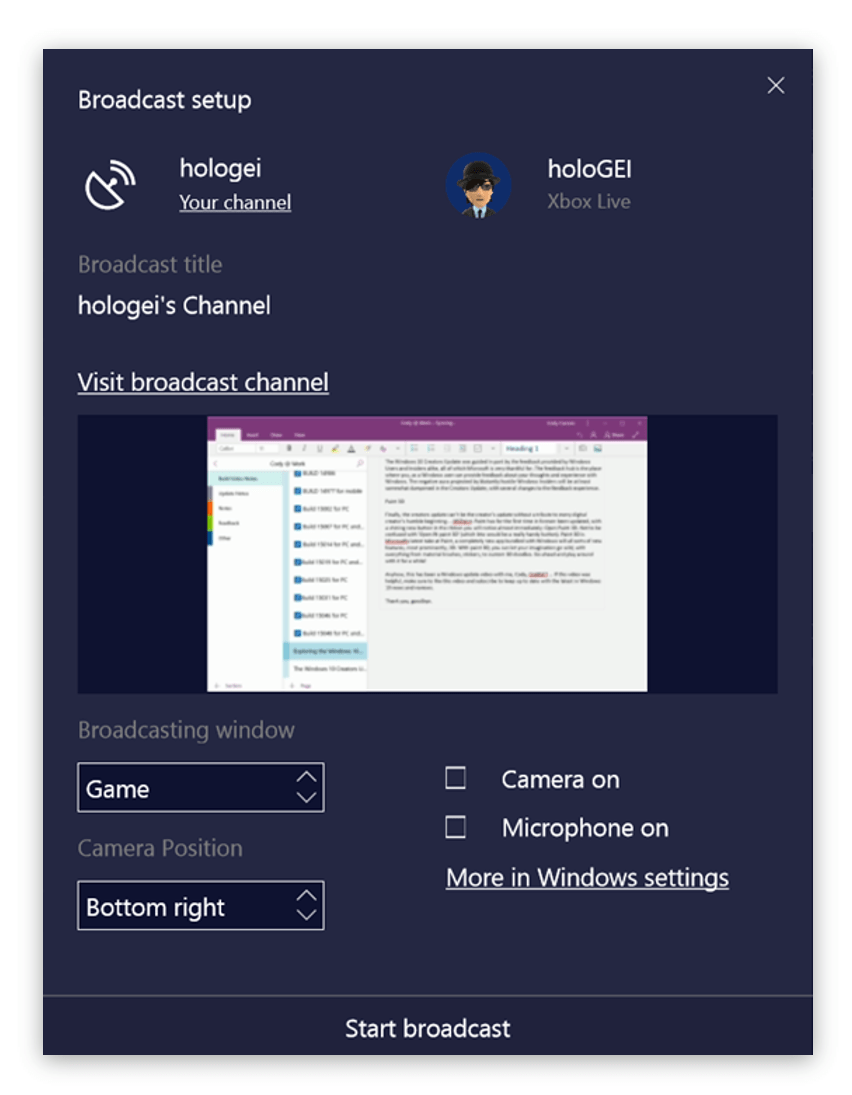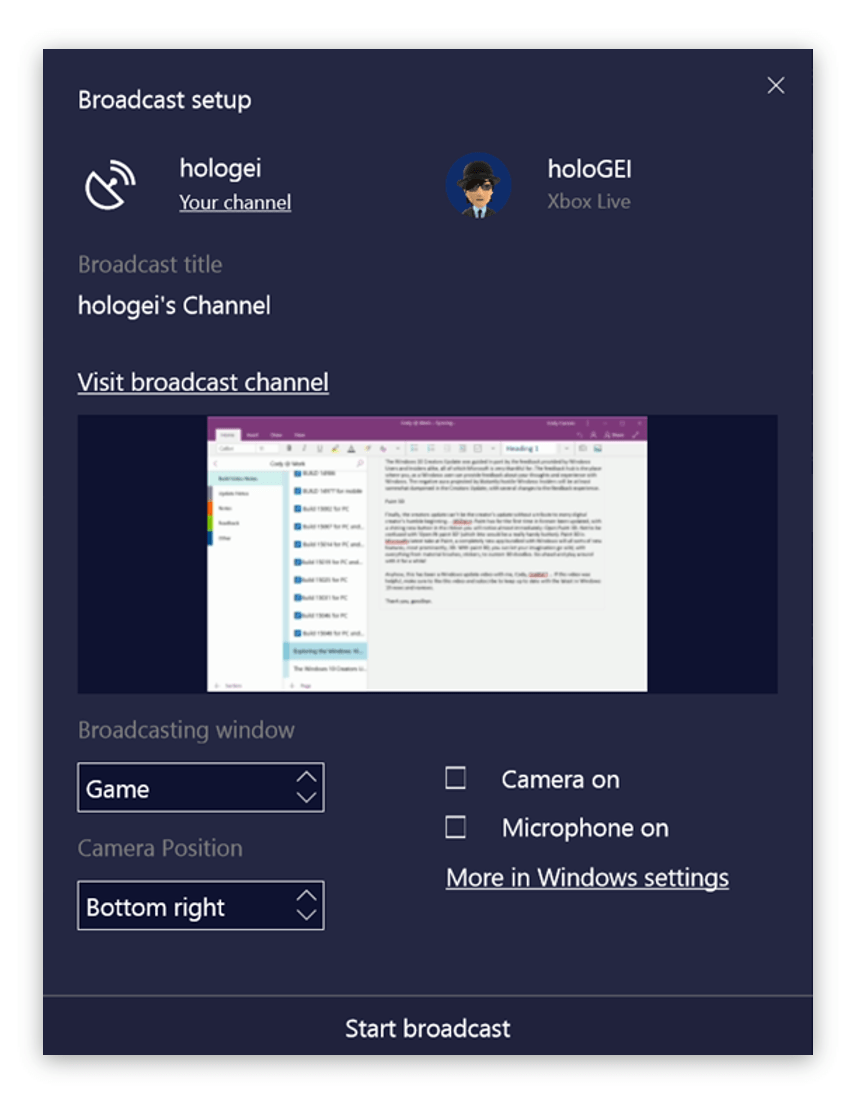 MICROSOFT EDGE
The default web browser in Windows 10, and Microsoft's claim at the most efficient browser for your desktop PC or phone, Edge has received quite the update with this release. Full colored emoji support for instance, and better compatibility with other browsers.
As well as being able to import favorites, Edge allows you to export favorites into an HTLM file for importation in other bowsers. In addition to this, of course, Edge has better support for importing favorites from other browsers in the settings panel.
For the mercy of your PC's performance, Edge blocks flash content on webpages from running automatically. This helps to keep your web browsing snappier and more safe. If you'd like, you can always tell it to run this content by clicking the flash icon in the address bar.
Now, tab management; the bane of everyone's existence. The title-bar has several new icons that are part of the new tab organization feature in Edge with the Creators Update. The down arrow on the right will pull down little previews of all the tabs you have open to give you a better visual as to what you're looking at.
On the very left of the title bar, you will also find two extra icons. These are part of a new system called 'setting tabs aside'. The second button from the left here sets tabs aside, so all the tabs that you've got open will be tucked away into this other section here to the left. Clicking on a set aside tab will load it back up again, or you could just restore all of them, which will pile them all back onto your current session.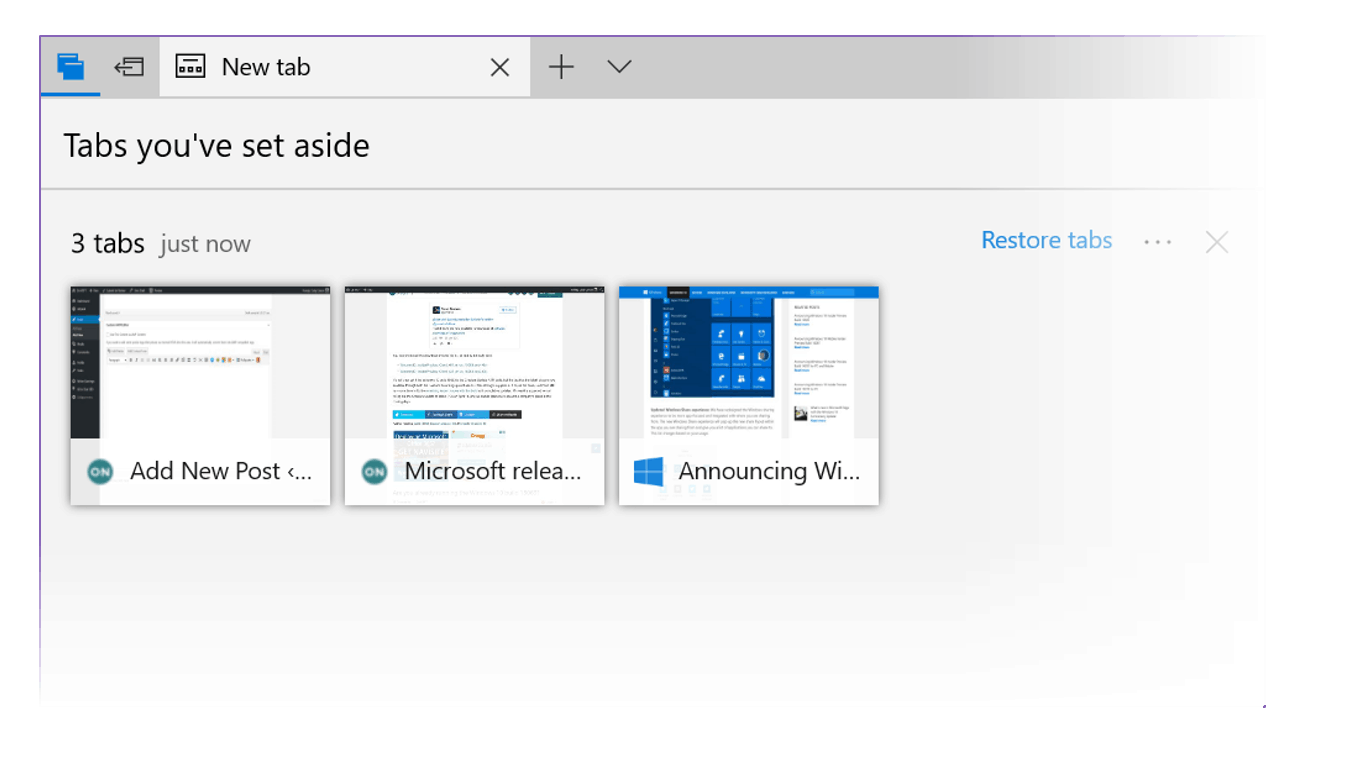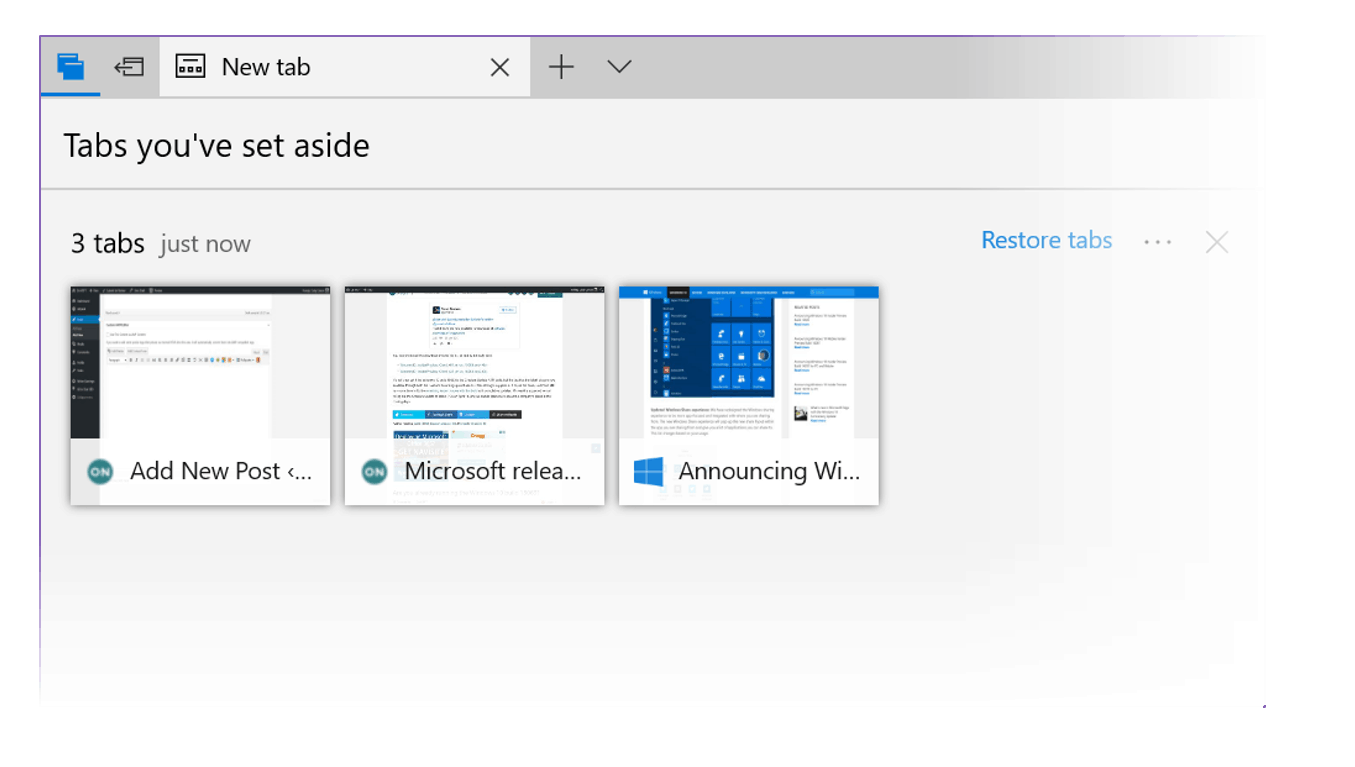 Setting tabs aside is for situations where you might need to keep a set of tabs for something later, but want to have a separate, clean slate for something else.
Also, when Edge crashes or gets closed unexpectedly, it'll ask you the next time you open it up if you want to just close out all those tabs instead of loading them back up again.
Microsoft Edge is your PC's e-book central. Similar to how it displays PDF documents, E-book files in the .EPUB file format will open in Microsoft Edge in a new E-book reading and management experience. In addition to this, there is even a dedicated section in the hub where books you purchased through the Windows store will be listed.
APPS
Skype Preview, Messaging Everywhere
To the disappointment of Microsoft enthusiasts who are brave enough to rely on both a Windows PC and Phone, the much beloved Messaging Everywhere feature was axed before it ever got to see the light of day in any post-preview release. On and on expectations for a universal SMS sync engine have piled up, growing larger and larger that it seems Windows fans have garnered unrealistic glorifications of how polished that experience should be.
Unfortunate as is, Microsoft has actually fulfilled it's promise to get SMS message syncing integrated into the skype service through the Skype app. By setting Skype as your default SMS app on your Windows 10 Mobile device, you will be able to send and receive your text messages to and from your Windows 10 PC. This is the same app, previously known as 'Skype Preview' that's been pre-installed on your PC and phone. While the app is now out of preview, it still lacks immensely in features and completeness when compared to the classic desktop client.
Windows Defender
Windows 10 has best in class built in protection from malware and viruses. The new Windows Defender 'hub' will make it easier to manage your PC and families safety with all the relevant settings for family protection, firewall, and virus protection. This new app replaces the old Windows Defender window and in the system tray.
Compact Overlay
An interesting new feature that developers can build into their apps in the creators update is a sort of a 'Picture in Picture' mode, or as Microsoft calls it: Compact Overlay. This allows apps that have it such as Movies and TV to pop a video out into it's own little compact overlay window.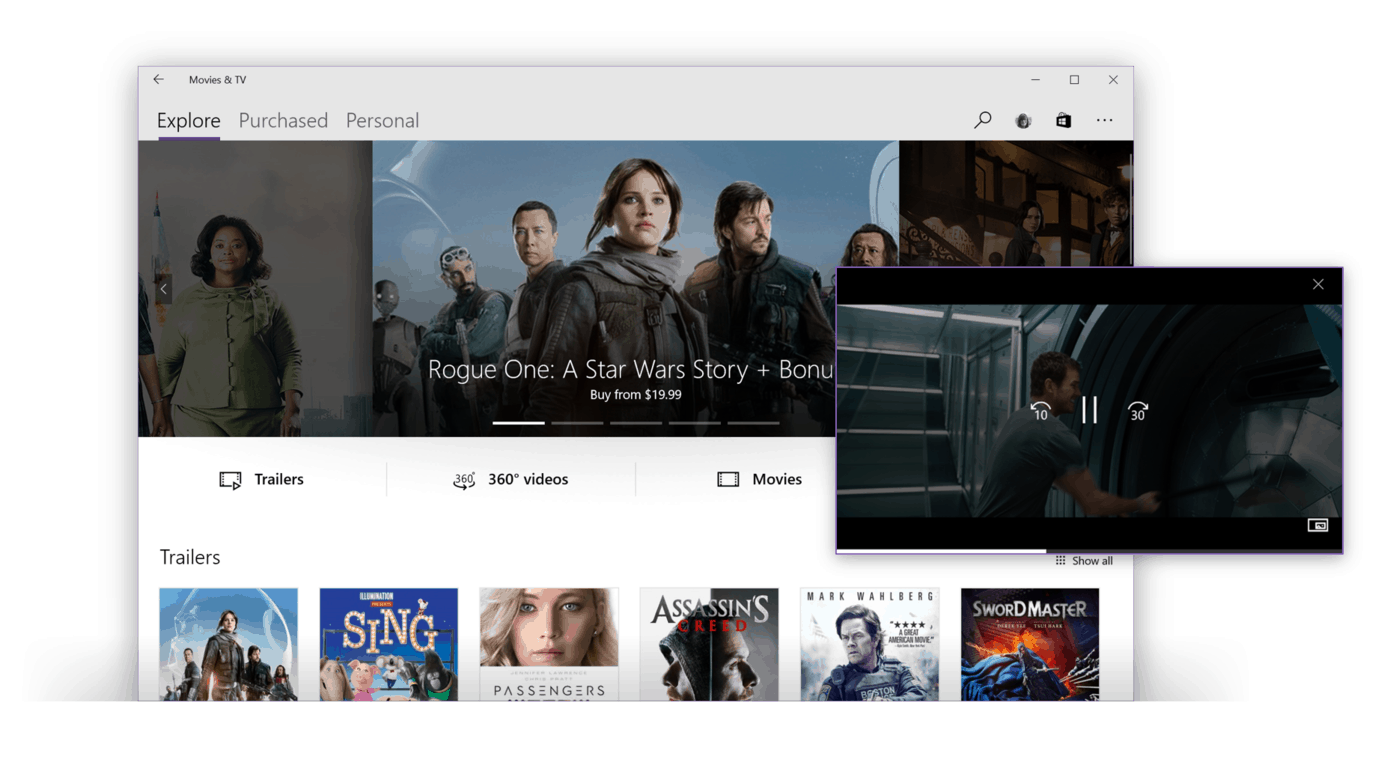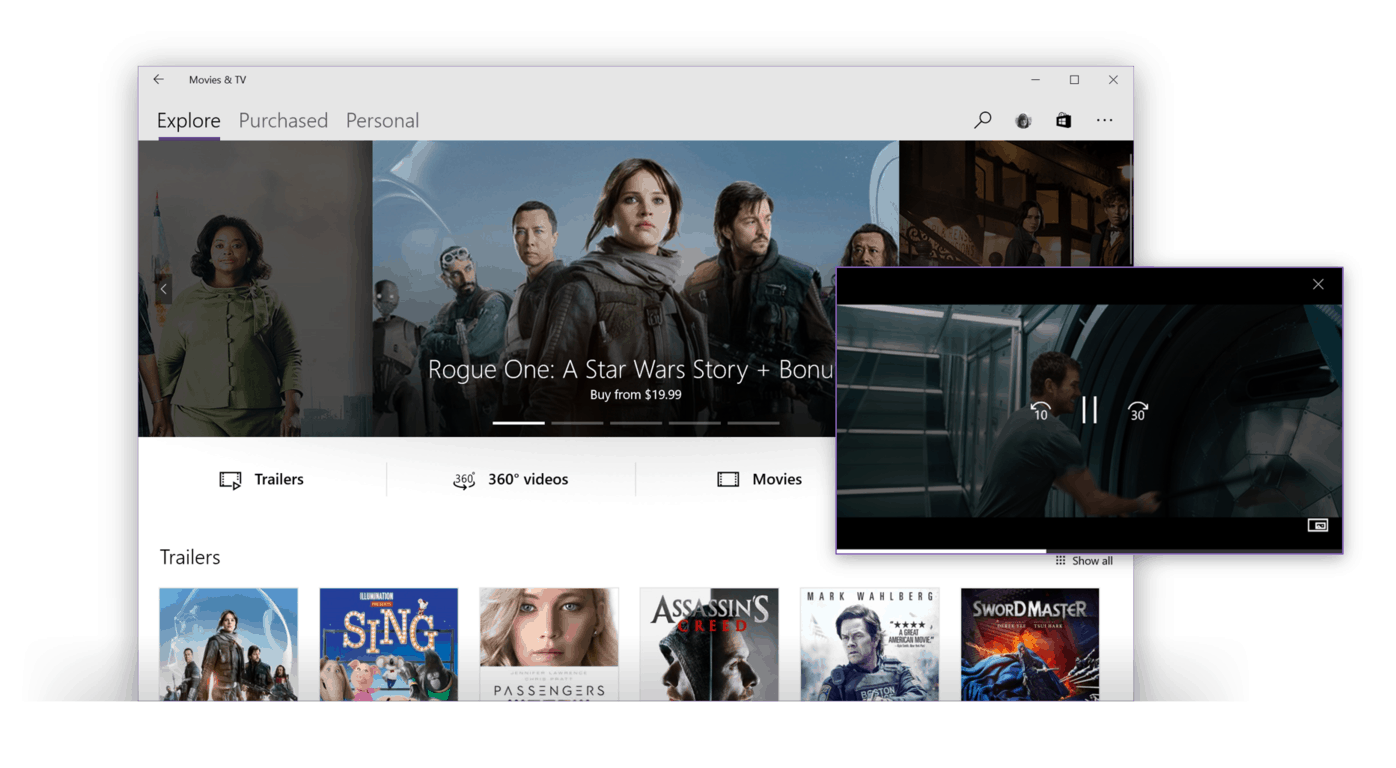 You can drag this video player around the screen and it won't interfere with other open apps. Hopefully in the months following the release of this update we'll see more apps acquire this. I could see this being quite useful in various video streaming apps like Netflix.
Feedback Hub
The Windows 10 Creators Update was guided in part by the feedback provided by Windows Users and Insiders alike, all of which Microsoft is very thankful for. The feedback hub is the place where you, as a Windows user can provide feedback about your thoughts and experience with Windows. The negative aura projected by blatantly hostile Windows Insiders will be at least somewhat dampened in the Creators Update, with several changes to the feedback hub.
Paint 3D
Finally, the Creators Update can't be the creator's update without a tribute to every digital creator's humble beginning…. MSPaint. Paint has for the first time in forever been updated, with a shining new button in the ribbon you will notice almost immediately: Open Paint 3D. Not to be confused with 'open IN paint 3D' (which btw would be a really handy button). Paint 3D is Microsoft's latest take at Paint, a completely new app bundled with Windows will all sorts of new features, most prominently, 3D. With paint 3D, you can let your imagination go wild, with everything from material brushes, stickers, to custom 3D doodles. Go ahead and play around with it for a while.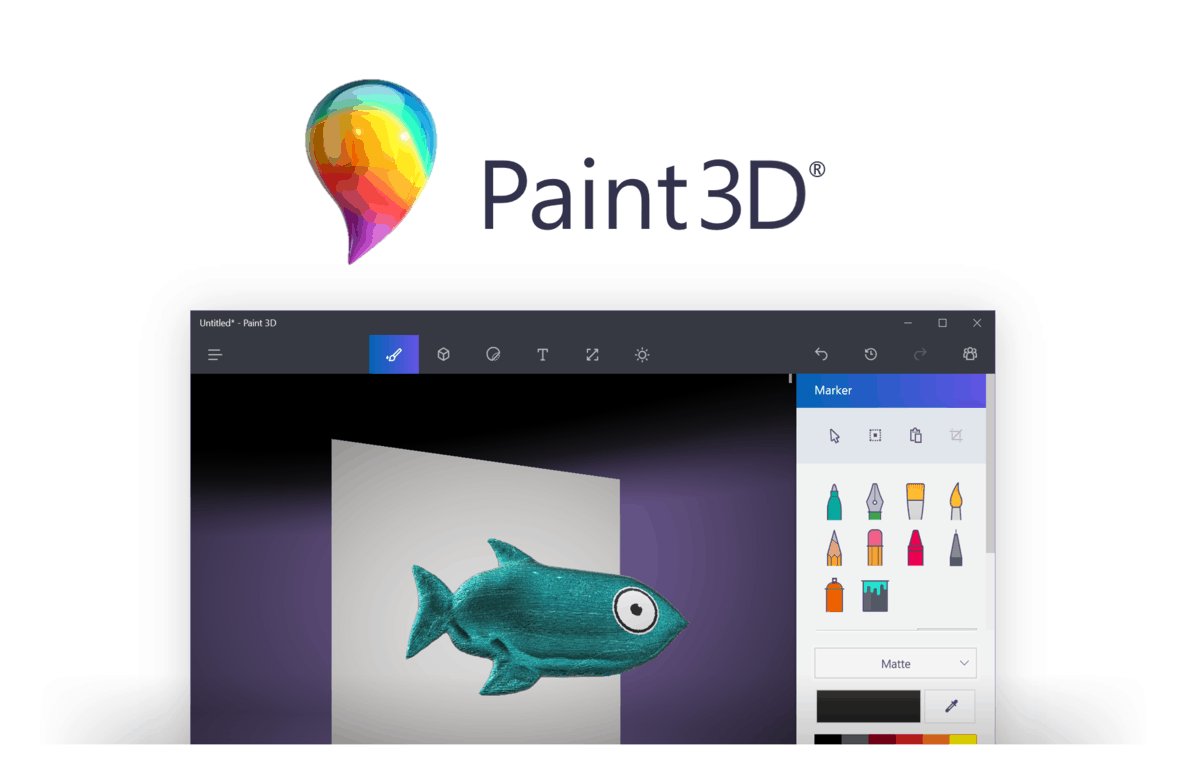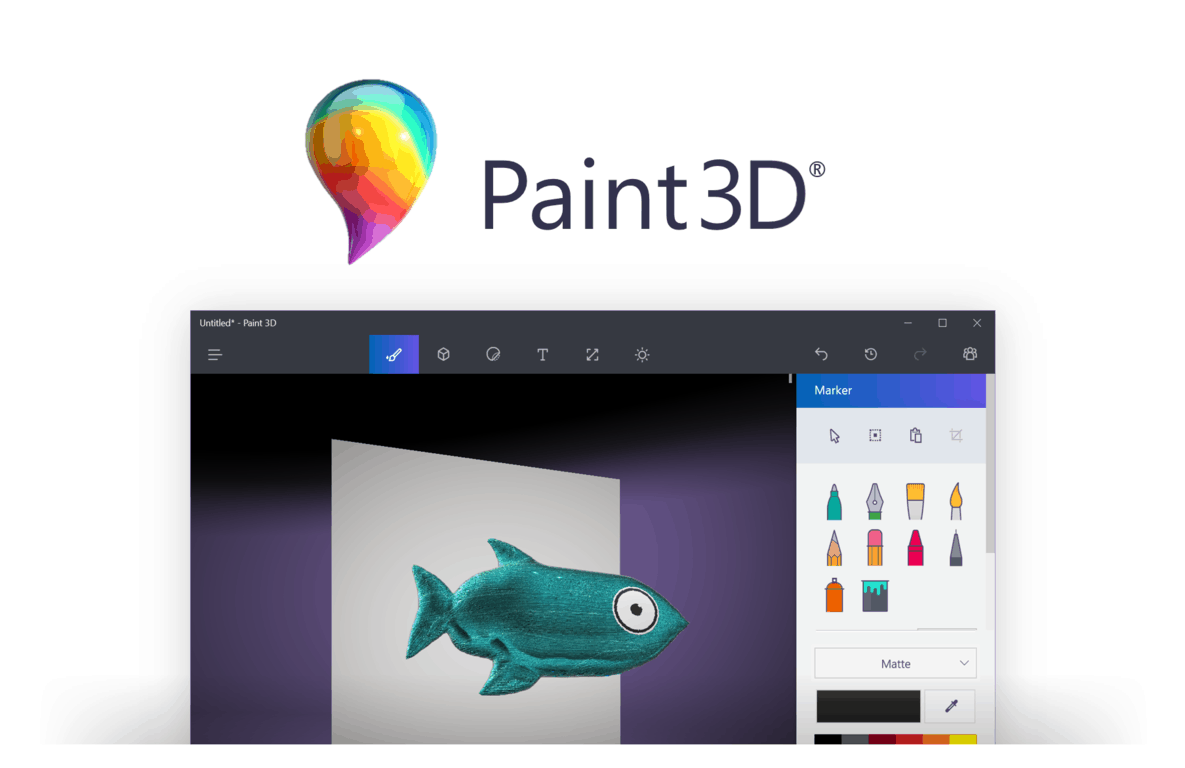 With all these new features, the Creators Update is definitely worth taking a look at whether you're a creator, gamer, or even just a content consumer. While many of the more closely related Microsoft fanatics may be somewhat disappointed by the features reel we're presented with here, it's still a pretty big update.