Talk of the next Windows 10 release later this Spring is already being heard as the development of Redstone 4 continues. We're getting to that stage where the final feature set is being decided, and preview experiences such as 'Sets' have been completely switched off. Despite this, Build 17083 contains several new features that won't go unnoticed.
Fonts
The death of Control Panel draws nearer with each update of Windows 10. One switch at a time, it won't be long before the last lights are shut off and the Windows Settings claims it's title as the center of configuration on your PC.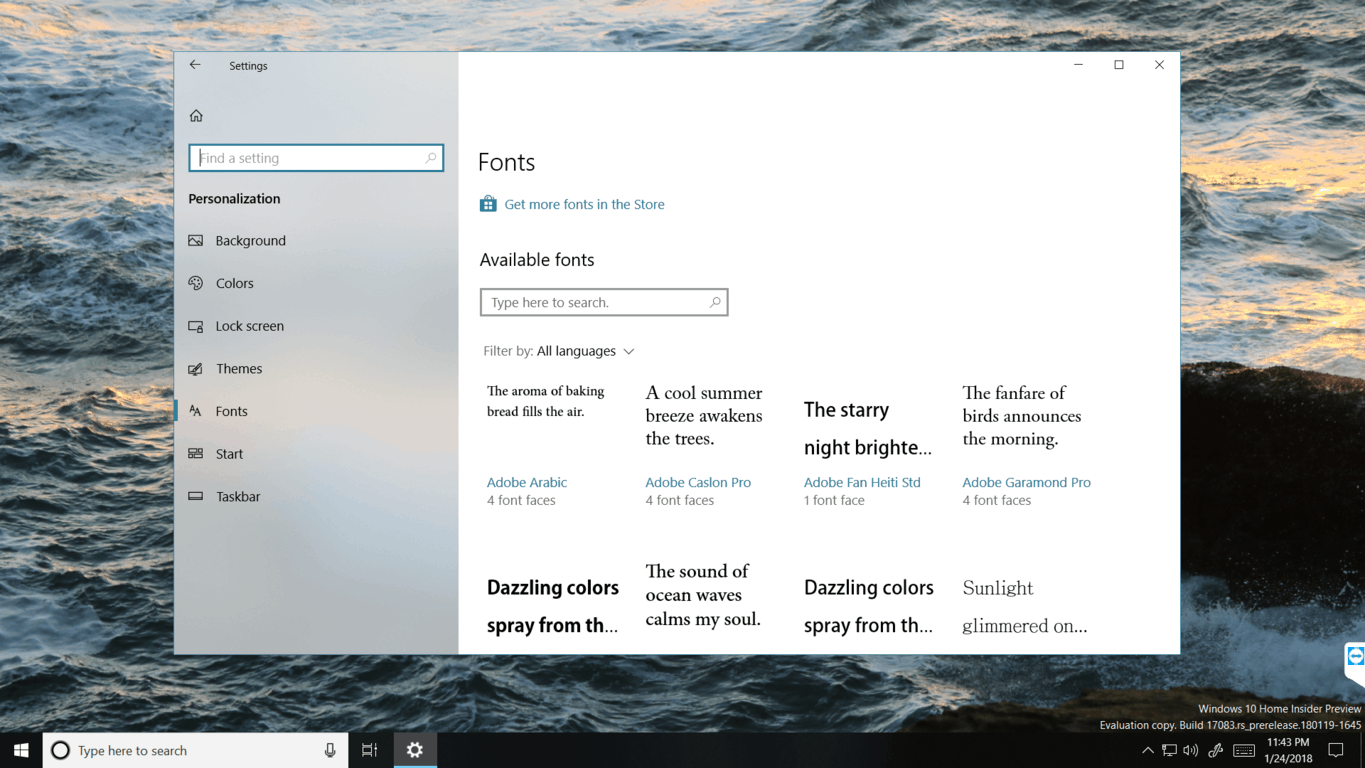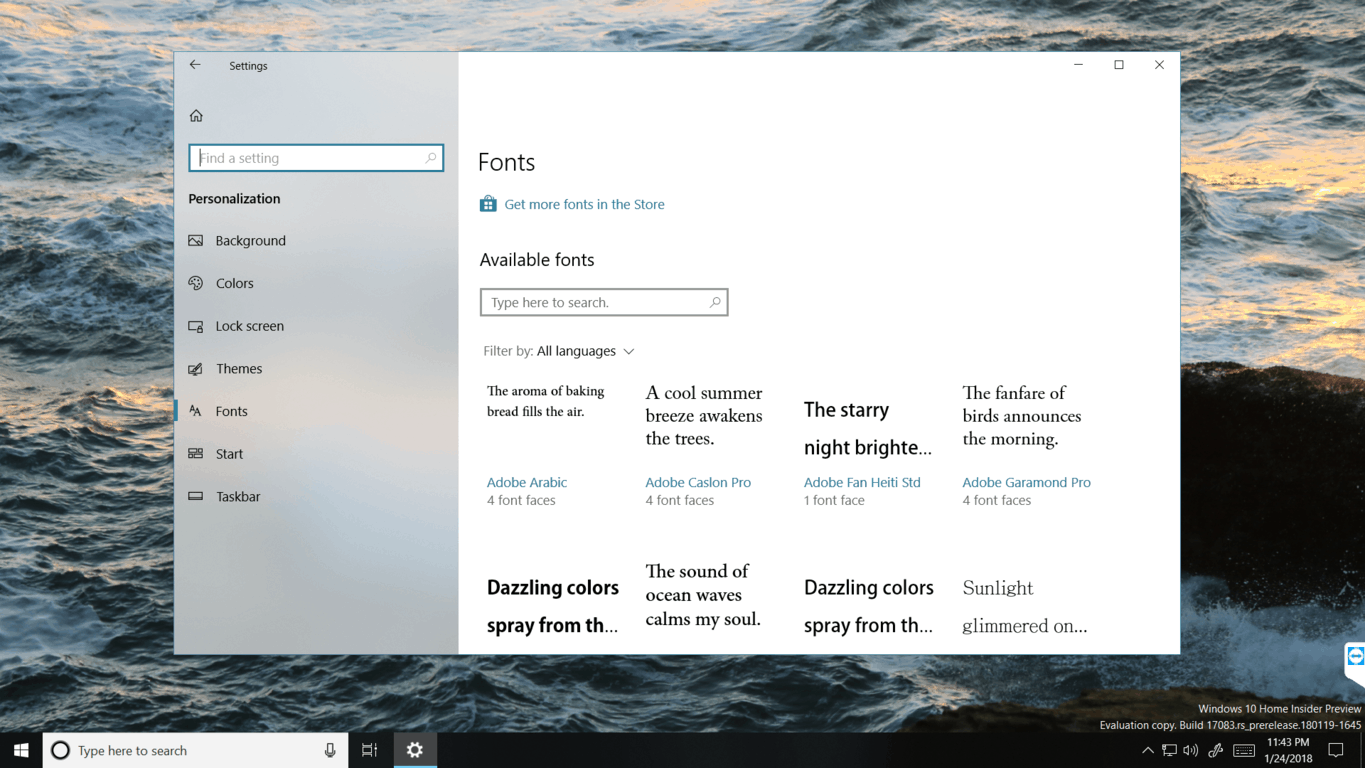 Recently, we saw a section of Sound added to the Settings. Now, we have a page of Fonts. Here, you'll be able to see all the Fonts you have installed on your PC, which are listed with some sample text that helps you contrast one from another. Clicking on one of the previews will take you to a details page for that font. This new details page is much more helpful than the one found in the Control Panel. Here, you can see all the different weights and styles of a font family in a list whose size can be adjusted with a slider. The ability to type custom preview text is also much more helpful than the pangram (The quick brown fox jumps over the lazy dog).
You might recall my demonstration of Bahnschrift, the new OpenType Variable-font included with Windows. I elaborated on the infinite possibilities of a typeface whose properties could be manipulated so freely, asking you to imagine being able to adjust the weight of a font with a slider. While the text in that video was simply animated, that slider actually now exists! With an OpenType Variable-font, you can use the new details page to discover the flexibility of fonts such as Bahnschrift with a slider to manipulate its properties with a preview. This makes me happier than it should.
In addition to the new Settings experience, Microsoft is stocking the Store with fonts. Out is the idea of an App Store, the Microsoft Store might eventually be your one-stop-shop for any content on your PC.
Diagnostic Data Viewer
The largest category in the Windows Settings just gained a new section. A 'Diagnostics & feedback' section found in the Privacy settings contains a toggle you can use to enable the Diagnostic Data Viewer.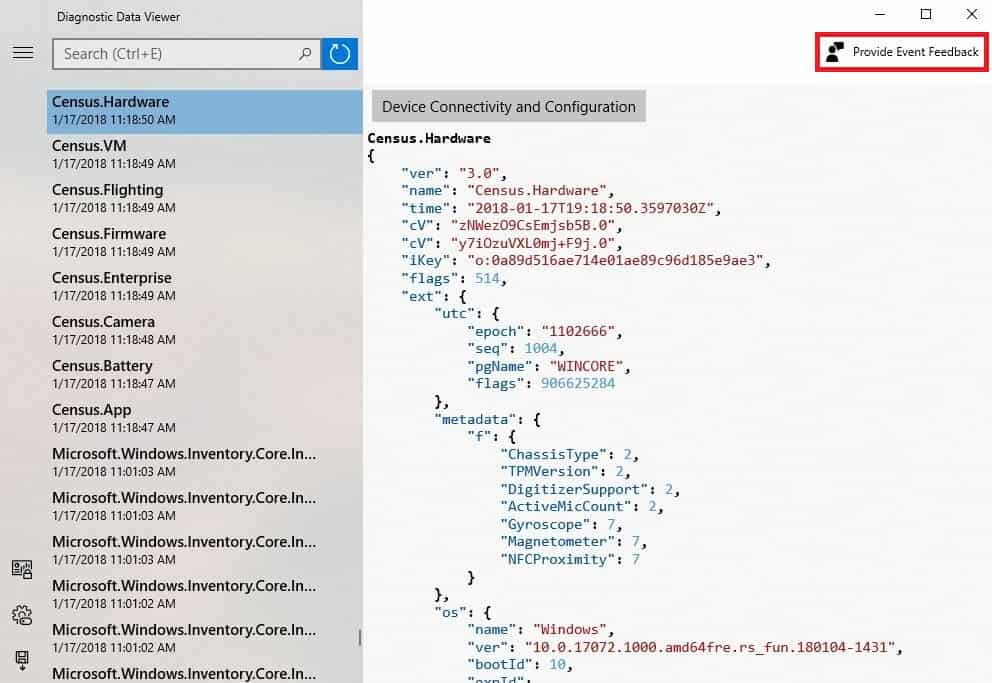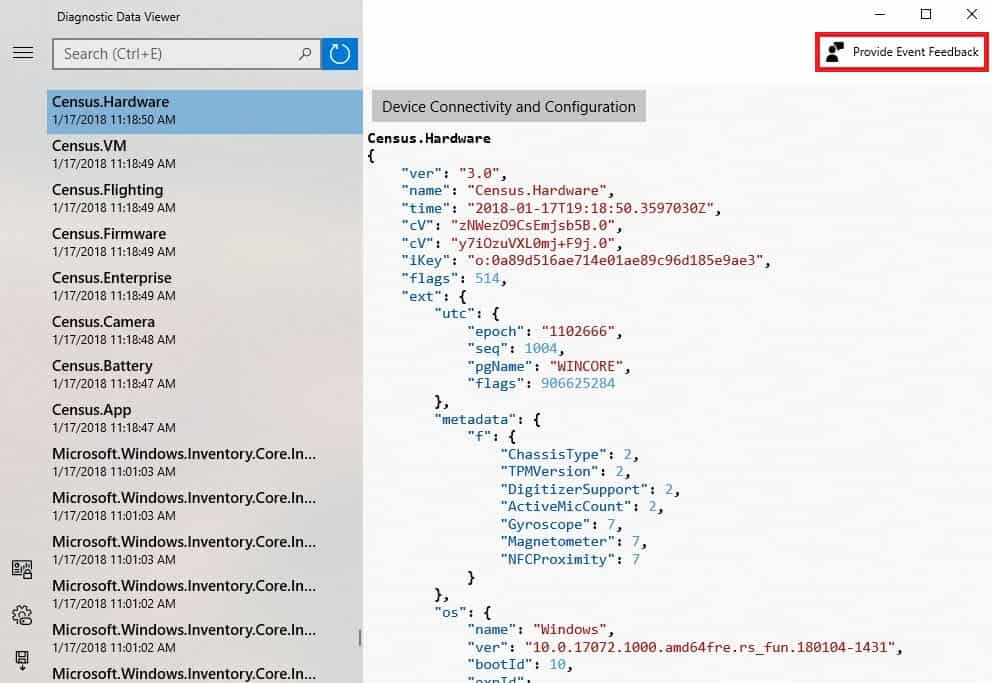 Microsoft analyzes diagnostic data to improve Windows. With how much data modern services use to function, it's no surprise people's growing concern over how and where their data goes. The Diagnostic Data Viewer is all but another way Microsoft is trying to build trust with users. Here, you can view all the exact diagnostic data that is being collected from your device.
Timeline
Privacy concerns were also expressed over how Timeline manages activities. Activities are in the cloud. The apps and documents you were working on get synced across multiple devices so you can resume a project from one device to another. Some people see it as the equivalent of your internet search history of everything on your PC. Everything on all your PC's. There are obviously privacy concerns. Previously, it was difficult managing this list because activities had to be dismissed individually. With this build, you can clear all activities from a specific day or hour from a context menu. Additionally, a new setting allows you to choose whether or not you want your activities to sync with your Microsoft Account.
Focus Assist
Formerly known as Quiet Hours, Focus Assist has some extra options waiting for you in the action center context menu.
Set focus assist to priority only
Set focus assist to alarms only
Set focus assist to on/off
Be Careful!
This was a brief overview of some of the interesting new features in Windows 10 build 17083. You can take a look at the full list of fixes on our website, OnMSFT.com. With all these new features, there are also quite a few issues. No, they won't cause your device to explode, but you might encounter some undocumented bug that prevents you from getting an important task done.