A new public preview build has been highly anticipated for almost a month. Now, just before the holidays, Windows Insiders got just what they wanted with a great list of new features to play around with.
Microsoft Edge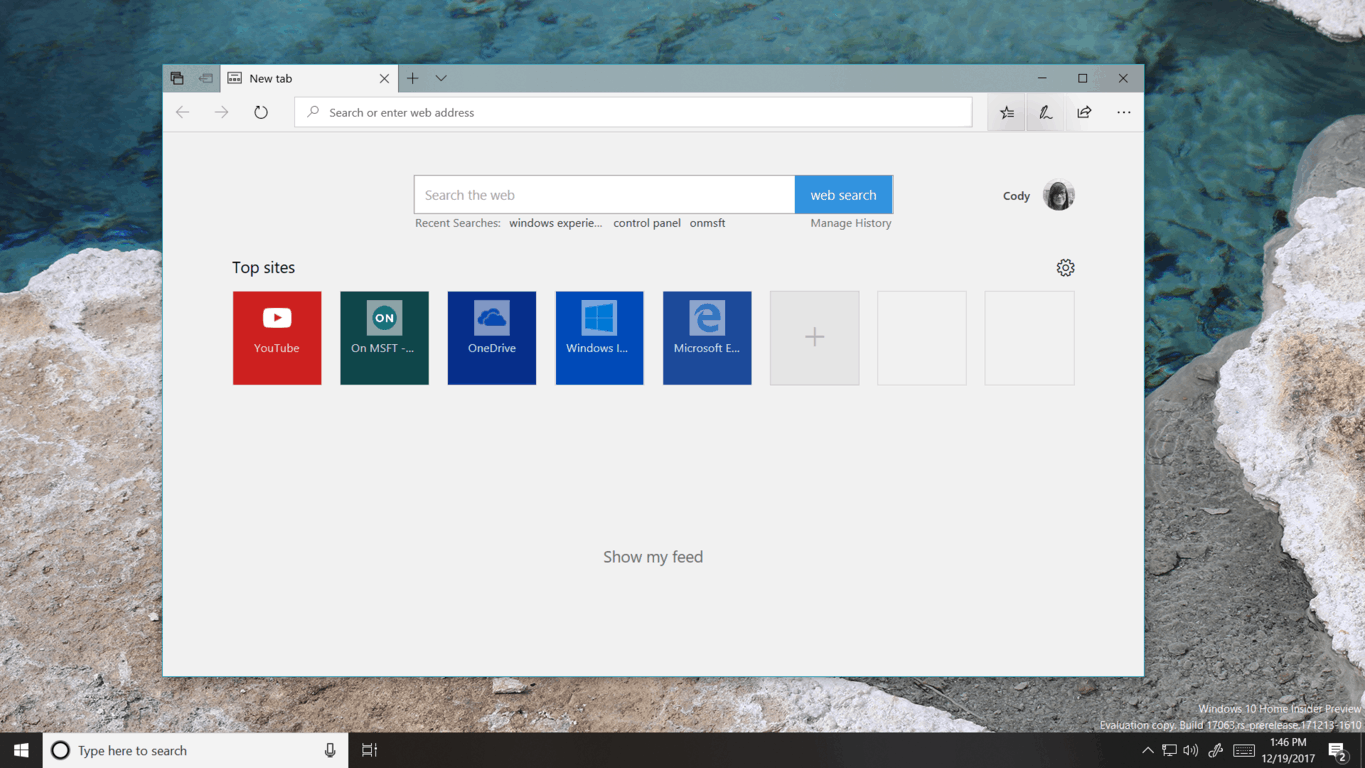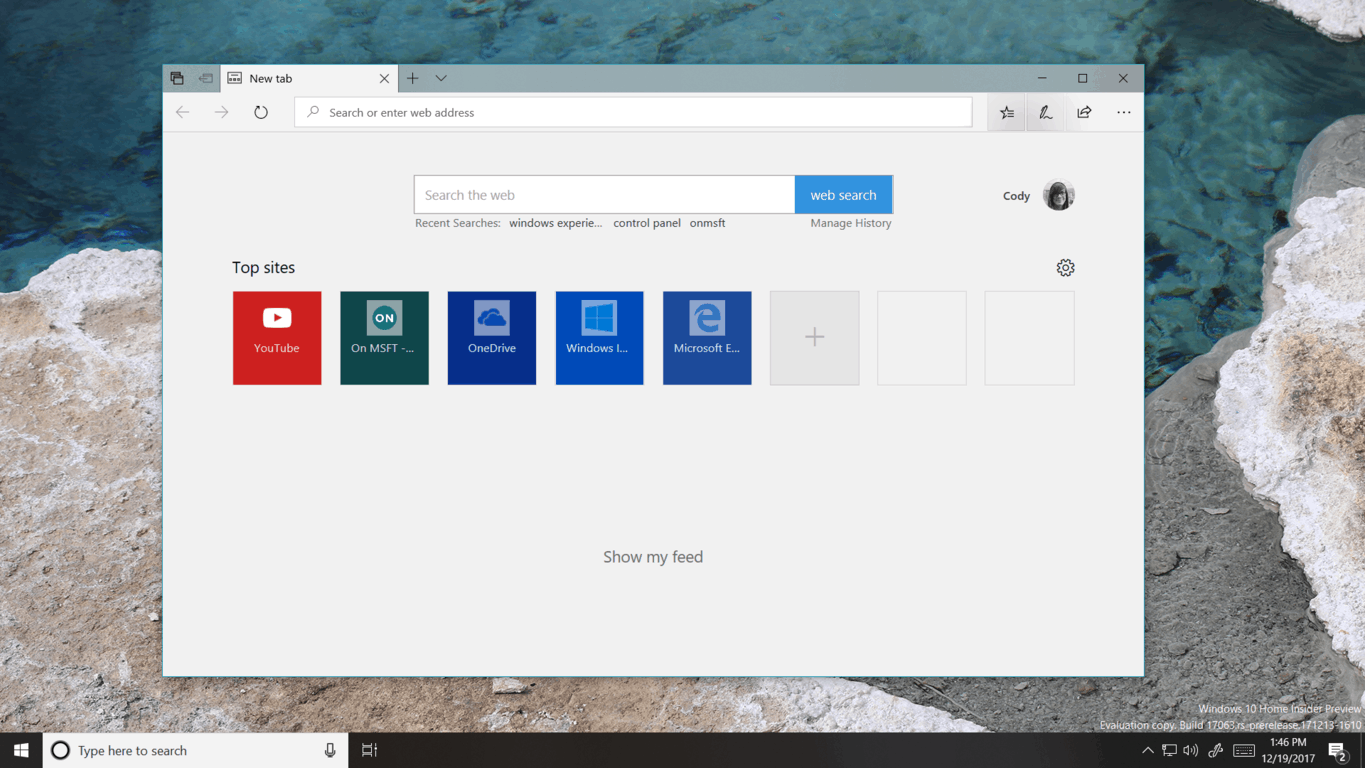 We're always happy to see updates to Microsoft Edge. In 17063, the Web Media Extensions Package for Microsoft Edge will be installed automatically. This means that various open-source media content such as OGG Vorbis and Theora will be supported.
Microsoft Edge now supports Service Workers by default. This is an interesting milestone for bringing the modern web to Windows. These new features can be explored by developers to bring a better web experience to users, improving performance when browsing offline or on a limited connection. Certain sites will now be able to work Offline in Microsoft Edge to improve performance by utilizing locally cached data if it is up to date.
Edge also has a new Acrylic theme. Blacks will be blacker, and Acrylics will be more transparent. The iconography also seems to have been shrunk down to give a more open feel.
Fluent Design and Windows Shell
We're still watching the first phase of Microsoft's Fluent Design Language take over the Windows UI. Touches of Acrylic material and glowing reveals slowly making their way into apps and features across the system, and that continues now.
Many elements of the Windows shell such as the fly-outs in the taskbar are being updated to a new acrylic theme. On another note, the Network fly-out on the login screen that's been the same since Windows 8 has finally been updated to match the one found here on the taskbar.
To much delight for Windows Insiders, not only is the taskbar now made of an Acrylic material; a new icon for Task View hints at the long-awaited availability of a new feature making it's way to Windows: Timeline.
Timeline and Activities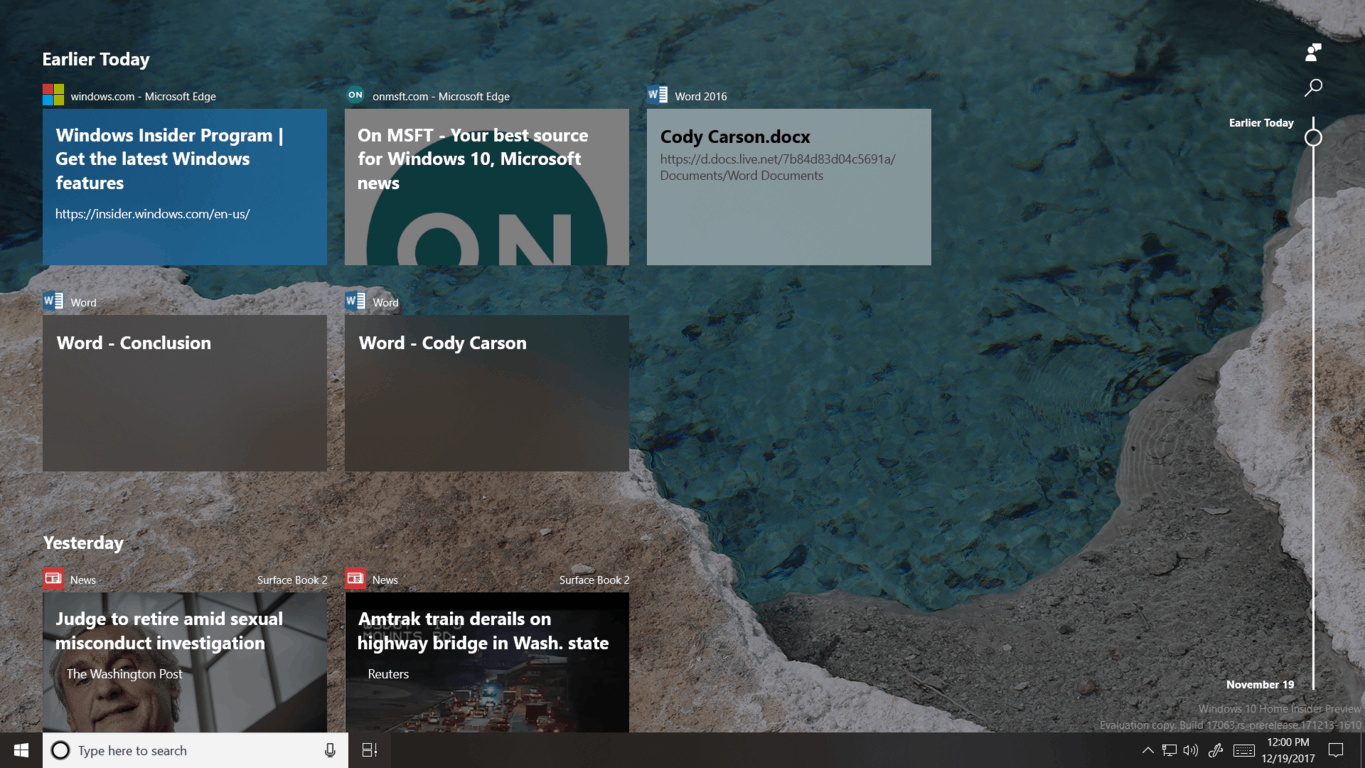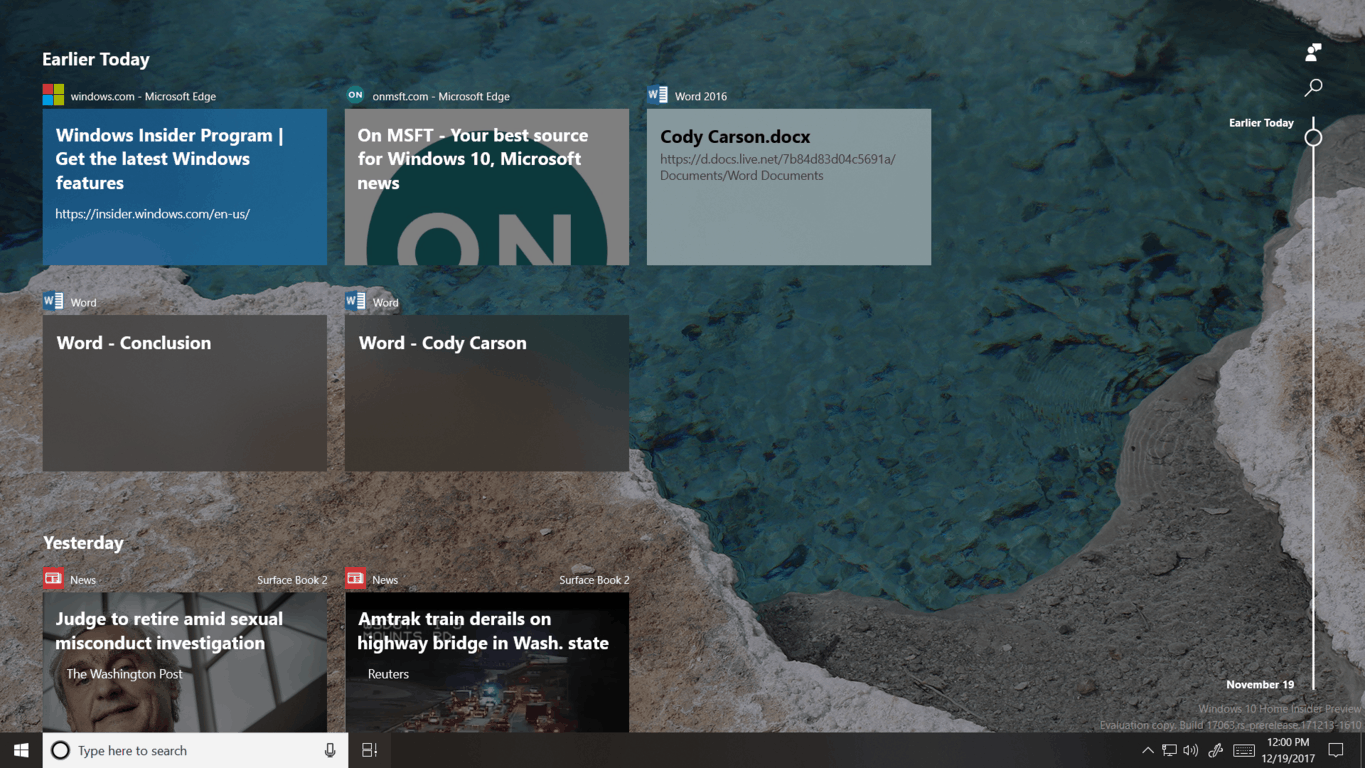 Delayed time and time again, it's been a while since Timeline was first announced earlier this year. This new experience combines your open apps from task view with 'activities' you were working on in the past. These activities include apps, but can also be specific documents, web pages, or in-app content.
Scrolling down the list of activities you will be able to resume work sessions be re-opening apps or documents into the state you last left them. You can expand the list of activities from a certain day, scroll back several weeks, or even search for a specific card.
Activities are in the cloud. You will be able to view and interact with activity cards from all your Microsoft Account PCs. Cortana will even be able to suggest content to resume across devices much like how she does with websites.
You can, of course, configure how this content is collected in the Windows Settings under privacy.
Cortana
Cortana's Notebook has been completely redesigned to a new card-based interface. The new Lists and reminders sections are categorized under their own 'organizer' tab, while the rest of the settings have been moved into a tab named 'manage skills'.
Cortana Collections is now merged together with lists in a single page.
My People
When My People was released with the Fall Creators Update, it wasn't super flexible. With build 17063, you can now have up to 10 people pinned to your taskbar, as opposed to just 3. You can choose exactly where you want these people by dragging and dropping them into order or putting them on the overflow list.
Windows Settings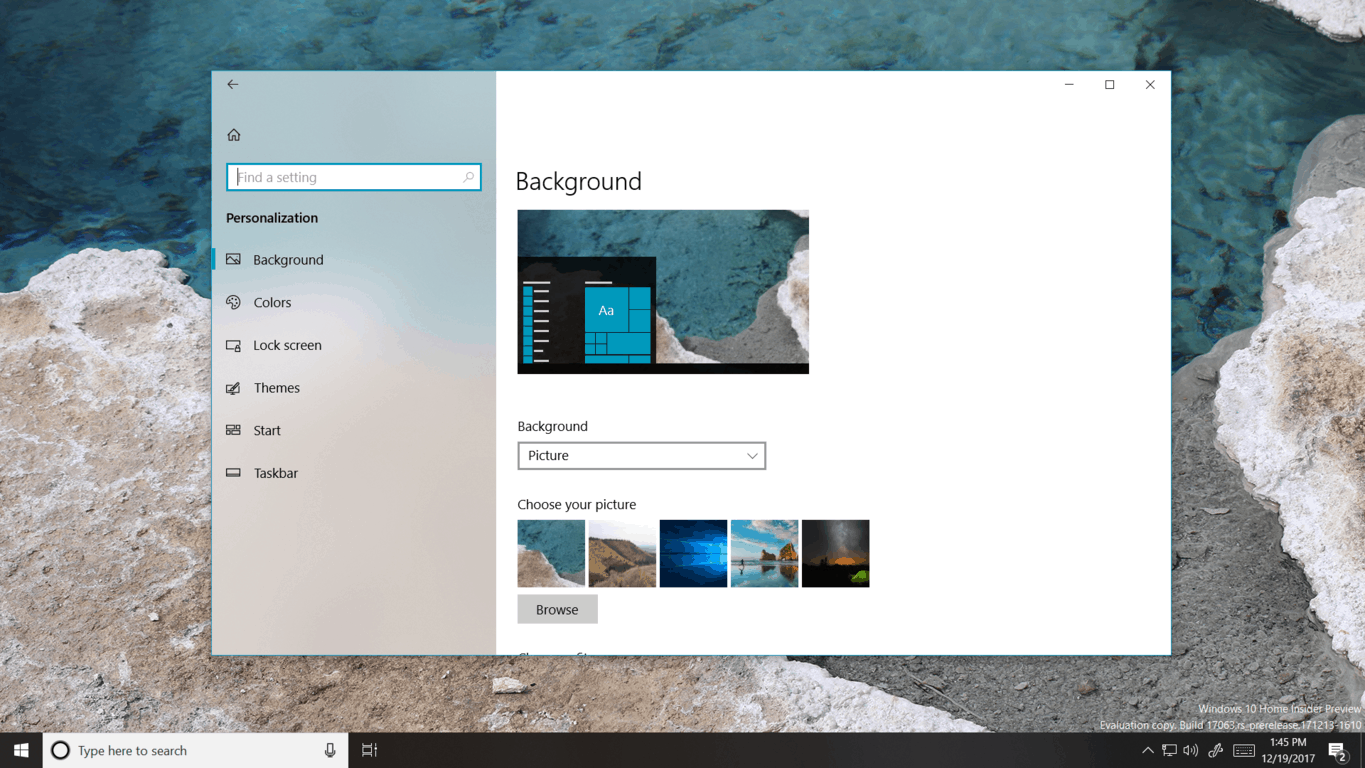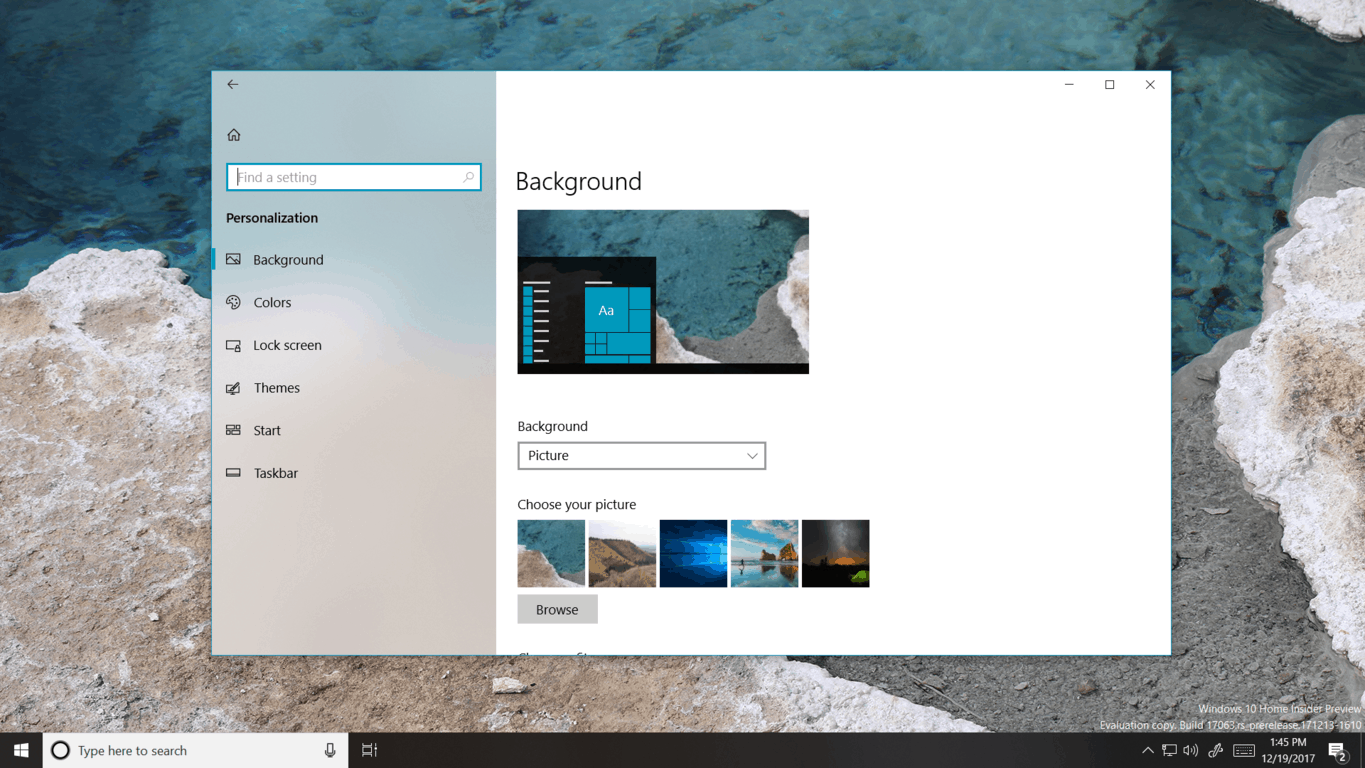 Inspired by the Control Panel, Windows Settings has been almost completely redesigned with this build. The main page has a new layout that works better for the ever-increasing number of categories, and acrylic can also be found being used in the section lists.
The changes go beyond just looks, however. All kinds of new features and advanced options are being brought up with this new design as well.
Users with docks or high DPI displays might be familiar with the scaling issues many legacy desktop applications encounter. Apps that are normally able to scale properly to a high DPI environment might become blurry when using multiple monitors or when changing system scaling. While UWP apps handle these scenarios perfectly, you would have to sign out to resolve these issues with many desktop apps. A new setting under System > Display > Advanced Scaling looks to help fix this issue. If you turn on "Fix Scaling for Apps", a notification will appear when Windows detects there might be a blurry app on your main display. This notification will ask if you'd like Windows to try and fix these apps by restarting them.
Going to the keyboard settings under Time & Language, you'll be presented with a brand new keyboard settings page. Here you can view and install new keyboards on your device independently of the display language. The touch keyboard is also getting back the split keyboard option it lost in the Fall Creators Update.
Be Careful!
As with all these new features, there are also quite a few issues. While it won't cause your device to explode, think twice before installing one of these builds onto your main device.