After the Creators Update and Fall Creators Update, people were quick to point out that the Windows 10 Spring Creators Update would have been the third creators update! But what's more creative than "Creators Update"? It only takes a slight re-wind in history to reveal that Microsoft has already found the perfect solution to this conundrum! The 2015 Windows 10 November Update was the absolute threshold of creativity. Let's name the update after the month it was released. The creator updates are no more, welcome to the Windows 10 April 2018 Update.
Fluent Design System and User Interface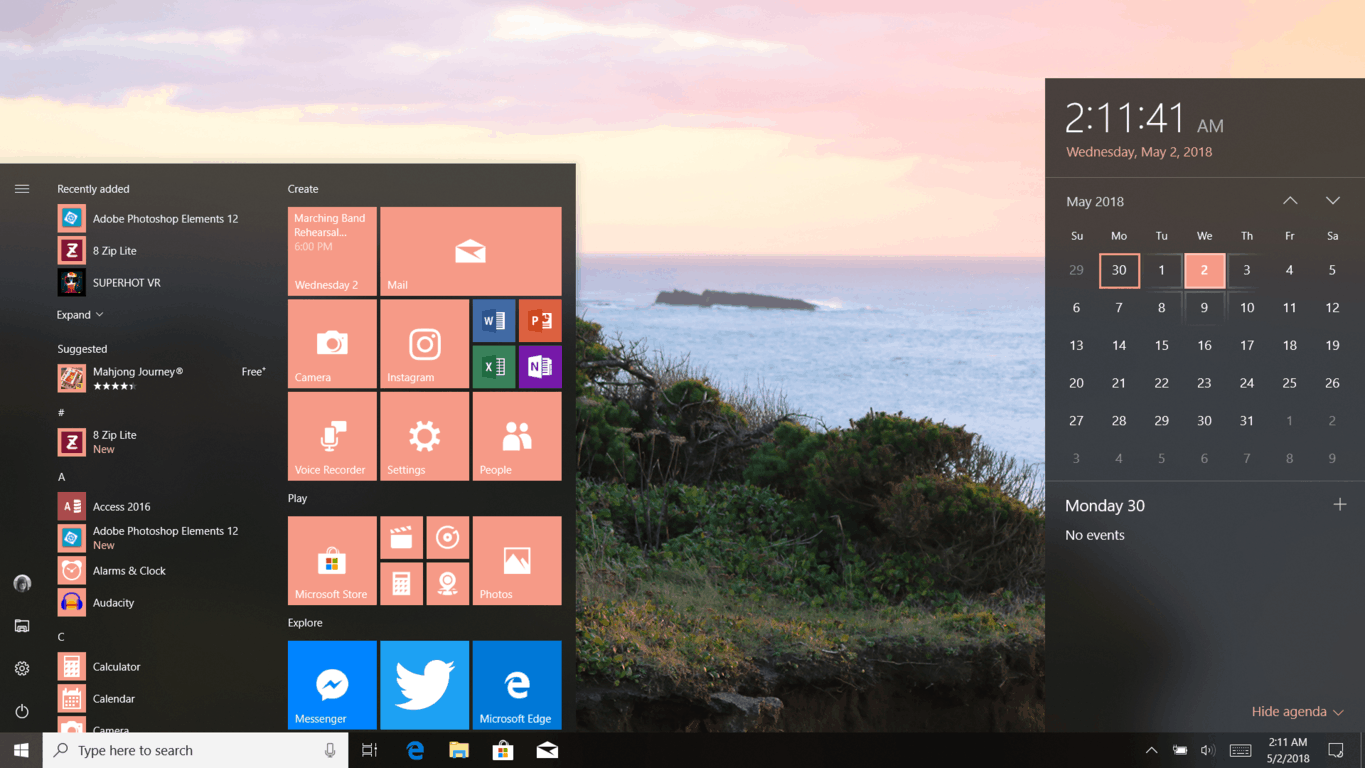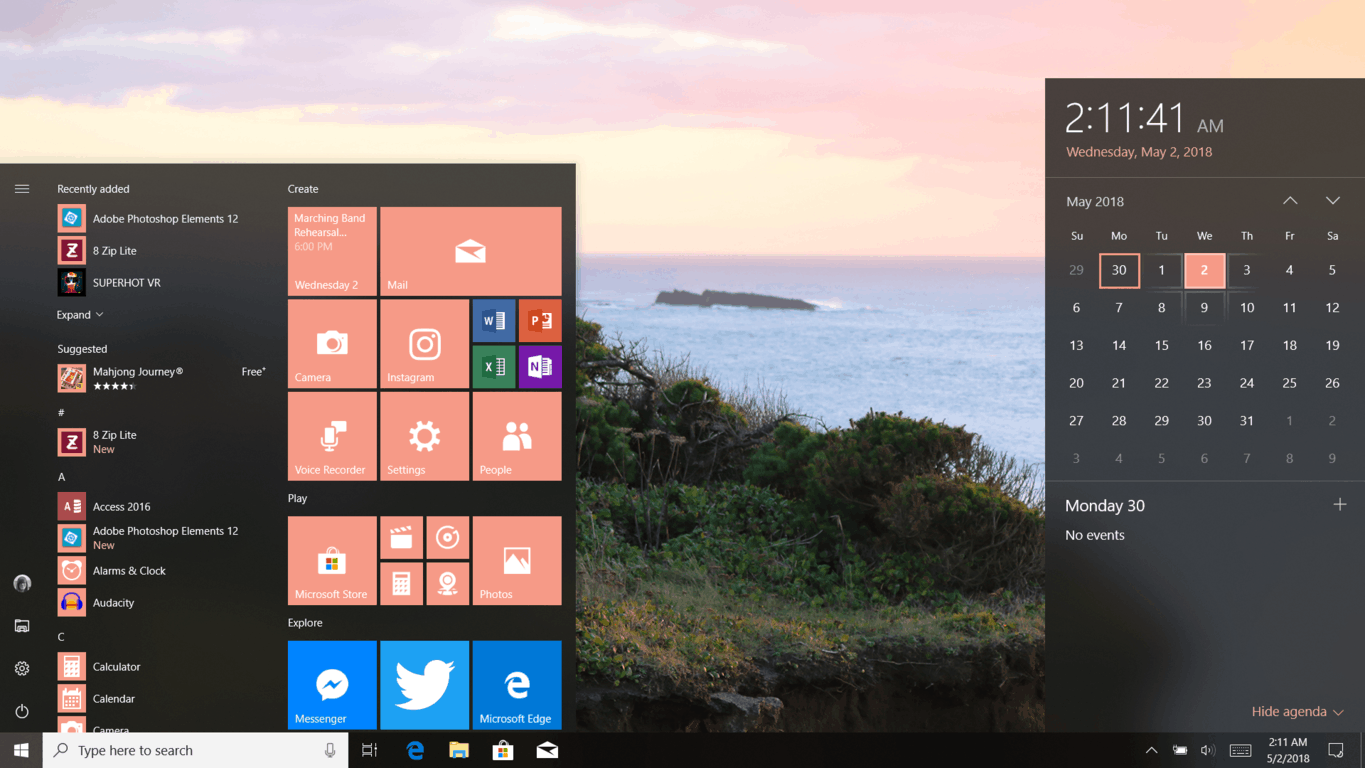 Elements of Microsoft's Fluent Design System first started appearing only a few months after the Creators Update was launched. Interestingly, the pre-installed apps were first in line to a makeover; parts of the general UI only showing up later.
Fluent Design is coming out in waves. The first wave includes acrylic blur, highlight and reveal effects, technically meaning we're still experiencing wave one! The taskbar, Start menu, and fly-outs are now all made from a lovely acrylic and respond to your input with highlight and reveal effects. These design changes help put all the UI elements of Windows 10 into a shared context, and have the bonus effect of being (more or less) visually appealing.
Updates through the Wind—Microsoft Store have also spread these effects to more of your apps, including the Store itself. You'll notice a lot more Fluent Design across Windows in this update.
Microsoft Edge
Being such an integral part of Windows 10, despite rumors of this changing, Microsoft Edge is still updated alongside it. Highlight and reveal effects are now present across Microsoft Edge in addition to several little design tweaks that make it feel more efficient for mouse and keyboard use.
Going into full screen mode preserves the layout of the navigation bar when you hover along the top, and clicking on the volume icon will mute any tab making noise.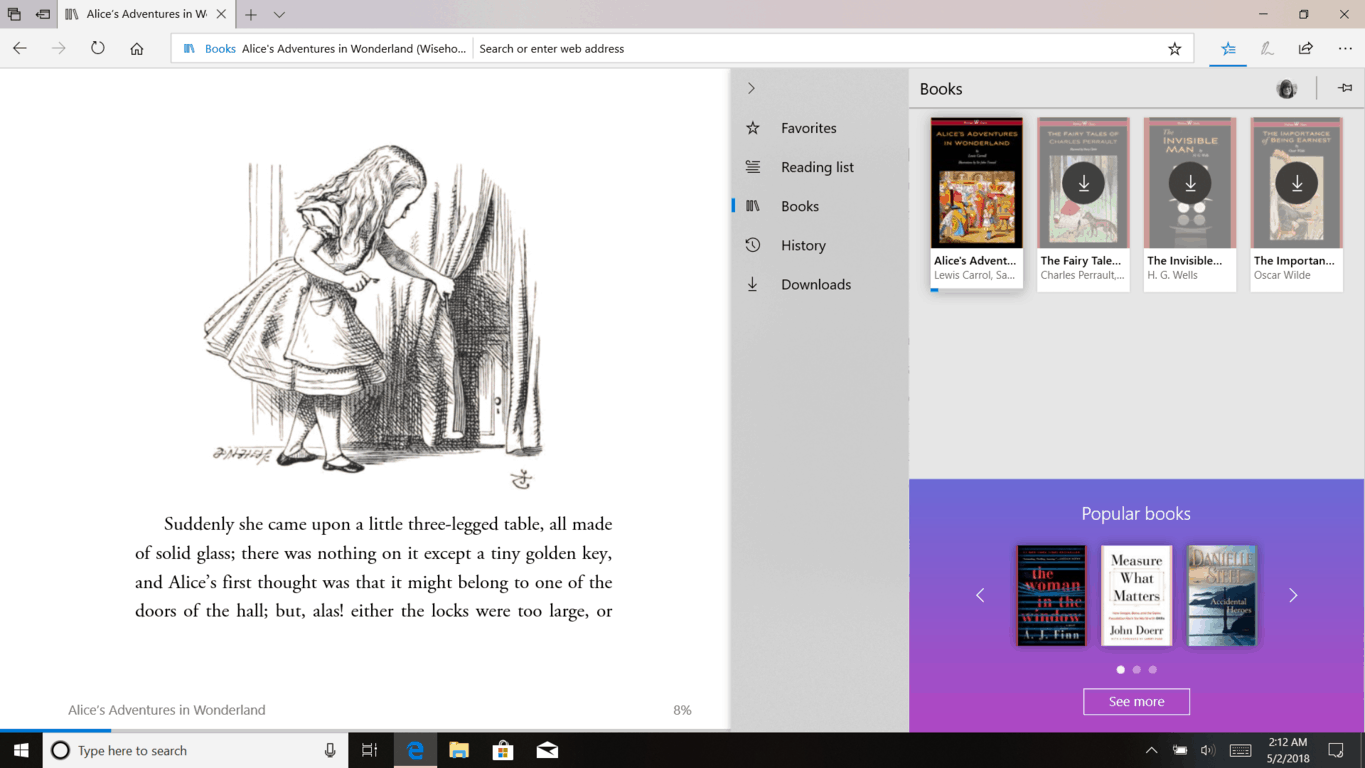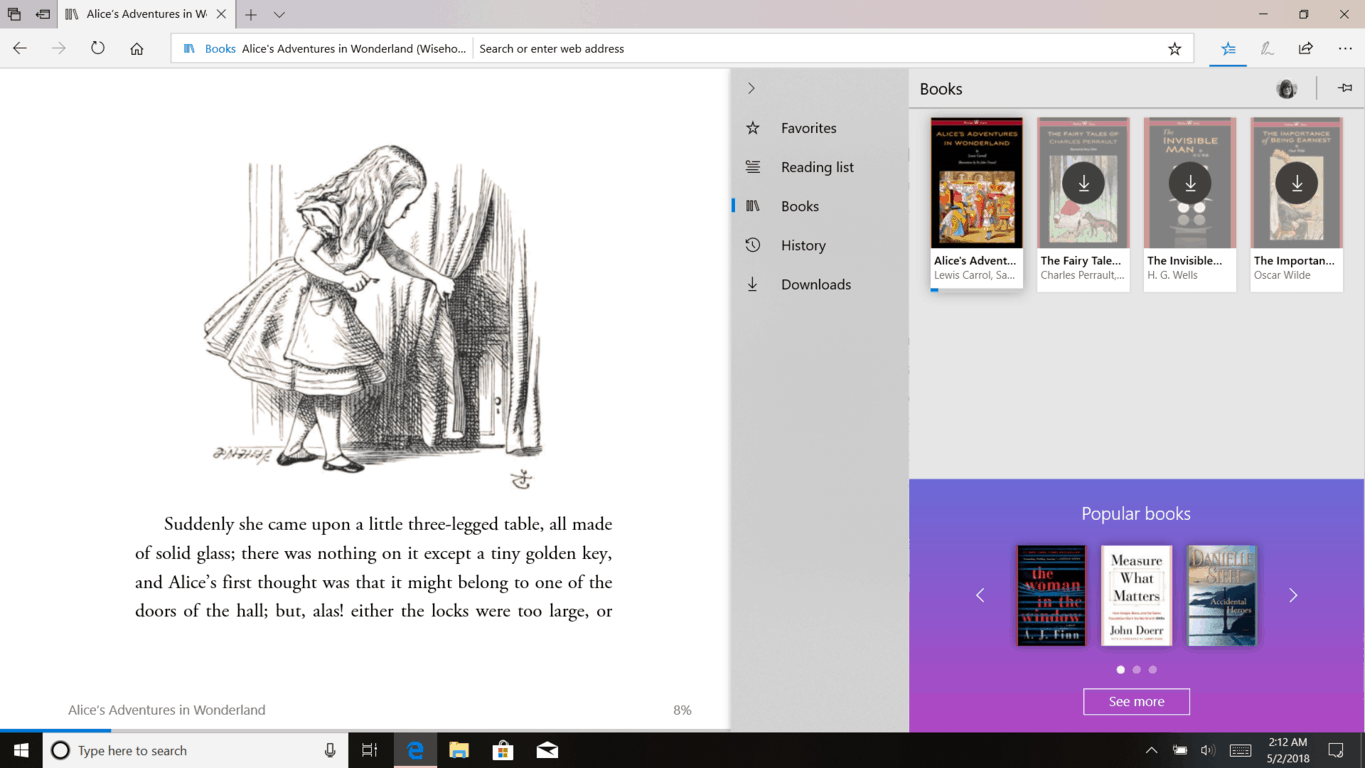 The Hub menu has a new layout in this update, placing the different sections on the left, revealing their names. The Books section is the place you'll find all the books you got from the Microsoft Store, and starting with the April Update, anywhere else online as well. The UI for viewing eBooks has become more fully featured, with this lovely floating control bar at the top, and progress bar at the bottom. The 'Bookmarks' button is now the 'Notes' button, which shows you all the annotations you've made to the text so you can easily get back to them while doing your research. All of this is done with Fluent Design in mind.
Progressive Web Apps
It's not all just UI, however. Countless little quirks have been fixed, and lots of new technology have gone into making Edge a better browser for the modern web. It's through Microsoft Edge that Progressive Web Apps are now supported in Windows 10. In a nutshell, a Progressive Web App (PWA) is a kind of app powered by new web technology that provides a more powerful web experience. These are websites that feel just like a native app, and even have the ability to work offline. One of the early adopters of PWA on Windows is Twitter, which you can already experience by visiting mobile.twitter.com.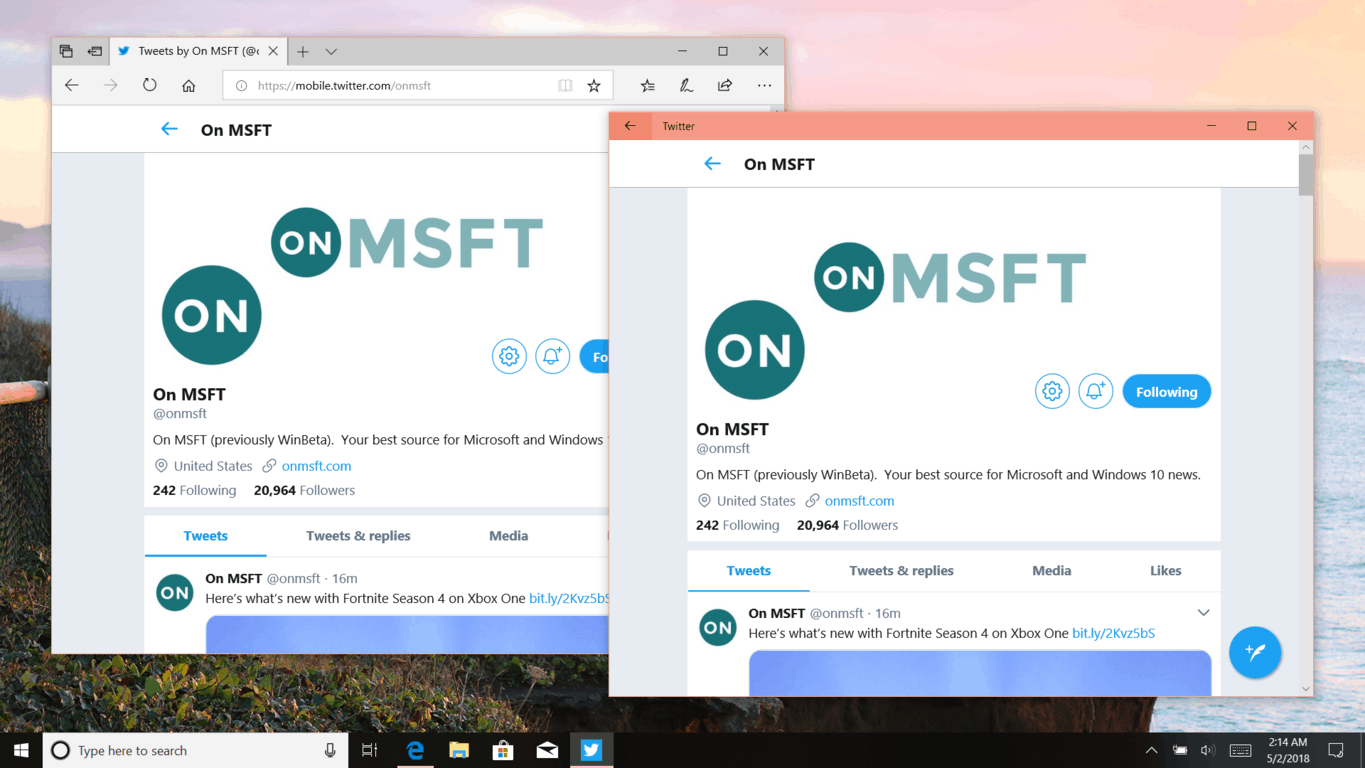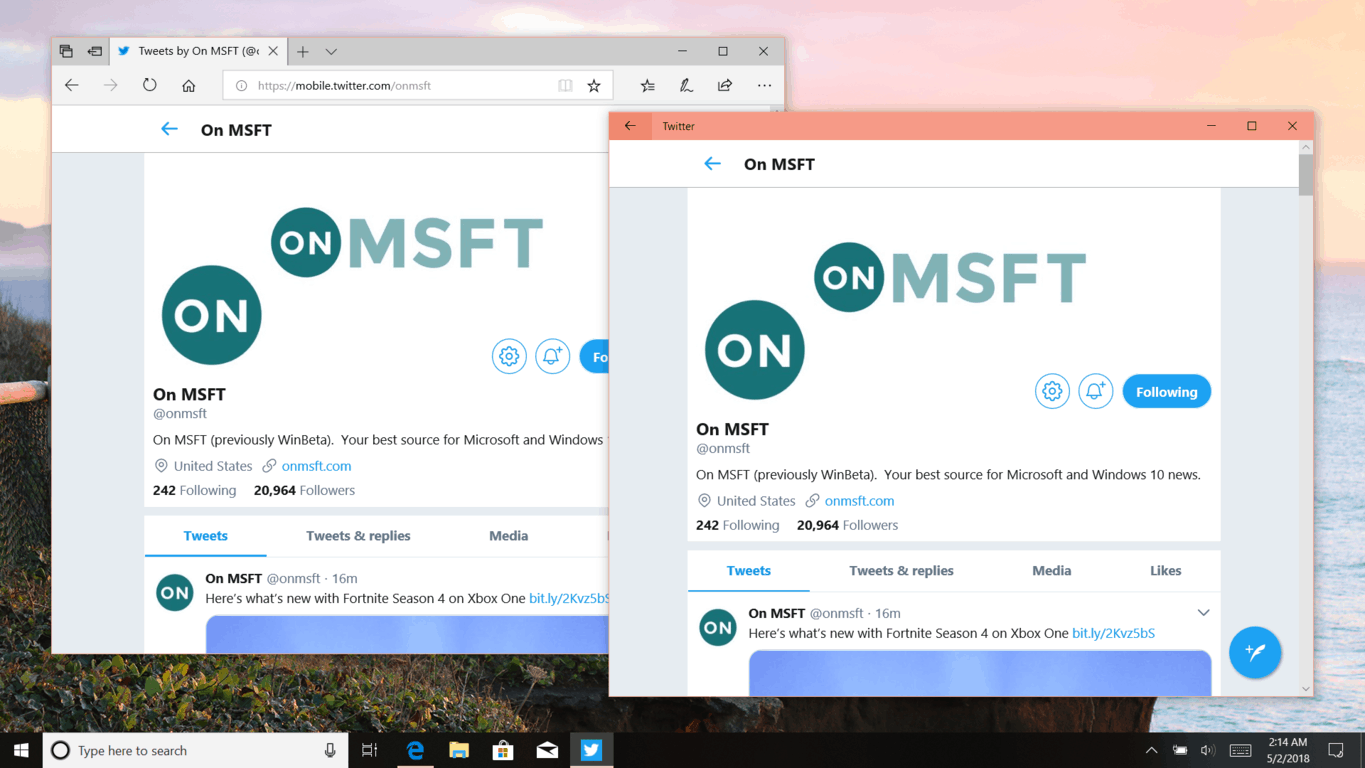 Because Progressive Web Apps are so app-like, Microsoft is bringing them to the Microsoft Store. Not only does this mean more apps will be available, but they will also be fully featured and better supported than before. Developers only have to worry about maintaining a single PWA, and it will work wherever there is a modern browser. While many people criticize PWAs for not feeling native to the OS they are used on, it really doesn't outweigh the benefits of their support.
Near Share
We've all done it; using email to quickly get a file from one device to another. Maybe you shuffle through your desk to find a USB flash drive, or even upload a file to the cloud. Whatever you do, it's always been pretty awkward. Apple's solution to this was AirDrop, which let you share things between two nearby devices wirelessly. It's been a while, but now Windows 10 has it too, and Microsoft calls it "Near Share".
Powered by Bluetooth, Near Share works more or less the same way. There's a new toggle in action center that use can use to turn sharing mode on or off. If it's on, just open the share menu of whatever you want to share, and select 'Near Share'. Any other Windows 10 PC that is in range with Near Share enabled will get a notification to accept or deny the file transfer.
High Efficiency File Format
Speaking of things that Apple has done, newer iPhones have recently started saving it's camera roll in High Efficiency File Format (HEIF). This image format saves space and provides higher quality compression, however, causes compatibility issues just about everywhere that isn't the iOS photos app. Your iPhone would have to convert photos from this format to JPEG in order to be used.
Windows 10 now natively supports HEIF in the April Update, so the original files taken with the camera on your iPhone can now be downloaded to your PC. And yes, depth maps and live images can be preserved too thanks in part to the departure of JPEG conversion.
Timeline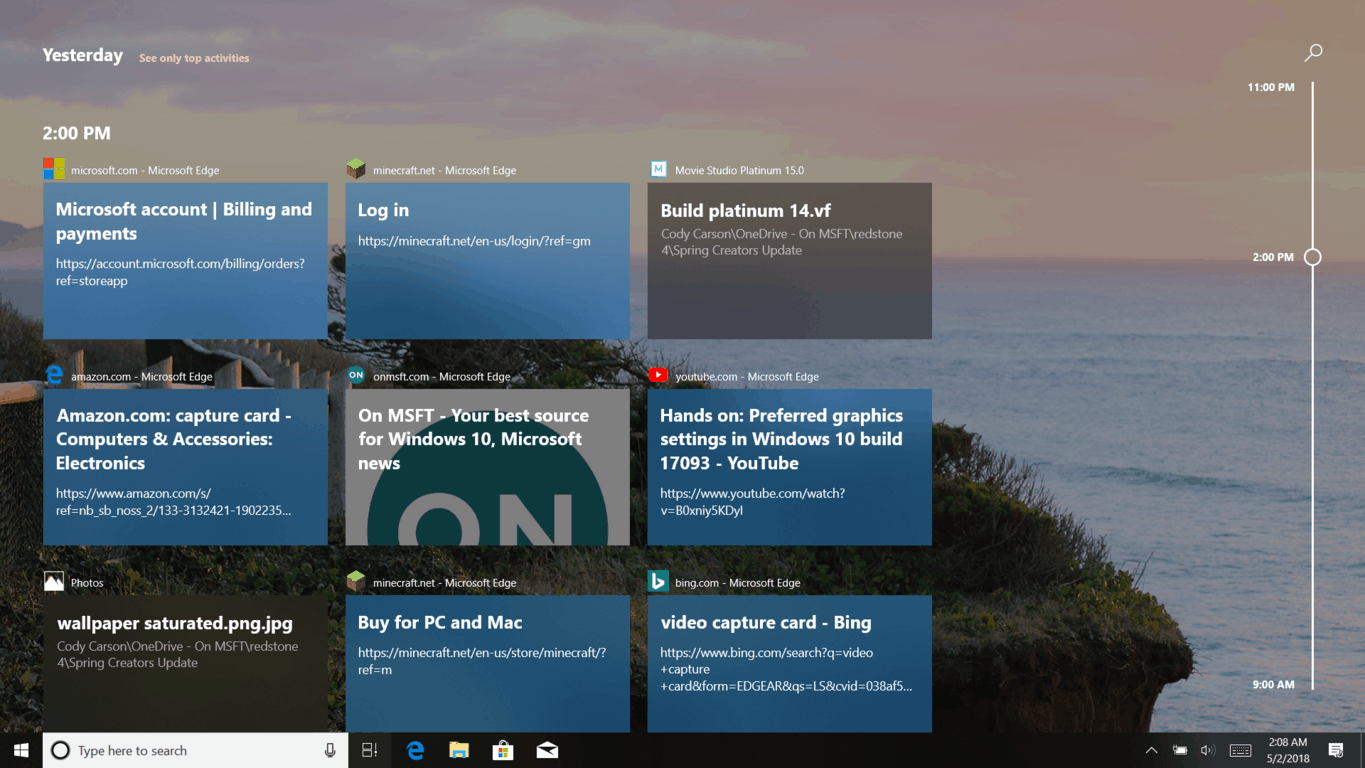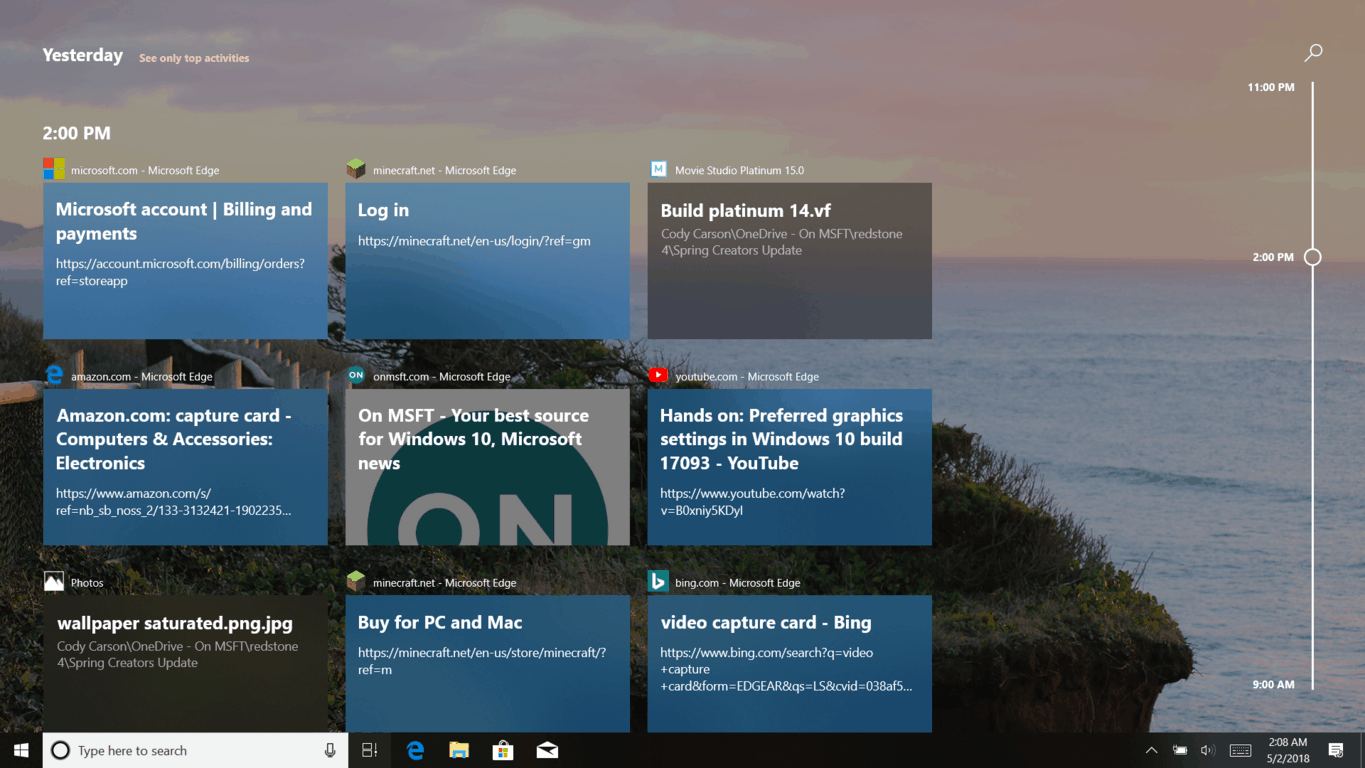 Apparently I'm exited about all the wrong things in this update. While I just like that it adds a nice animation to multitasking in tablet mode, timeline is regarded by many as the centerpiece of the April Update.
Timeline replaces Task View in the taskbar. It still shows you open apps and virtual desktops, just with some extras underneath. A history of all the apps, files, and webpages you were using on your PC can be found here as Activities. Activities save what, where, and when you were using an app or file.
When you're working on a project, you probably have several different things running on your PC at once. Opening timeline, a chronological list of all the Activities you used are shown. Timeline lets you pick up where you left off, just by clicking on an Activity to restore that task. It's almost like your internet browser history, but for everything on your PC.
Scrolling just a little further down on this list and you find a privacy statement baked right into the UI. For the sake of privacy, the way timeline is configured by default only remembers activities for a couple days. This is a good setup because it lets you use the feature enough to get an idea of how it works; you might only want to see more recent Activities. If you want more features, however, you can turn them on, and your Activities will be synced to your Microsoft Account. Up to 30 days of Activity history will be available from all the devices you have it enabled on. You could, for instance, on your laptop resume a document you were typing on your desktop PC at home.
Cortana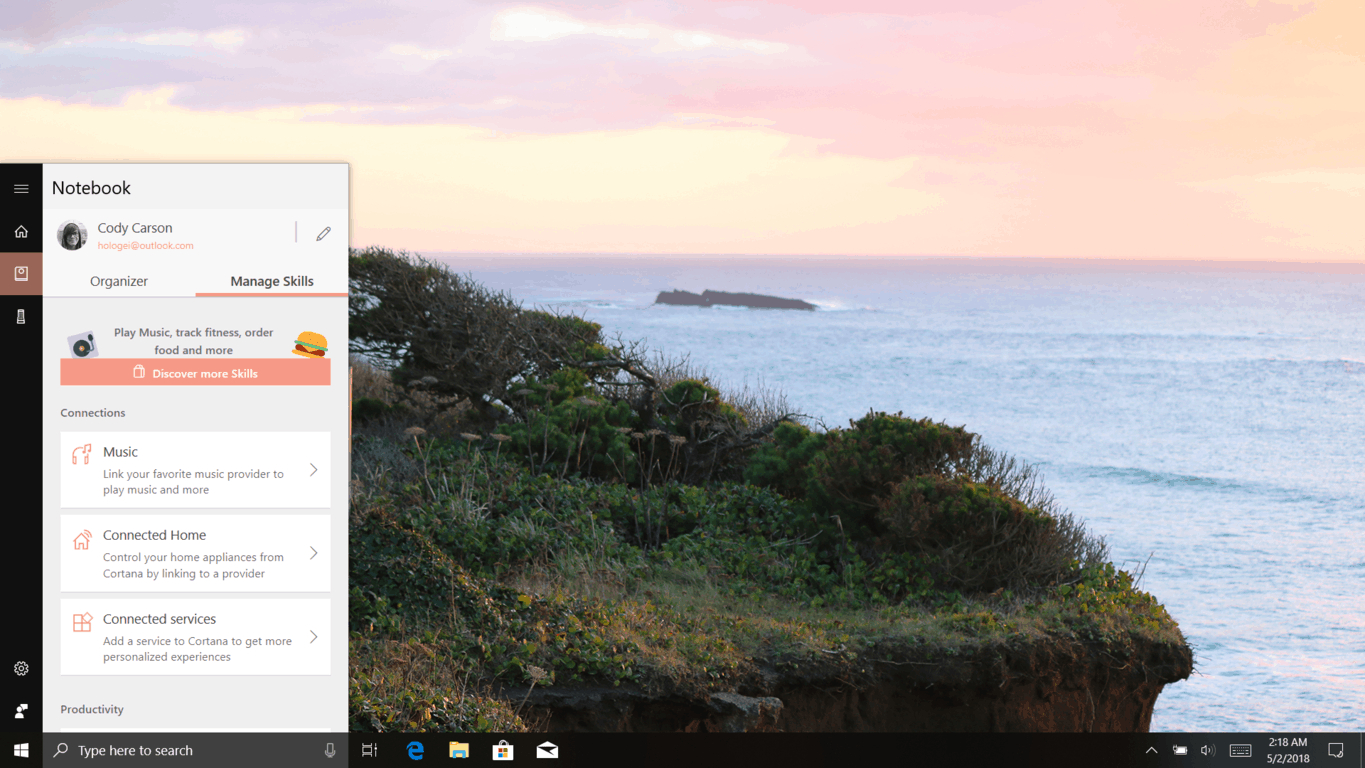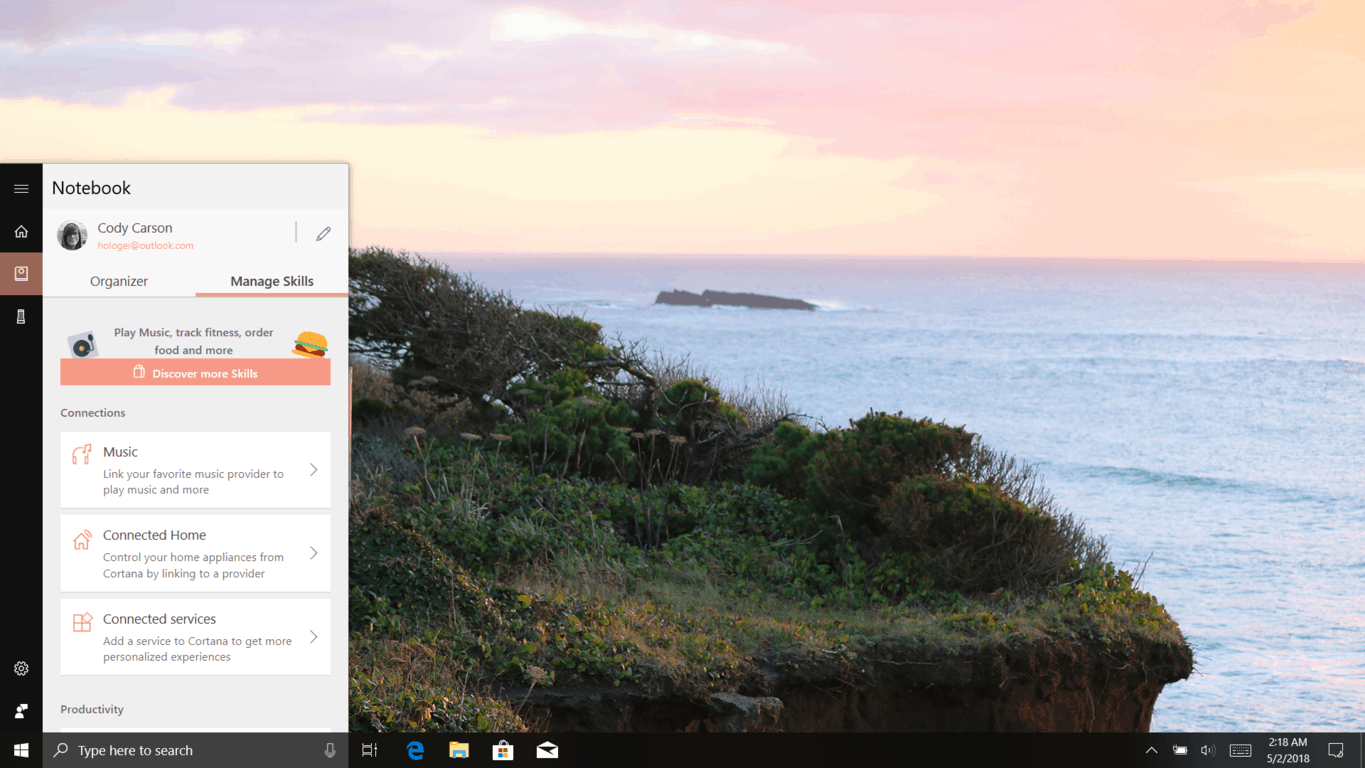 A bit is changing with Cortana in the April Update. Many of the things Cortana keeps track of have been moved out of the search box and into Action Center. Cortana's Notebook has also been redesigned with an Organizer and Skills tab. The Skills tab has many of the things you found in the notebook before, while the Organizer has things like your lists and reminders.
Focus Assist
Formerly known as "Quiet Hours", Focus Assist helps manage notifications so they don't get in the way as often as they used to. Without needing to be done manually, Focus Assist will automatically turn on while doing things like playing games in full screen or while projecting your screen. There are a lot of configuration options you can explore for this feature in the Windows Settings.
Windows Settings
The Windows settings is slowly getting features transplanted from the Control Panel. New settings for Sound, Storage and fonts make it do you don't need to dig as deep to find the options you're looking for. There are also many new options that didn't exist before such as more advanced startup settings or HDR display configuration.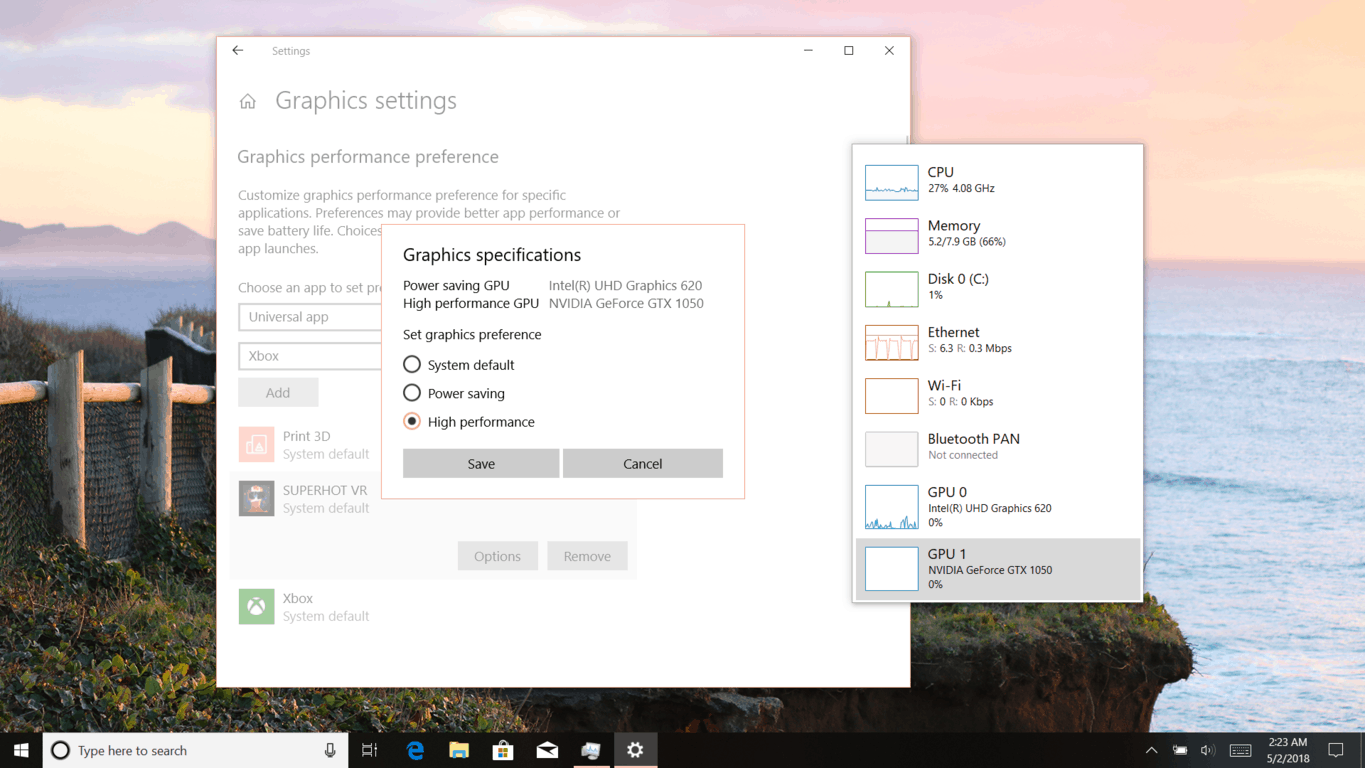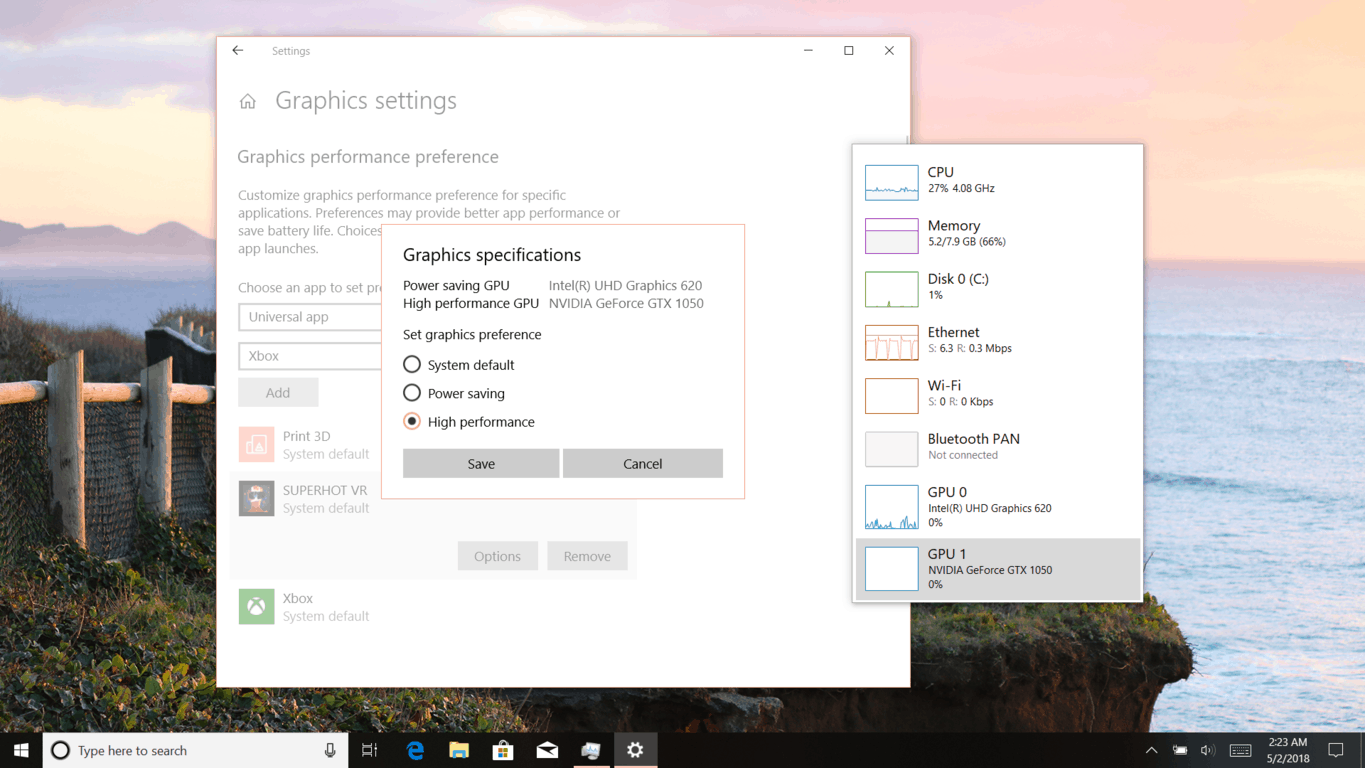 One of the more interesting new settings found in the April Update is for Multi-GPU systems. A lot of laptops have an integrated GPU as well as a dedicated GPU that are used for some apps, but not for others in order to balance battery life and performance. This works great a lot of the time, but sometimes doesn't pick a configuration that the user would prefer. With the advanced graphics settings found under System > Display, you can manually choose which GPU an app will prefer to use without the need for third party software.
Legacy desktop apps tend to have scaling issues if the developer hasn't updated their apps to support high DPI displays. Many improvements have been made to try and accommodate this, you can even specify scaling behavior for individual apps in an apps properties.
Input Improvements
The touch keyboard bundled with the Fall Creators Update was a necessary advancement for the modern OS, however, it's release may have been premature. The new keyboard brought awful quirks and inconsistencies that made it difficult to use. Thankfully, the April Update seems to fix some of these issues, and even has a new acrylic look. Shape writing on the full size touch keyboard is also now supported, but its usefulness might be somewhat limited.
Functions originally designed for one keyboard sometimes find themselves useful on another, though this isn't just the case between the various touch keyboards. Text prediction and autocorrect for your hardware keyboard have made their way to Windows 10. Hardware text prediction and autocorrect is disabled by default, of course, however some people might find it useful. These do seem to cause a little bit of input lag, so, like shape writing, their usefulness may be limited.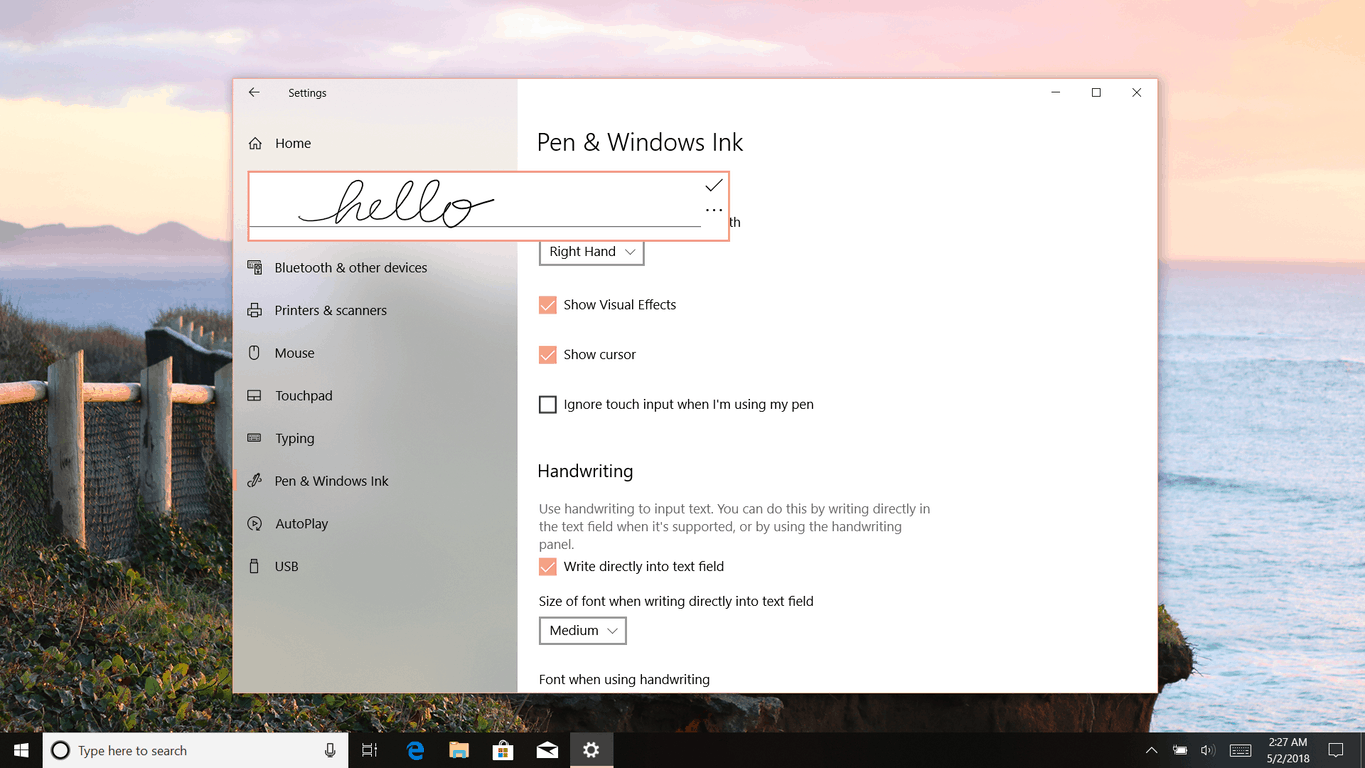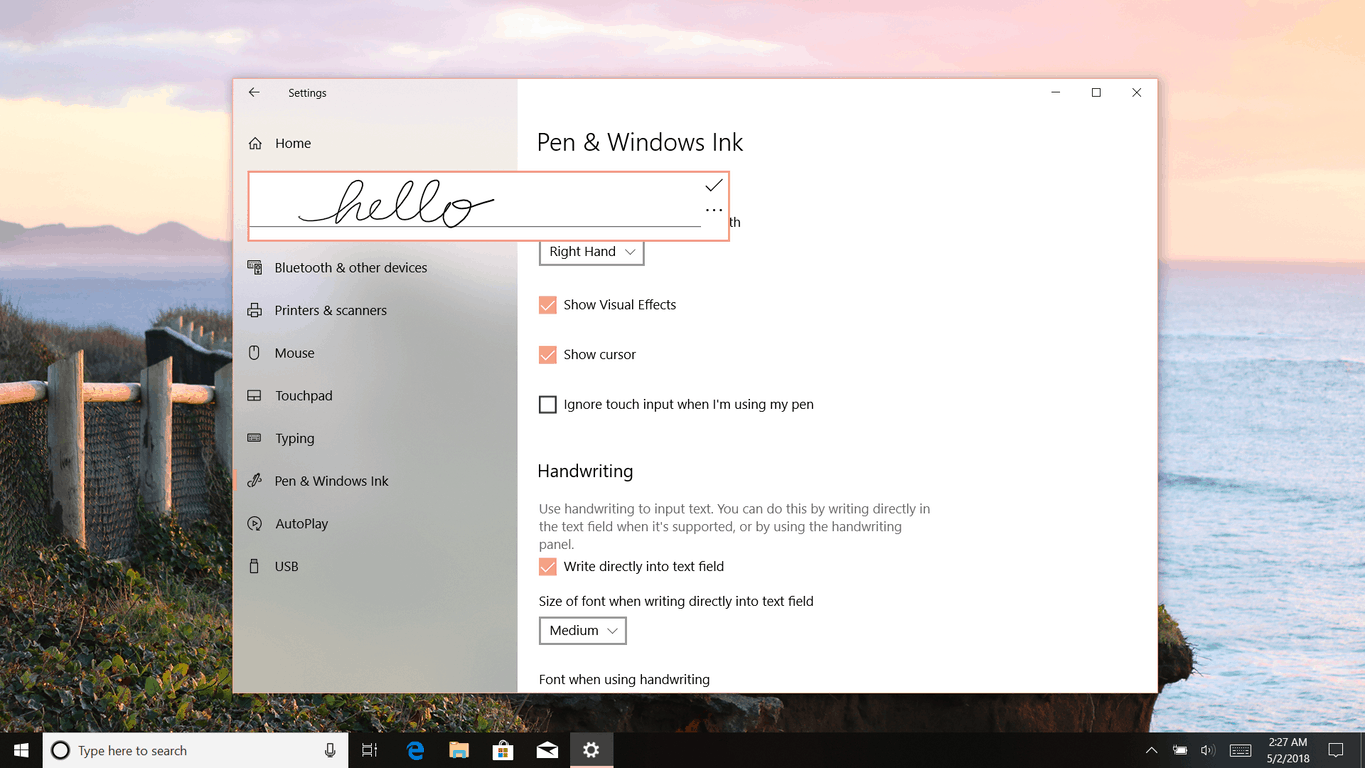 Keyboards aren't the only way to write! Handwriting recognition is better in the April Update. There is a new option in the Windows Settings under Devices>Pen & Windows Ink. Enabling "Write directly into text field" makes text input a lot simpler. Just tap on a text box and you'll be able to write right into it.
Using dictation is easier in the April update with the keyboard shortcut Windows+H, which lets you speak to enter text into any text field on your PC.
The Update
The April Update will automatically begin rolling out to Windows 10 devices in the following weeks this May, but there's also ways to get it faster. These biannual updates, though bothersome for many, keep your PC secure and will probably operate without you even noticing. Many of the smaller features this update brings help keep your device compatible with the latest software, hardware, and web technology, and overall, things feel just a little more polished.