Windows 10 build 17692 build was released yesterday for Windows Insiders on the Fast ring and to those who opted in to skip ahead. As we explore this build, keep in mind that the features we'll be looking at have been released through the Windows Insider Program, and will remain a work in progress this way until the next big update for Windows 10.
SwitftKey
Since Microsoft acquired SwiftKey in 2016, we've slowly been seeing it's integration into the Windows ecosystem. SwiftKey is currently available as a keyboard replacement on iOS and Android, where we may eventually begin seeing some interesting PC mirroring features. While the touch keyboard in Windows 10 has already gone through many iterations, SwiftKey integration in build 17692 seeks to further improve its performance. The appearance of the touch keyboard in unchanged, however the experience (in currently supported languages) is now powered by SwiftKey. The accuracy of shape-writing should be improved, and the keyboard will better remember your typing style in order to give you more relevant suggestions. I would expect to see more on this in future builds.
Microsoft Edge
It will be easier for developers to use WebDriver in Microsoft Edge. WebDriver is now a Windows Feature on Demand (FoD), meaning it may be downloaded at any time. WebDriver may be added by enabling Developer Mode in the Windows Settings, or by installing it through the "Optional Features" page. If this is something you find interesting, a whole lot more can be learned over at the Microsoft Edge Dev Blog.
In future RS5 builds, Windows Insiders will be given more control over media auto-play in Microsoft Edge. A new setting called "Allow sites to automatically play media" was announced prematurely, and is absent from this build.
Ease of Access and Narrator
In the Ease of Access settings in Windows 10, new options for increasing text size independent of UI scaling can now be found under "Display". These settings are called "Make Everything Bigger", which include a slider for text size and the selection box for UI scaling. Including these controls here was an interesting choice, as there are now 2 places you can change UI scaling in the Windows Settings.
Many improvements have been made to the Narrator in this build of Windows 10. Based on feedback, Narrator now comes with a new keyboard layout that will be more familiar to screen reader users. You can take a look at what's changed in the New Narrator Keyboard Layout documentation.
Game Bar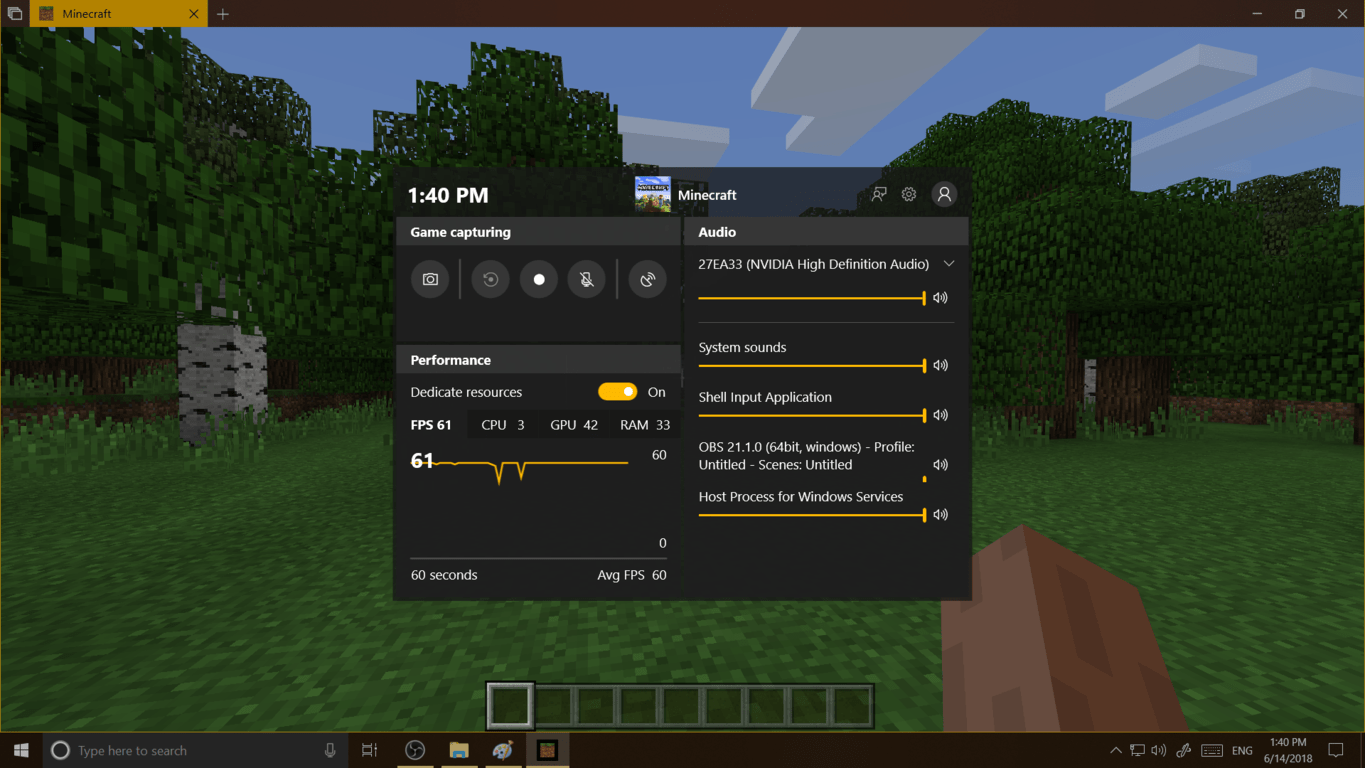 Too recently the Game bar was redesigned, but here we are again. The settings you find in the new Game bar allow gamers on-demand access to things they previously would have needed to exit full-screen mode to enjoy. In addition to video capturing controls, you can now view performance visualizations for FPS, CPU, GPU, and RAM usage right from inside your game. On the right, there's even an audio mixer that lets you control the volume of apps independently from one another. This feature isn't even available in the standard taskbar volume flyout.
If you use Windows Mixed Reality, a welcome new feature is an option in the Windows Settings to allow audio mirroring across both your headset and desktop speakers.
Be Careful!
This has been a quick overview of some of the new features and changes in Windows 10 build 17692. This build is available through the Windows Insider Program, which in addition to new features are have also quite a few issues. They won't cause your device to explode, but you probably wouldn't want to install these builds onto your main device. Proceed with caution.