Xbox has plenty of great hit games. But up until this year, there was one glaring omission, especially for baseball fans like myself. In fact, it sometimes made me regret buying into Microsoft's gaming world.
While I've played other baseball games like RBI Baseball and Super Mega Baseball on Xbox, Sony PlayStation fans have long been enjoying the officially licensed game of Major League Baseball, MLB The Show as a PS console exclusive. But this year it finally comes to Xbox One and Xbox Series X and S consoles, and it is even included for Xbox Game Pass members and on Xbox Cloud Gaming, too.
For MLB fans like myself, this is a dream come true. There are many things that MLB the Show does so well that other baseball games can't. And, there are many things in MLB The Show 21 this year that really make it one of the best sports games to grace the Xbox.
"Are you watching a baseball game?"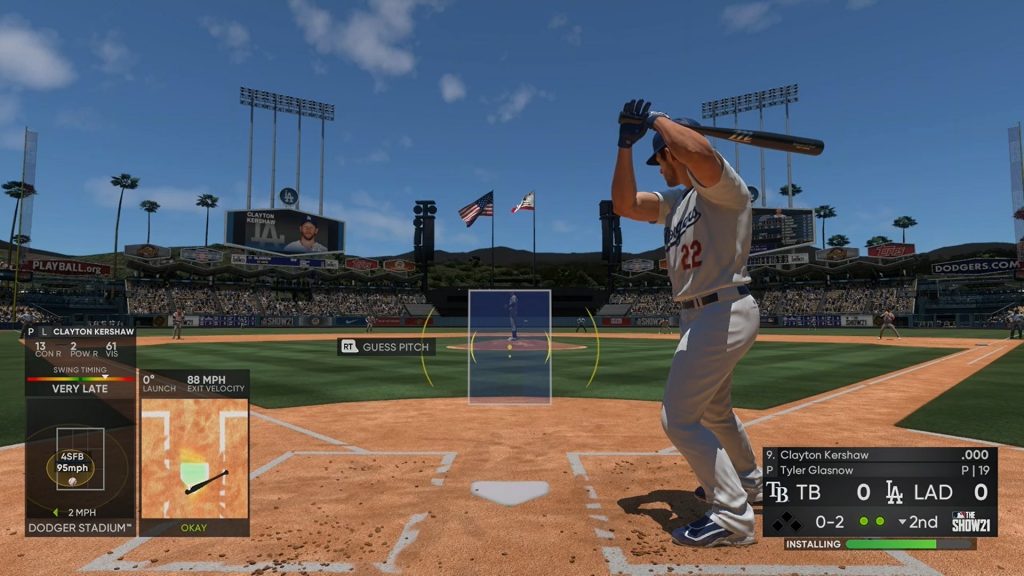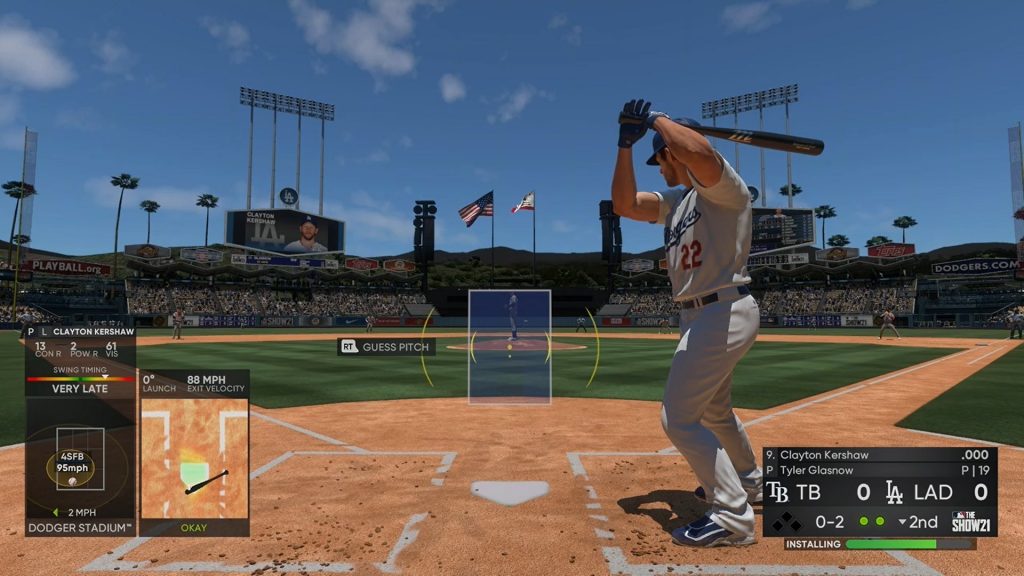 The highlight of MLB the Show 21 is definitely the way the game looks and feels. Though I played the game on an older Xbox One, it still feels and plays well, with no lag or stutter. When I initially booted up into an exhibition game between the Dodgers and the Rays, I could not help but think I was standing behind the plate with a baseball bat myself.
The game is able to run at 4K resolution and 60 frames per second on Xbox Series X consoles, but even on an older console, it still feels quite realistic (but suffers from long load times.) Long-time The Show players might not notice any visual differences, but for newbies to the series to me who are playing on Xbox for the first time, this game is as authentic of a baseball experience as you can get.
There's a lot of details here that you don't get in previous Xbox MLB games like RBI Baseball. It definitely has the graphical quality of Madden 21 and other EA Sports titles.
Pitching, fielding, the MLB player models, and in-stadium crowd animations are true to what you'd expect in real life. Even the commentary is great, always accurate, featuring the voices from real-life MLB Network anchors Matt Vasgersian, Mark DeRosa, and Dan Plesac. Take a look below, when I hit a walk-off home run in a game with my New York Mets, as an example. Listen to the way the crowd reacts, and how the mood changes. Also, look at Michael's subtle movements when batting.
Michael Conforto Walks it off with a HOMERUN and the Mets win. I wish the Mets were this good in real life. Lol. Really enjoying March to October mode in this game. #LGM #MLBTheShow21XboxSeriesXS #XboxShare pic.twitter.com/B7cemeQIlB

— Arif Bacchus (@abacjourn) April 23, 2021
San Diego Studios actually added more than 1,000 new animations this year, and you can definitely feel it when playing. From the pump a player might make with his glove during a double play, or the confusion that ensues on the field of missing a routine fly-ball, you definitely get the little details of MLB that matter. Not to mention the in-game stadium scoreboard animations, too. Even fielding the ball has been revamped so that your fielders can rob home runs more naturally, and look less like robots.
I even noticed some touches that only true baseball fans can pick up on. When taking an at-bat at Citi Field in MLB The Show 21, you can see airplanes taking off and landing from nearby LaGuardia Airport. And, in Yankee Stadium in the Bronx, you can see the subway trains passing between the center field scoreboards.
It's amazing to see the level of detail put into this game. Even the socks the Mets batters wear are exactly the same as the ones they wear during home games at Citi Field. And let me not forget Mets pitcher, Noah Syndergaard's wavy hair, too.
Play the way you want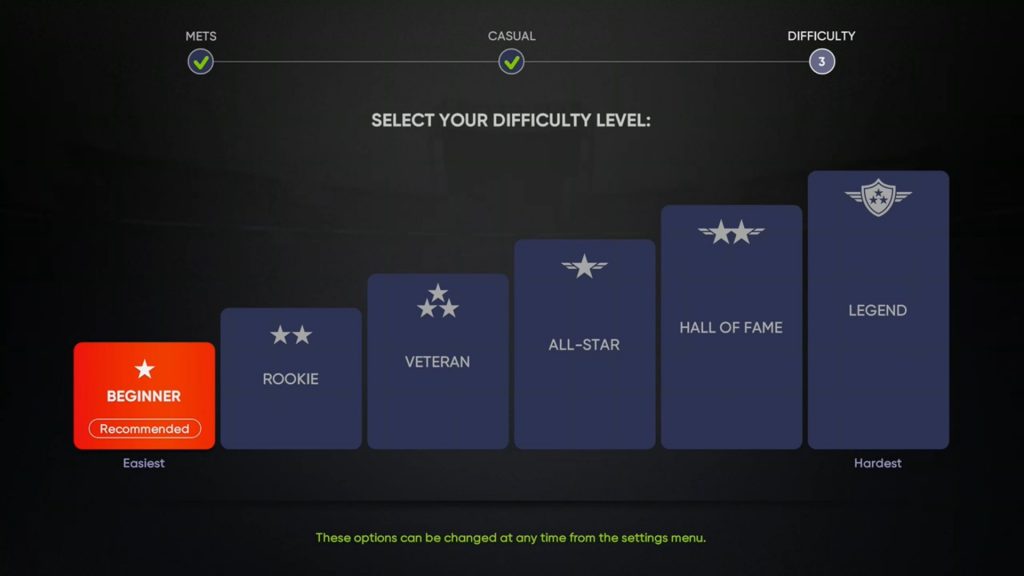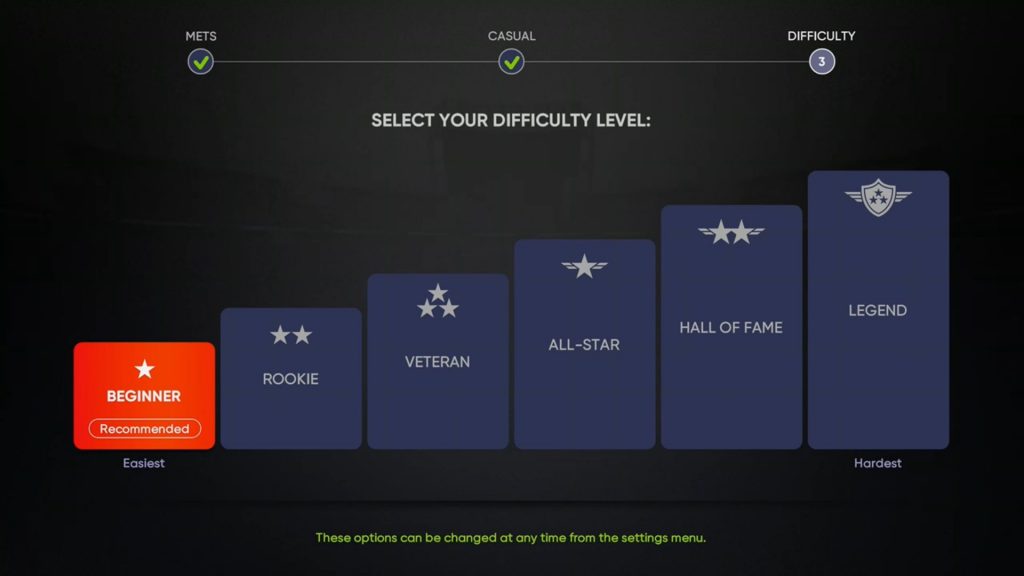 Of course, with MLB The Show 21 hitting Xbox for the first time, and also as a part of Xbox Game Pass, there will be a lot of players who aren't familiar with the controls. The developers of the game seem to have kept this in mind. During the initial bootup, you can pick various settings to play the game the way you want.
This actually made me happy, as previous baseball games on Xbox One were either too difficult or way too easy and too arcade-style. You can opt for casual if you're new to the game to have the CPU handle most of the gameplay and fielding for you. There's also simulation if you really don't want CPU help, or competitive if you want to depend on your own skills. The game will even ask for dynamic difficulty, which can change up the difficulty if you become too good and pile up too many wins.
You can select a difficulty level, and then move on to tweak the way you pitch or field, and choose various controller schemes. These are all explained by the game for you as you explore your options, and you can even demo the controls before picking a final option. I opted for a more casual experience with the meter pitching type, the zone hitting type, trackball, and auto fielding turned on.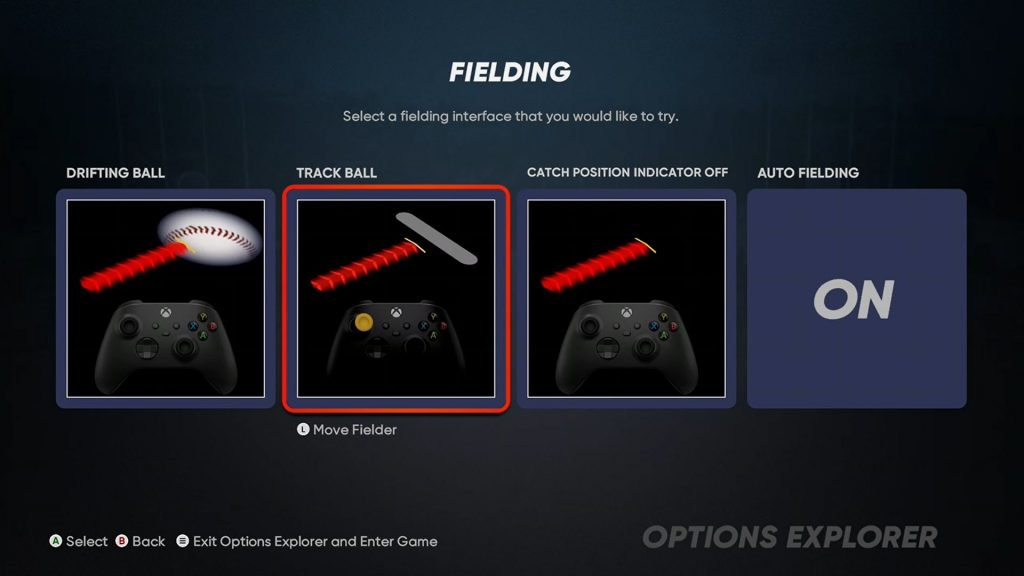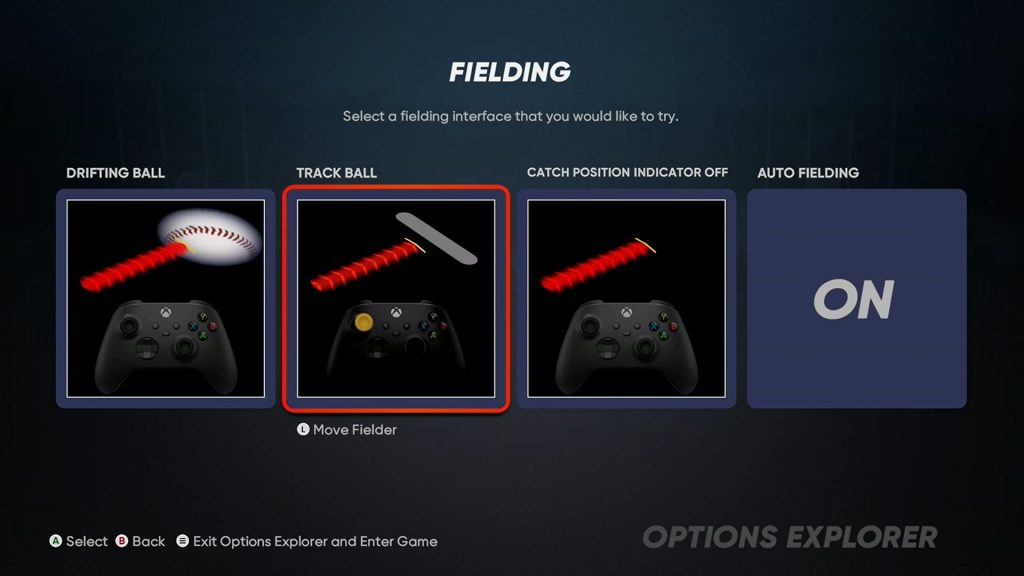 This combination I choose is best for anyone who just wants to have fun in the game and not end up rage quitting. You'll get more in-game and on-screen visual hints about how to improve your batting, or your fielding with these options turned on.
Note that there is a new pitching mechanism this year known as Pinpoint Pitching. This will require you to use your controller's right analog stick to find the location and the quality of the pitch. Various patterns are linked to various pitches. The craziest pattern is the half-circle, and then rotate clockwise movement for a two-seam fastball. I guess this is more true to life but stay away if you don't want to crack your controller in half.
Anyway, this level of control and customization is all the kind of stuff I wish were in other sports games like Madden. Those games have always been unplayable to me because there are too many button combinations to make for common in-game tasks. In MLB the Show 21, the game has your back and explains the rules of baseball, and everything you need to do to become a virtual baseball player.
Various modes & what's new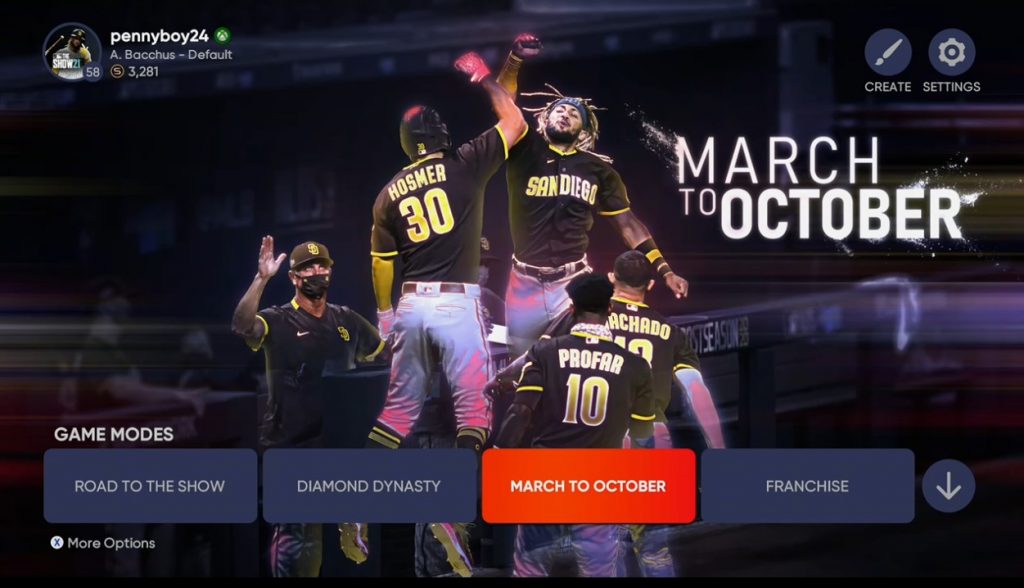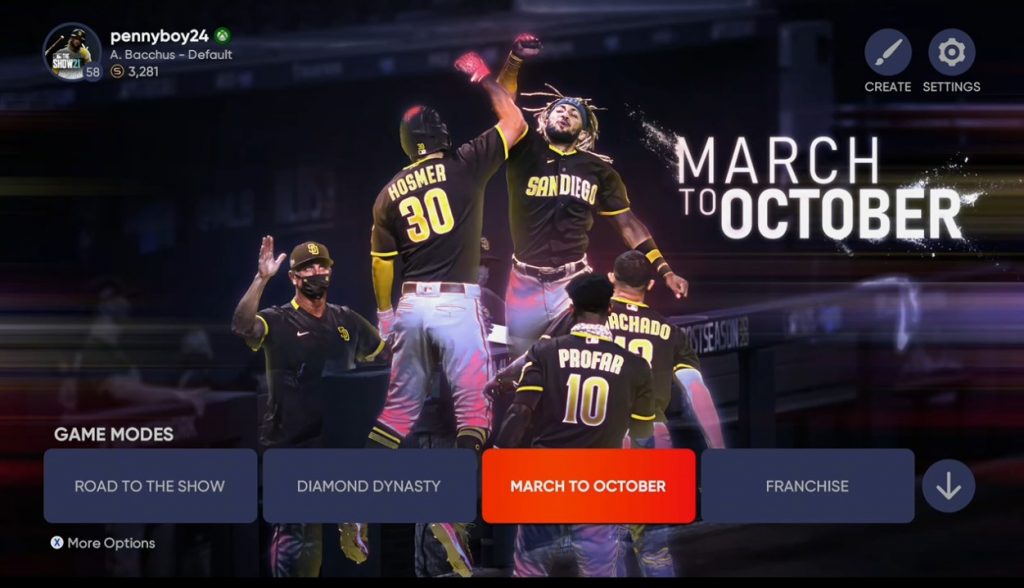 MLB The Show 21 is one of the most comprehensive sports games ever to hit Xbox. The reason why? You can enjoy the game of baseball in more ways than one.
The main game modes in the game include Road to the Show, Diamond Dynasty, March to October, and Franchise. These modes focus on prolonged gameplay and require the utmost dedication and concentration. You can't just finish these modes overnight, or in a few days.
For some more fun and quicker moments, you also can quick play with Challenge of the Week (a curated set of challenges,) Moments in MLB (a list of special moments from the season you can play,) or play a Home Run Derby (just slam the ball out of the park!) And, for a quick trip to baseball's biggest game enter Postseason Mode and shape your own World Series and MLB Postseason bracket.
If you're confused, I attempted to summarize each of these main game modes below. Of course, you always can run a quick Exhibition game using Live Rosters, too, or go with Retro Mode for a more simple tap and go control mechanism. There's no need to explain those two modes, as it's one of the easiest in the game just pick a team, settings, and start playing.
Diamond Dynasty: Play games, collect new players, build the best squad possible. Like Ultimate Team in FIFA 21 or MyTeam in NBA 2K21. Collect MLB Players to improve your roster and build your own dream team. Programs here have been streamlined this year to make goals and rewards more clear.
Road To the Show: Start your own career as a minor league player, make your way up the ranks and aim to become a MLB Star.
March to October: Pick a MLB Team, play as them throughout the simulated season and try to guide them to the World Series. A casual mode where you get put in the ending of various games throughout the season, without having to play complete games. You also can manage the team/trade players/train minor leaguers, too.
Franchise: Pick a MLB Team, and manage the team throughout the year. Set rosters, scour players, hire and fire players and staff. You become the owner! Automate tasks, if needed to speed up the process. (You can't send this team online, though!)
In my time playing, the fun aspect of the game has been the March to October mode. This mode just puts you, the player, in games right when they're close to ending (usually the 6th inning.) The goal is for you to try to win, or finish off the game for your team and keep winning to build a strong season record. It's quite fun, and I've finally managed to guide my Mets to a World Series Title.
Automation is what's key here, and it is what makes playing fun. There is no need to play the full 162 game schedule as this mode will skip games for you based on your performance. Some of the moments you get placed in can be quite interesting. I was placed in a tie-game scenario between the Yankees and the Mets and broke the tie with a home run and led my team to more momentum. Exciting!
Nothing makes me smile more than beating the Yankees in #MLBTheShow21. Jeff McNeil and Pete Alonso with late-inning home runs to break up the tie in the Subway Series! This is one of the games from the March to October mode. So much fun! #LGM pic.twitter.com/1h4Ux7vMrj

— Arif Bacchus (@abacjourn) April 29, 2021
As for what's improved in these modes for returning players, there's a bit to note this year. You can now port your player from Road to the Show over to Diamond Dynasty to shape a roster. The player also has the ability to turn the Road to the Show character into a two-way player, too, as both a fielder and a hitter. And, in Road to the Show, you get MLB Network Podcast episodes to reflect on your in-game progress as a player, too. Small changes that only long-time players will notice.
Next-Gen Features & differences
Although I wasn't playing on a next-generation console, there is a unique feature in the game for folks who are new to the game on PS5 and Xbox Series X consoles is the ability to build your own stadium with Stadium Creator mode.
This mode lets you build a professional MLB stadium from scratch. Walls, foul poles, stands, bleachers, props, you name it is all possible here. You even can adjust wall heights and go with different dimensions, too. Anything created in this can be carried over to Diamond Dynasty and Franchise Mode so you can play in it.
Asides from this, and the 4K and 60 frames per second performance jump, there are not many differences between next-gen and old-gen versions of the game. Note that on Xbox, you'll have to pay extra for the next-gen upgrades, as Sony did not opt to use Microsoft's Smart Delivery system on Xbox consoles.
Online Play & Crossplay
As a rarity in the gaming world. MLB the Show 21 allows for online cross-play between PlayStation and Xbox users. It seems like a good idea on the surface, but online play is one of the worst parts of this game. You can actually add friends from the PlayStation world from within a system inside MLB The Show to handle the cross-play and then invite them to Exhibition Games.
For matchmaking and playing without friends and playing with random strangers, Online mode also works with what's known as "Online Rated." It is here where you can play and controlling a team of your choice. You're matched based on team rating, team strengths, and starting pitcher strengths. Longer wait times can happen if the rating isn't quite right.
There are also Custom Leagues too, where you can create your own MLB fantasy league, invite various friends and control a team and play to see which team and player end up on top. No CPUs are in this mode, and everything is dependent on the player itself.
Generally speaking, playing with friends across consoles is really buggy. There's a lag in between hitting or throwing the ball and also fielding. Playing with friends who are on the same console (Xbox to Xbox) is a much better experience and a lot less frustrating. It's also a shame that you still can't take your own Franchise Team online, which is a long-time request of MLB The Show players.
Annoying microtransactions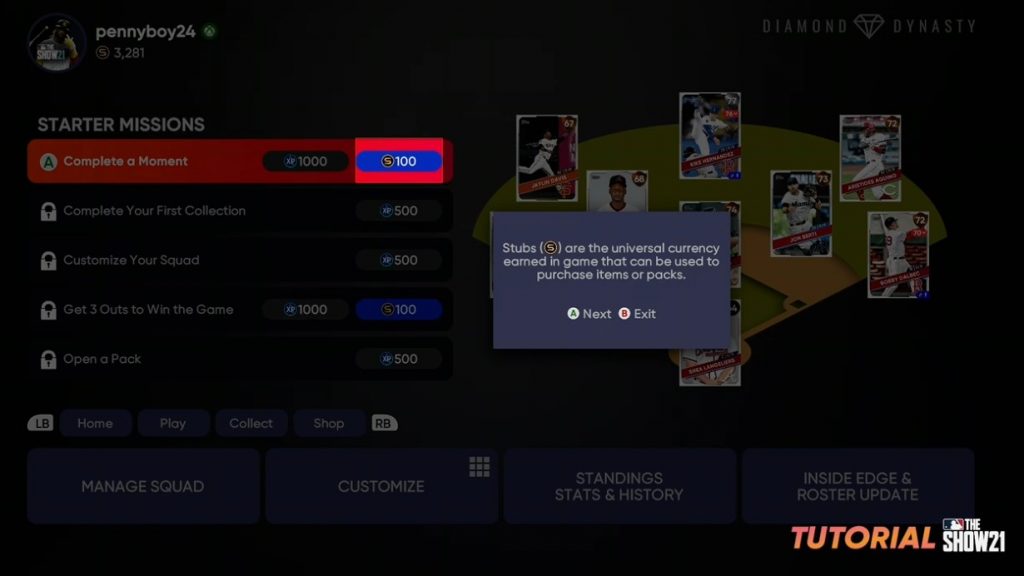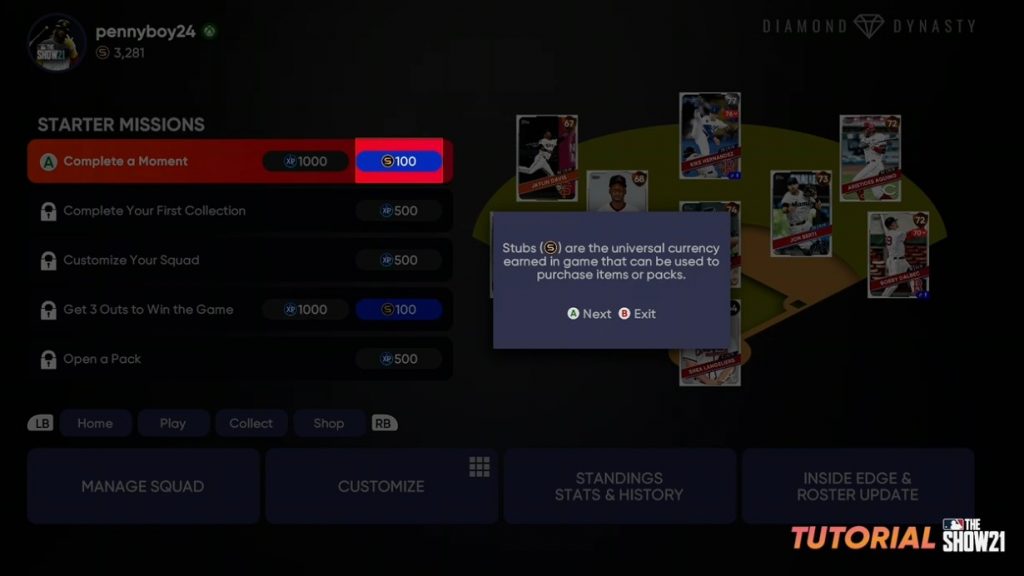 The other annoying aspect of MLB the Show 21 is the microtransactions. These are indeed completely optional, but I hate seeing card packs and stubs show up on my screen after competing games. MLB The Show uses Stubs as microtransactions, which will let you buy card packs in Diamond Dynasty, and other modes, it doesn't require real-world money, as these are earned easily during regular gameplay, but these are very annoying to have in place in moments where I just want to enjoy the game.
Worth the buy or Game Pass sub
For die-hard as well as casual baseball fans who have an Xbox console, MLB The Show 21 is a dream come true. It's a visual masterpiece, and the gameplay is really fun and easy, for any gamer, or anyone who has an interest in the sport. There's so much you can do in the game, too, from playing with friends, managing your own leagues, or becoming an MLB player. It's just the online play and microtransactions that are a bit annoying, but otherwise speaking, MLB The Show 21 has made a fantastic debut on Xbox.