Lenovo ThinkPad C13 Yoga Chromebook Starting at $584.35
Chromebooks have made a substantial mindshare divot in the education market of North America and as such, demanded attention from not only buyers but are also forcing OEMs to take their product value seriously.
The Lenovo ThinkPad C13 Yoga Chromebook represents a deviation from the perceived informal nature of Google's ChromeOS experience. As ChromeOS reached the decade milestone recently, it's been interesting to see the evolution of the cloud-first operating system pick up more traditional desktop features and experiences to round out its usage. Ten years later we have both "professionally-minded" Chromebooks as well as child/student-friendly options being seeded into the PC market.
I feel that reviewing a ThinkPad built version of a Chromebook enables me to skip past the explanation of ChromeOS as well as covering its historical evolution because anyone purchasing an enterprise-level Chromebook knows the exact niche the device is intended to fill. I also was very tempted to try and weave in comparisons to Windows 10 devices of similar price and functionality but it felt a bit of an irrelevant stretch because ThinkPad's are typically bought by and for businesses, and wholesale purchases aren't typically done by an uninitiated buyer.
Someone who's contemplating the ThinkPad C13 Yoga Chromebook is typically doing so consciously and deliberately, and to that end, I'll try and keep the review focused on the ChromeOS experience and hardware that elevates this device from other options.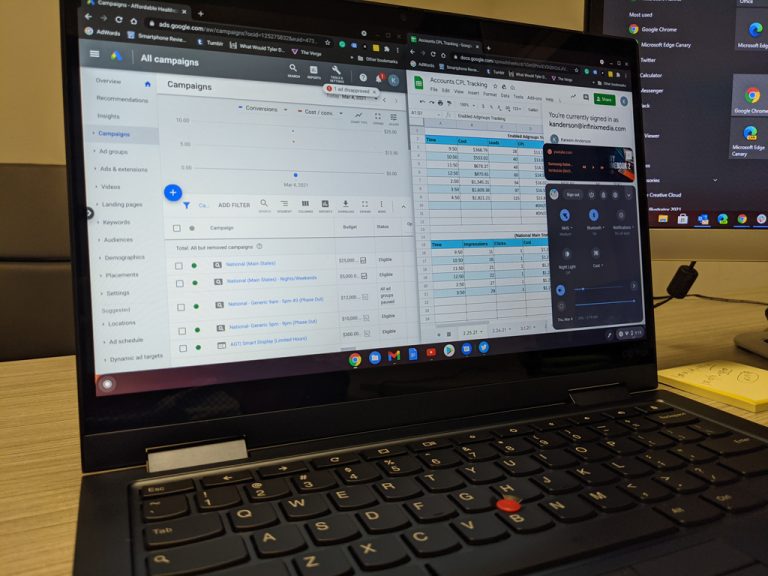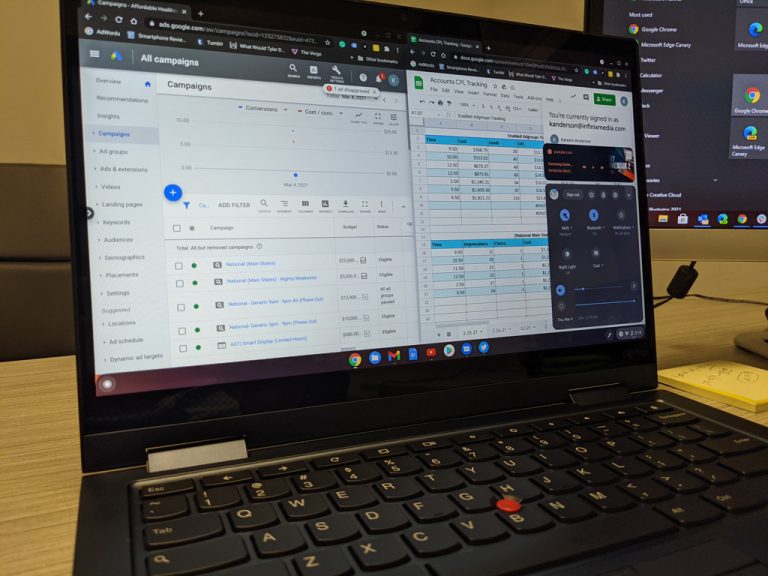 Hardware
The Lenovo ThinkPad C13 Yoga Chromebook is every bit a ThinkPad as any of its Windows 10 or Linux powered cousins. To be honest, if it wasn't for the ChromeOS logo etched on the outer lid of the laptop, it could very easily be mistaken for a mid to top-tier Windows 10 notebook. The C13 weighs the standard three pounds of any midrange laptop and sports the same 12-point military grade spec list as all other ThinkPad's that includes resistance to sand, dust, solar radiation, humidity, fungus collection, and spill-proof keyboard decks.
The dual-hinge design on the C13 that enables its yoga-Esque positioning is as sturdy as ever allowing for use in the tent, stand, and tablet modes with ease and confidence. As its Windows counterparts, the C13 Yoga Chromebook comes with the same machined aluminum casing which is cool to the touch but unlike its competition, the review unit I got came in this distinctive Abyss Blue, which appears as matte black in most pictures but is striking in person.
At 13.3-inch, the physical footprint of the C13 is similar to other 13-inch laptops at 15.5mm x 307.56mm x 212.1mm / 0.61″ x 12.11″ x 8.35″. With those dimensions, Lenovo managed to pack in a healthy heaping of I/O that includes:
2 x USB 3.2 Gen 1 Type-A
2 x USB 3.2 Gen 1 Type-C (DP 1.4)
HDMI 2.0
MicroSD card reader
Headphone / mic combo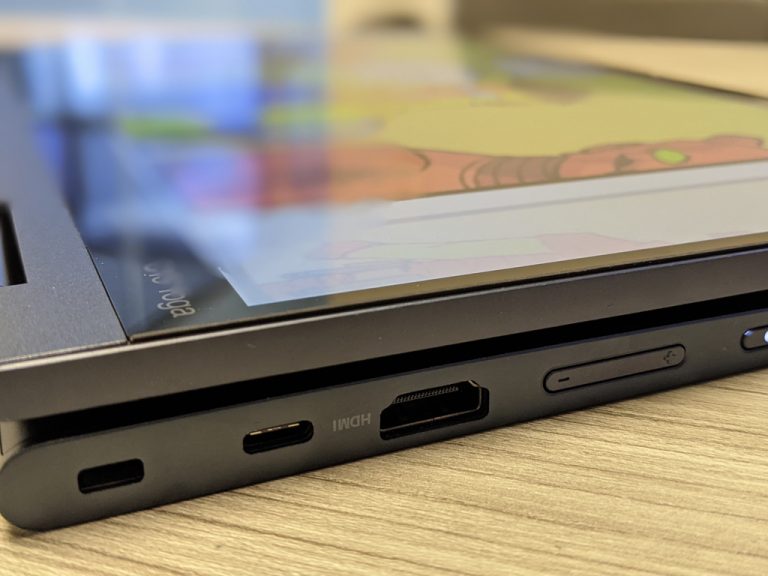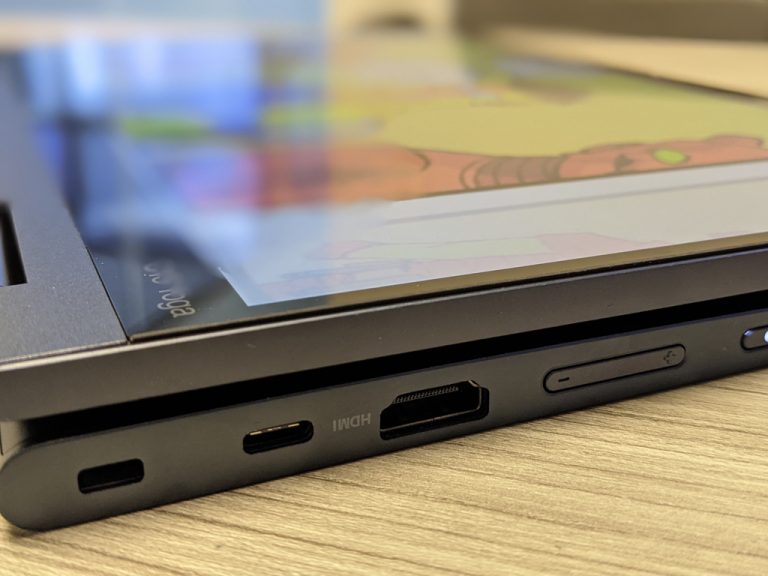 Speaking of if 13-inch-ish footprint, under the hood is a relatively run-of-the-mill display at 13.3-inch and sporting two resolution options of FHD (1920x1080p) or UHD (3849×2160). Both C13 screen options come with anti-glare technology, 10-point touchscreen support, and up to 300 nits of brightness, while the UHD version can push to 400 nits when necessary.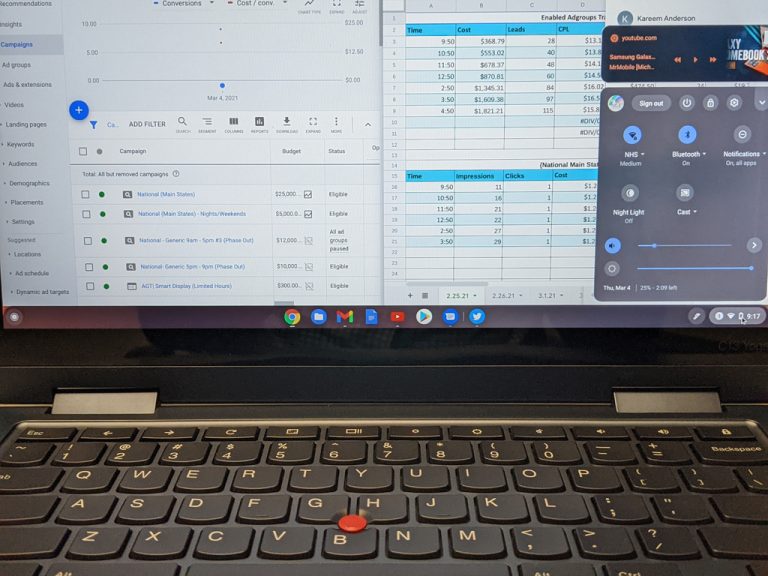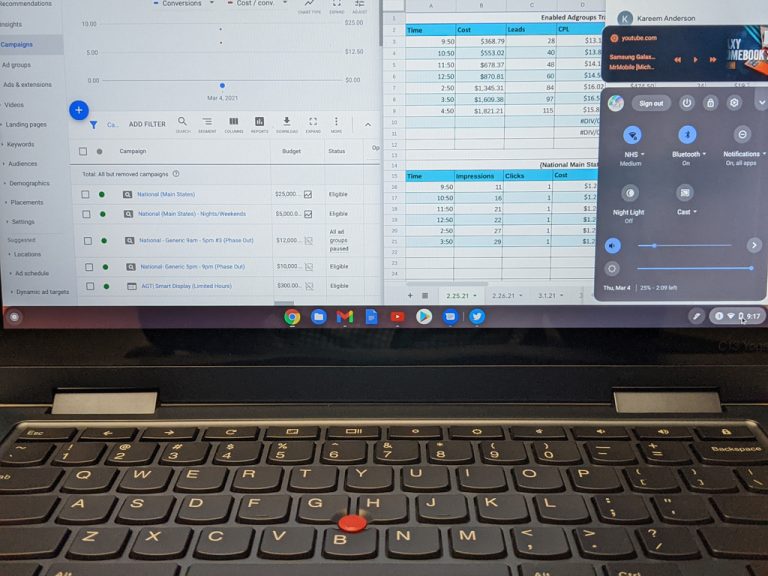 Additional hardware includes a USI pen that stows away in the chassis of the laptop similar to other Lenovo options. Aside from its incredibly convenient accessibility position with the device itself, the pen that comes with the Yoga doesn't require additional batteries or convoluted pairing processes as well as support for 2,048 levels of pressure.
Unfortunately, ChromeOS and Android developers offer very little in useability or support for apps that take full advantage of pens at the moment.
For anyone eyeing this C13 as their next makeshift conference machine, I'd have to sit them down and encourage them to strongly consider another device. The two cameras on the C13 are middling at best. A 720p HD web camera offers the bare minimum in viewability (hyperbolically speaking of course). There is an optional "rear-viewing" camera that offers the best 5MP can output with a slightly wider-angle that rests just above the keyboard and is enabled when the device is in tablet mode.
More disappointing than the camera situations are the mics and speakers on the C13. Even if someone wanted to join a meeting with the camera shutter closed (which this device offers), the sounds going into and coming out of the laptop are pretty weak. While Lenovo packed dual far-field mics and dual stereo speakers the sound on both ends is tinny, baseless, and echoey.
The keyboard on the C13 is as responsive and springy as all other U-shaped chicklet keyboards from Lenovo equipped with the iconic red nipple as well. As a new user of ChromeOS, I did appreciate the intuitive key layout that offers a dedicated search button. As Microsoft continues to figure out its search paradigm in Windows 10, I would love to see a similar button appear on Windows keyboards as well.
Specs
Lenovo opted to stuff AMD chips into its two variants of the C13. On the cheaper end, buyers can snag an AMD Athlon Gold 3150C powered Chromebook that offers up to 3.30GHz Max boosts, 2 Cores, and 4 threads.
On the more expensive end, the C13 comes with an AMD Ryzen 7 3700C processor that offers 4 Cores and 8 Threads, and a Max boost of 4.0GHz. I was given the higher-end AMD to test and during my review, the device ran fairly smoothly, but there were instances of the fan kicking on and some staggering when mixing in Android functionality.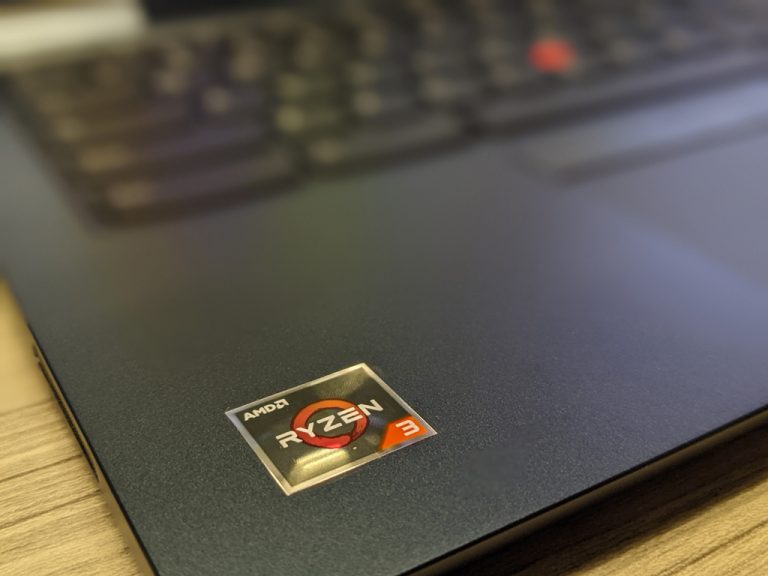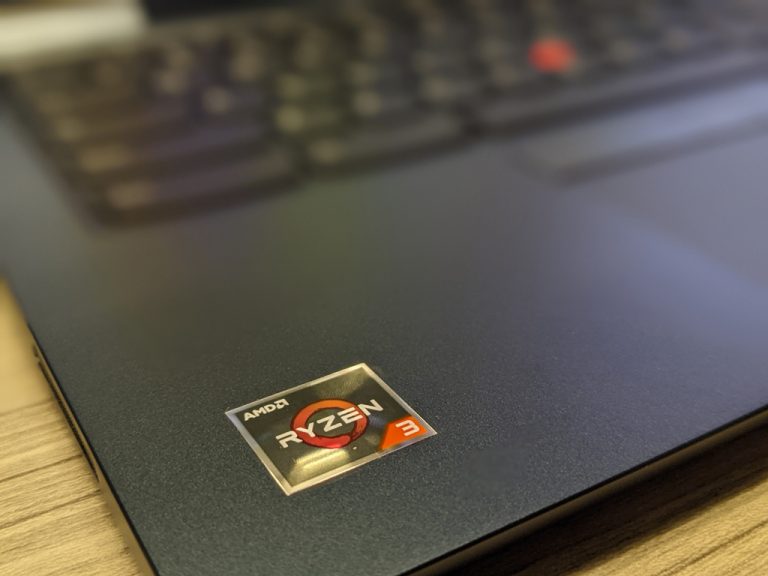 In addition to the AMD processors, buyers will get integrated AMD Radeon graphics, that don't necessarily push the envelope but keep window management on the device snappy.
Both variants come with 16GB DDR4 memory and storage options that range from an insulting 64GB eMMC up to a respectable 256GB.
Lastly, there is a battery situation.
Perhaps it was my own perception that led to a naive view of battery life on a Chromebook, but while Lenovo claims 12.5 hours, I routinely squeezed out 8 hours from the 51Wh capacity.  Yes, 8 hours is still a good workday but for an operating system that's ostensibly a web browser, I suppose I expected it to beat out my Surface Pro 7 or Surface Laptop 3.
Experience
I'm going to ask for a bit of understanding from ChromeOS stans as I'm still relatively new to the OS, so there may be functionality or features I miss right now.
With that being said, the ChromeOS experience is slick and mostly intuitive. My hang-ups come when trying to port over my old Windows 10 workflow to a new OS paradigm. When I normally port over my Windows 10 workflow to a Mac, it's almost seamless because most if not all the random .exe files I need are supported.
However, on ChromeOS, that's not the case, and while there plenty of extensions and supplemental Android apps that can be substituted, there are still some gaps that appear.
For instance, I need to use Google Ads Editor for work and there is no practical solution for this scenario. What's a bit maddening is that both the operating system and the software are made by the same company. Normally, you can point to one or the other dropping the ball on development support but in this case, it's just a lack of foresight I suppose.
I also use a lot of Excel sheets packed with macros and that's just a no-go on Android or within ChromeOS. I was able to view most of my documents via Office 365 apps on Android and through the Chrome browser but when serious edits needed it to be made, I found myself reaching for my PC instead.
Another crack, which might be a Microsoft issue is the performance of Edge in ChromeOS. Right, I know the whole selling point is Chrome/ However, since the introduction of Android apps I've been using this functionality to make my transition to Chromebooks from Windows 10 PCs easier by using streamlining my browser usage with Edge. Interestingly enough the Edge app for Android on smartphones works flawlessly on my Pixel but lags and stutters on the C13 Chromebook. Microsoft said it's going to streamline its Edge development across platforms, so I'll chalk this one up to them.
Still, Android on ChromeOS feels tacked on in almost all incidents from apps being unable to reshape to black screens appearing and disabling the display when exiting games or viewing video from within an app such as Reddit.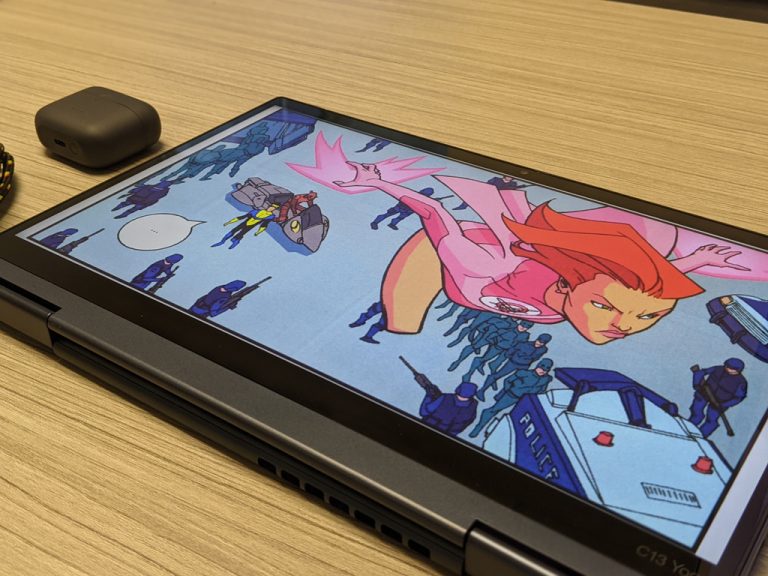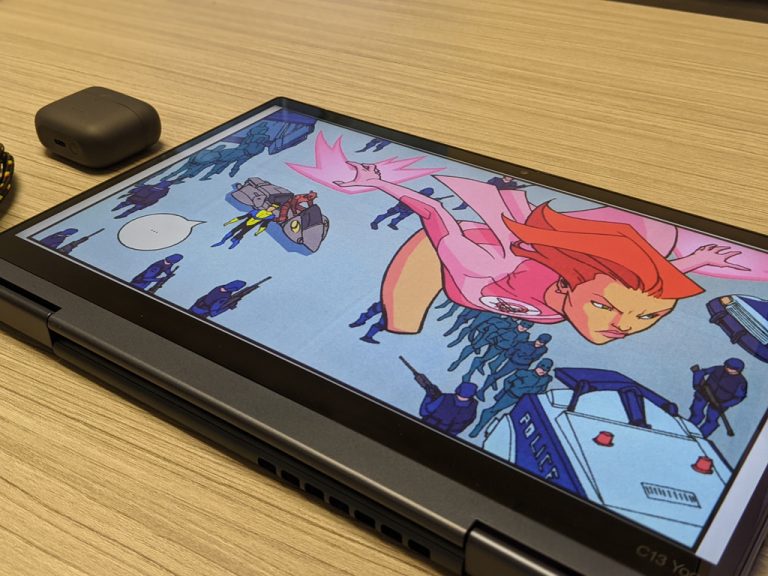 All in all, I liked using the Lenovo C13 Yoga Chromebook and some of the new features that recently came down the pipe for ChromeOS' decade anniversary. The C13 is a relatively speedy device for straight browsing or web app usage, however, the molasses creeps in when mixing in Android usage. There is a whole laundry list of Android compatibility and development issues that lay right underneath the surface of this new OS that can make it frustrating to navigate at times.
Summary
Lenovo has checked most boxes with the C13 (except for audio and webcams) that businesses looking to either spin up their new workforce with a Chromebook or an executive wanting to make use of ChromeOS have yet another option. As long as your business isn't reliant on outdated Active X technologies or requires .exe installations by admins, this premium feeling Chromebook should serve you well in most enterprise scenarios, especially if your admin makes use of the command terminal.
It should be stated that the C13 started at the higher end of pricing when compared to its other Chromebook competitors in Samsung and Asus. I've attributed the higher price tag as a cost transfer from the mil-spec design that few other computers offer at the moment.