Starting at $419.99
Windows 11 has been subtlety adding features to the operating systems reinvented touch experience, and the Dell 24 Touch USB-Monitor is amongst a handful of devices that truly showcase how far Microsoft's development has come, and how far it needs to go.
When Dell offered up a review unit of its latest Dell 24 Touch monitor, the first thing that came to mind was Microsoft's Surface Studio, in large part because of the articulating stand that allows the device to be lowered from a standard vertical viewing experience into a more horizontal touch-first event.
Specs
Dell 24 Touch USB-C Hub Monitor
Display Type
LED-backlit LCD monitor / TFT active matrix
Audio
Type
Speakers – mono
Built-in Devices
USB 3.2 Gen 1/USB-C hub
Output Power / Channel
3 Watt
Aspect Ratio
16:09
Input
Type
Touchscreen
Pixel Per Inch
93
Connectivity
Interfaces
HDMI (HDCP 1.4)
DisplayPort 1.2 (HDCP 1.4)
USB-C 3.2 Gen 1 (power up to 90W)
2 x USB 3.2 Gen 1 downstream
USB-C 3.2 Gen 1 downstream (power up to 15W)
USB 3.2 Gen 1 downstream with Battery Charging 1.2 (power up to 10W)
LAN (RJ-45)
Audio line-out (mini-jack)
Color Support
16.7 million colors
Display Position Adjustments
Height, swivel, tilt
Horizontal Viewing Angle
178°
Height Adjustment
4.4 in
Backlight Technology
LED backlight
Tilt Angle
(-)5°/+60°
Weight
17.33 lbs
Swivel Angle
(-)30°/+30°
Diagonal Size
24″
Features
Security lock slot (cable lock sold separately), VESA interface support
USB Power Delivery
90 Watt
Cables Included
1 x DisplayPort cable – DisplayPort to DisplayPort – 1.8 m
1 x HDMI cable – 1.8 m ( for selected countries only)
1 x USB 3.2 Gen 1 upstream cable – USB Type A to C – 1.8 m
1 x USB 3.2 Gen 1 upstream cable – USB-C – 1.8 m
Native Resolution
Full HD (1080p) 1920 x 1080 at 60 Hz
Input Voltage
AC 100-240 V (50/60 Hz)
Brightness
300 cd/m²
Power Consumption Stand by
0.5 Watt
Color Gamut
99% sRGB
Dimensions & Weight Details
With stand – width: 21.2 in – depth: 9.8 in – height: 12.6 in – weight: 17.3 lbs
Without stand – width: 21.2 in – depth: 2.1 in – height: 12.6 in – weight: 8.5 lbs
Vertical Viewing Angle
178°
Power Consumption (Max)
190 Watt
Build Quality
5/5
Just like its laptops, desktop towers, webcams, keyboard and mice and mini computers, the Dell 24 Touch (P242HT) is a well build piece of hardware. Out of the box, the (P242HT) comes in several parts that include the screen, the weighted base, the articulating arm that connects to the base, a thin plastic cover to conceal the USB-C hub and several connecting cord options.
However, when all the parts of single-click put in place, the (P242HT) feels like a solid unit of constructed metal, plastic and glass devoid of creeks or flexing at any point of the design. Aside from the thin plastic port cover, the rest of the monitor feels premium and dense.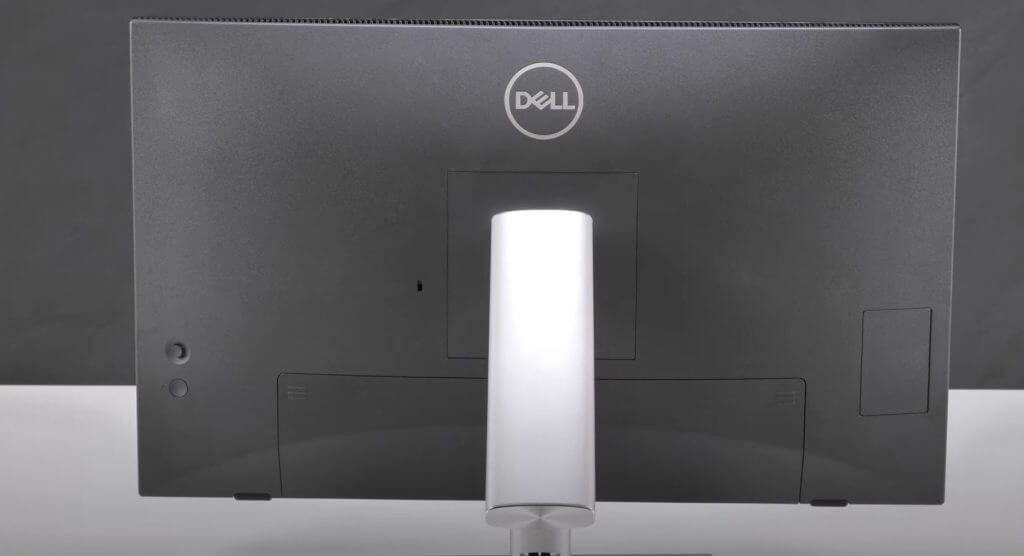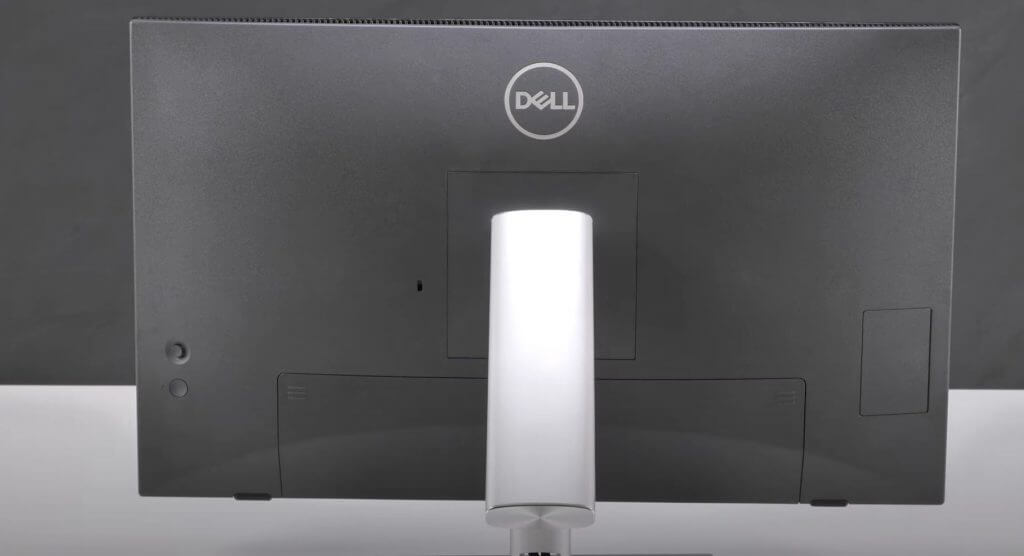 The (P242HT) comes in a matte black, almost a dark grey color combined with an aluminum silver accented articulating arm connected to a similarly colored base.
As I mentioned up top, all the parts of the (P242HT) snap into place with no need for screwdrivers, Allen wrenches or power drills. The one acceptation to the snapping construction is the turnkey latch located on the base the secures the articulating arm in place.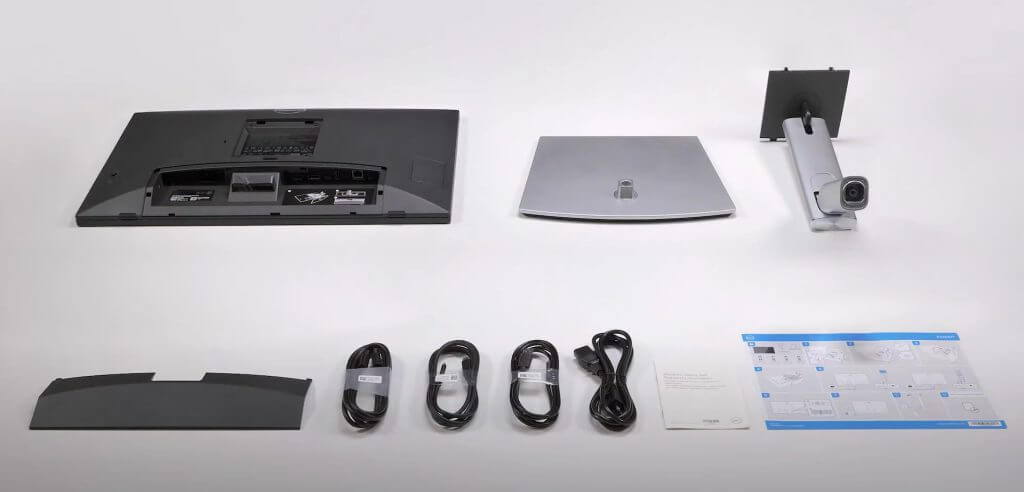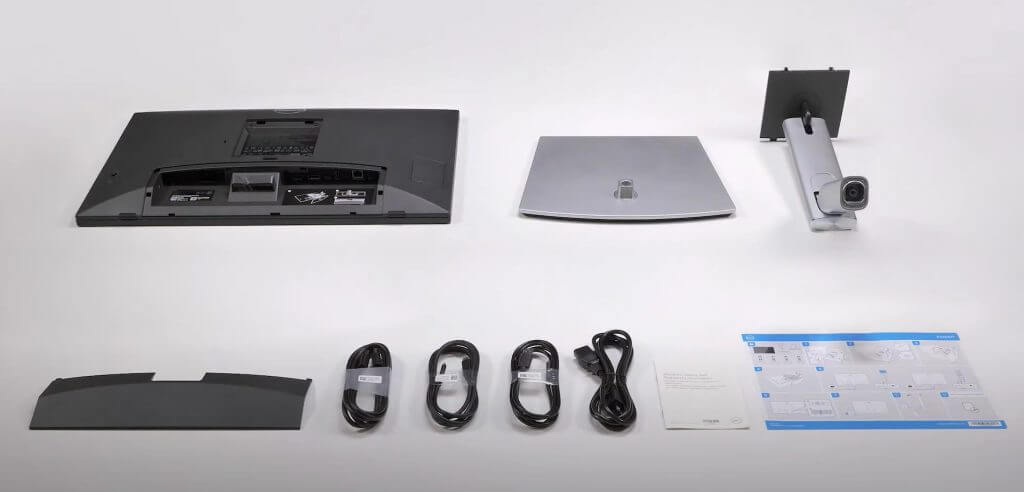 There are four rubber mounted bumpers located on the bottom that metal base that keep the monitor practically cemented to most desk surfaces which comes in handy as the articulating arm can also swivel from side to side about 30 degrees alongside its up and down motion.
Unfortunately, Dell follows a long list of OEMs who continue put the connecting ports on the backside of the monitor with cords hanging down like bats. I get that OEMs are looking to reduce the overall volume of their monitors but I wish they would just put them connected facing forward for easier accessibility. The end result is typically the same visual on a desk or mounted and reduces the time users spend molesting their ports to make sure they cords are aligned.
To that point, the (P242HT) comes with a full HDMI, Display, 2 USB-C, 1 USB-A, LAN, and audio in/out ports. Fortunately, Dell carved out a side panel that houses one of the USB-C ports that provides downstream power to help laptops recharge as well as tether the screens.
Display
4/5
The (P242HT) sports a Full HD (FHD) resolution across a 24-inch IPS panel at 1080p with a modest 60Hz refresh rate which are descent specs for a mid-range monitor but Dell is asking for gaming monitor prices at $419.99. While the defining feature is the ability to touch the device, it feels like the (P242HT) engineering team and the marketing team may have crossed wires putting out a monitor with only 60Hz while supporting touch at $419.
Tweaks to the Windows settings for page scrolling can cover up jitter when using a mouse of trackpad but when someone puts finger to screen, it's much harder to conceal at 60Hz.
Unlike the Surface Studio, Dell coated its display with anti-glare and 3H Hard Coating that manages to cut the gloss, glare and reflection of the monitor as if it was a matte panel, while still maintaining a smooth glass surface for touch.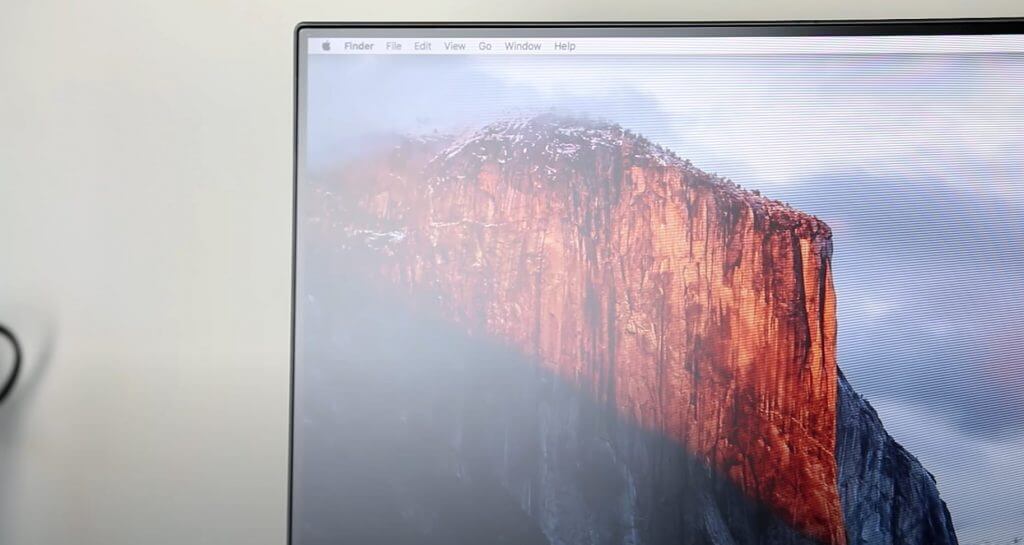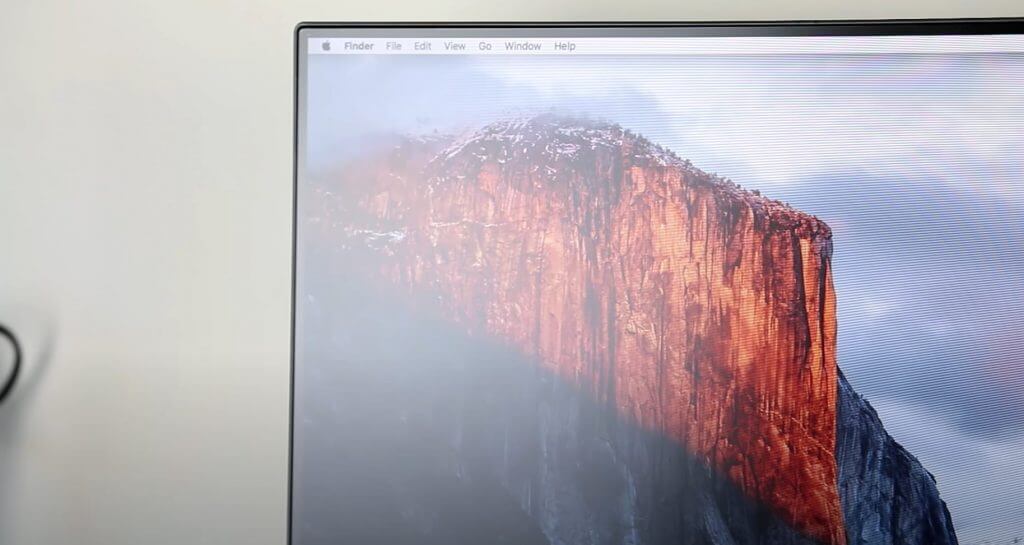 Combined with three edges embroider with very thin bezels, the (P242HT) offers a larger surface area to explore Windows 11 with.
The biggest knock on the (P242HT) is its lack of support for stylus' or pens. While it would be nice to have a higher refresh rate for use as a gaming monitor as well, Dell's pitch for the (P242HT) is that users can articulate the screen to get more done, and this is where the Surface Studio stands alone.
Lowering the screen should open up the world of Window's touch and pen experiences, but without support of pen or stylus on board the (P242HT) has seemingly arbitrarily hamstrung its potential.
As far some of the more technical aspects of the (P242HT), it gets decently bright with a max 254 nits, and hovers just underneath the baseline gaming monitor which tend to start at 300 plus. However, depending on the lighting in the room, be it bright natural light from an window or the tone coloring of florescent bulbs, the max brightness might not be enough for some users.
Being a monitor meant for professional work, the (P242HT) does a decent job at both contrast and color gamut coverage hitting 100 percent sRGB, while only getting B pluses on Adobe support at 79 percent and 85 percent of Adobe coverage.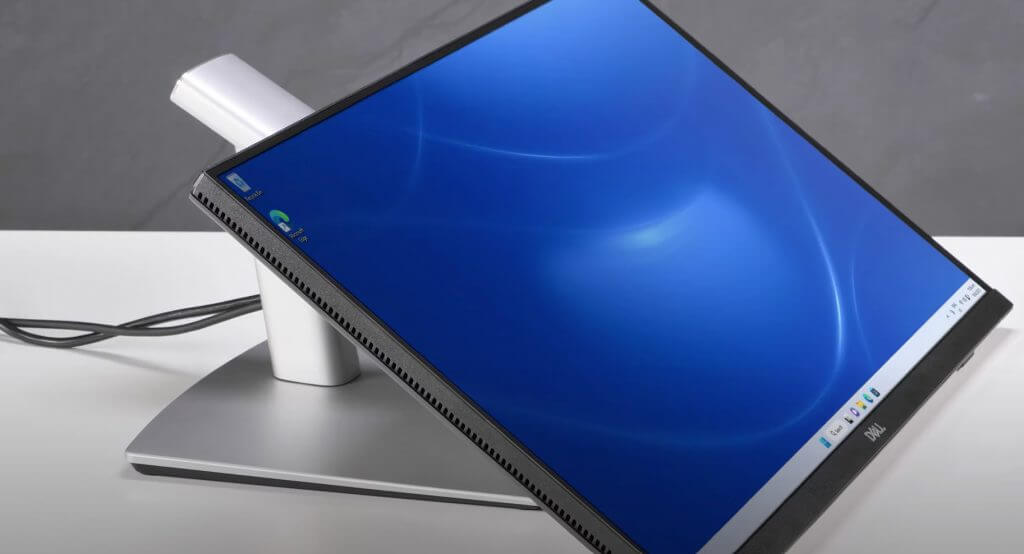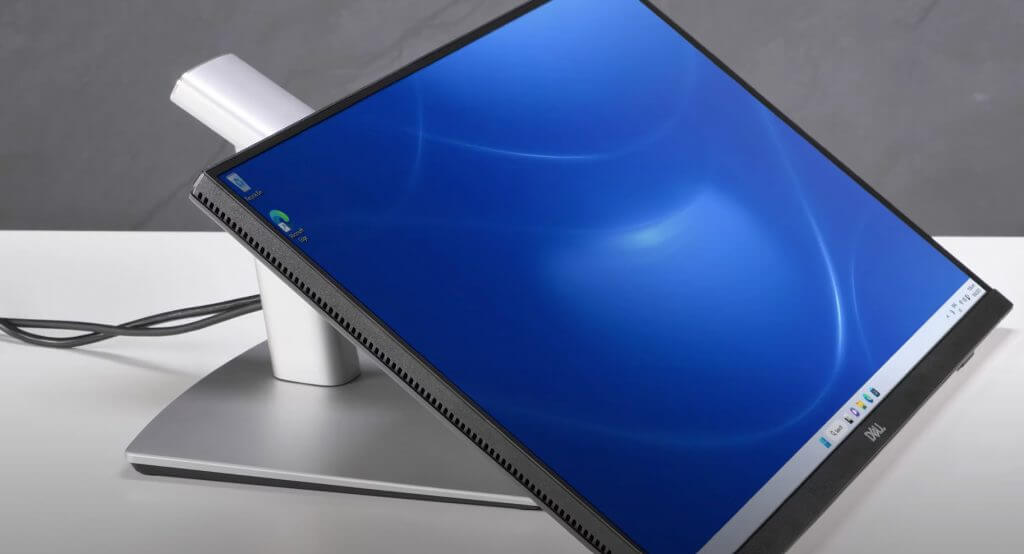 Perhaps, there is a link between the color gamut support and the lack of pen support as the (P2424HT) wouldn't be pleasing experience for graphic editors who use pens for precision, or video editors who rely heavy on color grading.
Also, there is no HDR support. Nope. None.
Performance
3/5
The monitor does well as productivity window and the articulating base allows convenience for those instances in which you need to show a colleague, superior, client or partner a specific piece of content or details in person.
The screen is very responsive to touch and the small added features in Windows 11's touch experience come in handy when tossing windows to snap corners or the predefined Snap orientations.
Despite the color gamut mediocrity, images, movies, and text look crisp at 150, 125, and 100 percent scales and provides a slightly cooler viewing experience while delivering dimmer blacks.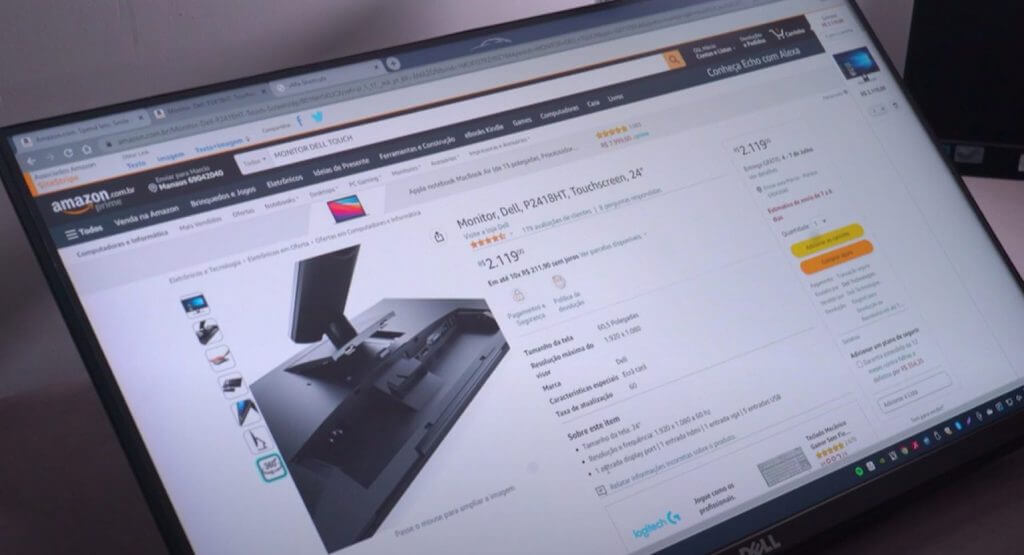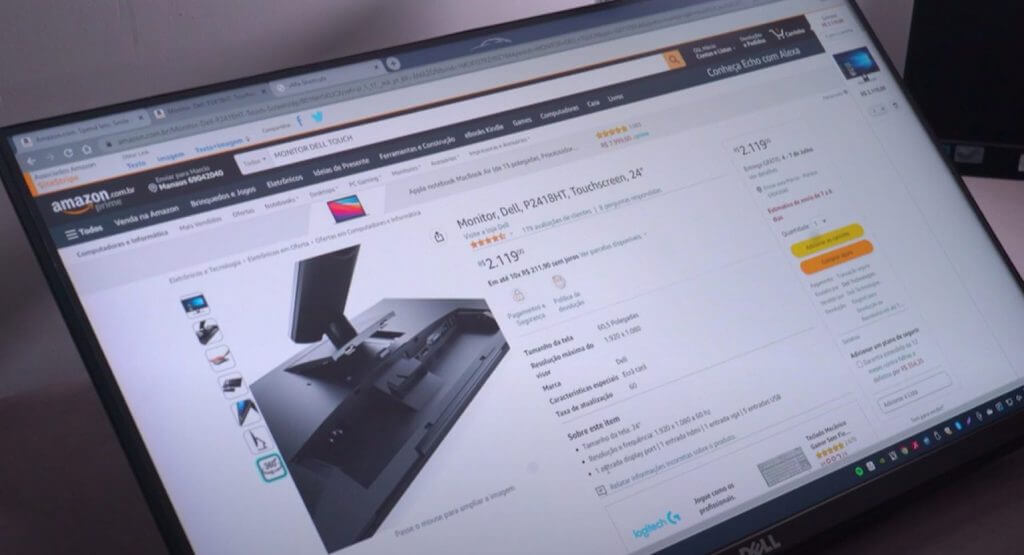 The speakers on the (P242HT) are tinny and reach distortion at relatively low levels and not recommend for any use.
The display on the (P242HT) naturally sits low and only goes lower when articulated, which can be an issue for taller users or people who prefer to host or attend video conference with an elevated webcam to avoid the notorious double chin or up nose angles.
Similar to my complaint about the positioning of ports, OEMs need to move away from the joystick manual controls placed on the rear of displays. The design of the joystick menu structure is time consuming and counter intuitive on most devices, the (P242HT) also falls victim to this and makes manual adjustments a chore.
Summary
3/5
The articulating stand was a big draw for me as it pointed to the closest I'd get to having the Surface Studio experience for a reasonable price point.
Unfortunately, due to some choices made by Dell, the (P242HT) comes close but goes down a limited semi-productivity lane vs the free-flowing creative pathway it could have, and by limiting itself, it also finds itself with a odd niche user base.
Without pen support, the (P242HT) provides a nice touch experience but for $414.99, how great is the return on investment for that experience?
For anyone looking for large screen Windows touch experience the only options seem to be between a $3K plus Surface All-in-One or a handful of portable monitors that can been just as costly while compromising a whole lot more.
For now, the Dell 24 Touch USB-C Hub Monitor remains the closest alternative to a Surface Studio experience but comes up short in a handful of ways that excludes content creators while also being a slightly expensive bill for the convenience of being able to occasionally enlarge content.