343 Industries, the developers behind the mega-popular Microsoft-owned Halo franchise, have announced that numerous online services will be discontinued for all Halo video games on the Xbox 360 console beginning sometime in December 2021.
Digital sales for Xbox 360 Halo video games have also now been halted though gamers can still claim various downloadable content (DLC) for free if they require it.
The affected video games are Halo: Reach, Halo 4, Halo 3, Halo 3: ODST, Halo: Combat Evolved Anniversary, Spartan Assault, and Halo Wars. Fortunately, all of these titles have been re-released on the Xbox One generation of consoles or Windows PC in one form or another over the years.
Halo: Spartan Assault has had an Xbox One and Windows version for a while now while Halo: Reach, Halo 4, Halo 3, Halo 3: ODST, Halo: Combat Evolved Anniversary are available to play as part of the Master Chief Collection, also playable on Xbox One and Windows. Halo Wars got the Definitive Edition treatment back in 2016 with a crossplay re-release that works on console and PC.
Xbox One versions of all of the above Halo titles are also fully supported on Microsoft's new Xbox Series S and Xbox Series X consoles. It should be noted though that while the original 360 versions of these games can also be played on the Xbox One and Xbox Series S and X consoles, doing so won't re-enable any online functionality that's disabled in late-2021. Players will need to upgrade to one of the modern re-release versions.
Here's an official chart released by 343 Industries that breaks down exactly what online services will be disabled in the Xbox 360 games in December 2021.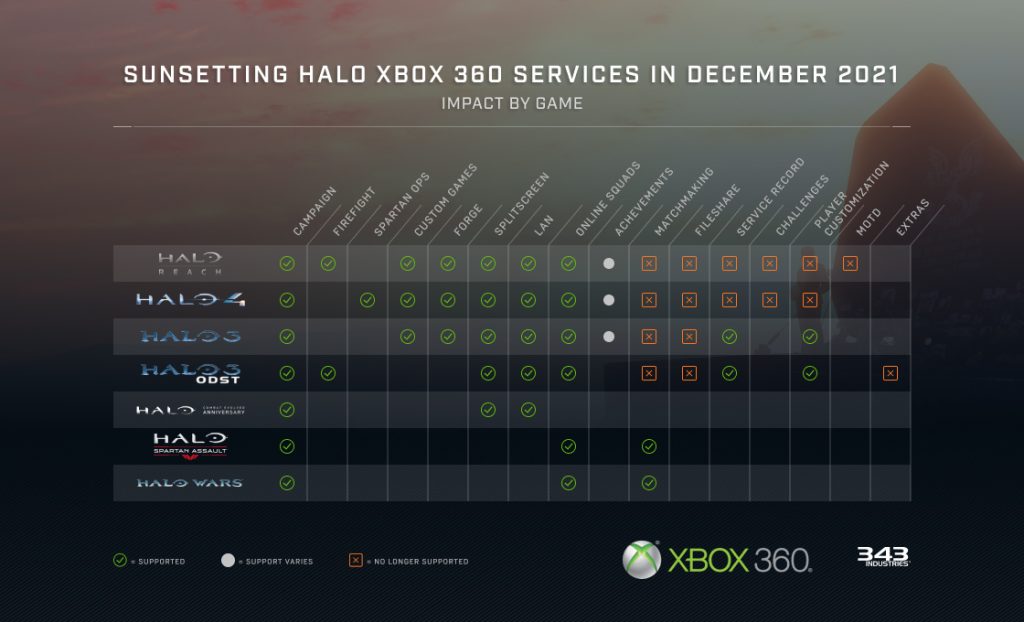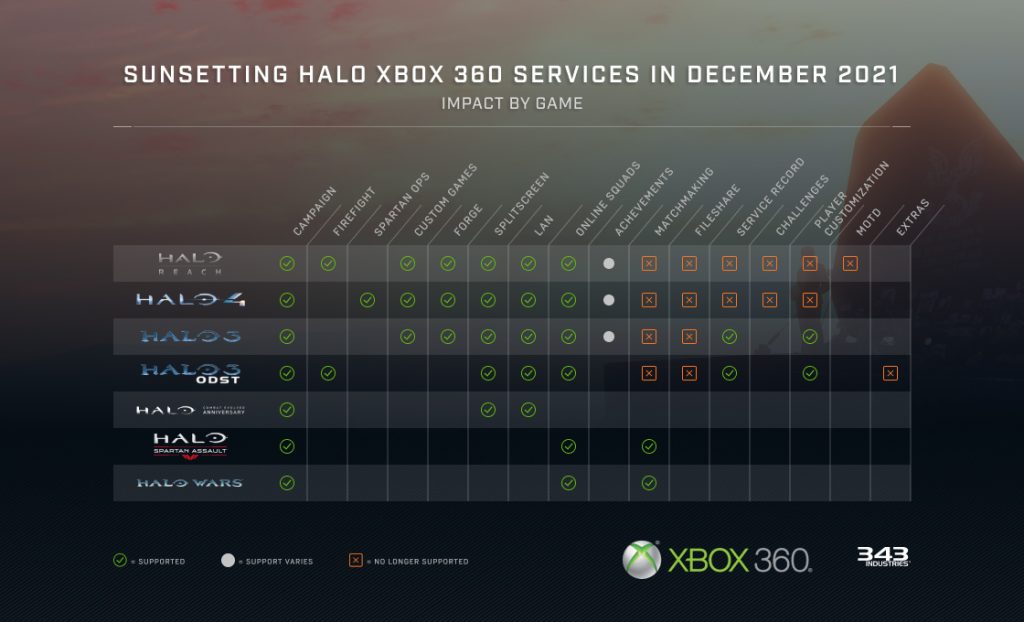 Online services are commonly disabled for video games when the number of players actively using them drops below a certain threshold. This seems to be the case here with the official announcement stating that, "Meanwhile, the month over month usage of these legacy Xbox 360 game services continues to dwindle, creating an even greater imbalance between the time and work required to maintain vs. the net impact to the overall Halo community."
This shouldn't be too much of a surprise given that many Halo fans would have likely jumped onto the newer versions of these titles by now plus the fact that the Xbox 360 is, as of this month, now two generations behind the current Xbox consoles.
Are you happy with this decision or do you think online service for video games should be maintained indefinitely? Share your thoughts with the community in the comments below and then follow us on Twitter and Facebook for more Xbox gaming news.