Microsoft has been claiming that Windows 10 is the "most secure Windows ever", and the company's malware protection tool Windows Defender has indeed raised its score in AV-Tests recently as we reported earlier that Microsoft native tool ranked 10th out of a list of 20 third-party vendors. Windows Defender has been doing more than just upgrading its malware definitions, though, and (via Windows Central) has received a new feature in the latest Windows 10 Redstone build 14271 as it's now possible to use it do an offline scan on your machine.
To run an offline scan, open the Windows settings app on your PC and then go to "Security + Updates" > "Windows Defender" and you will find the new command on the panel. The "Windows Defender Offline" tool will then restart your PC and proceed to a scan that will take about 15 minutes.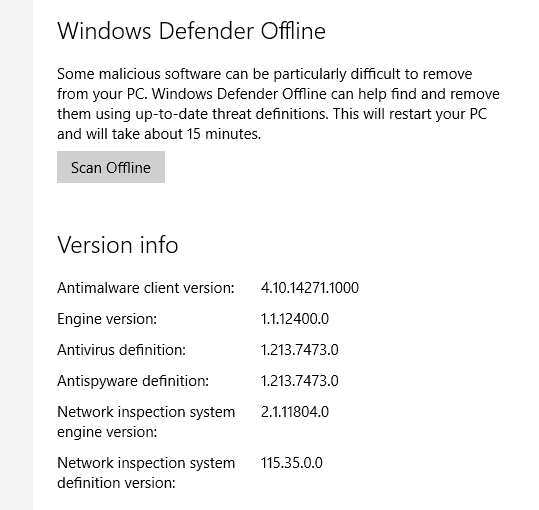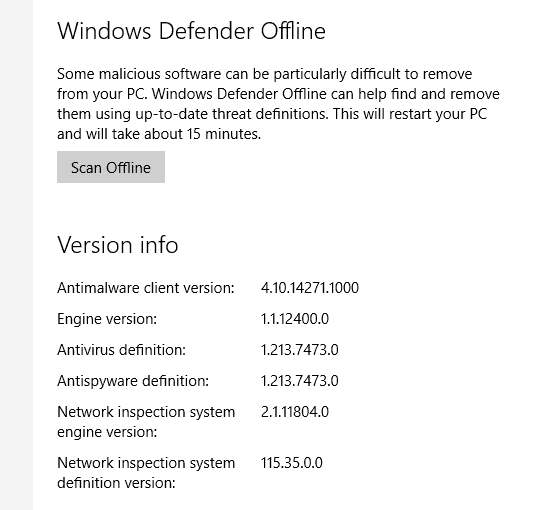 This new feature is a great addition to Windows 10 and will probably be welcomed by users who don't want to bother with third-party malware detection tools. It's good to see Microsoft taking Windows 10 security seriously, but the company may still have a lot to do to convince users of third-party software that its native security tools are good enough. Please tell us in the comments if you would consider relying on Windows Defender on your PC.