Continuum for Phones is a feature Microsoft announced back in April, which essentially turns your Windows 10 smartphone into a desktop PC, allowing you to use a mouse and keyboard with apps scaled up as if they were running on a Windows 10 desktop. Since the announcement however, Microsoft hasn't really shown off the feature in detail. Luckily, I recently had the opportunity to take a closer look at Continuum for Phones, and from it have gathered a few first impressions.
Upon first launch, it is super obvious that Microsoft has done a lot of work making the Continuum environment look and feel exactly like the desktop environment found on a real Windows 10 desktop. You are welcomed with a familiar taskbar, complete with Start, back, search and task view buttons. The Start Menu when in Continuum is simply your phones Start Screen, so you know exactly where everything is when the Start Menu opens for the first time. You can also access the All Apps list by pressing the All Apps list button at the bottom of the Start Menu, the Apps List looks identical to what it looks like on your phone.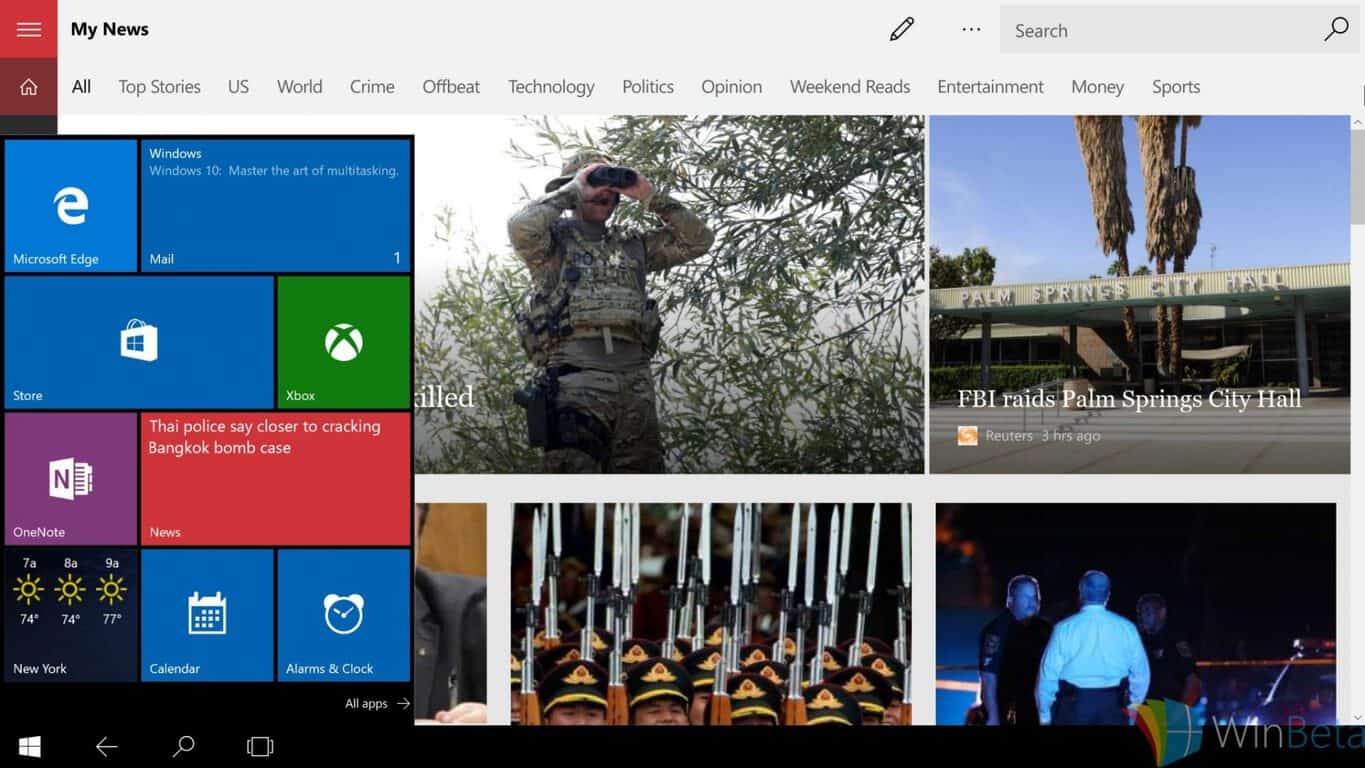 Launching an app will give you a nice zoom animation, displaying the apps watermark for a brief second as it loads up much like apps normally do on a phone. You are then welcomed with your phone app, but scaled up as if it were running on your Windows 10 desktop. A big wow moment for me was launching the Office Mobile apps, I know what they look like on my powerful desktop PC at home, and I know what they look like on a mobile device, but when launching that same Mobile app in Continuum mode, the desktop app I'm used to at home displays itself, and I can use my familiar keyboard shortcuts and mouse to navigate the app, just like I know how.


I noticed that some apps don't display the Status Bar when in use, which I figured may get annoying as there is no System Tray on the taskbar. I was however told that you can actually mouse up to the top of the screen to display the Status Bar, so if you need to check the time or WiFi strength, you can do so with ease.
All universal apps should work with Continuum, as they are developed to scale different screen sizes. That means apps like the Store, Alarms, News, Weather, Settings, etc. All scale up like their desktop counterparts when using Continuum for Phones. It's really fantastic, but what really blew my head off was the fact that you can actually continue to use your phone like normal when Continuum is running. For example, if you're running Excel in Continuum mode, you can also be running the messaging app on the same device you are Continuum'ing from at identical times, so if you get a phone call or message, your presentation or work flow will not be interrupted when Continuum is in play.


Microsoft is onto a winner with Continuum for Phones, it's unfortunate that it'll only work on new devices, but with Continuum essentially turning your PC into a full desktop, I can see why that's a requirement. New Windows 10 Mobile devices should be able to enable Continuum wirelessly via Miracast or via a dedicated Continuum Dock that allows connection over USB-C to a HDMI or DisplayPort.


I'm overall super impressed with Continuum for Phones, it's probably the only real reason I'm planning to upgrade to a Lumia 950 XL when it launches later this year. If you're someone who is constantly on the road but likes to travel light and do light work here and there, Continuum for Phones is going to be your new best friend, I already know it'll be mine.
Editors Note: The screenshots you see in this article are of pre-release software, things could change before public release.