On the heels of Nintendo upgrading its smash hit mobile console the Switch with a new OLED model, Valve is announcing its latest take on gaming, and it too includes a handheld piece of hardware.
Valve's new Stem Deck was announced by the company today, July 15, 2021, and it's sleek looking handheld that will start at $399 and ship some time in December of this year.
Valve is taking reservations for the new mobile console that'll be powered by an AMD APU Zen2 processor with up to 448 GFlopps and an 8 RDNA 2 GPU with support for up to 1.6 TFLops. Buyers of the Stem Deck will also get 16GB of LPDDR5 RAM, storage options of 64, 256, and 512GB, standard onboard gamepad controls, a haptics engine all powering a 7-inch 1280×800 (16:10 aspect ratio) LED screen that pushes four hundred nits of brightness.
Other Stem Deck specs include a 60Hz refresh rate panel, Bluetooth 5.0 support, dual Wi-Fi bands with support of 5G, DSP audio, display port over USB-C, 40Whr battery for 8 hours of gameplay, UHS-I supported SD card slot all in a package weighing about 1.4lbs.
While Valve has only announced the Stem Deck today, IGN already managed to get a hands-on with the handheld and their initial reactions are pretty positive.
All-in-all, I'm extremely impressed with what I've seen of the Steam Deck. $399 for the entry-level model is a very attractive price point for folks who are either new to the PC space, or are looking for a more powerful alternative to the Nintendo Switch. And for PC veterans, the higher-end models offer the storage space needed to tote around a handful of triple-A games in their backpack – at a price point that's actually quite compelling compared to a cheap gaming laptop, let alone a full desktop PC build.
In addition to going after Nintendo in the mobile gaming sector, Valve may also be invertedly targeting Microsoft's xCloud base as well with its full-blown Steam OS being the underlying platform experience. Built on a version of Linux called Proton, the Steam Deck should manage to support both Windows and Linux games out of the box while also offering a bit more flexibility than the proprietary Nintendo platform.
Theoretically, owners could load up other game stores including the Xbox Game Pass platform, sync up a mouse and keyboard for more tactile gaming controls or download and use various streaming tools to do direct records or streams of gaming sessions.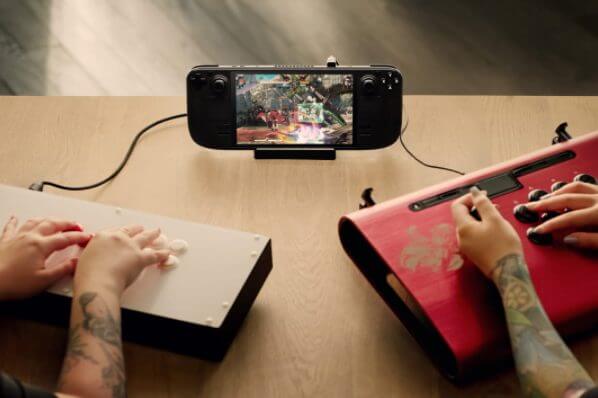 Some gamers may still be waiting to get their hands on more traditional hardware with the Xbox Series X/S and PlayStation 5, but it seems in the coming months to a year, that where and how people game is shifting. Between the Steam Deck, updated Nintendo Switch and Microsoft's efforts to bring xCloud/GamePass to smart TVs and Xbox gaming sticks, gaming could be expanding outside of the living room for good.