Well, here's a new excuse from a well-known app developer. The Slack team has just revealed why they're not making an app using Microsoft's Universal Windows Platforms (UWP) app model for Windows 10, and, ironically, it has to do with how they perceive the universality of such an app.
The revelation came as an answer to a Slack user, who has kindly posted the response on Reddit. We'll just present you with the full response (courtesy of Redditor u/Pjautuvas)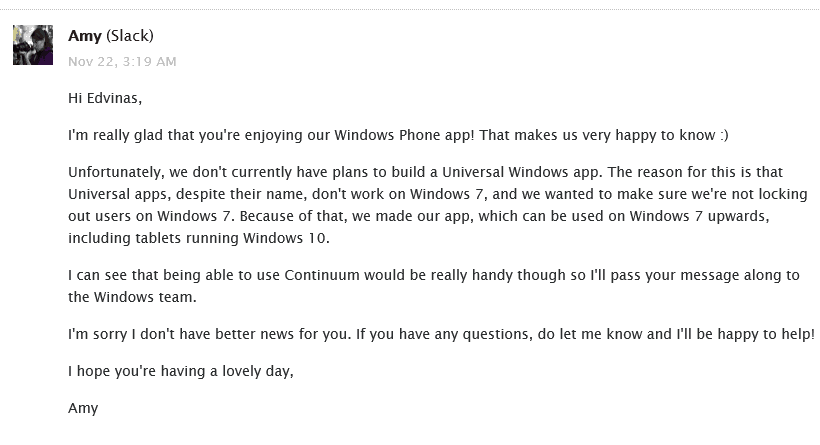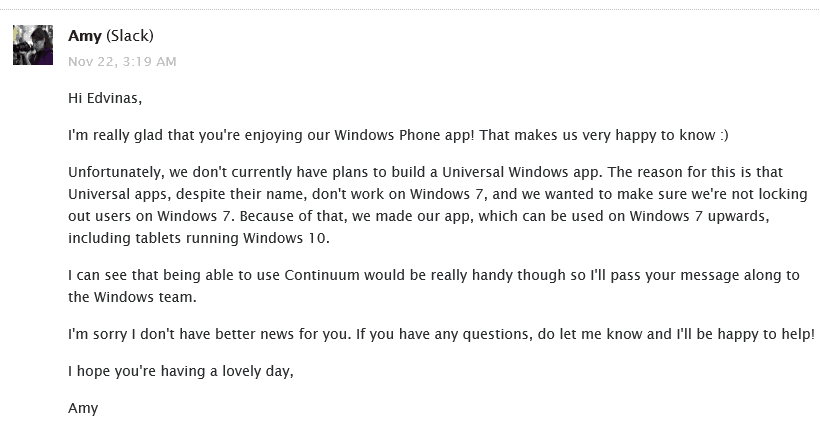 To sum it up, since UWA cannot run on Windows 7, presumably where most users still are, at least in the near future, Slack have decided to just make a desktop app for legacy users and a phone app for whoever needs it instead.
The reasoning, while certainly sounds valid, came to me as somewhat short-sighted on the part of the Slack team. Despite there being still a way yet before Microsoft hits that 1 billion mark for Windows 10, the numbers have been rising steadily, and it's undeniable that for Microsoft's platforms at least, UWP is the future. Not to mention Slack already has an app for Windows Mobile (albeit still in beta); sure, it would be more work to make it universal, but with how Microsoft's new, innovative platforms are eagerly adopted by businesses, one would think it wise to future-proof the app as much as possible.
Before you all jump onto Slack with your torches and pitchforks raising though, remember that they still support Windows Phone with an official app, compare to competitors like Hipchat or Flowdock who seem to have no visible inclination of doing so (of course, there's Skype if one needs true universality). Also, from the answer, the team is obviously interested in Continuum, and have an open opinion towards a possible future Universal Windows App, so we can hope that their Windows Team will see the viability of the UWA model and make changes to their development.