Without question, the National Football League is a powerhouse marketing machine. Between multi-million dollar owners negotiations, co-branded sponsorships, licensing deals and network television buy-ins the NFL has marketed its product of hard-hitting, long passing, and miraculous catching to the top of the psyche of the average American.
Unfortunately, the NFL isn't using its well-oiled marketing machine to help out its multi-million dollar partner in Microsoft. With $400 million on the line for the next few years, Microsoft's gotten a cursory nod at best when it comes to co-opting the NFL's brand cache and indirect hostility from its paid sponsors at worst.
The most recent incident in an ongoing public saga between the NFL and Microsoft's effort to market its Surface tablets came late Monday night during the Dallas Cowboys and Detroit Lions game on ESPN.
In what seemed like an impromptu ad spot intended to show ESPN's new ad format, the sports news station ran a spot for the Surface tablet alongside a shot of the Dallas Cowboys sideline. Perhaps, had anyone bother to communicate with the camera guy on the sideline and the production crew in the booth, the spot would have made for an interesting juxtapose of how the Surface is being sold to consumers as well as how its being used by professionals.
However, in typical NFL fashion, the Surface ad ran picture-in-picture next to a Dallas Cowboys sideline devoid of any Surface tablet use. Instead, the Surface ad ran for roughly 20 unadulterated seconds as the Cowboys used the very technology the Surface was intended to replace, old pen and paper technology to review plays.
ESPN's fumbled attempt at synergistic marketing didn't go unnoticed either, as NBC sports contributor Kevin McGuire pointed out the obvious blown opportunity via Twitter.
Great marketing strategy to showcase how great Surface can be with football while showing live shot of coach and player reviewing printouts. https://t.co/NOWdLXlKlu

— Kevin McGuire (@KevinOnCFB) December 27, 2016
What was intended to be an elegant display of synergy once again blew up in Microsoft's face. Without being privy to the internal return on investment (ROI) numbers of this particular co-opted campaign, from the outside, it appears as though Microsoft is getting the raw end of the deal.
Aside from the NFL's most recent gaffe, highly regarded coaches have publicly condemned the technology (not the device, but who's counting), announcers repeatedly give free marketing to competing devices by mislabeling the tablets and players are often testing the hardware limits of the devices by tossing them out of frustration.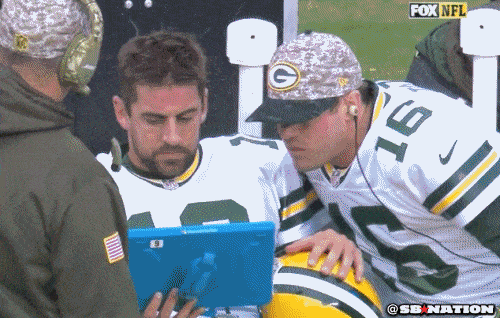 At some point, it would seem Microsoft might want to reconsider the terms of its original agreement with the National Football League as it pertains to the marketing of the Surface tablets or look to other opportunities. Judging by the $500 plus watches, mutual fund and AI-powered stock trading commercials run during golf tournaments, a deal with the PGA might be a more lucrative endeavor for Microsoft