Digital pre-orders for the Star Wars Jedi: Fallen Order video game are now live on Microsoft's Xbox One family of consoles.
The game, which received a lot of attention at Star Wars Celebration over the weekend, will be released in both a regular edition, which comes with the base game, and a Deluxe Edition that comes with the game and a variety of behind-the-scenes featurettes and exclusive in-game cosmetic items.
The regular edition of Jedi: Fallen Order currently has a regular price of $59.99 and $53.99 for those with EA Access while the Deluxe Edition is set at $69.99 for its regular price and $62.99 for EA Access subscribers.
Something that many Star Wars gamers will appreciate is a barely-promoted additional 10% discount for the Deluxe Edition that's on offer to owners of the Star Wars Battlefront II video game. This promotion is running until the launch of the game on November 15th and can only be claimed by clicking on a tile within the Star Wars Battlefront II in-game dashboard.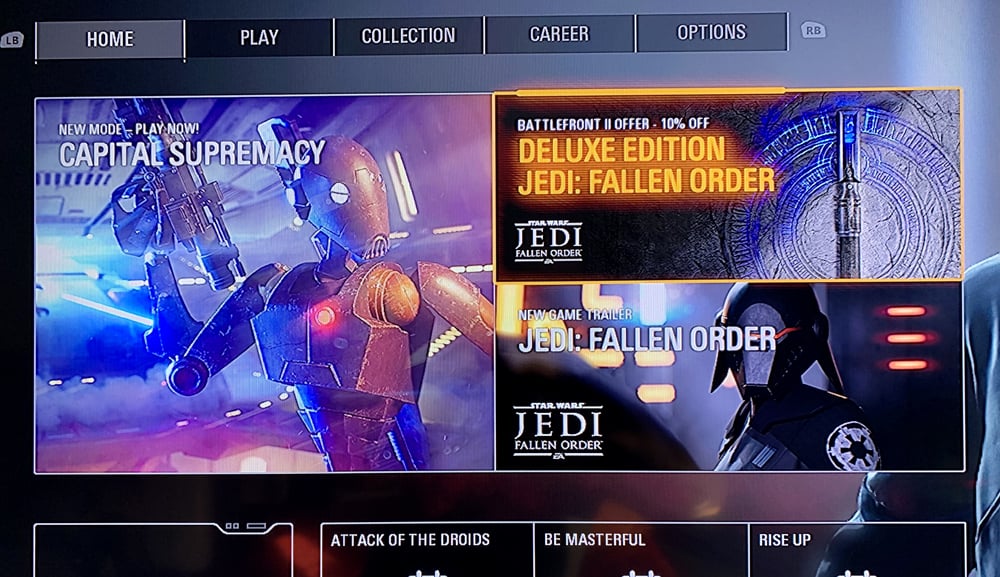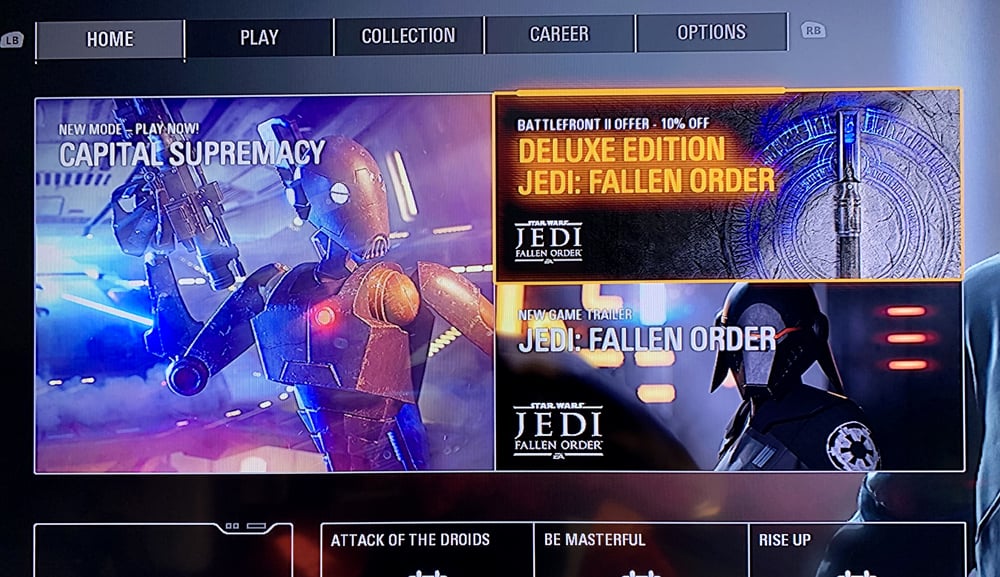 Once clicked, the user will be taken directly to the Xbox One Store page for the Star Wars Jedi: Fallen Order Deluxe Edition and the 10% discount will be automatically applied. What's particularly cool is that this 10% discount also applies to the reduced EA Access price so subscribers of that service can get an even bigger discount.
Star Wars Jedi: Fallen Order is the first major single-player Star Wars video game that's been released in a while. It follows the story of a young Jedi who survived the initial purge during Star Wars Episode III: Revenge of the Sith and who is trying to survive in a new galaxy ruled by the Empire.
All pre-orders of Star Wars Jedi: Fallen Order, regardless of price paid, will receive unique lightsaber cosmetics and droid customization options.
Are you excited for Star Wars Jedi: Fallen Order on Xbox One and are you planning to pre-order it? Share your thoughts with the community in the comments below and then follow us on Pinterest for more Xbox and Star Wars gaming content.