We were able to access the new Bing over the weekend, and while we'll leave first impressions and hands on for upcoming posts, we wanted to take a minute to make note of a few interesting tidbits as we learn our way around this exciting new experience.
The New Bing on Edge – Edge Dev
There are currently two experiences for Bing Chat, the first, once you've been accepted into the preview (and one of our writers has already graduated from the waitlist, and Satya Nadella promised Microsoft would enable Bing Chat for "millions in the next few weeks," so hopefully your wait won't be long), you'll see the new Bing at Bing.com.
But there's also an Edge experience for Bing, and for some at least, you need to take some additional steps to get it. If you don't see the blue Bing button at the top right of Edge, head over to Edge Insider and install the Edge Dev Channel browser. Production Edge and Edge Dev (or Beta or Canary) will run as separate browsers, so you don't need to uninstall one to get the other. If you've been accepted into the preview, you'll be able to use Bing Chat / Compose / Insights right from Edge without having to open Bing.com.
Again, the new Bing experience seems to be rolling out in production Edge, too, so you may already have the Bing icon enabled (and if you don't have access yet, opening the Bing experience in Edge will just tell you you're still on the waitlist).
Privacy
While much has been made about privacy settings in browsers, and the ability to delete your browsing / search history has been a function of browsers for a long while, it's important to note that the same is not true for Bing Chat: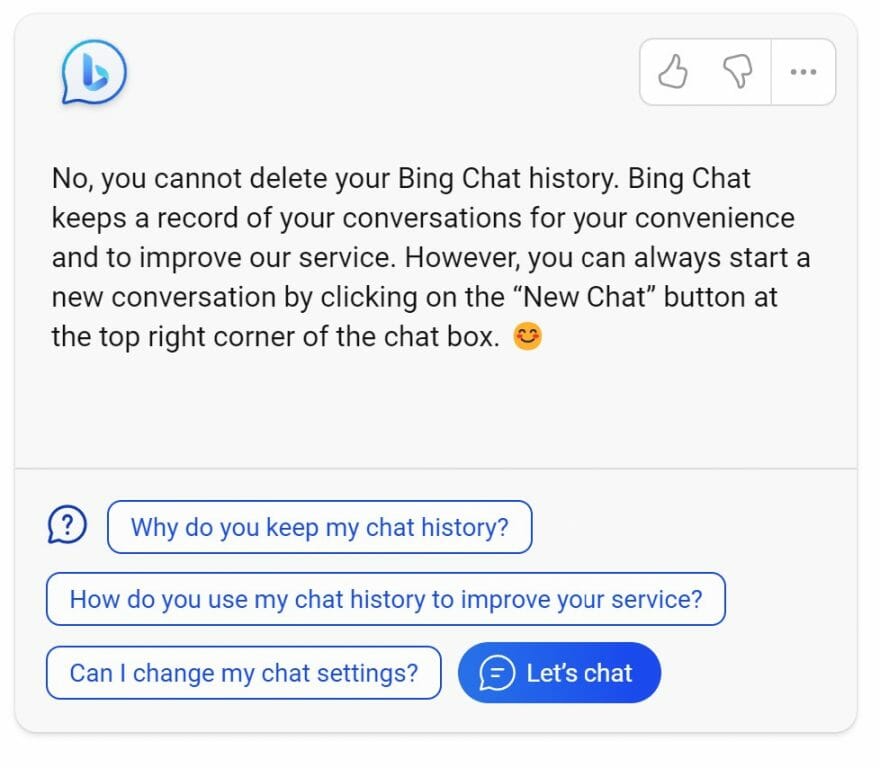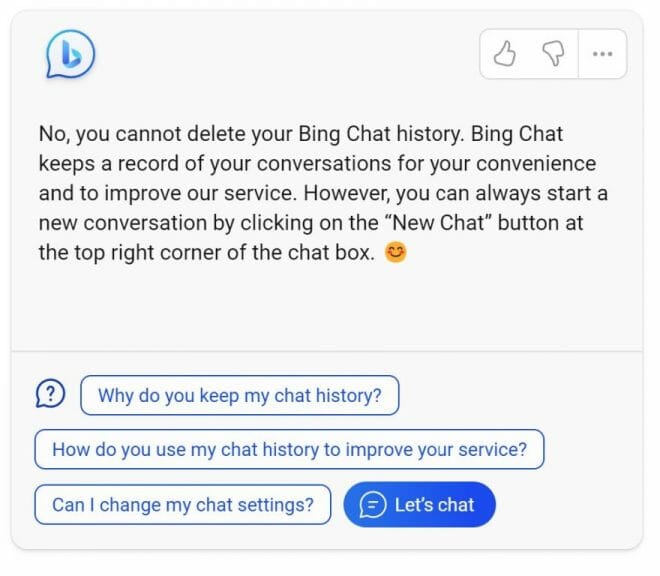 According again to Bing Chat, you can save chats and retrieve those, but it doesn't look like you have access to your entire history:
Go to the Bing homepage.
Click on the chat icon located at the bottom right corner of your screen.
A chat interface launches, start asking your questions.
To save your search history, simply click on the Save button at the bottom of the chat interface.
To view your saved search history, click on the History button at the bottom of the chat interface.
Unfortunately so far at least, the Save and History buttons aren't appearing for us here at OnMSFT.com, let me know if you see them. Very possible this feature isn't available yet.
Bing Image Creator
Last December, Microsoft launched a preview of Bing Image Creator, the DALL-E 2 counterpart to Bing Chat's ChatGPT. While still in preview, DALL-E 2 looks to be coming to Bing, too. One interesting note, you'll be able to pay for Bing Image credits with Microsoft Rewards points (from the Bing Conversational Experiences ToS):
Redeeming Bing Rewards – Bing Image Creator. You may redeem Microsoft Rewards for Bing Image Creator boosts to expedite the generation of Image Creations.
Currently in DALL-E 2, you're able to purchase credits ($15 for 115 credits after 50 free credits per month). No word yet on when DALL-E 2 will follow ChatGPT to Bing, but it's coming.
Immediacy
I missed capturing a tweet from the Super Bowl last night where Bing Chat reported the current score (and latest play) in the game, but the ChatGPT3 days of "my training ended in 2021" are long gone. Here's a tweet I did find showing real time meme analysis!
Wow, BingChat is superior to ChatGPT!
It can detect memes in real-time ????
@xlr8harder @growing_daniel @RichardSocher @elonmusk @NFL #comedy #memes #AI #AIart #BingChat #SuperBowl #SuperBowl2023 #future #TrendingNow pic.twitter.com/09HXfcxlxB

— Addie Design (@Addiedesignco) February 13, 2023
One last thing
Finally, while we're rapidly getting used to Bing Chat in a whole new way that's already making current search obsolete, we'll leave you with some pretty impressive first impressions from Linus Tech:
Want to see what it feels like to use the new Bing?

This is a must watch: https://t.co/QI4cJkyRkO – thanks @LinusTech!

Spoiler: pic.twitter.com/X97Fi4IuLj

— Michael Schechter (@mikeschechter) February 11, 2023
Do you have access to Bing Chat yet? Are you excited by all the hype? Let us know in the comments below