The Museum of Museums in Seattle's First Hill neighborhood may have dodged some long-term bad press after nixing a would-be-tone deaf exhibit that played on the area's ongoing tech rivalry.
MoM pitched its idea of an art exhibition that displayed the artwork of employees from both Amazon and Microsoft and billed the event as "Amazon vs Microsoft."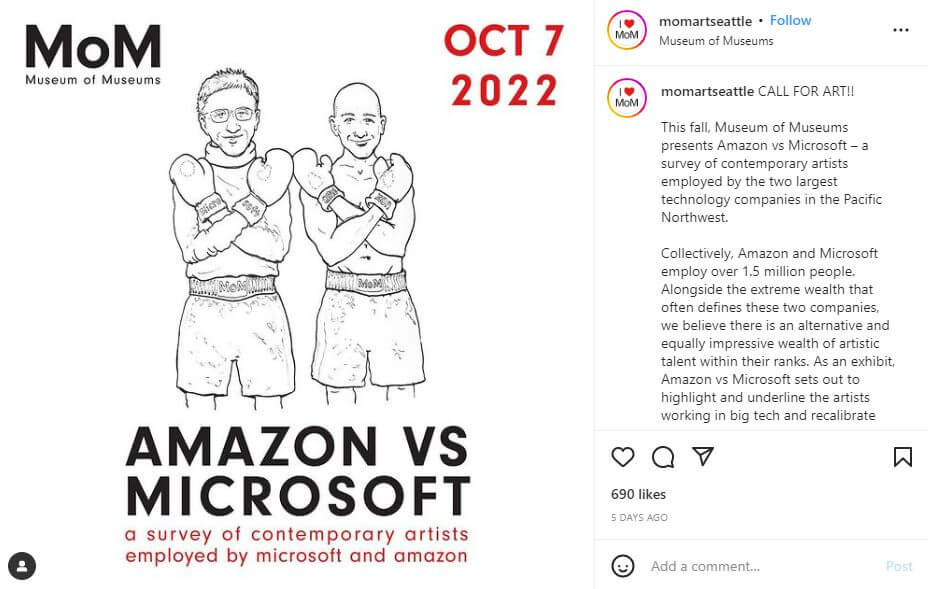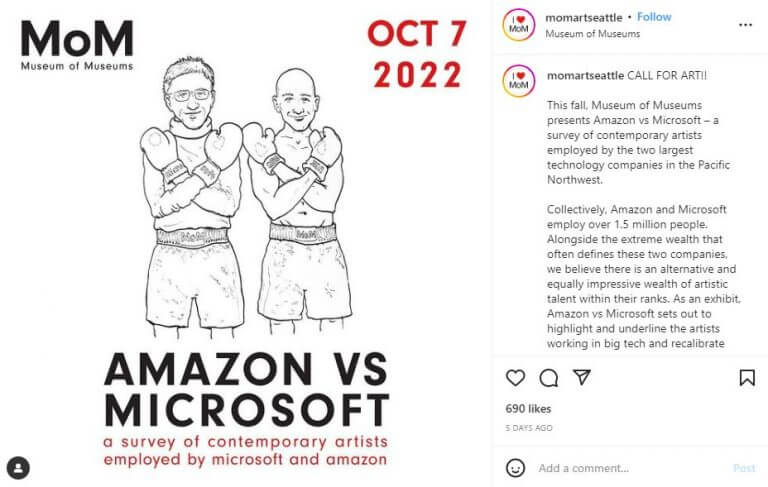 Despite the ostentatious title, MoM flushed out a more thoughtful reason for hosting its exhibit via an Instagram post,
"Collectively, Amazon and Microsoft employ over 1.5 million people. Alongside the extreme wealth that often defines these two companies, we believe there is an alternative and equally impressive wealth of artistic talent within their ranks. As an exhibit, Amazon vs Microsoft sets out to highlight and underline the artists working in big tech and recalibrate the narrative around what a tech worker is."
Unfortunately, for MoM its own reasoning rang hollow with many online and within the art community as the idea was roundly mocked and ridiculed for its tone-deaf nature with comments such as, "massive flop idea, yikes! Imagine being an art museum in 2022 able to uplift anyone and we pick… tech workers???"
Other online responses to the Instagram announcement touched upon how gentrification, income disparity, and privilege fueled by the employment of companies such as Amazon and Microsoft have led to the erosion of the art community.
In response, MoM called off its event after just three days after the announcement, and issued the following retraction and explanation.
"I believe that the strongest arts ecosystem is also the most inclusive one. Tech bros included. Poor people, rich people, people with shared ideals and people with strange ideas. Everyone.

Seattle is getting more expensive by the day and a healthy arts ecosystem in this city requires financial support and lots of it. So yes, I tried, one more time, to connect the disconnected, to try and strengthen our arts economy the only way I knew how."
While not quite the soul-searched introspective response the art community may have had in mind, it does follow the skuttling of the ill-born exhibit and saves the nascent museum on 900 Boylston Ave a potentially irredeemable reputational hit.