Starting at $79.00
While some PC manufactures have been quicker than others to address the dreaded integrated webcam situations on their own devices, there is still a large swath of virtual conference attendants looking for better and more immediate solutions to their video presentation woes.
Enter the ROCWARE-RC08 Mini Video Soundbar, a Kickstarter attempt from a small company out of Shenzhen, China. ROCWARE is bringing its 6+ years of experience of working in the professional video conferencing and AV integration industry to package a three-in-one solution in the ROCWARE-RC08 and we were given a unit to try out.
While the ROCWARE-RCO8 doesn't plan to ship until February 2022, we were given a unit to review and put through the paces.
As someone who hosts the weekly OnMSFT dedicated podcast OnPodcast, the ROCWARE-RC08 seemed like the right opportunity to replace my combined use of Microsoft's Modern Webcam and Modern Wireless Headset or an 1080p Nexigo Webcam and FIFINE K670 microphone.
With its combined 1080p resolution camera, ToF Autofocus tech, 90-degree wide angel FoV and microphone with Harman audio technology baked in, the ROCWARE could help declutter and simplify any modern workspace.
Main Features
● All-in-one bionic design, much simpler and easier
The three-in-one design of 1080P full HD camera, High sensitivity omnidirectional microphone and full-frequency loudspeaker reduces wiring and makes video communication much simpler and easier. Unique bionic design, very eye-catching, allows you to get excellent audio-visual experience in video calls.
● 1080P full HD, ultra Wide FoV, no distortion
1080P full HD, can provide max 1080@30fps/25fps high resolution clear image. At the same time, downward compatible with 720p and other resolutions. Wide field of view, the maximum horizontal field of view can reach 90°.
● Harman tuned full-range speaker
Adopt Harman tuning speaker with ducted sound cavity, with clear and penetrating treble and powerful bass, can provide you an extraordinary sound experience.
● Audio 3A algorithm
Built-in audio 3A algorithm (AEC/AGC/ANS), full-duplex dialogue, can adjust and balance volume level automatically while voice collection, also with noise suppression, can provide you comfortable experience for calling.
● Electronic PTZ
No need for mechanical rotating devices, ePTZ helps to achieve more accurate rotation, less noise, more reliable and durable pan-tilt function. Meantime support 4X digital zoom.
● Built-in physical privacy shield
Equipped with an integrated sliding privacy cover to ensure privacy.
● Low illumination
Star-level ultra-high noise ratio of the new CMOS image sensor can effectively reduce the low noise in the case of image noise, while the application of 2D and 3D noise reduction algorithm, significantly reducing the image noise, even under low light conditions, still keep the picture Clean and clear, the image signal to noise ratio up to 55dB or more.
● Easy installation
Standard Bracket with damper, compatitable with majority displays in the market, easy to install, stable and reliable.
Camera
Sensor
1/2.8 inch, CMOS, 2.07M pixel
Scanning Mode
Progressive
Lens Mount
M12
Lens
Focus: f=2.8mm, HFOV: 90°
AF
Support
Minimal Illumination
0.5 Lux @ (F2.0, AGC ON)
Shutter
1/30s ~ 1/10000s
White Balance
Auto, Manual, VAR
Camera bracket
Bracket with damper
Privacy masking
Support
Digital Noise Reduction
2D&3D digital noise reduction
Backlight Compensation
Support
Digital zoom
3X, 4X
Audio
Audio algorithm
Support AEC/AGC/ANS
Full frequency speaker
82dB SPL in the case of 0.5 meter
Microphone array
Omnidirectional microphone, Sensitivity:-30±2dB
USB features
OS
Windows 7 (only 1080p and below), Windows 8.1, Windows 10 or higher
macOS® 10.10 or higher
Google ChromebookTM Version 29.0.1547.70 or higher
Linux (requires support for UVC)
Hardware platform
2.4 GHz Intel® Core 2TM Duo processor or higher
2 GB of memory or higher
USB 2.0 interface
Color System /
Compression
YUY2 / H.264 / MJPEG
Video System
1080p@30fps/25fps, 720p@30fps/25fps, 960x540p@30fps/25fps, 640x360p@30fps/25fps
USB video communication protocol
UVC 1.1
UAC
Support
UVC PTZ control
Support ePTZ
Input/output interface
USB interface
1 * USB2.0, Type A ;
Generic Specification
Input Voltage
5V (USB power supply)
Current Input
200mA
Operating
Temperature
0°C ~ 40°C (32°F ~ 104°F)
Storage Temperature
-40°C ~ 60°C (-40°F ~ 140°F)
Power Consumption
1W
Size
103mm*27mm*30mm
Net Weight
153g
MTBF
30000h
Look and Feel
It's a webcam. Not much else to say about the look and feel of the ROCWARE over any other webcam as it looks a lot like the assortment of attachable webcams you'll come across from a quick search on Amazon.
The ROCWARE takes the rectangle shape that many wide angel webcams take but its visual distinction comes from its dual socket hole punch appearance.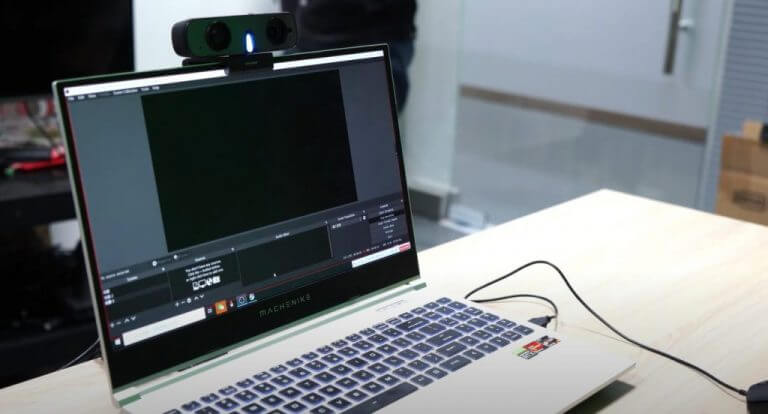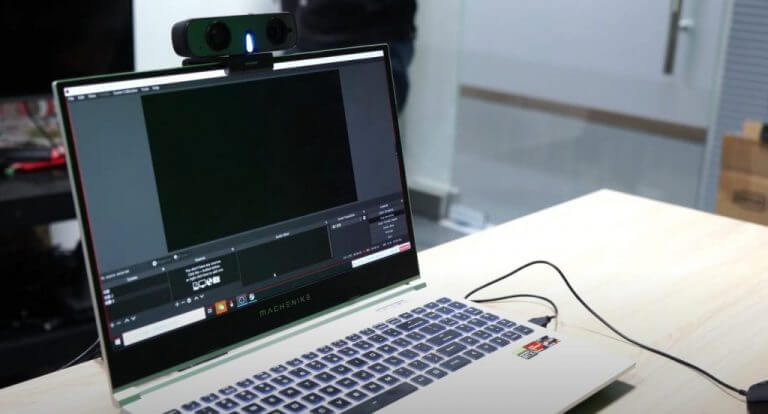 One socket holds the TOF module, 1080p HD camera and 3A Algorithm Microphone while the other socket contains a status indicator and the Harman Tuned speaker.
The entire camera hybrid is wrapped in matte black with a secondary dark grey that adorns accents the front of the device.
Perhaps, the most impressive feature about the ROCWARE hardware itself is its weight. The ROCWARE weighs a surprisingly light 153kg, while still feeling very premium and solid.
Performance
The ROCWARE RC08 works seamlessly with Windows and Mac, and that's important to state for a lot of people. For some odd reason, some webcam makers are making OS-specific functioning solutions
While I appreciate the effort behind concept of combing a microphone and speaker into a webcam to help consolidate the amount of devices, I need to conduct a podcast or virtual conference, the ROCWARE-ROC8 wasn't the solution that best suited my needs, however, I will report on my experience because it may end up being the device that works for you.
As advertised, the setup of the ROCWARE webcam was a simple as plugging in the USB-C cable and positioning the camera. There were no visual OS interfaces to jump through for setup and there appear to be ways for the OEM to push OTA updates as one came out later on during my review.
My issue with the ROCWARE has mostly to do with video clarity and color desaturation that occurs with the webcam in most video conferencing software.
It's a personal preference but colors on the ROCWARE are dry and muted and the 1080p clarity seems less clear than my current webcams, but for others, you might appreciate the 4X digital zoom, the speedy autofocus lens or the 90-degree wide angel views the webcam offers.
Other built-in conveniences included a dedicated mute button and sliding privacy protector. Neither are placed discreetly when you're on a call, with the mute button placed behind the camera and the slider at the top, but if you can manage to be subtle, you might be able to pull of the perception of a no-handed mute or accidental camera shut down.
I was able to tweak the video output a bit with the NVIDIA Broadcast software that touched up the clarity and digitally added some contrast and center-focus to my videos.
While the webcam portion of the ROCWARE is perhaps the most important thing for a lot of users, there is the also the other half of the conferencing experience that involves the audio. The ROCWARE does offer a great audio experience between its 2D and 3D noise reduction algorithms for microphone pick up and surprisingly bass heavy audio return.
The ROCWARE's soundbar experience will definitely be clearer and louder than most laptop speakers and more convenient to use than many desktop setups. Thanks to its omnidirectional microphone echo cancellation and gain processing you'll never to have ask "can you hear me?" from anywhere in your home office or conference room.
Honestly, there is a lot of engineering to appreciate in the ROCWARE's soundbar arrangement that includes 30±2dB sensitivity leveler that triggers automatic volume adjustment as well as noise-free output. The end result of all the sound engineering is a really pleasant and hands-off audio experience right out of the box for the ROCWARE.
Summary
While I personally was let down by the video quality of the ROCWARE RCO8, my standards may be a bit higher than others. I was however, very impressed with the soundbar portion of the ROCWARE webcam, which for most people, will be more than enough to handle most home and small office setups and even mid-sized conference rooms if the meeting is voice-only.
At $79 the ROCWARE RCO8 comes in at around industry standard for 1080p webcams on Amazon but with the added feature of becoming a substitute speaker and microphone. Doing the math on all the products that add up to a modern conferencing setup, the ROCWARE RCO08 often offers the better price advantage.